These gluten free blueberry scones are tender and flaky inside, with a lightly crisp top. They can easily be made vegan, too.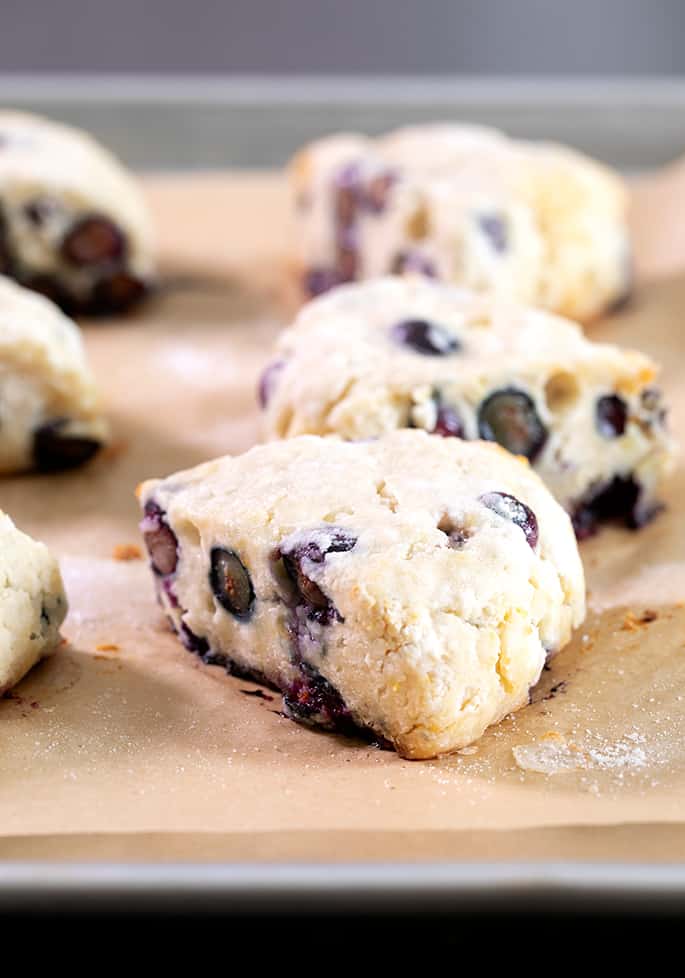 Biscuits and scones and cookies
As you likely know, I'm from the U.S. and live in New York. To me, biscuits aren't that distinct from scones. If you're in England or Australia (as many of you are ?? friends!), when I say "biscuits" you aren't entirely sure what I mean. That, or you just think I don't know what, say, a chocolate chipper really is.
To clarify, to me, biscuits are small round pastries that are leavened with baking powder (Nigella explains it to our UK friends), baking soda (bicarbonate of soda to you, maybe?) or a combination. They're typically quite flaky and puffy, thanks to the chemical leaveners but also to the chunks of cold fat that expand when they hit the heat of the oven.
Biscuits to you may very well be cookies. I adore cookies and have probably over 100 gluten free cookie recipes here on the blog. But to my ears, biscuits are not cookies.
Scones are very similar to biscuits in the U.S., but they tend to be a bit firmer and aren't quite as layered and flaky as biscuits. They're still a pastry, but they're a bit drier than biscuits.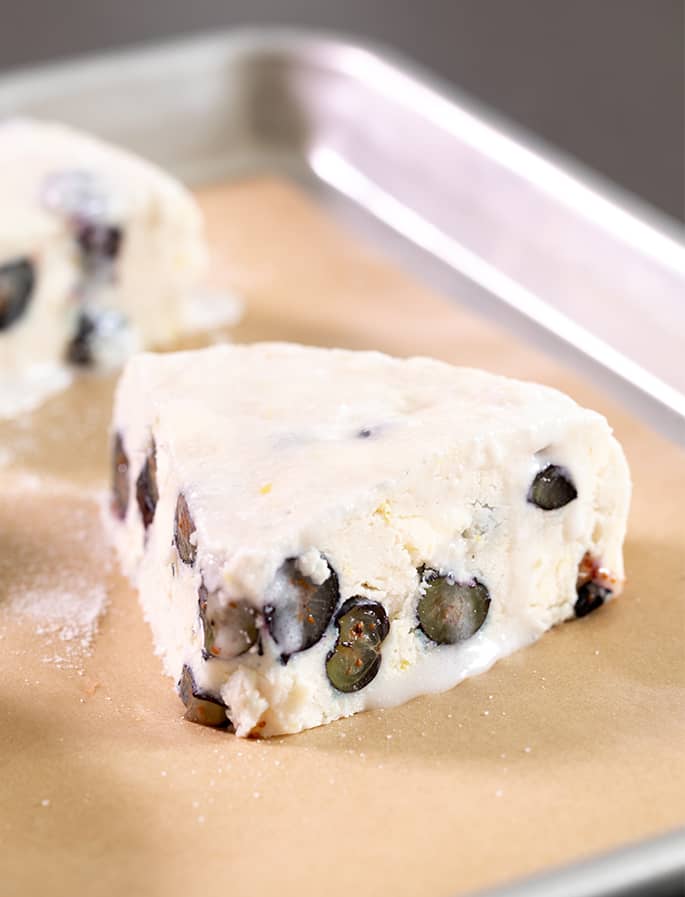 How to make scones
Now that we know what I even mean when I call a recipe "gluten free blueberry scones," perhaps you'd like to know how to make them. This being a recipe blog and all.
These scones are easily made in one single mixing bowl. The prep time is just about 10 minutes of active time, with a short spell in the freezer for the dough before it's sliced.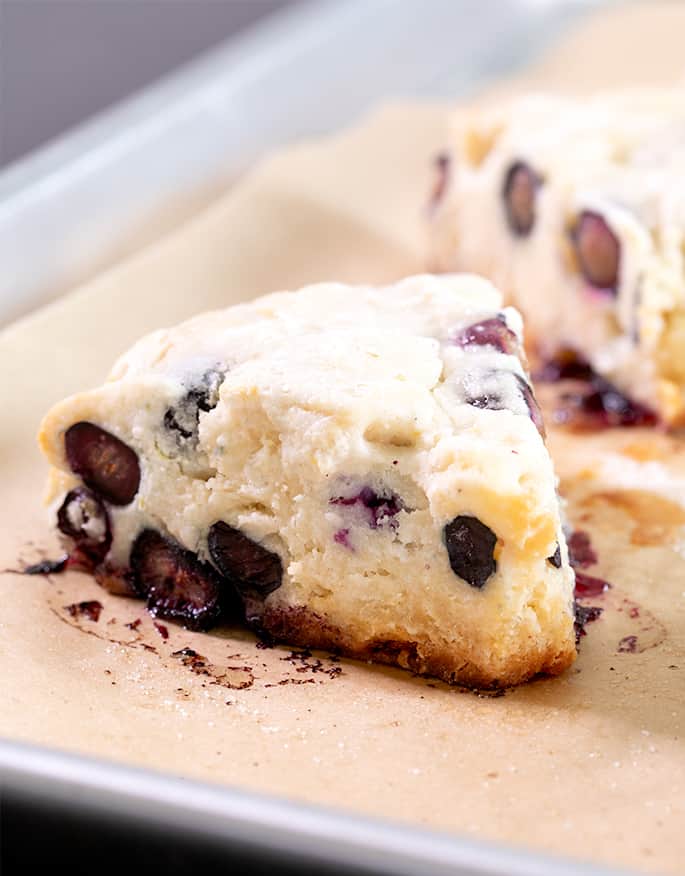 In a large bowl, you'll mix the dry ingredients (gluten free flour, baking powder, baking soda, salt, plus a small bit of granulated sugar), then add chunks of cold butter (see below for how to make this dairy-free) and flatten them in the dry ingredients. Flattening the butter once it's in the dry ingredients keeps it from melting too quickly in your hands, or in the oven.
I also like to add lemon zest to the dry ingredients. Lemon flavor goes so beautifully with blueberries and brightens the whole recipe. Next, you'll toss in the fresh blueberries and stir gently so you don't break the berries. Medium-sized berries work best, as they hold their shape but don't overwhelm any individual scone.
Finally, the wet ingredients (milk, lemon juice and honey) are added into a small well you'll create in the dry ingredients. Be sure to mix gently and don't handle the dough too much. You want the ingredients to stay cold, so the butter melts suddenly in the oven and not a moment before.
All that's left to do is shape the dough into a disk, cut it into 6 triangles, brush the tops with milk and cover with a bit more sugar. The milk and sugar topping helps the tops of the scones brown a bit more in the oven without overbaking the rest of the scones.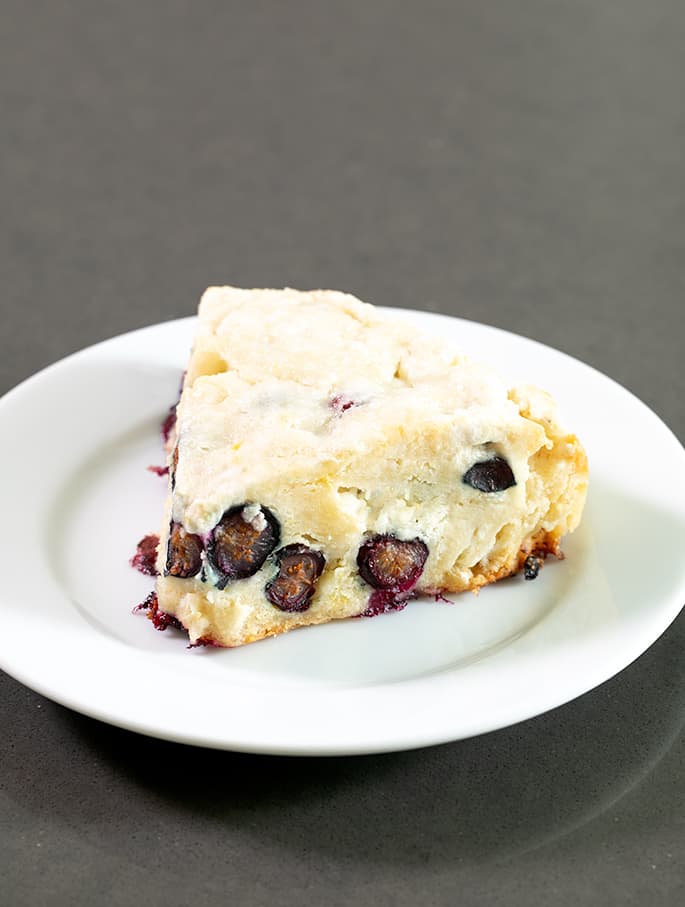 Ingredients and substitutions
As always, every recipe I create is a formula that works best when made exactly as written—down to the last gram of each ingredient! That's how you'll get results that are just like what you see here on the blog.
But I understand that conditions are never perfect and everyone should be able to bake along. Here is all the information I can provide on replacing any of the ingredients you see in the recipe with any others to help fit dietary needs that go beyond just gluten free.
Please keep in mind that, the more substitutions you make, the further away your results may be from mine. Baking is chemistry! Measuring by weight, not volume, using an oven thermometer to ensure your oven is at the right temperature, and taking care to use one of my recommended gluten free flour blends are all great ways to start off on the right foot.
Dairy-free/vegan: I have successfully made these gluten free scones dairy-free (and vegan) by replacing the butter with Miyoko's brand cultured vegan butter (which my local Trader Joe's now carries!) and with Melt brand vegan butter. I think it would also work with virgin coconut oil, but the scones won't puff up quite as much.
For the milk, I used unsweetened coconut milk in the carton. Plain, unsweetened coconut milk in the carton is my favorite nondairy milk for cooking and baking. Its flavor is relatively neutral and it has enough fat to help baked goods brown.
In place of honey (to make the scones vegan), use Lyle's Golden Syrup or light corn syrup. Either one will work just fine.
Fresh blueberries: Find yourself some really nice frozen blueberries, and you can use them in this recipe in place of fresh. But don't defrost them!
Whatever precautions you take, the blue color will bleed into the batter. But if you defrost the berries, they'll get crushed in the batter no matter how careful you are—and they'll bleed even more.
I think this recipe would also work great using raspberries. If you'd like to make strawberry scones, that really requires a different recipe as strawberries have a ton more moisture. Try my recipe for strawberry shortcake biscuits, and shape them into scones instead of biscuits.
Cornstarch: "Cornstarch" in the U.S. is also known as corn flour, and it's just a finely milled starch. If you need to make this recipe corn-free, the cornstarch can easily be replaced with arrowroot.
Sugar-free: There is naturally occurring sugar in the berries that can't be eliminated. But if you'd like to make this recipe free of added sugars, try replacing the honey with your favorite sugar-free liquid sweetener (something that actually has some bulk, unlike liquid Stevia) and the granulated sugar with erythritol.
There really isn't much sugar in this recipe at all, so replacing it shouldn't be that difficult. But I haven't tried making these sugar-free, so you'll have to experiment!
Gluten Free Blueberry Scones
Ingredients
1 3/4 cups (245 g) all purpose gluten free flour, plus more for sprinkling
1 teaspoon xanthan gum (omit if your blend already contains it)
1/4 cup (36 g) cornstarch
2 teaspoons baking powder
1/4 teaspoon baking soda
1/2 teaspoon kosher salt
2 teaspoons (12 g) granulated sugar, plus more for sprinkling
Freshly grated lemon zest from 1 medium lemon
5 tablespoons (70 g) unsalted butter, chopped into small chunks and chilled
1 cup (180 g) fresh blueberries
3/4 cup (6 fluid ounces) milk, plus more for brushing
1 tablespoon freshly squeezed lemon juice
2 tablespoons (42 g) honey
Instructions
Preheat your oven to 400°F. Line a rimmed baking sheet with unbleached parchment paper and set it aside.

In a large bowl, place the flour, xanthan gum, cornstarch, baking powder, baking soda, salt, granulated sugar, and lemon zest, and whisk to combine well. Add the chopped and chilled butter, and toss to coat it in the dry ingredients. Flatten each chunk of butter between your thumb and forefinger. Add the blueberries, and toss to coat. Create a well in the center of the dry ingredients and add the milk, lemon juice, and honey. Mix gently until the dough begins to come together. If necessary, press together into a dough with floured hands, handling the dough as little as possible. Turn out the dough onto a large piece of plastic wrap and press into a disk that's about 7 inches in diameter. Wrap the disk tightly in the plastic wrap and place in the freezer to chill for about 10 minutes or until firm.

Remove the dough from the freezer, unwrap it, sprinkle the top with about 1 teaspoonful additional flour and spread out over the top of the disk. Using a large, sharp knife or a bench scraper, cut the dough into 2 equal halves, then each of those halves into 3 equal triangles. Place the wedges about 2 inches apart from one another on the prepared baking sheet, and using a pastry brush, paint the tops generously with milk. Sprinkle the tops generously with granulated sugar.

Place the baking sheet in the center of the preheated oven and bake until the scones are puffed, very pale golden all over and slightly more brown on the edges and top (about 20 minutes). Remove from the oven and allow to cool for 10 minutes on the baking sheet before serving.