Like an upside down deep-dish pie, this easy gluten free blueberry cobbler has a thick gf pastry crust baked to perfection on top of lots of fresh or frozen blueberries.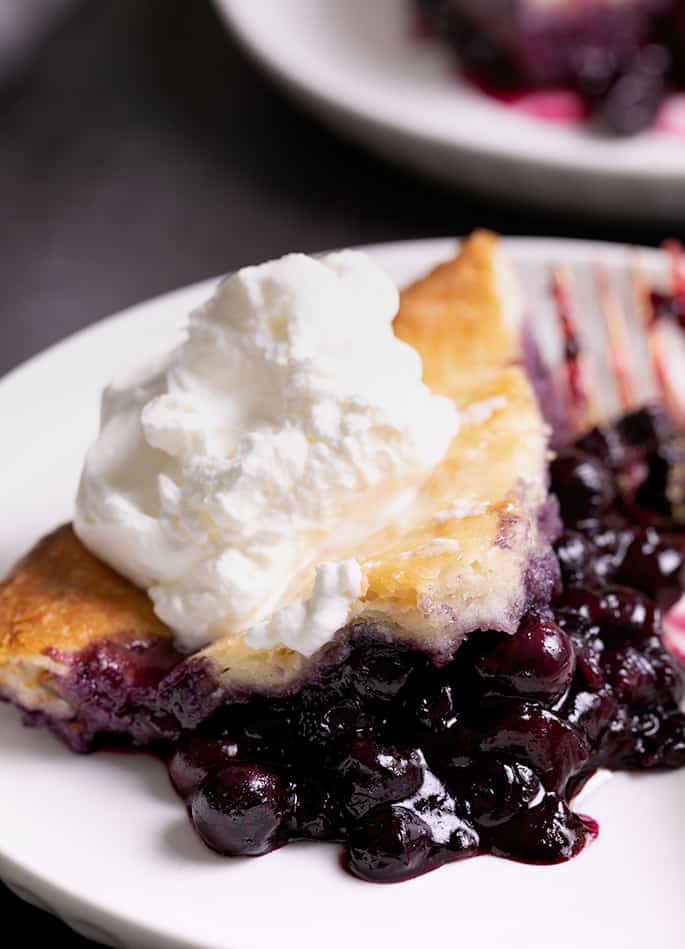 What makes this gf blueberry cobbler special?
Fruit cobblers, in general, are sort of like upside-down pies. But when you make a pie upside down, it's much easier and less precious for a couple of reasons.
First, the pastry crust is exposed more readily to the heat of the oven, so it's almost guaranteed to bake properly (provided it's cold and not overworked). When you bake a pie crust underneath fruity liquids like those these blueberries release during baking, it can be harder to get it crisp and browned without risk of burning.
Second, the same amount of crust works for nearly any size baking dish. If you'd like to use a deep 9-inch square baking dish instead of a 9-inch x 12-inch dish, you can simply make a thicker crust that takes a few more minutes to bake all the way through.
Cobbler recipes are pretty adaptable, too. In fact, you can make this recipe with another berry, like raspberries, as they'll both cook at about the same rate, and give off about the same liquid.
Strawberries have more water, so they likely would require more tweaking to the filling recipe. Stone fruits, like peaches and nectarines, must be handled differently since they take longer to bake. For that, try our recipe for gluten free peach cobbler.
Alternative pastry topping techniques
If you're intimidated by the idea of rolling out pastry crust, maybe you feel more comfortable with something smaller. Try making this gluten free blueberry cobbler by shaping the crust into biscuits or even placing it in dollops on top of the raw, prepared filling in the dish.
The pastry topping recipe makes a slightly more wet dough than I would use as a traditional gluten free pie crust. It can still be shaped into rounds like biscuits.
To make a biscuit shape, just roll the dough into a 1-inch thick rectangle, cut rounds, and place them on top. You can also just scoop mounds of the pastry dough and place them on top. If you're looking for a nubbier topping, try our master gluten free berry crumble recipe.
Just space them evenly, either way. The baking time may need to be increased a bit, though, because the dough will be thicker. And the filling may splatter during baking a bit.
Is it better to use fresh or frozen blueberries?
If you're making this blueberry cobbler any time other than the height of blueberry season (for me in NY, that's the height of the summer months), I really recommend using frozen berries. Frozen fruit is picked at the height of ripeness, and perfectly preserved until you're ready for it.
If you do use frozen berries, be sure they're the full-sized variety. The miniature ones are delicious, but they'll melt into more of a smooth sauce in the oven.
You'll know if your fresh blueberries are cobbler-worthy if they taste relatively sweet and smooth inside. I find that, in the off-season for blueberries, they tend to have a bit of a chewy texture.
If the berries don't have the best texture before baking, they tend to retain some of that unpleasant chew even after they've softened during baking.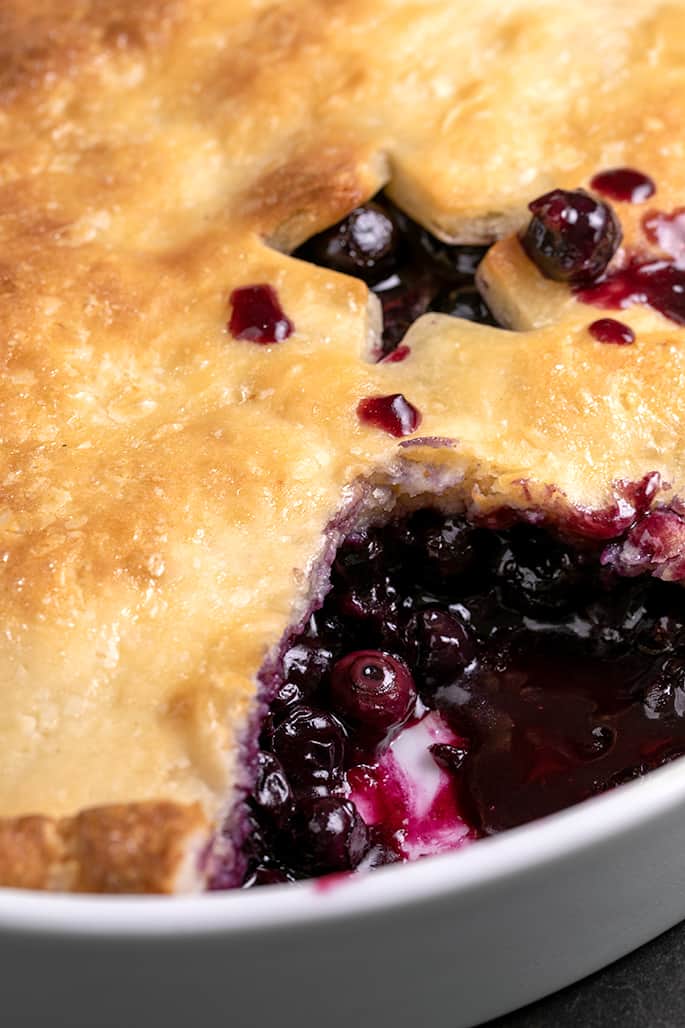 Ingredients and substitutions
Dairy
There are different types of dairy in all parts of this recipe. Let's take the one at a time.
For the butter in the pastry topping, filling, and for brushing on top, you can try replacing it with Melt or Miyoko's Kitchen brand vegan butter.
You can also try using shortening, but you can't shred it, so you'll have to add it in small pieces as best you can. I like Spectrum brand nonhydrogenated vegetable shortening.
For the buttermilk in the pastry topping, you can use my favorite buttermilk replacement: 1/2 plain yogurt (nondairy or dairy) by volume, 1/2 unsweetened milk (nondairy or dairy) by volume.
Flours/cornstarch
You need a gluten free flour blend with xanthan gum in the pastry topping, for it to hold together properly. If you can't have cornstarch, try arrowroot. If you're using a starchy all purpose flour, like (mock) Cup4Cup, in place of the starch, use more of your all purpose flour.
For the flour blend in the filling, I really prefer to use our gum-free flour, since it doesn't allow the liquid to separate in the filling like cornstarch does, even as it cools. In its place, you can try using just tapioca starch or just superfine sweet (a.k.a. glutinous) white rice flour.