Since the box of Rice A Roni is not gluten free, let's make our own gluten free Rice A Roni style dish with all the right flavors. With or without chicken, you can make a great meal tonight in no time at all.
When you're tired of plain rice for dinner tonight
I guess because I write a food blog, you might assume that I am always magically ready with a hot meal on the table at dinnertime. Hahahahahahahahaha. I dread dinnertime just like everyone else does. And I'm not much of a strict planner, either, like I know some of you are.
Whether you're a last minute dinner rustler like I am or a planner with a schedule, you know the value of a really good homemade dinner that everyone loves—and comes together in mere minutes. Since I'm often serving different members of the family dinner at various times throughout the evening, anything that I can make in stages is truly a gem.
This homemade gluten free Rice A Roni style dinner ticks all the boxes. It's super easy, uses regular pantry ingredients, can be made in stages (the spice mix can even be made weeks ahead of time and stored in a sealed container in your pantry), can be built up with protein or left plain, and everyone loves it.
My gluten free son is probably the only celiac who doesn't really care for plain rice, but he, too, loves this dish. It's always in the back of my mind as a go-to dish, especially if I'm caught out on time and already made my last-minute gluten free pizza that week.
Is rice gluten free?
In case you were wondering, all rice is gluten free. In fact, it's one of the most useful, versatile gluten free grains. That means that brown rice, wild rice, white rice, short grain, long grain and medium grain rice are all gluten free. Even so-called "glutinous rice" is gluten free, as its name refers to the sticky, starchy aspect of the rice itself.
When dry long grain white rice is ground super fine, it is the base for every all purpose gluten free flour blend I use. You can even grind it into a pretty fine flour yourself at home.
Cooked rice also makes the perfect side dish for almost any meal. It's perfect to serve with gluten free orange chicken, lemon chicken or sesame chicken. And if you're looking for dessert, you can turn almost any type of rice into rice pudding (as long as your rice wasn't cooked in chicken stock or something else savory!).
Is the boxed Rice A Roni gluten free?
Even though rice itself is safely gluten free, Rice a Roni in the box is not gluten free. It's made with rice and spices, but it also contains conventional wheat-based pastas like spaghetti and orzo.
If you're just getting started on a gluten free diet and would like to know the basic rules, maybe you'd like to see my Ultimate Guide to the Basic Rules of a Gluten Free Diet. Everything you need to know is in that guide, along with plenty of links for a deeper dive into some important information.
Why make your own Rice a Roni?
Some nights we have rice for dinner; others we have gluten free pasta. Here, we use a combination of both gluten free pasta and rice, but with the perfect blend of savory spices that makes the whole dish taste just like the box.
To make it most like Rice a Roni in the package, we use gluten free spaghetti noodles and break them into pieces. That also ensures that everything cooks together at the same rate and nothing gets mushy.
My whole family absolutely loves this side-dish-that-can-be-a-main-dish. It's also ridiculously easy to assemble the fragrant, flavorful dry mixes (and even dice the chicken ahead of time and store it in the refrigerator), so everybody wins.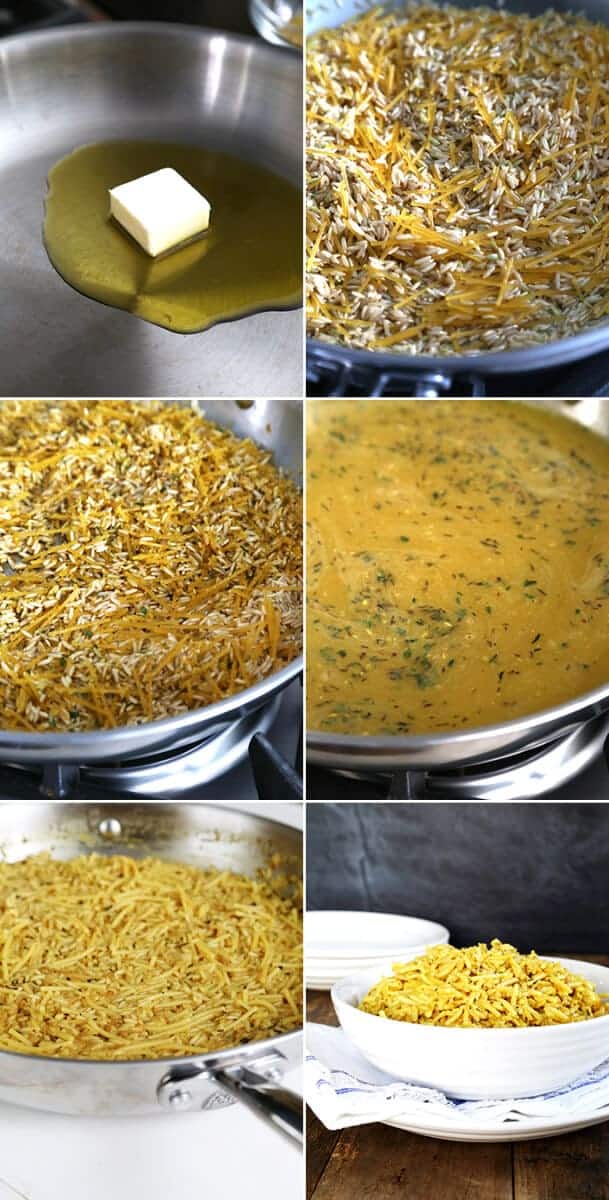 How to make this dish
If you've ever made the actual boxed, gluteny Rice-A-Roni, you know how this works. My method is a teeny tiny bit different than the method on the box. I just find that this way works best for this particular copycat recipe.
When the Rice-A-Roni people tell you how to add chicken to the ingredients in the box, they tell you to cook it with the rice and pasta. But it only takes a few moments to sauté it separately, and it results in much more flavorful chicken that is never, ever overcooked.
Serve it with chicken, or without. But most importantly, please explain to me why they called it the "San Francisco treat." I mean, really.

Ingredients and substitutions
The flavor profile doesn't lend itself to using beef in place of the optional chicken, but I think that turkey would work fine. Here are a few words about the other ingredients and potential substitutions:
Dairy
If you use a vegan butter substitute (my favorite is Melt brand VeganButter, but I've also used virgin coconut oil and Earth Balance with success), this recipe is entirely dairy-free. I'd recommend cutting down on the salt a bit, though, if you use a vegan butter substitute as they tend to be quite salty.
Long Grain Rice
I used Lundberg brand long grain brown rice. They also make long grain white rice, but my kids are used to brown rice and I prefer using a complex carb to a simple one. You can't use short grain rice as it takes much longer to cook.
And yes, the brown rice does cook completely during the 20 minutes that the pan is covered. It really helps to use a large round skillet with a tight-fitting cover, and measure your water carefully. I have also used this general recipe to make spaetzle-a-roni, believe it or not. And it was excellent!
Gluten Free Spaghetti
I used Barilla dried gluten free spaghetti in this dish. I wanted to make this recipe as simple and accessible as possible and gluten free spaghetti is readily available.
There are a number of companies that make gluten free vermicelli, though, and gluten free angel hair pasta. If you'd like, you can use GF angel hair pasta For a slightly more authentic feel.
I've also made this only rice, no pasta. I've even made it with leftover white rice from another dish.
Nutritional Yeast
I used Bragg brand "Nutritional Yeast Seasoning," and I find it online, in my local health food store and in Whole Foods. Bob's Red Mill also makes a gluten free "Nutritional Food Yeast," but I haven't tried it.
Nutritional yeast is an inactive form of yeast and has a mild nutty and cheesy flavor. And strangely, it sort of tastes like chicken. These are life's little mysteries. Embrace them.
I don't know of any substitute for the nutritional yeast—especially since it's often used as a substitute for cheese. I imagine the dish would be quite good with finely grated Parmigiano-Reggiano cheese, though.
Spices
This recipe has what I consider to be the perfect blend of mild but flavorful spices. If you'd like to experiment with replacing one or the other, you certainly can but I can't promise how it will taste!
Homemade Gluten Free Rice A Roni Style Dinner
Ingredients
For the dry mixes
1 1/2 cups (270 g) long grain rice (brown or white)
3 ounces (84 g) gluten free spaghetti (or gluten free vermicelli noodles), broken into 1-inch pieces
3 tablespoons (15 g) nutritional yeast flakes
2 teaspoons dried onion flakes (can substitute 1 teaspoon onion powder)
1/2 teaspoon garlic powder
1/2 teaspoon dried parsley
1/2 teaspoon dried thyme
1/4 teaspoon kosher salt
1/8 teaspoon turmeric
For cooking
2 tablespoons (28 g) unsalted butter
1 tablespoon (14 g) extra virgin olive oil
1 pound skinless boneless chicken breasts, cut into 1-inch square pieces (optional)
3 to 3 1/2 cups (24 to 28 fluid ounces) water (depending upon the type of rice used)
Instructions
First, make the dry mixes. In a medium-size bowl, place the rice and spaghetti or vermicelli and mix to combine. Set the bowl aside or place in a 4-cup glass or plastic container with a lid, then set it aside. In a small bowl, place the rest of the dry mix ingredients and mix to combine well. Set the bowl aside or place its contents in a small, zip-top bag, squeeze out all the air and seal, then place in the lidded container with the rice and pasta and seal the container for later use.

To cook the dish, in a 12-inch skillet with a lid, place the butter and olive oil and melt the butter over medium heat.** Add the rice and pasta mixture to the skillet and stir to coat. Cook, stirring frequently, until the dried pasta and rice begin to smell nutty (about 3 minutes). Add the entire spice mixture, and mix to coat the grains evenly in the spices. Add the water (3 cups if using white long grain rice, 3 1/2 cups if using brown), and mix to combine. With the skillet still uncovered, bring the mixture to a boil over medium-high heat. Lower the heat to medium-low and cover the skillet. Simmer for 15 to 20 minutes, or until most of the liquid has been absorbed and the grains are tender. Allow to sit, covered, for 3 minutes before serving.

**If adding the optional chicken, place the chicken in the skillet at this point, and sauté in the butter and oil for about 5 minutes total or until cooked through. Transfer the cooked chicken to a separate bowl, draining it of all liquid as you remove it from the skillet. Then proceed with the recipe as written, and add the chicken before serving.

Originally published on the blog in 2015. Recipe unchanged. Some photos and the how-to video are new.