This spinach dip is made with gluten free homemade onion soup mix. Serve it with fresh vegetables or corn chips for a crowd favorite appetizer.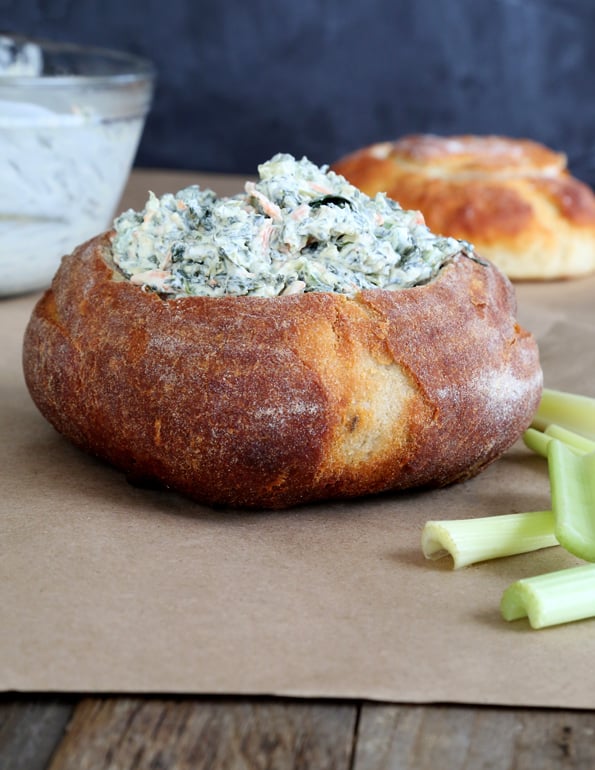 As I understand it, Lipton Onion Soup Mix, which I grew up using to make spinach dip, used to be gluten free–until they started adding a barley derivative to the product and bye-bye gluten free. But if you look at the ingredient list of the product, it's not much more than onion, salt, a touch of sugar, and starch.
It does boast dehydrated onions, but we can get around that quite easily in our homemade onion soup mix. Oh, and in case you're wondering, I served it in one bread bowl made from the No-Rye "Rye" Bread from page 101 of GFOAS Bakes Bread—and another made from the Lean Crusty White Sandwich Bread on page 43. You really just want a crusty bread, and those are stellar examples.
Now, for our homemade onion "soup mix," in place of the dehydrated onions, I just minced and sautéed a small yellow onion. To give the minced garlic more bite, I mince it very fine, and then use the flat side of a large knife to press the garlic and a bit of kosher salt into a paste.
This method releases all the oils in the garlic, and I much prefer it, but of course you could always sauté it briefly when you cook the minced onions. Your choice!
Since spinach dip really does get better if it sits in the refrigerator for at least an hour, and even better at least a day, this is a great make-ahead option. The longer you let it sit, the better the crusty bread it's sitting in will taste, too. Happy D.I.Y. Friday!
Homemade Onion Soup Mix & Spinach Dip
Yield:
About 3 cups spinach dip
Ingredients
For the homemade onion soup mix
2 teaspoons onion powder
1 teaspoon kosher salt
1 tablespoon (9 g) cornstarch
1 tablespoon (12 g) granulated sugar
For the spinach dip
16 ounces chopped frozen spinach
1 tablespoon (14 g) extra-virgin olive oil
1 small yellow onion, peeled and minced
2 medium carrots, peeled and shredded
1/3 cup (75 g) mayonnaise
1 1/2 cups (336 g) sour cream
1 1/2 teaspoons gluten free Worcestershire sauce
1 recipe homemade onion soup mix
1/4 teaspoon freshly ground black pepper
2 ounces Parmigiano-Reggiano cheese, finely grated
2 stalks celery heart, chopped fine
2 cloves garlic, peeled and minced very fine
1/4 teaspoon kosher salt
Instructions
In a small bowl, combine all of the ingredients for the homemade onion "soup mix," and whisk to combine. Set the bowl aside. Cook the spinach according to the package directions. Place the thawed spinach in a tea towel and squeeze it until as much of the moisture as possible has been removed. Set the spinach aside.

In a small, heavy-bottom saucepan, heat the olive oil over medium heat until it ripples slightly. Add the minced onion and carrots, and cook, stirring frequently, until the onion is translucent and lightly browned (about 5 minutes). Remove the mixture from the heat and set it aside to cool briefly.

In a large bowl, place the mayonnaise, sour cream and Worcestershire sauce, "soup mix" and black pepper, and whisk to combine well. Add the Parmigiano-Reggiano, celery, spinach, onion and carrot mixture, and mix to combine. Place the garlic and salt on a flat surface, like a cutting board, and press into a paste with the flat side of a large knife (like a chef's knife). Add the garlic paste to the dip, and mix to combine. Cover the bowl and place in the refrigerator to chill for at least an hour, and up to 3 days. Serve in a bread bowl with chips or celery for dipping.