Tasty cauliflower fried rice is the low carb, Paleo recipe that satisfies your craving for takeout. Learn to make riced cauliflower the easy way with frozen, defrosted cauliflower.
What makes this recipe for low carb gf fried rice special?
We are lucky enough to have a Chinese restaurant within about 10 miles that has a reliable gluten free menu. So if we want gluten free fried rice, we don't absolutely have to make it ourselves.
Now, we don't get takeout very often at all, mostly because it's so expensive. But when we do, I can't help but be mindful of how unhealthy it is. I know. Total Debbie Downer.
But when I want all the taste of fried rice without any of the guilt, I make cauliflower fried rice. And you should, too. Rice is gluten free, sure, but cauliflower rice tastes more like it than you might think—and it's way better for you!
Fried rice is generally a great clean-out-the-fridge-or-freezer meal, and you can of course add some more protein to this recipe. Shrimp fried rice is a family favorite, for sure.
If you're holding back from making any stir fry meals because you don't have the "right" pan, though, let me put your mind at rest. I have gone through many woks in my time.
The Joyce Chen carbon steel wok lasted me for quite a while, but I'm sure I didn't care for it properly and everything started to stick to it. I even tried buying an electric wok, from Breville I think. That was returned after 2 uses.
You really, really don't need a wok, though. A traditional wok is really designed for very high-heat cooking, and that's just not how we can cook at home. Just use a large skillet and call it good! And if you're interested, we have lots of other gluten free dinner recipes you can make in that skillet.

How to make cauliflower rice
Have you ever riced cauliflower? Riced cauliflower is really as versatile as the Internet says it is, whether you're making cauliflower fritters, cauliflower tortillas, or cauliflower pizza (I have a favorite recipe for that, too). I used to start with raw cauliflower, and finally wised up.
Lately, to make cauliflower rice, I begin with frozen cauliflower. If I'm being very organized, I defrost frozen florets in a bowl in the refrigerator overnight.
Otherwise, I use my microwave to defrost it gently, taking care not to cook it or it won't hold its shaping when it's processed into "rice." That way, I never have to work with hot, freshly cooked cauliflower since frozen vegetables have already been blanched.
Although this recipe does call for using a food processor, I use my mini chop food processor (link at bottom of post). It takes just minutes to clean, and it's quite the workhorse.
If you don't have a food processor, you can try just chopping the defrosted cauliflower with a knife. It doesn't have to be perfect!
Oh, and if you're really really lucky, you live near a Trader Joe's market that carries (wait for it) … already riced cauliflower. Just defrost, wring out the water and you're ready to go. Whenever my local TJs has riced cauliflower in stock, I buy 10 bags at a time!
Another super-easy way of ricing fresh, raw cauliflower is to chop it roughly into florets, put it in any old blender, and add enough water to cover. Then pulse in the blender and drain. So easy!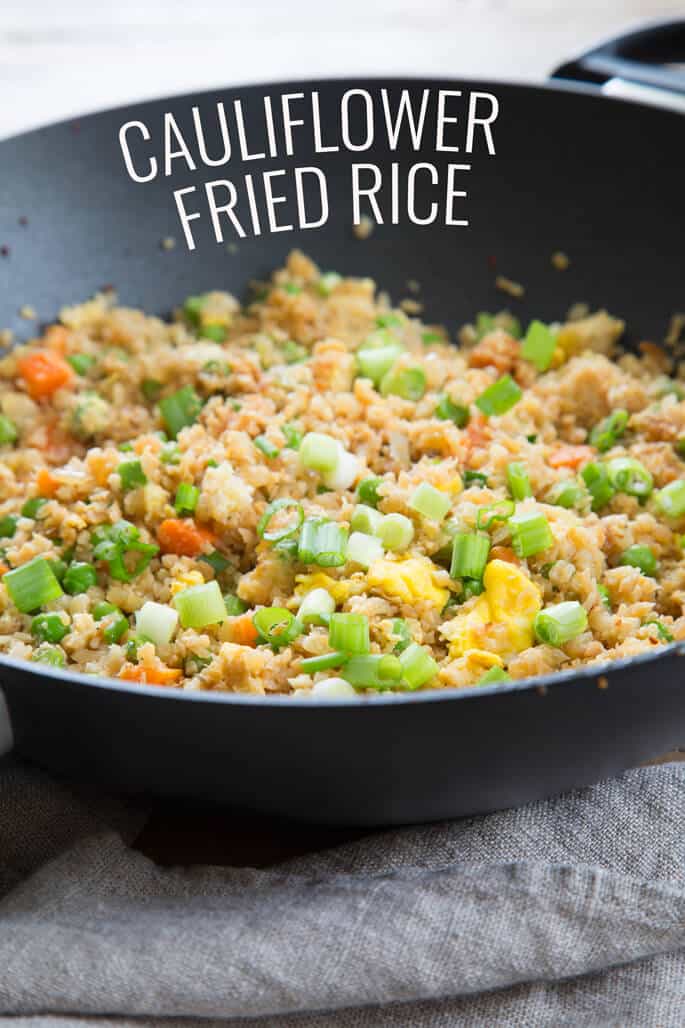 If you're looking for something else delicious to make with cauliflower, try our cauliflower tortillas. Or make a double batch of riced cauliflower and use it as a base for any of our gluten free Chinese food recipes.
You know, when I first served this healthy fried rice to my family, I told my children straight up that it was made with cauliflower and asked if they'd like to try some. My oldest is a vegetable hater from way back, but she does already love cauliflower pizza. Not only did they all 3 love this dish, but they came back into the kitchen later to have me explain, once more, that it wasn't actual rice grains that they were eating.
Low Carb Cauliflower Fried Rice
Ingredients
24 ounces frozen cauliflower florets, thawed gently (be careful not to cook it further)
4 tablespoons (56 g) coconut oil (or a neutral oil, like vegetable oil)
1 small yellow onion, peeled and diced
2 cloves garlic, peeled and minced
2 teaspoons (9 g) toasted sesame oil, plus more as necessary by the half-teaspoonful
3 tablespoons gluten free tamari or soy sauce, plus more to taste
1 tablespoon mirin (rice cooking wine) (or try 1 teaspoon apple cider vinegar)
4 ounces frozen peas and chopped carrots
2 fresh scallions, chopped
2 eggs (any size), lightly beaten
Instructions
Place the thawed cauliflower in small batches in a food processor fitted with the steel blade. Pulse in short bursts just until it resembles grains of rice. Place the riced cauliflower in a tea towel or fine mesh nut milk bag, and squeeze until all of the water has been removed. Expect about 1 cup liquid total. Line a medium-size bowl with paper towels, place the riced, dried cauliflower in the bowl, and set it aside.

In a large, nonstick skillet or wok, heat the coconut oil over medium heat until rippling. Sauté the diced onion, stirring occasionally, until nearly translucent (about 4 minutes). Add the garlic, and continue to sauté for another 2 minutes or until the garlic is fragrant and the onion is translucent. Add the dried, riced cauliflower, then the sesame oil, tamari and mirin to the pan, and mix to combine. Add the frozen peas and carrots, and mix gently to combine. Cook for another minute, or until the peas and carrots are defrosted. Add about 3/4 of the chopped scallions, and mix to combine.

Create a 4-inch space in the center of the pan by pushing the cauliflower mixture to the sides of the pan. Turn up the heat to medium-high and allow the cauliflower mixture to cook undisturbed for 2 minutes. Add the beaten eggs to the center of the pan and, stirring occasionally, scramble the eggs. Add more sesame oil by the half-teaspoonful as necessary to cook the eggs. Mix the scrambled eggs into the rest of the fried rice.

Sprinkle the fried rice with the remaining chopped scallions and serve immediately.

Adapted from Serious Eats recipe for vegetable fried rice.