Bite-sized, pan fried gluten free lemon chicken with an easy tart and sweet sauce that will make it easy to ditch the take out!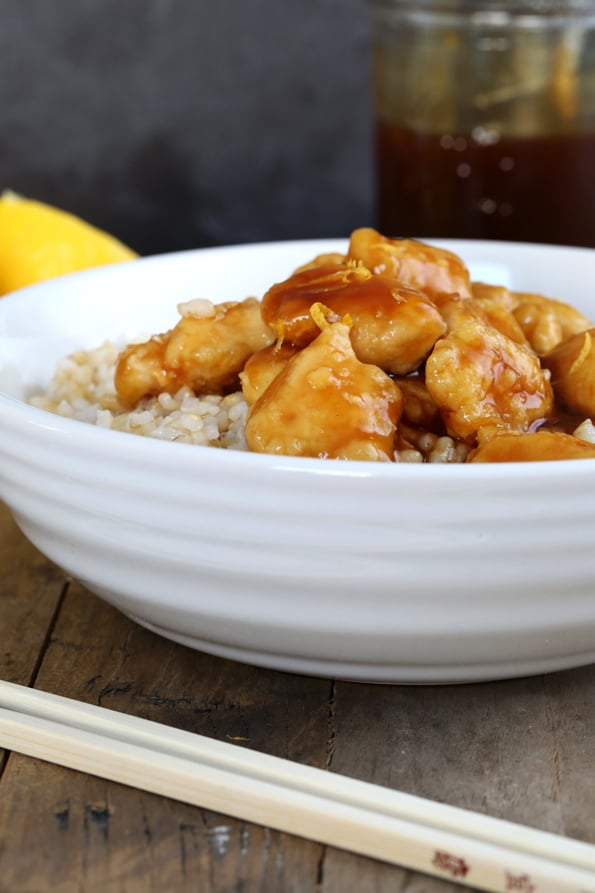 This recipe for Gluten Free Lemon Chicken has been here on the blog, in one form or another, since almost the very beginning (2009!). It was a great, simple gluten free chicken dinner recipe then, and it's great now. It just got a makeover.
I changed up the method a little bit, but the ingredients are mostly the same. It's bright, and lemony and delicious. Oh, and apparently commenters said that it was too light on the sauce, so I bumped that up.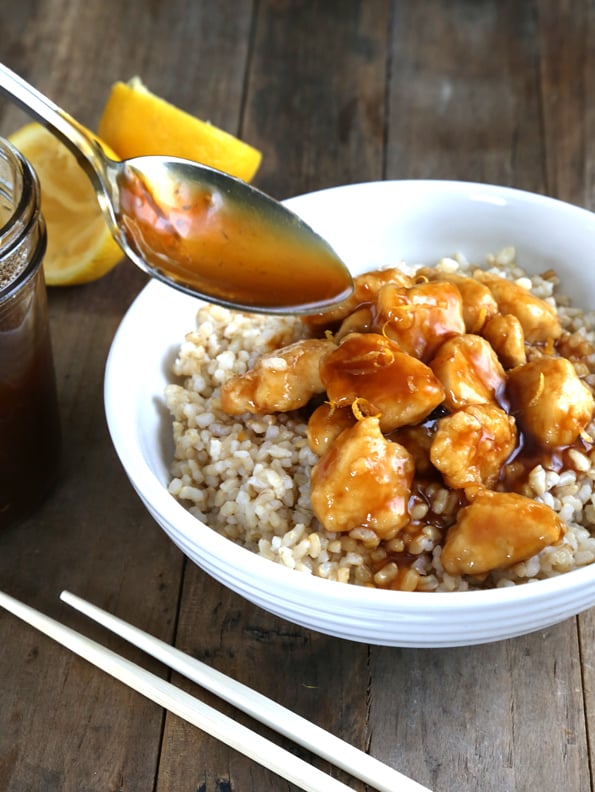 I hadn't made this dish in a while (always writing a cookbook and trying to bigger-and-better-deal myself, I guess), and I'm so glad that I revisited it, even just so I could snap a few new photos. But there's no way I'd get rid of the original photo, you know? It's my roots.
Fancy, right?! Every once in a while, I'll see that old-school photo show up on Pinterest, and I'm not nearly as embarrassed as I guess I should be. We all have to start somewhere. :)
Gluten Free Lemon Chicken Chinese-Style
Ingredients
For the sauce
1/2 cup freshly squeezed lemon juice (juice from 2 lemons)
1/4 cup gluten free tamari or soy sauce
1/4 cup (55 g) packed light brown sugar
Zest from 1 lemon
1/2 teaspoon ground ginger
2/3 cup low sodium chicken stock
2 tablespoons (18 g) cornstarch
For the chicken
1 egg (any size), beaten with 1 tablespoon water
Cornstarch, for dredging (about 3/4 cup)
1/2 teaspoon garlic salt (optional)
1 1/2 pounds boneless, skinless chicken breasts, cut into 1-inch square pieces
1/4 – 1/2 cup neutral oil, for frying (canola works well)
Instructions
In a heavy-bottom, medium-size saucepan, place the lemon juice, tamari or soy sauce, brown sugar, lemon zest and ground ginger, and whisk to combine well. Pour about half of the chicken stock into a small bowl, whisk the 2 tablespoons cornstarch into the stock until it is smooth and pour into the saucepan. Pour the remaining chicken stock into the saucepan as well, and whisk to combine well. Set the saucepan aside.

Place the egg and water mixture in a medium bowl. Place the cornstarch for dredging in a separate, medium bowl. Add the garlic salt to the cornstarch, and whisk to combine. Dredge the chicken pieces through the egg wash, then dip in the cornstarch to coat lightly. Shake off any excess. I like to dredge all of the chicken at once before I begin to cook it, so I place the coated chicken on a baking sheet lined with parchment paper along the way.

In a wok or a large, heavy-bottom sauté pan, place about 1/4-inch of frying oil over medium heat until shimmering. Add the chicken in batches and fry until crisp – for about 2-3 minutes total, turning once. Do not crowd the pan. The chicken will not brown, but it will crisp. Remove and drain on paper towels. Add more oil as necessary.

To make the sauce, place the saucepan with the lemon/soy mixture over medium heat, and bring to a boil. Lower the heat to medium-low and cook, whisking constantly until thickened (about 3 minutes). Toss the chicken in the sauce, and serve immediately over rice.