Learn to master the simple roux base to make homemade gluten free cream of chicken soup, and bring back all of those old favorite recipes your family loves. Potato and mushroom varieties, too!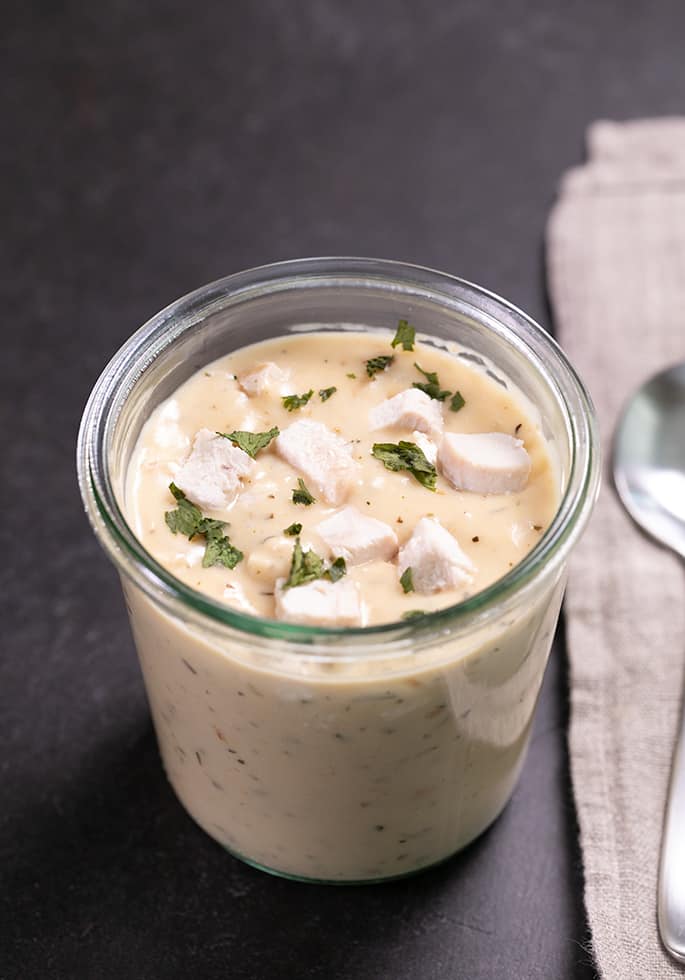 Progresso and Pacific Foods make gluten free cream of condensed soups, but they're not always available, are expensive, and of course they're not as good as what you can make at home. With this homemade recipe, you can use exactly the herbs and spices you like.
Let me show you how to make your own homemade gluten free cream of mushroom, gluten free cream of potato and gluten free cream of chicken soup, and you decide if it's worth a few minutes of your time—at least some of the time!
What makes them condensed soups?
Cream of condensed soups are made with a roux, which is just a mixture of butter and flour used to thicken sauces. A condensed soup has less moisture, and concentrated flavors.
All of the ingredients are thickened and reduced (moisture removed by cooking). They are great starting points for all types of recipes, and can be thinned with milk or chicken or vegetable stock to make a hearty meal, quickly.
It's important that you use my basic gum-free gluten free flour blend, which is a very simple mixture of superfine white rice flour, potato starch, and tapioca flour (linked below). With a gum-containing gluten free flour blend, you will have one gummy mess on your hands—and in your pots and your utensils.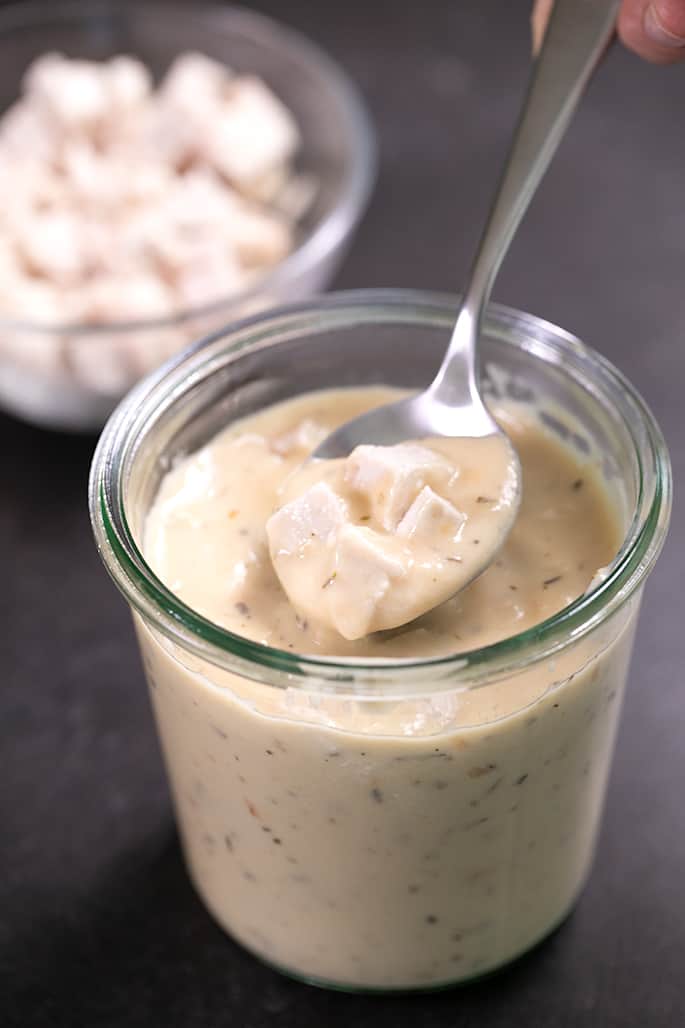 How to cook the chicken for cream of chicken soup
The cream of chicken soup calls for cooked cubed chicken. But you can make it without adding in the chicken at the end and it still tastes amazing.
You can also use shredded rotisserie chicken if you can find a safe, gluten free variety, and your family likes the flavor. The way I cook plain chicken breasts, they have a more neutral flavor that doesn't compete with the herbs and spices added to the soup.
My favorite method for cooking plain skinless boneless chicken breasts
Place the raw breasts in a lined or greased casserole dish. Drizzle them lightly with olive oil, sprinkle lightly with salt and freshly ground black pepper, and cover completely with parchment paper placed directly on top of it, covering the chicken completely.
Preheat your oven to 400°F. Place the dish in the hot oven and cook for about 20 minutes or until an instant-read thermometer inserted into the thickest portion of each breast reads at least 165°F. Allow to rest outside the oven, still covered, for 10 minutes before dicing.
How the mushroom and potato varieties are different
Don't be intimidated by the list of ingredients, as it's mostly the same for each of the 3 varieties. I wanted you to have all of the recipes in one place, so I listed them together. But once you master the basic roux-based technique, you'll be able to bring back all of those old favorite recipes your family loves.
The simplest variety cream of soup is the cream of mushroom soup, as the mushrooms cook down very quickly in the beginning of the process right along with the shallots. Plus, they add really nice depth of flavor.
If you're thinking about making a classic gluten free green bean casserole, cream of mushroom is a must. The cream of potato soup is a bit extra creamy because of the diced potatoes that simmer in the soup as it reduces and thickens.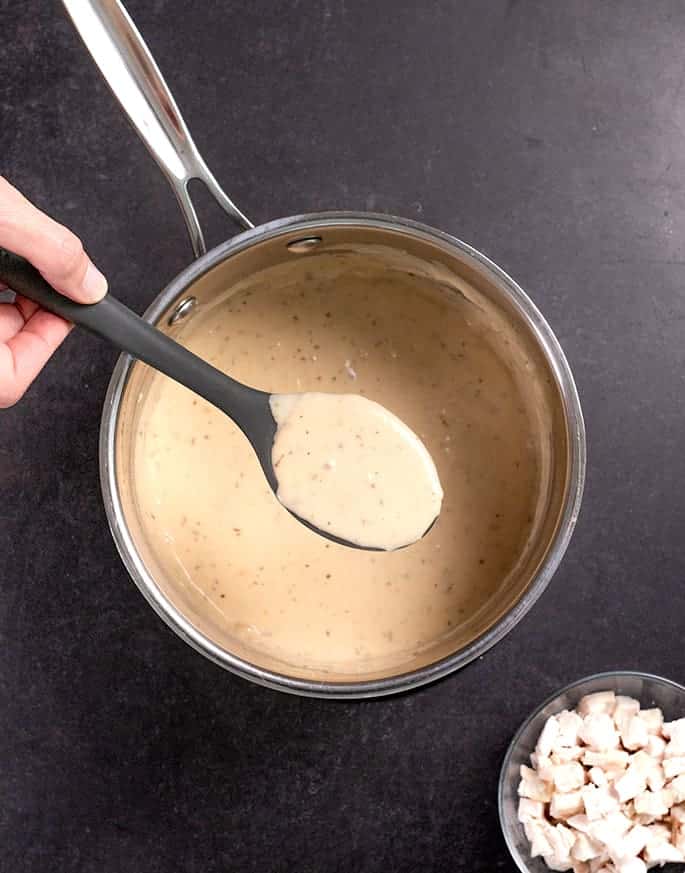 Ingredients and substitutions
Dairy
The only dairy in the main recipe for gluten free cream of chicken soup, plus the other varieties, is butter to saute the shallots, and evaporated milk to enrich the sauce. They're both pretty easily replaced if you have the right nondairy substitutes.
To replace the butter, I think you'd be successful using nearly any nondairy butter substitute, even Earth Balance buttery sticks. Since Earth Balance sticks have more moisture, you should allow the roux to cook lower and slower, so it doesn't burn but the moisture cooks off.
To replace the evaporated milk, Carnation makes a nondairy cooking milk in a small carton that is reduced down to a similar moisture content. If you use a "regular" nondairy milk, use something unsweetened and neutral-tasting, like almond milk.
If your milk isn't reduced-moisture, either reduce it separately in a saucepan, stirring constantly over medium-low heat, or add more milk and cook longer. Either way, you'll have to cook off that extra moisture or your soup will be too thin.
Some readers have reported successfully replacing the evaporated milk with a mixture of half canned coconut milk and half "regular" nondairy milk. I think "light" coconut milk in the can might work, too—but really you're just paying for thick coconut milk and water so I never buy the light kind.