Choosing a Gluten-Free Flour Blend
Choosing an all-purpose gluten-free flour blend can be pretty intimidating. Don't worry! Any of the flour recipes below can be used in any of my gluten-free recipes here on my blog and in My Gluten-Free on a Shoestring Cookbooks. They're easy to make. All you need is a simple digital food scale and the simplest calculator you can find. The recipes are expressed in percentages, and you cannot make these blends accurately with volume (cups, tablespoons, teaspoons) measurements, as measuring by volume is incredibly imprecise and each flour has a different weight/volume.
How To Use the Infographics Below
To prepare each D.I.Y. gluten-free flour blend below in whatever quantity you'd like, simply apply the various percentages listed for each flour to the total quantity, one by one. For example, if you wanted to put together 140 grams of flour (which is the proper measurement for "1 cup" of an all-purpose flour blend by volume in my recipes), using the Mock Better Batter Blend, here's the math:
30% BRF = 30% (or 0.30) x 140 grams = 42 grams superfine Brown Rice Flour
30% WRF = 30% (or 0.30) x 140 grams = 42 grams superfine White Rice Flour
15% TS/F = 15% (or 0.15) x 140 grams = 21 grams Tapioca Starch/Flour
15% PS = 15% (or 0.15) x 140 grams = 21 grams Potato Starch
5% PF = 5% (or 0.05) x 140 grams = 7 grams Potato Flour
3% XG = 3% (or 0.03) x 140 grams = 4 grams Xanthan Gum
2% PPP =  2% (or 0.02) x 140 grams = 3 grams Pure Powdered Pectin
If you add up all of the numbers, it will equal 140 grams (go ahead and check!). So make as much or as little as you like. I generally make 10 cups at a time of my favorite blend (which at this point is the "Better Than Cup4Cup Flour Blend").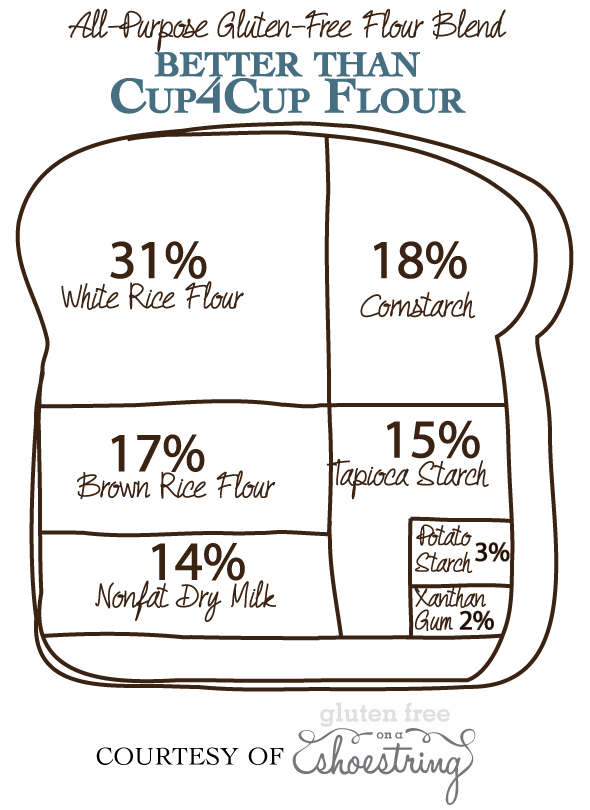 The Myth of a Cup-For-Cup Gluten-Free Flour Blend
Gluten-free baking calls for gluten-free recipes. Plain and simple. There is no such thing as a cup-for-cup gluten-free flour blend that mimics conventional flour enough to be used in all of your conventional recipes. Even though some commercial blends may call themselves a cup-for-cup replacement for all-purpose wheat flour, a cup for cup gluten-free flour replacement for all-purpose wheat flour is a myth.
Now a commercially available high-quality all-purpose gluten-free flour blend? That's an entirely different story. I thoroughly tested 4 commercial blends in 4 different types of gluten-free recipes. In the Gluten-Free Flour Blend Test, I tested Better Batter, Cup4Cup, Jules Gluten Free, and Tom Sawyer gluten-free flour blends in recipes for cake, pastry, yeast bread and cookies and scored them in each of 10 categories. Better Batter and Cup4Cup came out on top in every category, but the others still had something to teach.
Better Batter as Cup4Cup Hack
Nothing compares to the light and flaky gluten-free puff pastry that Cup4Cup makes. Since it's such a spendy blend, I found a way to hack Better Batter gluten-free flour into a pastry flour, as another Cup4Cup alternative. Since Cup4Cup is a dairy-containing flour, I also created a dairy-free way to hack Better Batter into pastry flour.
Cake Flour
Gluten-free cake flour is easy, and really makes for a nice light cake.
A Gum Free Flour Blend
This is a great blend for gluten-free pancakes, where xanthan gum really gets in the way. It's also a nice change of pace for gluten-free crepes, for the very same reason.
P.S. If you haven't already, please pick up a copy of  both of My Cookbooks! Your support makes the work I do on the blog possible, so thank you!