When you're new to the gluten free diet, one of the key things you want to know is whether pasta is gluten free. It's likely one of the gluten containing foods you'll miss the most, and I've got good news and bad news.
Conventional pasta, which is made from wheat flour, is not gluten free. Thankfully, there are now many options for gluten free pasta that use alternative grains or legumes, such as rice, quinoa, corn, or beans. And I've got a beautiful, simple recipe for homemade gluten free pasta for when you want a pasta dish that's extra special.
In a nutshell: Is pasta gluten free?
In a nutshell, pasta is not gluten free. Traditional pasta is made from wheat flour, which contains gluten. But you can find a decent selection of dried gluten free pastas at the grocery store.
While some of the packaged dried gluten free pastas aren't great, many are just like real pasta and your gluten-eating family would be unlikely to tell the difference. Just remember, it's crucial that, if you're following a gluten-free diet, look for pasta that is specifically labeled as gluten free so that you know there's no risk of cross contact contamination.
What is pasta made from?
Pasta is a simple food staple conventionally made from flour, egg, olive oil, and salt. It comes in a variety of shapes and sizes, some rolled out and cut into the desired shape, others extruded by a specialized machine.
Gluten free pasta can also be made from other grains or legumes, such as rice, quinoa, corn, or beans, or a good quality gluten free flour blend. Some of the alternative gluten free pastas, like those made from chickpea flour like Banza, would not pass for conventional pasta. If you try them, do it with that in mind!
How to buy gluten free pasta
If you have gluten sensitivity, it's crucial that you choose pasta that's labelled as gluten free. Even if the product has no gluten containing ingredients but isn't labelled gluten free, it may not be safe, as cross contamination could've occurred.
You'll likely find these safe options in the "free from" section of your local grocery. They're also abundantly available online. The best gluten free pasta is a bit more costly than conventional wheat options, but, as long as you don't overcook it, it's good enough to fool the most ardent pasta lover.
How do you cook gluten free pasta?
When you cook dried gluten free pasta, if you follow the package directions, the results are mixed, at best. You'll get pasta that's gummy or mushy, that sticks to itself, or clumps, so tightly it's impossible to get apart.
I've got a really simple method for cooking dried gluten free pasta and getting perfect results every time, though. But, in essence, it's all about the rolling boil, foaming water, and getting the timing just right, then rinsing it and keeping it at room temperature for as long as possible.
How to make gluten free pasta
And, when you want to make a really special pasta dish, you can make your own. The best gluten free pastas are those you make from scratch. The fresh gf pasta from the store is okay, but really, really expensive.
You can make gluten free pasta yourself with a few ingredients and a little bit of time. Like many gluten free alternatives, the best gluten free pastas require a few more ingredients than wheat pasta. But that's okay. The recipe and the ingredients list are simple and short.
And you don't even need a pasta machine for this one, although you can use one if you prefer. Take a look at my recipe for the best gluten free pasta and impress your family – even the hardcore pasta lovers.
What are the best gluten free pasta brands?
There are plenty of gluten free pastas available in the grocery store and online today (thankfully!), and some of them are genuinely good. Not just "good for gluten free", but good. I've dedicated a whole post to the best gluten free pasta brands, but, if you don't have time to read the whole thing, here are my top 3. These are affiliate links, but feel free to shop around for the best price:
Does gluten free pasta taste different?
You may notice a difference in taste and texture between gluten-free pasta and wheat pasta. Some gluten free pastas are nearly indistinguishable from the conventional alternatives. However, some brands are softer than others and tend to fall apart, however carefully you cook them.
Gluten free pastas made from flours with a strong taste or distinctive texture, like chickpea pasta or those that use black bean or brown rice flour can have a different taste. Don't buy them with the expectation that they will taste like your old favorite wheat-based pasta.
The best gluten free dried pastas taste lovely, even if a little different, and they behave like regular pasta, with a smooth texture and pasta shapes that hold up well, carry sauce well, and don't fall apart. They do tend to get harder in the refrigerator when they're stored as leftovers, though, so keep that in mind.
Cross Contamination
It is important to be aware of the risk of cross contamination when preparing and serving gluten-free pasta. If you are cooking gluten-free pasta in the same pot as traditional pasta, there is a risk that the gluten-free pasta may come into contact with gluten from the traditional pasta.
To avoid cross contamination, it is best to use separate pots for cooking gluten-free and traditional pasta, and to use separate utensils and cutting boards as well.
Gluten free pasta recipes
Gf pasta has been a staple starch in my house for over a decade, even long before Barilla even made a single gluten free dried pasta variety. It has come a long, long way since then, and now I've become quite picky with what I serve.
Here are some of the ways I serve dried gf pasta, and a couple ways I make fresh gluten free pasta and home.:
Homemade gluten free egg noodles
Gluten free egg noodles, made with just 4 basic ingredients, can be made with a pasta roller or by hand. Just right for your homemade soup!
Click for the recipe
Gluten free spaetzle
Gluten free spaetzle, those easy little pasta dumplings, are so easy to make and they're the perfect alternative to rice or pasta.
Click for the recipe
Gluten free potato gnocchi
Soft, tender and delicate dumplings, gluten free potato gnocchi make for a hearty meal no matter how you cook and serve them.
Click for the recipe
Homemade gluten free pasta recipe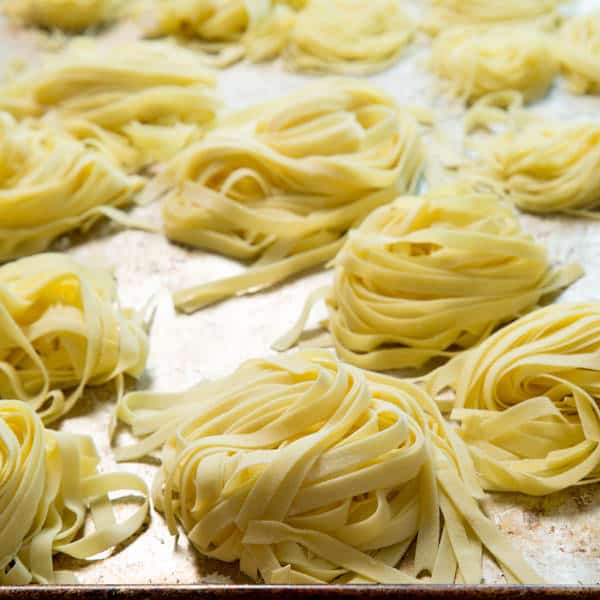 Making fresh pasta at home is a labor of love. It's a simple process. All it takes is the right gluten free pasta recipe, and a little time.
Click for the recipe
Classic gluten free pasta salad
Try this easy gluten free pasta salad for lunch today or a potluck. This gf pasta salad offers the freshest taste with a homemade dressing and fresh veggies.
Click for the recipe
Fresh gluten free tortellini
Preparing fresh, gluten free tortellini isn't nearly as difficult as you might think. Check out this gf tortellini recipe for an awesome dinner idea tonight.
Click for the recipe
Warm gluten free pasta salad
This warm gluten free pasta salad is made for lazy evenings. Assemble the vegetables and cheese in the morning, add just-boiled pasta, and dinner is served.
Click for the recipe
Easy gluten free macaroni and cheese
Looking for a gluten free mac and cheese recipe? We've got three! Check out these fast and easy gf macaroni and cheese options to find your new favorite.
Click for the recipe
FAQs
Is gnocchi gluten free?
Traditionally, gnocchi are made from wheat flour and are not gluten free. But there are some good gf alternatives made from flours like potato or rice flour.
As with any other pre-packaged or processed product, if you have celiac disease or gluten sensitivity, make sure you check the ingredients and choose a product that you trust and that carries a gluten free label.
Is spaghetti gluten free?
Conventional spaghetti is made from wheat flour, so isn't gluten free. But there's lots of gluten free choices available now. My favorite brand is Barilla gf pasta.
But you can also choose chickpea pasta, gluten free noodles made from brown rice flour, rice noodles, spaghetti or other pasta made from corn flour, and other options, including black bean flour, yellow peas, or red lentils.
Does brown rice pasta have gluten?
No, usually brown rice pasta doesn't contain gluten. It's a popular gluten free pasta alternative. Brown rice pasta is typically made from just one ingredient: brown rice.
As long as it is not contaminated with wheat or other sources of gluten during the manufacturing process, and doesn't contain additional ingredients, it's safe for those with gluten sensitivity.
Are soba noodles gluten free?
Soba noodles are usually not gluten free, even though they're made primarily from buckwheat flour, which is naturally gluten free. Soba noodles generally are also made from wheat flour, which makes them unsafe on a gluten free diet of any kind.
Are noodles gluten free?
Not all noodles are gluten free. Conventional noodles are made with wheat flour, so are not gluten free. But, as with other forms of pasta, there are lots of high-quality gf alternatives available. And most rice noodles are gluten free.