Get this tested recipe for gluten free blueberry buckle: a moist yogurt cake with a layer of fresh blueberries and a crumb topping!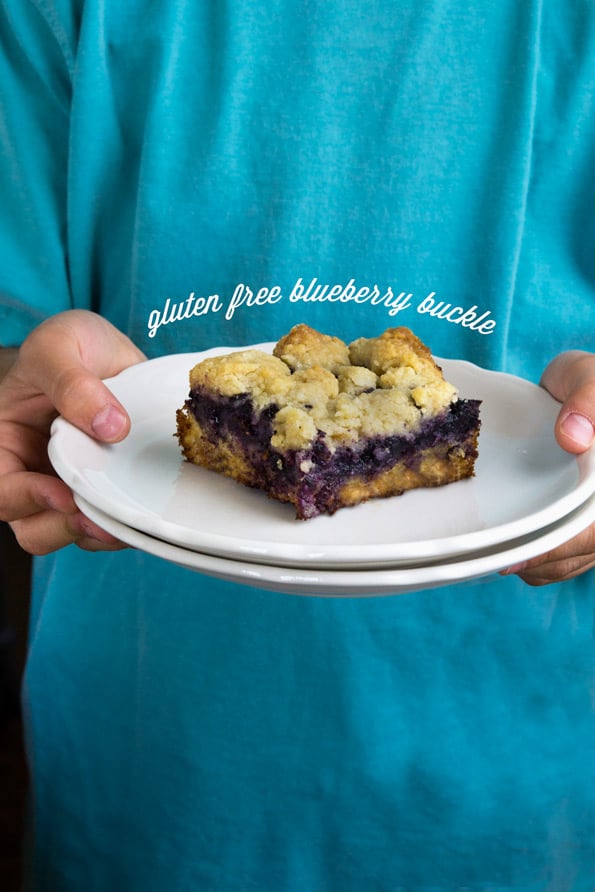 A buckle can either have fruit mixed into the cake batter (like that one) or a layer of fruit between the cake and the crumble topping (like this one). Since blueberries are exploding right now, a layer of just blueberries seemed like the right thing to do.
We all know that everything is better with a crumble topping. It's so easy to throw together, and it seems like what cake would like to be if it just got rid of everything else that wasn't essential. Just be sure not to skimp on it, though. There is nothing sadder than a crumble topping without big, rewarding chunks of crumble.
You bake this cake in a few easy steps. It takes a wee bit of babysitting, but really nothing you can't handle. The idea is to bake the cake, covered, without the crumb topping. That way, you don't have to overbake the crumbs. Oh, and be sure the crumbs are chilled before baking them. That's how they stay crumb-like, instead of just melting into a single layer in the oven.
You know how kids tend to have bright blue lips in the summertime from whatever never-seen-in-nature treat they got from the ice cream truck? Well, my children's lips were bright blue after they each finished a big piece of this moist, sweet summer cake. Naturally. Will you forgive me my smug satisfaction?
Gluten Free Blueberry Buckle
Yield:
1 9-inch square cake
Ingredients
For the crumble topping
8 tablespoons (112 g) unsalted butter, melted and cooled
1 cup (140 g) all purpose gluten-free flour blend
1/2 teaspoon xanthan gum (omit if your blend already contains it)
1/4 cup (50 g) granulated sugar
1/3 cup (73 g) packed light brown sugar
For the batter
1 1/4 cups (175 g) all purpose gluten-free flour blend
1/2 teaspoon xanthan gum (omit if your blend already contains it)
3/4 teaspoon baking powder
1/4 teaspoon baking soda
1/4 teaspoon kosher salt
3/4 cup (150 g) granulated sugar
3 tablespoons (40 g) light brown sugar
2 tablespoons (28 g) unsalted butter, at room temperature
4 tablespoons (48 g) vegetable shortening
6 tablespoons (84 g) plain yogurt
3 eggs (180 g, out of shell) at room temperature, beaten
1/2 teaspoon pure vanilla extract
For the fruit layer
2 1/2 cups fresh blueberries, rinsed and patted dry
1 tablespoon (12 g) granulated sugar
1/8 teaspoon kosher salt
Instructions
Preheat your oven to 350°F. Grease a 9-inch square pan and set it aside. Make the crumble topping. Combine all of the topping ingredients (8 tablespoons butter, 1 cup flour and xanthan gum, granulated and brown sugars, and salt), and blend with a fork until well-combined. Place in the refrigerator to chill until ready to use.

To make the cake batter, combine the flour, xanthan gum, baking powder, baking soda, salt and granulated sugar in a large bowl, and whisk to combine. Add the light brown sugar and whisk to combine, working out any lumps in the brown sugar. Add the 2 tablespoons butter, vegetable shortening, and plain yogurt, and mix to combine well. Add the eggs, one at a time, and the vanilla, beating well after each addition. The batter should be thick, but not stiff. It should spread easily.

Scrape the batter into an even layer in the bottom of the prepared pan. In a small bowl, place the blueberries, sugar and salt, and toss to combine. Spread the blueberries out on top of the cake batter in a single, even layer. Cover the pan securely with aluminum foil, and place it in the center of the preheated oven. Bake for 20 minutes. Remove the crumble topping from the refrigerator and fluff it with a fork to break it up into irregular pieces. Remove the pan from the oven, uncover it and sprinkle with the crumble topping in an even layer. Return the pan to the oven, and bake for another 20 to 25 minutes, until a toothpick inserted into the centercomes out with a few moist crumbs attached and the crumb topping is light golden brown.

Remove from the oven, and allow the cake it to cool completely in the pan. Slice into squares and serve.