[pinit]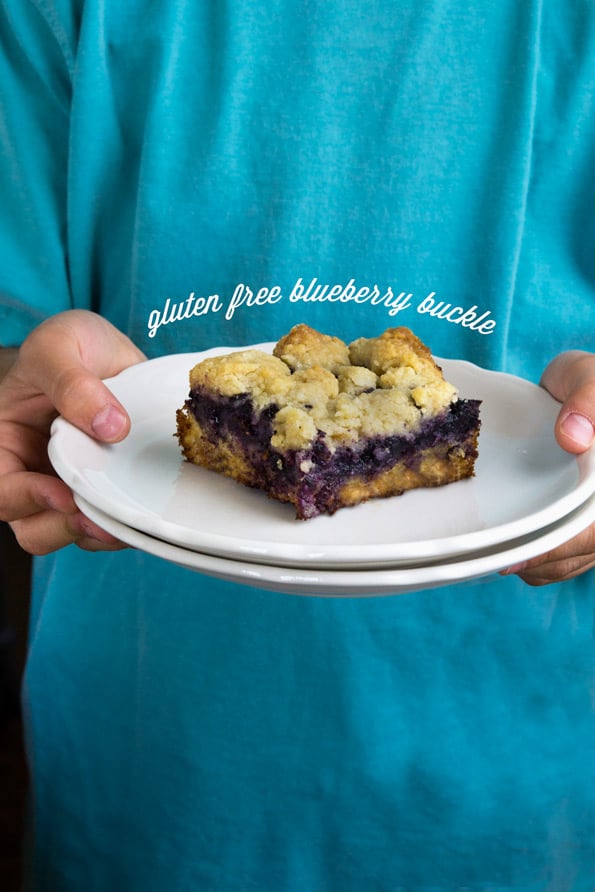 [pinit] This gluten free blueberry buckle is a lot like the Gluten Free Strawberry Rhubarb Coffee Cake from a couple years ago. We called that one a coffee cake, but really? Buckle. A buckle can either have fruit mixed into the cake batter (like that one) or a layer of fruit between the cake and the crumble topping (like this one). Since blueberries are exploding right now, a layer of just blueberries seemed like the right thing to do.
We all know that everything is better with a crumble topping. It's so easy to throw together, and it seems like what cake would like to be if it just got rid of everything else that wasn't essential. Just be sure not to skimp on it, though. There is nothing sadder than a crumble topping without big, rewarding chunks of crumble.
You bake this cake in a few easy steps. It takes a wee bit of babysitting, but really nothing you can't handle. The idea is to bake the cake, covered, without the crumb topping. That way, you don't have to overbake the crumbs. Oh, and be sure the crumbs are chilled before baking them. That's how they stay crumb-like, instead of just melting into a single layer in the oven.
You know how kids tend to have bright blue lips in the summertime from whatever never-seen-in-nature treat they got from the ice cream truck? Well, my children's lips were bright blue after they each finished a big piece of this moist, sweet summer cake. Naturally. Will you forgive me my smug satisfaction?