Brown sugar and cinnamon make these gluten free oatmeal bars like the very best oatmeal in a neat little to-go package. Make them ahead for busy weekday mornings!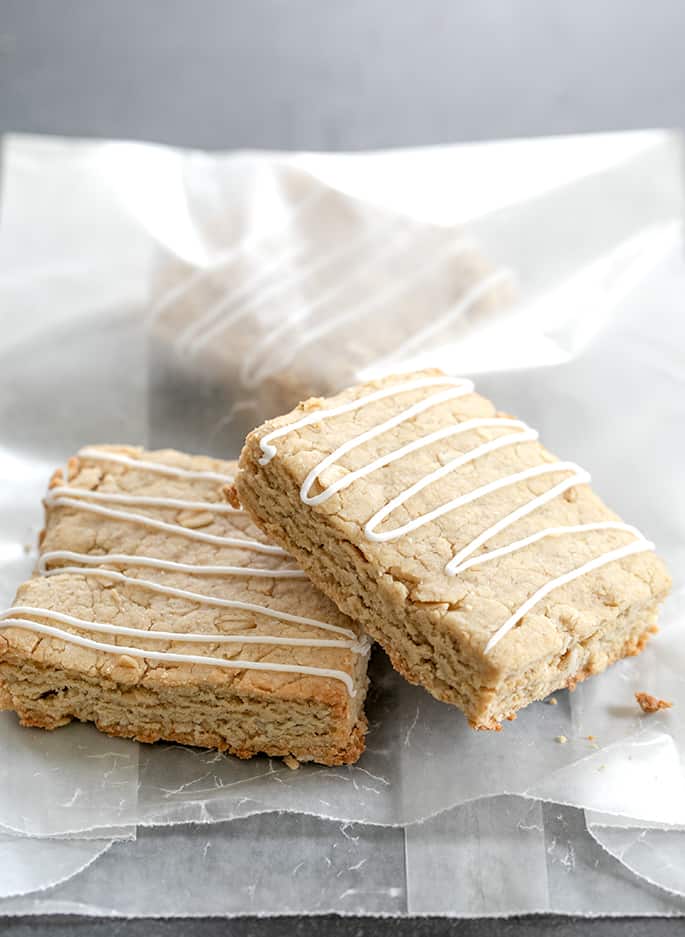 Where the idea for these bars came from
I started writing this blog in March of 2009. About a month before, and for years before that, I was commuting into Manhattan 3 days a week to my job as a lawyer. Talk about way back when!
Since so many people commute through Grand Central Station in midtown Manhattan, there are often happy little greeters handing out samples of packaged food just outside the doors on 42nd Street. Well, on one of my last commutes, those happy greeters were representing Quaker, and they were handing out "Oatmeal To Go" bars.
They were these dense and chewy, lightly sweet bars that tasted like a bowl of the best oatmeal. But they were ready, well, to go when you were. I was hooked.
You know how things just stick in your mind sometimes? Those oatmeal bars were one of those things. If my gluten free son was going to have them, I would have to make them for him at home.
A quick note about oats: it is my position that certified gluten free oats are, indeed, gluten free. We've already had that discussion! ;)
When I start getting school supply lists and there's Halloween candy in the drug store, that means back to school is coming. And that means crazy busy mornings when breakfast-to-go is the Ultimate Prize.
Oh, and I've done some research, and it turns out that Quaker no longer makes any version of those bars. So it seems that it's not just We Gluten Free who have to go rogue and make our own oatmeal bars!
Ingredients and Substitutions
Dairy
I've adapted this recipe a bit from the way it appeared in my cookbook, and now often use melted virgin coconut oil in place of melted unsalted butter in the bars. That switch, along with a nondairy milk, makes them naturally dairy free. To make the glaze dairy free, just use a nondairy milk, and replace the unsalted butter with Earth Balance buttery sticks.
Eggs
Eggs are always a bit trickier. I haven't tried this recipe with 2 "chia eggs" in place of regular eggs (a "chia egg" is just 1 tablespoon of ground chia seeds mixed with 1 tablespoon of water and allowed to gel). I'm sure the result would be different, but it would probably work.
Sugar
You could try replacing the brown sugar in the bars with an equal amount, by weight, of coconut palm sugar, but you'll almost certainly need to use more milk in the bars. You could also use Swerve brand brown sugar substitute. I've reduced the amount of sugar in the recipe to 3/4 cup, and I like the less-sweet version.
Oats
Although oats are not a gluten-containing grain, if you can't have oats, you can probably use an oat substitute for each type of oat product in this recipe. In place oat flour, try using quinoa flakes. In place of the rolled oats, try using beaten (or flattened) rice or even coconut chips.
Oatmeal Bars
Ingredients
2 cups (280 g) all purpose gluten free flour (I used Better Batter)
1 teaspoon xanthan gum (omit if your blend already contains it)
1 cup + 2 tablespoons (135 g) certified gluten free oat flour
1/4 teaspoon baking soda
1/2 teaspoon baking powder
1/2 teaspoon kosher salt
1 teaspoon ground cinnamon
3/4 cup (75 g) certified gluten free old-fashioned rolled oats
3/4 cup (164 g) packed light brown sugar
2 eggs (100 g, weighed out of shell) at room temperature, beaten
6 tablespoons (84 g) virgin coconut oil (or unsalted butter), melted and cooled
2 teaspoons pure vanilla extract
1 to 2 tablespoons (1/2 to 1 fluid ounce) milk (any kind), at room temperature
For the optional glaze
1 cup (115 g) confectioners' sugar
1/8 teaspoon kosher salt
1 to 2 tablespoons (1/2 to 1 fluid ounce) milk (any kind), at room temperature
1 tablespoon (14 g) unsalted butter, at room temperature
1/2 teaspoon pure vanilla extract
Instructions
Preheat your oven to 325°F. Line a rimmed baking sheet with unbleached parchment paper and set it aside.

In a large bowl, place the flour, oat flour, baking soda, baking powder, salt and cinnamon, and whisk to combine well. Add the rolled oats and brown sugar, and mix to combine, working out any lumps. In a separate small bowl, beat the eggs, coconut oil (or butter) and vanilla until well-combined. Create a well in the center of the dry ingredients, and add the wet ingredients. Add 1 tablespoon of milk, and mix until the dough comes together. It will be very thick. Add more milk by the teaspoonful until the dough comes together completely, with no dry patches.

Transfer the dough to a sheet of unbleached parchment paper and press and pat into a square about 1 inch thick. Place a second sheet of parchment paper on top, and roll out until it is about 8 inches square, and about 3/4-inch thick. Square the edges with your hands and/or a bench scraper. Using a bench scraper or a large knife, remove the top sheet of parchment and slice the dough into 9 or 12 squares, depending upon the size you'd like. Place the squares about 1 inch apart on the prepared baking sheet, and place in the refrigerator to chill until firm (about 10 minutes).

Remove the pan from the refrigerator, place in the center of the preheated oven, and bake until the bars are mostly firm to the touch and just beginning to brown on top, 12 to 14 minutes. Remove from the oven and allow to cool completely on the pan.

While the bars are cooling, prepare the optional glaze. In a medium-size bowl, place the confectioners' sugar and salt, and whisk to combine well. Add 1 tablespoon of the milk, butter and the vanilla, and mix until a thick, smooth paste forms. If it's too thick to pipe, add more milk by the half-teaspoonful until you reach the proper consistency. Once the squares have cooled completely, pipe a zigzag pattern of glaze on top of each. Allow to set at room temperature.

These bars can be stored in a sealed glass or plastic container at cool room temperature and should maintain their texture for about 5 days. For longer storage, wrap individually in freezer-safe wrap, and freeze for up to 2 months. Defrost at room temperature.

Adapted from Gluten-Free Classic Snacks: 100 Recipes for the Brand Name Treats You Love, by Nicole Hunn. Excerpted by arrangement with Da Capo Lifelong, a member of the Perseus Books, LLC, a subsidiary of Hachette Book Group, Inc. Copyright © 2015.