Brown sugar and cinnamon make these gluten free oatmeal bars like the very best oatmeal in a neat little to-go package. Make them ahead for busy weekday mornings!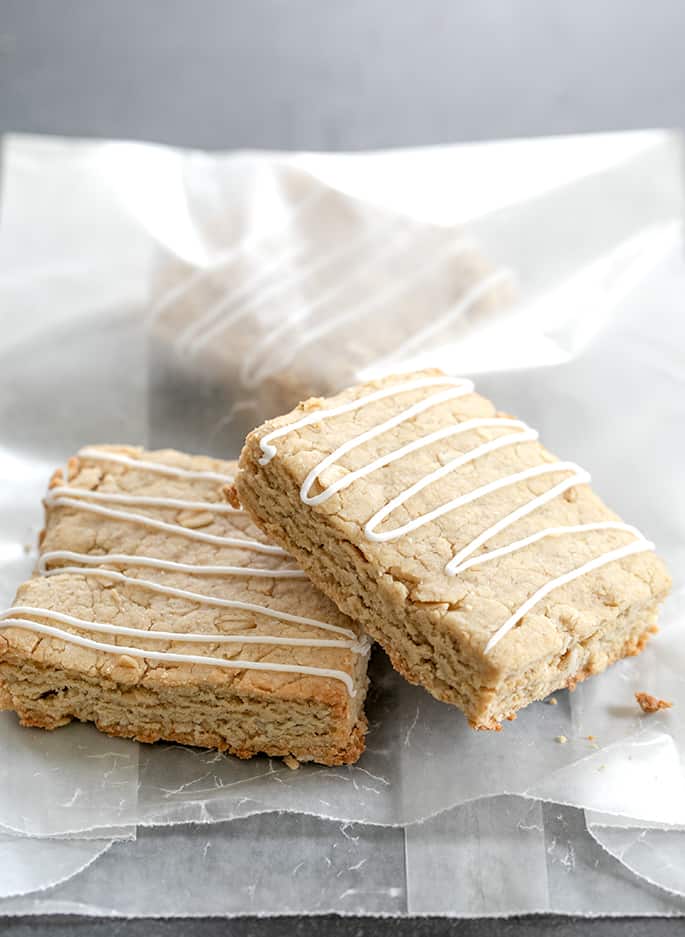 Where the idea for these bars came from
I started writing this blog in March of 2009. About a month before, and for years before that, I was commuting into Manhattan 3 days a week to my job as a lawyer. Talk about way back when!
Since so many people commute through Grand Central Station in midtown Manhattan, there are often happy little greeters handing out samples of packaged food just outside the doors on 42nd Street. Well, on one of my last commutes, those happy greeters were representing Quaker, and they were handing out "Oatmeal To Go" bars.
They were these dense and chewy, lightly sweet bars that tasted like a bowl of the best oatmeal. But they were ready, well, to go when you were. I was hooked.
You know how things just stick in your mind sometimes? Those oatmeal bars were one of those things. If my gluten free son was going to have them, I would have to make them for him at home.
A quick note about oats: it is my position that certified gluten free oats are, indeed, gluten free. We've already had that discussion! ;)
When I start getting school supply lists and there's Halloween candy in the drug store, that means back to school is coming. And that means crazy busy mornings when breakfast-to-go is the Ultimate Prize.
Oh, and I've done some research, and it turns out that Quaker no longer makes any version of those bars. So it seems that it's not just We Gluten Free who have to go rogue and make our own oatmeal bars!
Ingredients and Substitutions
Dairy
I've adapted this recipe a bit from the way it appeared in my cookbook, and now often use melted virgin coconut oil in place of melted unsalted butter in the bars. That switch, along with a nondairy milk, makes them naturally dairy free. To make the glaze dairy free, just use a nondairy milk, and replace the unsalted butter with Earth Balance buttery sticks.
Eggs
Eggs are always a bit trickier. I haven't tried this recipe with 2 "chia eggs" in place of regular eggs (a "chia egg" is just 1 tablespoon of ground chia seeds mixed with 1 tablespoon of water and allowed to gel). I'm sure the result would be different, but it would probably work.
Sugar
You could try replacing the brown sugar in the bars with an equal amount, by weight, of coconut palm sugar, but you'll almost certainly need to use more milk in the bars. You could also use Swerve brand brown sugar substitute. I've reduced the amount of sugar in the recipe to 3/4 cup, and I like the less-sweet version.
Oats
Although oats are not a gluten-containing grain, if you can't have oats, you can probably use an oat substitute for each type of oat product in this recipe. In place oat flour, try using quinoa flakes. In place of the rolled oats, try using beaten (or flattened) rice or even coconut chips.