This soft and tender gluten free pita bread is also yeast free, so there's no rising time. Store-bought gluten free flatbreads simply can't compare.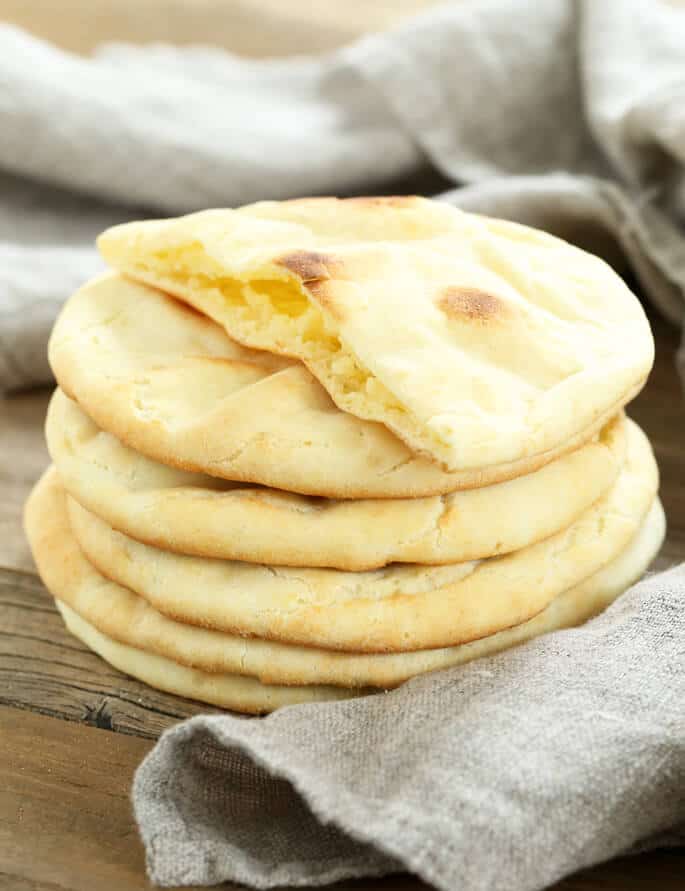 Why make your own gluten free pita bread?
Without a really good recipe for gluten free pita bread, if you're gluten free, you'll never again know the beauty of, falafel stuffed into a pita. Or homemade pita chips.
I believe that there is even a value to knowing that you can make your own pita bread even if you do it once and never again. Or even if you never actually make this bread.
Sometimes, just knowing that you can make something gluten free can create a feeling of encouragement and hopefulness. It can help you resist "cheating" on a gluten free diet, too.
Yeast free bread
This recipe for gluten free pita bread is even a bit more special, since it's yeast free. If you're hesitant to try baking yeast bread, or you simply have to eat that way, this recipe is going to be quite a relief.
If you feel like making bread but you find that you're suddenly all out of yeast, or you find that the store shelves are empty, you can make plenty of gluten free bread without yeast.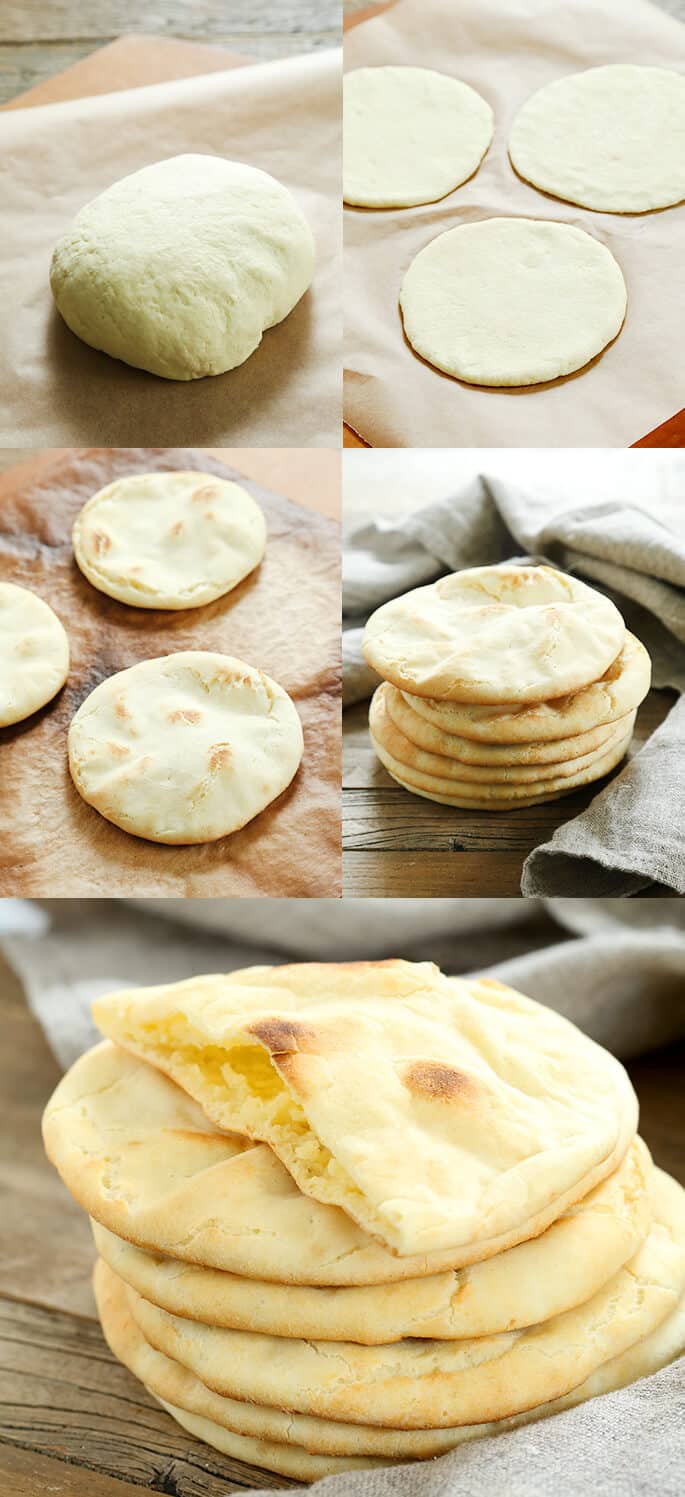 Pitas with a pocket but don't pop
Since it's not made the traditional way, and we aren't using my recipe for gluten free bread flour from my Gluten Free Bread Book (there's a recipe for traditional pita bread in there), these pitas don't "pop" to create a perfect pocket.
They do, however, puff up quite a bit, enough that we can coax open a pocket with a sharp knife. They're soft and tender, and almost buttery tasting—even without any butter.
Expect them to crack a bit along the edges as they puff, since only our gluten free bread flour will give you an even enough rise and a strong enough shell to prevent that cracking. It doesn't hurt them one bit, though.
Make them ahead
Place the warm pitas in a tortilla warmer or seal them, along with a moistened paper towel, in a zip-top bag on the counter for a few hours and they'll stay that way.
For longer storage, cool them completely, wrap tightly and freeze. Defrost at room temperature and refresh in a hot, cast iron skillet or in the microwave wrapped in a moistened paper towel.
But they're so quick and easy, just make them fresh each time. I promise it doesn't take more than 20 minutes, start to finish!
Ingredients and substitutions
Dairy: The only dairy in this recipe is in cow's milk. It can easily be replaced with an unsweetened nondairy milk. My favorite is almond milk, since it still has richness.
Eggs: There is one egg and one egg white in this recipe. The egg yolk adds richness, and the egg whites help balance the moisture and help the bread rise.
You may be able to replace the whole egg in this recipe with a "chia egg" (1 tablespoon ground white chia seeds + 1 tablespoon lukewarm water, mixed and allowed to gel). For the egg white, try aquafaba (the liquid from a can of chickpeas).
Expandex modified tapioca starch: Expandex modified tapioca starch is a chemically-modified form of tapioca starch (not genetically modified!). It is not interchangeable with regular tapioca starch/flour.
It's an amazing addition to this recipe as it provides stability and pliability. If you don't have Expandex or just don't want to use it, you can replace it with more all purpose gluten free flour, and increase the liquid amount to 1 cup.
The dough will be much more wet, and less formed. Handle this dough with wet hands, divide it into 8 portions, roll each into an approximate ball with wet hands.
Place the dough on a piece of parchment paper and spread it into a round about 1/4-inch thick by pressing wet fingers down in a circular motion on the dough, then continue with the recipe instructions as written.