This recipe for soft gluten free flatbread is perfect for wraps and miniature pizzas, and is made with just 5 common pantry ingredients—plus salt. If you use plant-based milk, it's vegan!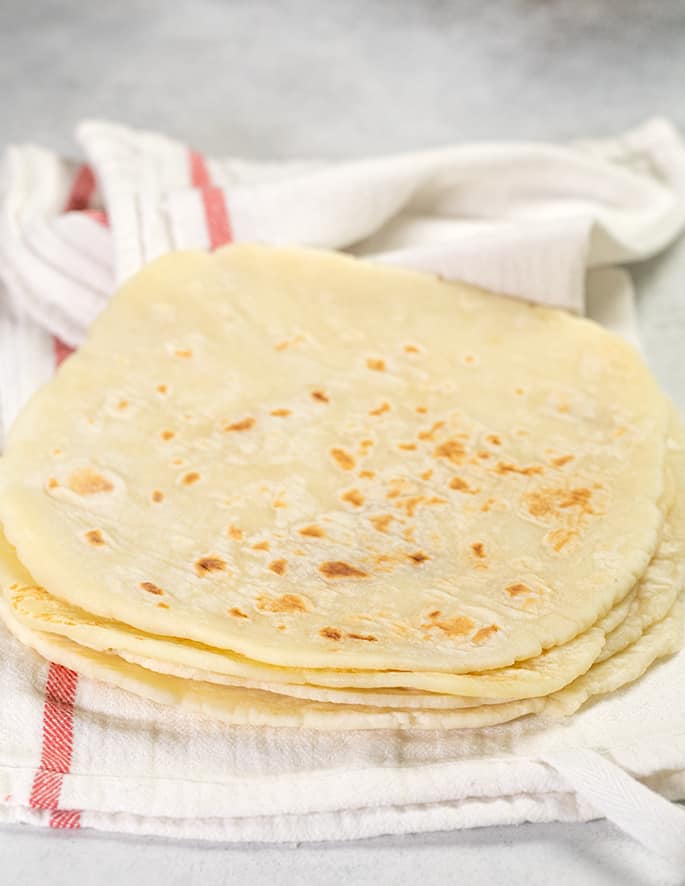 When you begin with a good recipe (my job!), use proper ingredients (our job!) and measure by weight (your job!), you will have success in gluten free baking. I don't ever publish a gluten free recipe on the blog or anywhere else unless I've made it successfully as written, multiple times.
Their primary purpose is for wraps, both warm and cold. Think: turkey sandwiches, perfect for lunchboxes everywhere.
These soft gluten free flatbreads aren't tortillas, naan, or pizza dough. But they can be used to make burritos, gyros, and miniature pizzas, too.
They also don't call for yeast, or eggs, or anything fussy. But, like all of my recipes, they are specific. If you're willing to come along with me, this recipe might just change the way you think of gluten free bread…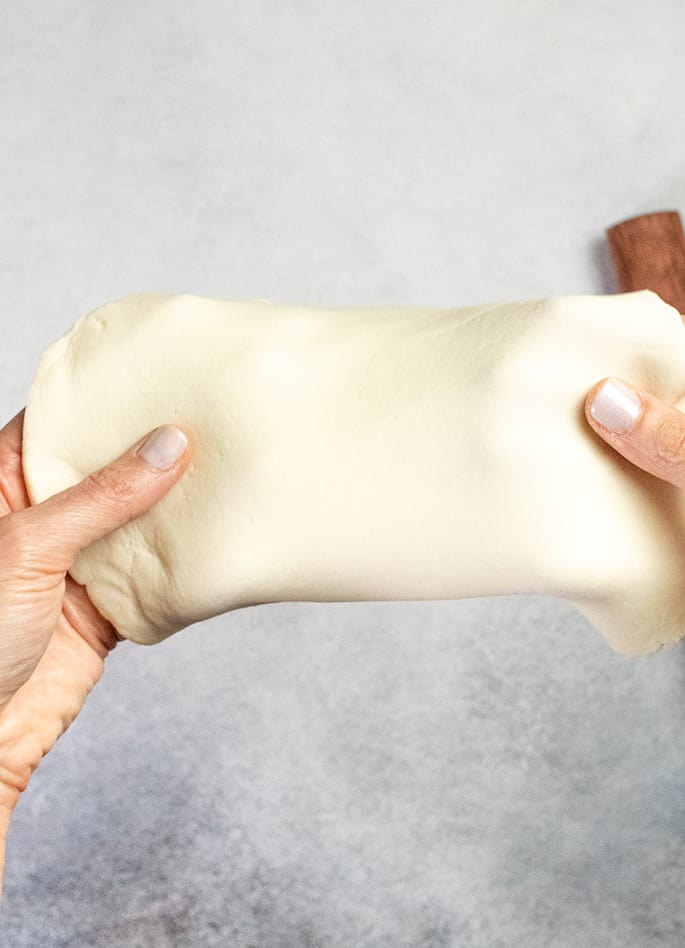 Make it better with tapioca starch/flour
This recipe calls for two types of gluten free flours. One is a well-balanced all purpose gluten free flour blend. I used Better Batter, but Cup4Cup is fine or one of my mock versions of those; please follow the link in the recipe for details).
The other flour is a single ingredient, but it makes all the difference. The flour blend contains tapioca starch as an ingredient. But this recipe calls for extra tapioca starch/flour.
Can I omit the tapioca starch/flour?
In a word: no. You must use tapioca starch as an additional ingredient without substitution for the results you see in the photos and described in this post.
The additional tapioca makes it much easier to work with the raw dough, makes the cooked flatbreads delightfully chewy, and helps them bend. Yes, your all purpose gluten free flour blend already contains tapioca starch/flour. This is more.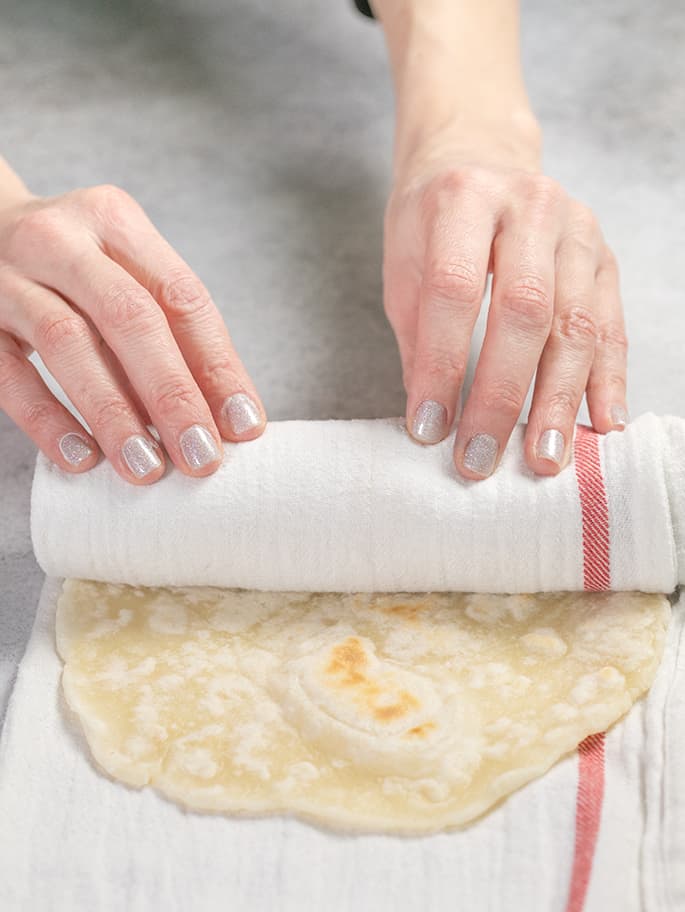 Why we roll the warm soft gluten free flatbread
Have you ever made a rolled cake, like a yule log, pumpkin roll, or a Swiss roll? The way you achieve that rolled cake without its cracking is by baking it into a thin layer, then rolling it into a coil the moment it comes out of the oven.
Rolling a roll cake, or here, a flatbread, while it's still warm, creates a "memory" in the cake. This way, when the flatbread cools, it will remember how to bend without breaking.
You don't have to roll these flatbreads as described in the recipe. You can simply stack them like we do with gluten free tortillas. But if you'd like to ensure that you can roll them into a burrito or a sandwich wrap, I recommend rolling them right out of the skillet.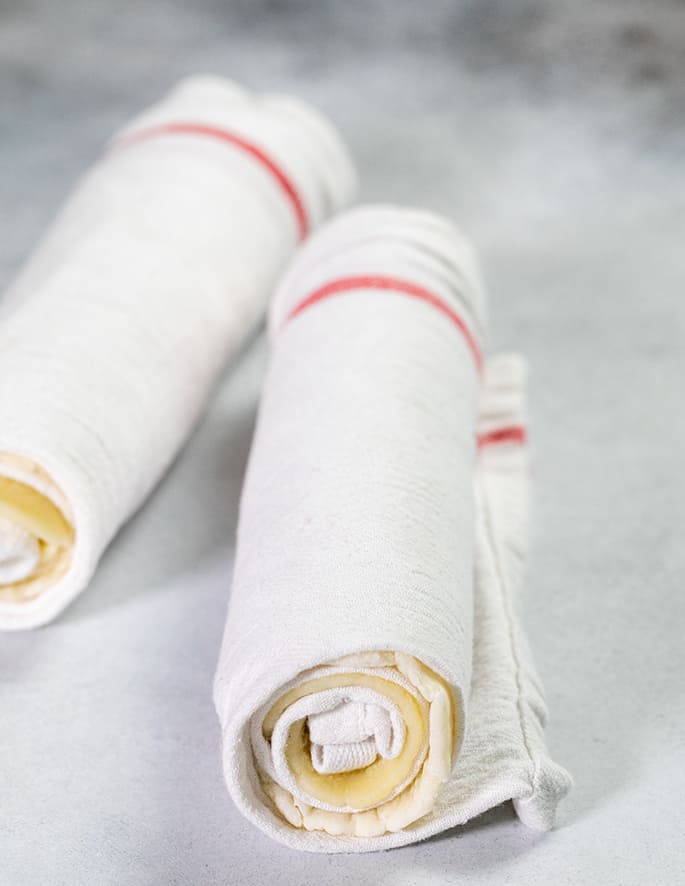 Ingredients and substitutions
This recipe is super simple, which is part of what makes it so useful. Please keep in mind that each modification made to a simple recipe has even more impact.
The only additional common allergen that might arise here is dairy, and it's easily replaced. This glutenfree recipe has no eggs, naturally.
Dairy
In place of cow's milk, you can use any sort of unsweetened plant-based milk. I prefer something with some fat, like plain unsweetened almond milk.
You can actually even use water in place of milk, but it's makes a somewhat tougher flatbread. This flatbread is perfect soft without additional dairy, like the yogurt in our gluten free naan.
Tapioca starch/flour
You must use tapioca starch/flour in this recipe, as a separate ingredient. This is in addition to one of my recommended all purpose gluten free flour blends.
There is no substitute for tapioca starch/flour (it's interchangeably called tapioca starch and tapioca flour). It adds pliability to the raw dough and the finished flatbreads.
Expandex modified tapioca starch, which we use in gluten free bread flour, is not an appropriate substitute for tapioca starch/flour. They are entirely different ingredients, and behave very differently.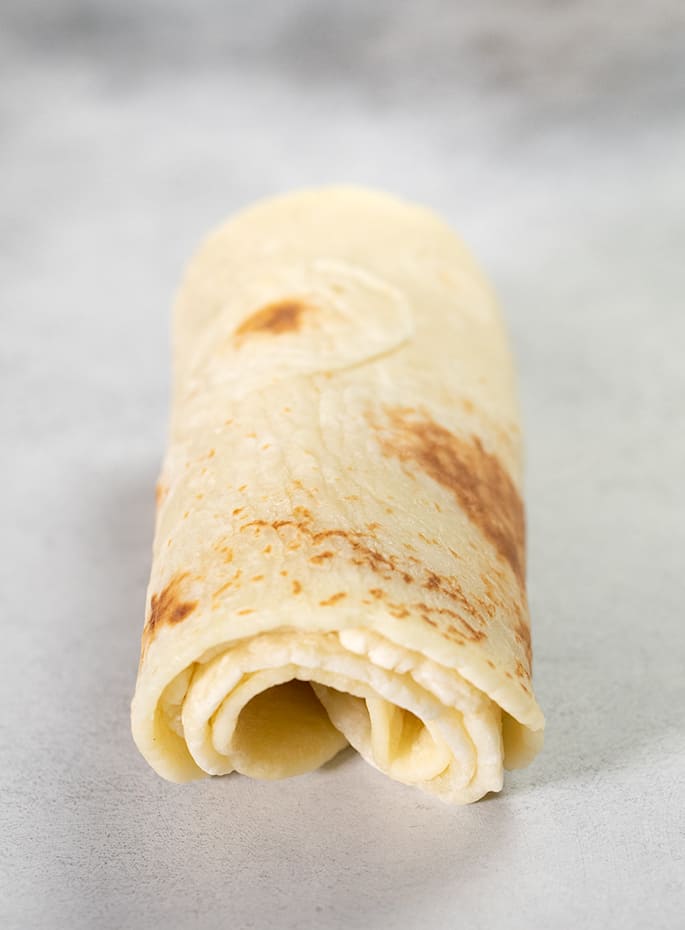 Soft Gluten Free Flatbread | Piadina
Yield:
2 flatbreads (easily scaled up)
Ingredients
3/4 cup (105 g) all purpose gluten free flour (I used Better Batter), plus more for sprinkling
Scant 1/2 teaspoon xanthan gum (omit if your blend already contains it)
1/4 cup (36 g) tapioca starch/flour (See Recipe Notes)
3⁄4 teaspoon kosher salt
1/2 teaspoon baking powder
1 tablespoon (14 g) extra virgin olive oil
½ cup (4 fluid ounces) plain unsweetened plant-based (for vegan) milk or cow's milk, chilled
Neutral oil for the skillet (like grapeseed, canola, or vegetable)
Notes
Tapioca starch/flour
You must use tapioca starch (or flour, they're the same thing) in this recipe in addition a proper all purpose gluten free flour blend. You cannot use Expandex modified tapioca starch. They're completely different ingredients.
Rolling in a tea towel
You absolutely do not have to roll the warm flatbreads in a tea towel. This is designed to create a "memory" in the dough for rolling, so that they will bend perfectly even as they cool.
Instructions
In a large bowl, place the flour, xanthan gum, tapioca starch/flour, salt, and baking powder, and whisk to combine well. Add the oil, and mix to combine.

Add the milk, and mix until the mixture comes together. If necessary to bring the dough together, knead together with clean hands. The dough will be thick but relatively soft. Ideally, divide the dough into 5 ounce portions (as written, the dough makes 2 portions), wrap each tightly in plastic wrap, and chill for 30 minutes and up to 3 days. You can also work with the dough immediately, if you don't have time to chill it.

When you're ready to make the flatbreads, heat a cast iron skillet that's at least 10-inches in diameter, or a heavy-bottom nonstick skillet, over medium-low heat. Place a flat, wide spatula and a tea towel on the counter next to the skillet.

If you've chilled the dough in portions, unwrap and work with one piece at a time. If the dough hasn't been divided, divide it in two equal halves, each weighing about 5 ounces. Turn each piece of dough out onto a very lightly floured flat surface, and sprinkle lightly with extra flour. Cover the other piece(s) of dough loosely with a cloth to prevent it (them) from drying out.

Sprinkle the dough lightly with more flour and begin to roll it into a round, sprinkling lightly with more flour as necessary to prevent sticking. The edges will be jagged and a bit rough. Gather the dough together and repeat the process at least once more, until the dough is smoother. Roll the dough into an approximately 10-inch round, turning and flouring lightly as necessary. The edges should be less rough, but this is rustic flatbread.

Brush about 1 tablespoon of neutral oil on the hot skillet. Pick up the prepared raw piece of flatbread and place it flat in the center of the skillet, taking care not to bend any of the edges. Allow it to cook for about 1 minute without disturbing it, or until the edges begin to lift. Slide the spatula underneath the flatbread, ensuring that there are no spots that might stick. Flip the flatbread over and allow it to cook for another minute, pressing it firmly back onto the skillet with the spatula to prevent it from puffing up. You can also take a toothpick and prick any bubbles to deflate them.

Continue to cook the flatbread, flipping it frequently, until it is set on both sides and doesn't glisten anywhere. It should take 2 to 3 minutes total. Remove the flatbread from the skillet, place it in the center of the tea towel (See Recipe Notes), and fold the edges of the towel over on it to enclose it. Repeat with the other piece of dough, oiling the skillet lightly as necessary.

Once the flatbreads are done cooking but are still very warm, open the tea towel and remove both pieces of bread. Place one about 4 inches from one short end of the towel, fold the edge over the bread, and roll the bread tightly in the towel. Place the second flatbread on the unrolled portion of the towel, and repeat the process, rolling until the two flatbreads are tightly wrapped in the towel. Allow them to cool for at least 5 minutes wrapped in the towel before unwrapping and serving.

Adapted from Curious Cuisiniere.