This recipe for soft gluten free flatbread is perfect for wraps and miniature pizzas, and is made with just 5 common pantry ingredients—plus salt. If you use plant-based milk, it's vegan!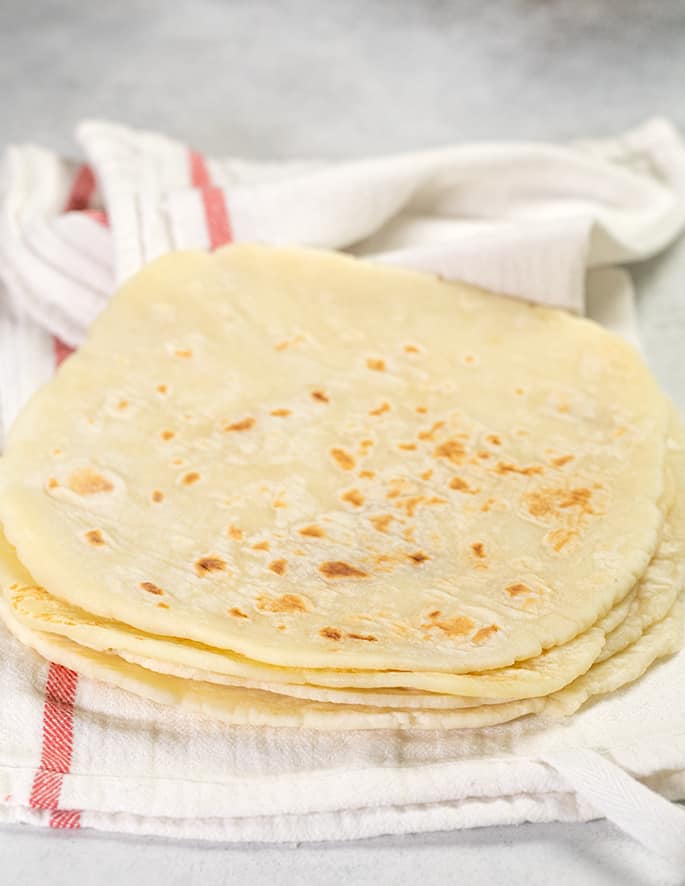 When you begin with a good recipe (my job!), use proper ingredients (our job!) and measure by weight (your job!), you will have success in gluten free baking. I don't ever publish a gluten free recipe on the blog or anywhere else unless I've made it successfully as written, multiple times.
Their primary purpose is for wraps, both warm and cold. Think: turkey sandwiches, perfect for lunchboxes everywhere.
These soft gluten free flatbreads aren't tortillas, naan, or pizza dough. But they can be used to make burritos, gyros, and miniature pizzas, too.
They also don't call for yeast, or eggs, or anything fussy. But, like all of my recipes, they are specific. If you're willing to come along with me, this recipe might just change the way you think of gluten free bread…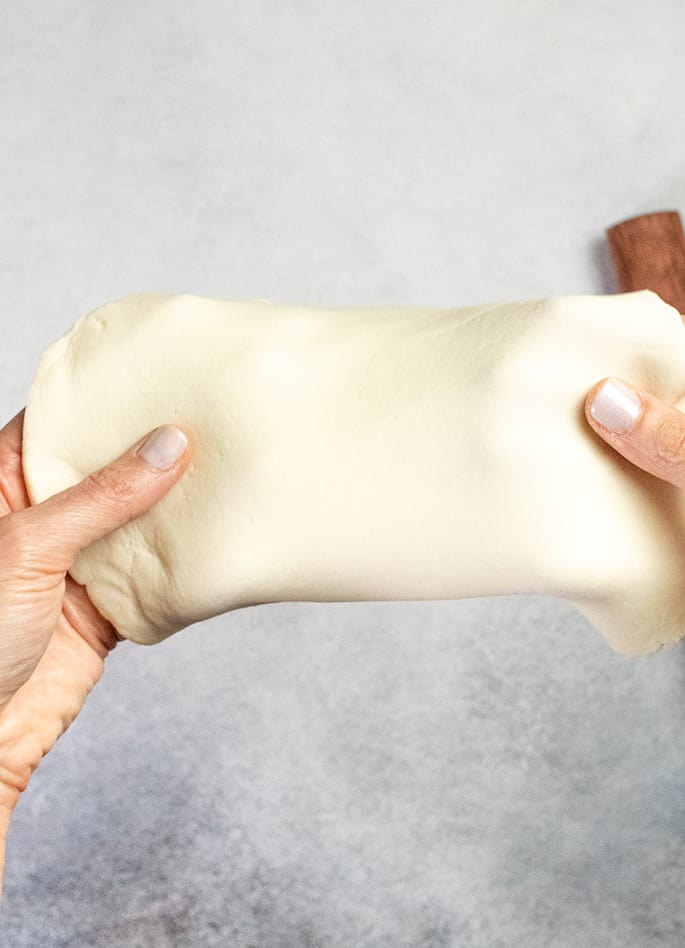 Make it better with tapioca starch/flour
This recipe calls for two types of gluten free flours. One is a well-balanced all purpose gluten free flour blend. I used Better Batter, but Cup4Cup is fine or one of my mock versions of those; please follow the link in the recipe for details).
The other flour is a single ingredient, but it makes all the difference. The flour blend contains tapioca starch as an ingredient. But this recipe calls for extra tapioca starch/flour.
Can I omit the tapioca starch/flour?
In a word: no. You must use tapioca starch as an additional ingredient without substitution for the results you see in the photos and described in this post.
The additional tapioca makes it much easier to work with the raw dough, makes the cooked flatbreads delightfully chewy, and helps them bend. Yes, your all purpose gluten free flour blend already contains tapioca starch/flour. This is more.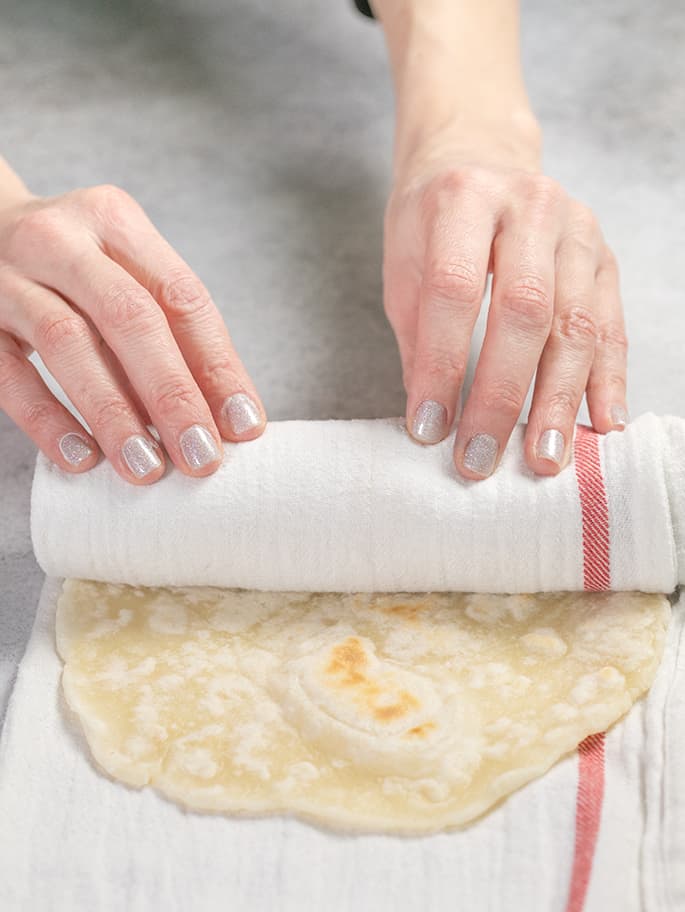 Why we roll the warm soft gluten free flatbread
Have you ever made a rolled cake, like a yule log, pumpkin roll, or a Swiss roll? The way you achieve that rolled cake without its cracking is by baking it into a thin layer, then rolling it into a coil the moment it comes out of the oven.
Rolling a roll cake, or here, a flatbread, while it's still warm, creates a "memory" in the cake. This way, when the flatbread cools, it will remember how to bend without breaking.
You don't have to roll these flatbreads as described in the recipe. You can simply stack them like we do with gluten free tortillas. But if you'd like to ensure that you can roll them into a burrito or a sandwich wrap, I recommend rolling them right out of the skillet.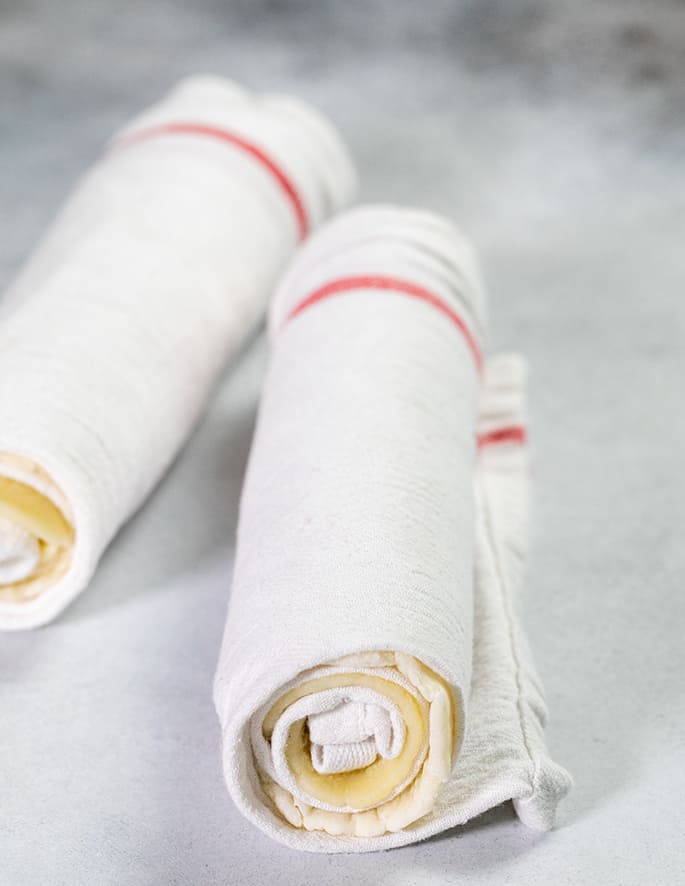 Ingredients and substitutions
This recipe is super simple, which is part of what makes it so useful. Please keep in mind that each modification made to a simple recipe has even more impact.
The only additional common allergen that might arise here is dairy, and it's easily replaced. This glutenfree recipe has no eggs, naturally.
Dairy
In place of cow's milk, you can use any sort of unsweetened plant-based milk. I prefer something with some fat, like plain unsweetened almond milk.
You can actually even use water in place of milk, but it's makes a somewhat tougher flatbread. This flatbread is perfect soft without additional dairy, like the yogurt in our gluten free naan.
Tapioca starch/flour
You must use tapioca starch/flour in this recipe, as a separate ingredient. This is in addition to one of my recommended all purpose gluten free flour blends.
There is no substitute for tapioca starch/flour (it's interchangeably called tapioca starch and tapioca flour). It adds pliability to the raw dough and the finished flatbreads.
Expandex modified tapioca starch, which we use in gluten free bread flour, is not an appropriate substitute for tapioca starch/flour. They are entirely different ingredients, and behave very differently.