This gluten free naan bread is made extra soft and tender with yogurt, eggs and a bit of butter or ghee in the dough. Make the dough ahead of time, and then fry it up in a pan in minutes!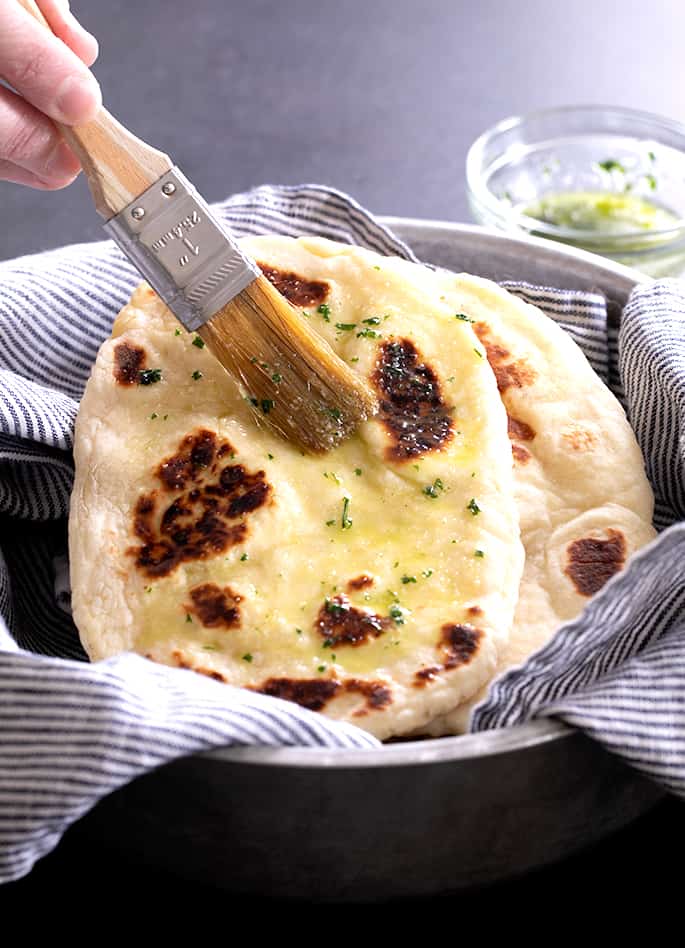 How to make gluten free naan bread
Naan is a flatbread that very similar to pita bread, but it's a pretty highly enriched bread. In bread-baking, enrichments just refer to things like fat (ghee and butter here in this recipe), yogurt or milk, and eggs.
These enrichments, especially the yogurt in this recipe, make this bread dough quite easy to handle—and the resulting naan bread tender, fragrant and delicious.
The dough can be made up to 2 days ahead of time (3 if you're good with some serious yeasted flavor development) and then shaped, rolled, and fried in the few minutes before mealtime. It's a lovely way to complete a simple meal and make it feel really special. ✨
GF Yeast Bread 1.0
This bread recipe is made in the "old style," the kinds of bread that I think of as the first generation of gluten free yeast bread baking. I've developed plenty of gluten free bread recipes like that, and they work, taste great and are a lovely starting-point.
The first generation of gluten free bread recipes was in the "batter-style," with dough made with a paddle attachment in a stand mixer that had to be much wetter and more fragile than conventional yeast-bread baking.
Plus, they all require enrichments to compensate for any real replacement for the gluten that is so essential to conventional yeast-bread baking.
The one drawback of the preparation of these "old-style" bread recipes is that they call for using the paddle attachment of a stand mixer. A handheld mixer won't work.
A bowl with a spoon and a lot of elbow grease might work, but I find that it's quite difficult to get the proper consistency that way. The newer style can be made using a handheld mixer with the dough hook attachments.
GF Yeast Bread 2.0
When I wrote my third book (GFOAS Bakes Bread), I set out to break the mold on gluten free bread. I added some special ingredients that really substitute for gluten in the newer yeast bread recipes, and I adore them.
But I do understand that the newer style of gluten free yeast bread baking that I created in Bakes Bread is not a realistic possibility for everyone. It can be more expensive, and more time-consuming.
It requires that you hunt down two new ingredients, Expandex modified tapioca starch and whey protein isolate, both of which thankfully have become much more readily available since the publication of that book in 2013.
Plus, that sort of traditional yeast-bread baking is enough art-plus-science that I created an online course called Gluten Free Yeast Bread Basics for those of you who wanted a deep dive. The beauty of those recipes is that the dough is much more what you'd expect from gluten-containing bread dough, and the bread can be made into any artisan style at all.
The newer style of gluten free bread also stays fresher for longer. Plus, it's more allergy-friendly.
Since the gluten free bread flour blend behaves so much more like conventional flour, it's actually much easier for bakers who can have dairy, but can't have eggs. There are a lot of "lean" recipes in the book that don't require butter, yogurt, milk or eggs.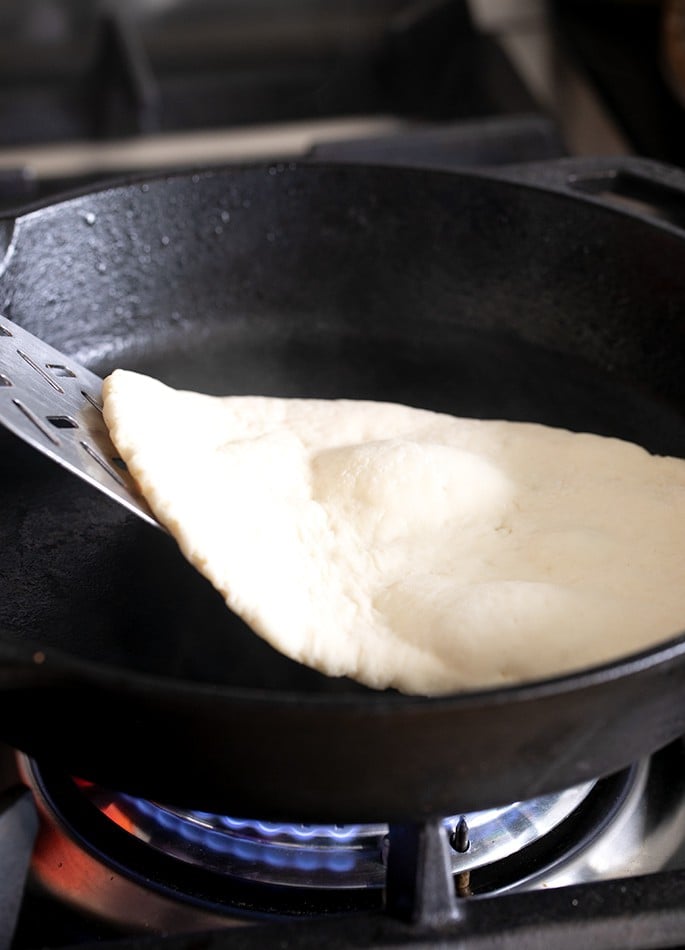 How to make this gluten free naan bread
The simpler-style gluten free yeast bread recipes like this one are still really valuable, even in my house where I have all of the ingredients to make the "newer" style of gluten free yeast bread. There's a recipe for gluten free naan using the "new" ingredients in Bakes Bread, but this recipe makes such soft, delicious naan that I thought it was time to highlight it.
This type of recipe just really calls for dumping all of the dry ingredients (flour, salt, cream of tartar, sugar, yeast) in the mixing bowl, and then whisking them. The wet ingredients (yogurt, butter, eggs, and water) are next, and then the mixer does all the work.
At first, the dough will really look like fluffy batter, but when you scrape down the mixing bowl with a spatula, it should come away clean. The dough will still be tacky to the touch, but hold together really well when you set it to rise.
Since the dough itself is quite wet, you can use a fair amount of extra flour to shape it, but work with it using a very light touch, so you don't incorporate too much flour. Yeast bread that is too dry simply won't come out fluffy no matter what else you do.
Shape a piece of dough loosely into a round, and then roll it into an elongated oval. While you're shaping the dough, heat a heavy-bottom skillet (preferably cast iron) with a bit of ghee or virgin coconut oil. Place each piece of shaped dough in the hot skillet right away.
If the pan isn't hot enough, or the dough is rolled too thick, it won't bubble. If you're concerned, cover the skillet. But don't make the skillet screaming hot, or it'll just burn the bread. Once it bubbles, flip it to the other side.
To make sure that all the dough comes into contact with the hot skillet, I'll occasionally press down on the dough with my spatula. It should puff right back up.
Flip and cook a few times until the dough seems puffy at least in spots and cooked through. Serve it right away!
Ingredients and substitutions
I haven't made this recipe with most of these substitutions, but I feel confident that it can be done successfully here.
Please remember, as always, that the more substitutions you make, the further you are straying from the original recipe and the more unpredictable your result will be.
Dairy
The dairy in this recipe comes from the plain yogurt and the butter or ghee. I recommend replacing the butter/ghee in the dough with extra virgin olive oil.
I actually have made this recipe with olive oil in the dough in place of the butter or ghee, and I prefer it because it has some depth of flavor that many other butter substitutes I can imagine.
Since olive oil is pure fat and a liquid even at cold room temperature, the dough will be a bit softer and less pleasant to shape, though.
Try replacing the plain yogurt with a nondairy plain yogurt. My favorite nondairy plain yogurt is made by So Delicious. Silk is fine, too. I really don't care for Kite Hill or any of the other almond-based nondairy yogurts I have tried.
Cooking with something you otherwise might eat only serves to intensify the flavor of the ingredient, so if it tastes slightly off to you, don't cook or bake with it.
Eggs
The eggs are harder to replace in this recipe than the dairy. You can try replacing the whole egg with a "chia egg" (1 tablespoon ground white chia seeds + 1 tablespoon lukewarm water, mixed and allowed to gel).
The egg white is a bit more difficult. You can try replacing it with 1/4 cup aquafaba (the brine from a can of chickpeas/garbanzo beans).
Yeast
There is no replacement for yeast in a yeast bread recipe. I'm afraid you just need a different recipe entirely if you can't have yeast.
I recommend trying my recipe for yeast-free pita bread, or even my Weight Watchers-style yeast free pizza recipe and shaping it into a naan-style dough.
Active dry yeast instead of instant yeast
If you only have active dry yeast instead of instant yeast, you'll need 25% more yeast by weight. Here, that would mean a total of 10 grams active dry yeast.
If you plan to make the bread dough at least a few hours before shaping and baking, there's no need to proof even the active dry yeast. The extra coating on the active dry yeast will dissolve during that time.
If you plan to make the bread dough with active dry yeast very soon before shaping and cooking, proof the yeast first. If you've never before proofed yeast, it's just a matter of adding liquid to it separately so the coating dissolves.
Before you begin the rest of the recipe, simply place about 1/4 cup of the water called for in the recipe in a small bowl. Add the active dry yeast and stir to combine.
Allow the mixture to sit, and it will activate the yeast. If your yeast is not expired, there's little chance that it needs "proofing" in the classic sense (to see if it's good).
This step is merely to dissolve the thicker coating on the yeast granules, so they become active quickly, like instant yeast would. Add the proofed yeast and liquid to the remaining water, then proceed with the recipe as written, skipping the step that calls for adding the instant yeast to the dry ingredients.