Gluten free gingersnaps are the ultimate crispy, spiced cookie. They make that snapping sound when you break them in half!
As soon as the weather starts to cool, I no longer have to hide my obsession with making cookies of all sorts. I love baking anything and everything, but nothing beats cookies. They're portable, nearly always freeze beautifully, and make everyone happy.
These gluten free gingersnaps are so-named because they're super crisp and crunchy. So they make that "snap" when you break them.
Instead of using a spice blend like apple pie spice or pumpkin pie spice, I really prefer a custom-made blend of plenty of ground cinnamon, a bit less ground ginger, and a few turns of freshly ground black pepper. The cookies taste warm and comforting, with a little kick.
If you prefer more of a kick, you can add more black pepper. Up to double the amount of pepper would be great if you know your eaters would enjoy that.
How to make crispy cookies
There are plenty of ways to make cookies that are crispy—and maintain their crispness for days after baking. We'll go over all of them, but of course it all begins with the right recipe (scroll all the way down if you want skip to that!).
Use the right ingredients
If you want your crispy cookies to have that snappy texture, you also need to use the ingredients called for in that recipe. The "ingredients and substitutions section" that I have above the recipe card in every post is a guide if you must.
Remember that each swap you make changes the recipe. The more ingredients you swap out, the further you get from the recipe as written. I provide the alternatives as a courtesy since it's better to bake differently than not bake at all. But, differences make a difference.
Oh, and please measure by weight, not volume. Volume is entirely unreliable, for all of us. It's not a matter of skill; it's a matter of being human and prone to error. ✋?
Bake your cookies at the right temperature
It's very common to have an oven that runs hot. Mine does, and yours probably does. When you're seeking to create a specific texture like we are in this recipe, you need a simple oven thermometer more than ever (they're super cheap, and I ignore my oven's dial in favor of checking the thermometer—and replace them regularly).
These cookies are baked in a very low oven (300°F/150°C) for quite a while (about 20 minutes) for such small pieces of cookie dough. There are a lot of different sorts of sugars in these cookies (brown and granulated sugars, molasses, honey), and sugar does have a tendency to burn in baking.
We are baking them very, very slowly so that we can bake them all the way through to being solid and rather dry inside (in a good way!)—without burning them. If your oven is running hot, you will burn the outside of your cookies long before the inside is baked properly.
For the absolute crispiest, snappiest cookies, after you've baked them for 20 minutes at 300°F, lower the oven temperature to 250°F. Continue to bake for another 7 to 8 minutes but not longer so they don't burn.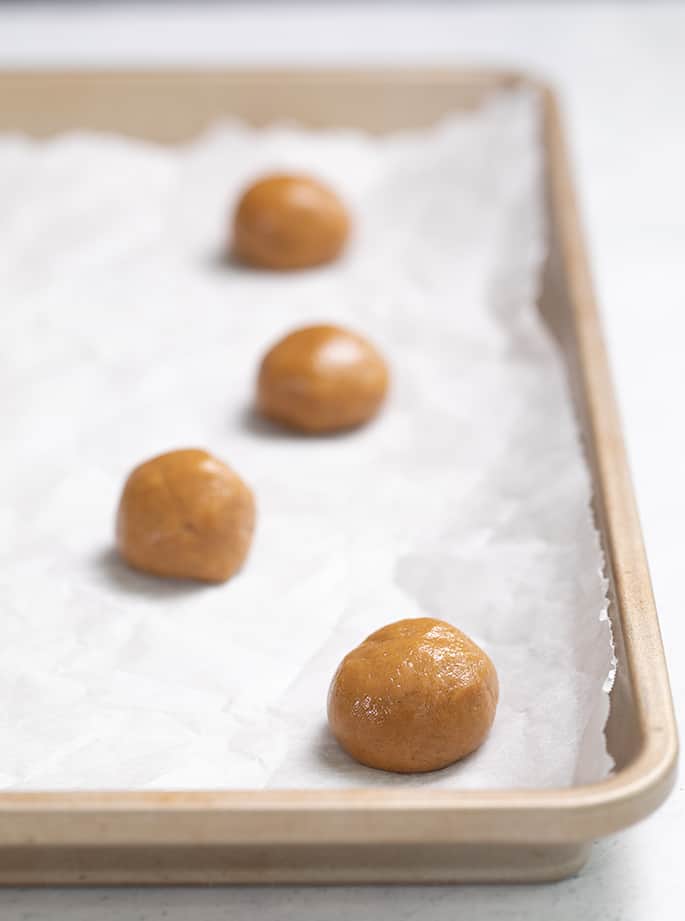 How to keep crisp cookies crispy
Once you've gone through all that trouble to make your gluten free gingersnaps, well, snappy, you want to keep them that way. If they absorb moisture from the air in their environment or from their container after they cool, they will lose their snap.
Homemade crispy cookies don't have the preservatives of store-bought cookies. The best way to help them maintain their texture is to store them in a sealed glass container, at room temperature.
I have a penchant for mason jars, so I have many of them in my kitchen. They are perfect for cookie storage.
A plastic container like a Tupperware or a plastic bag (even a reusable one) will make your cookies chewy faster than you think. I do wonder if a classic ceramic cookie jar would keep them crispy, but I can't spare the counter space to test the theory.
If you love gingerbread cookies but you're interested in perfectly chewy ones, try our recipe for chewy gluten free gingerbread men. All the right spices, but with a soft and chewy bite.
Ingredients and substitutions
Dairy
In place of the butter in this recipe, I recommend trying vegan butter. My favorite brands are Melt and Miyoko's Kitchen.
I don't recommend using all Earth Balance buttery sticks in place of butter, as Earth Balance has a lot of moisture and will cause the cookies to spread too much during baking. You could try using half (56 grams) Earth Balance buttery sticks and half (56 g) Spectrum nonhydrogenated vegetable shortening, since the shortening doesn't have any moisture.
Egg
There is only one egg in this recipe. You should be able to replace it with one "chia egg" (1 tablespoon ground white chia seeds + 1 tablespoon lukewarm water, mixed and allowed to gel).
Cornstarch
If you can't have corn, try replacing the cornstarch with arrowroot. If you're using a higher starch all purpose gluten free flour blend, like Cup4Cup (or my mock Cup4Cup blend), instead of 1/4 cup (36 g) cornstarch, use an equal amount of your higher starch gluten free flour blend.