These gluten free chocolate graham crackers have a perfectly crisp texture and deep chocolate and honey flavor. They're better than any packaged cookie you can buy, and easy to make.
Why make your own gluten free graham crackers?
There are, indeed, packaged gluten-free graham crackers. But they taste, well, as you'd expect them to taste.
As with way too many high-priced gluten free packaged foods, packaged gluten free graham crackers have a tendency to taste like almost nothing at all. Plus I can't recall having seen a packaged version of gluten free graham crackers for sale.
These gluten free chocolate graham crackers are way better than any packaged graham cracker, anyway. They have a deep chocolate flavor, a delightfully crisp texture and they don't stick in your teeth when you eat them (just me?)
Plus, they're naturally dairy free. And they're the perfect crunchy cookie for crushing and making into a gluten free graham cracker crust (baked or no bake).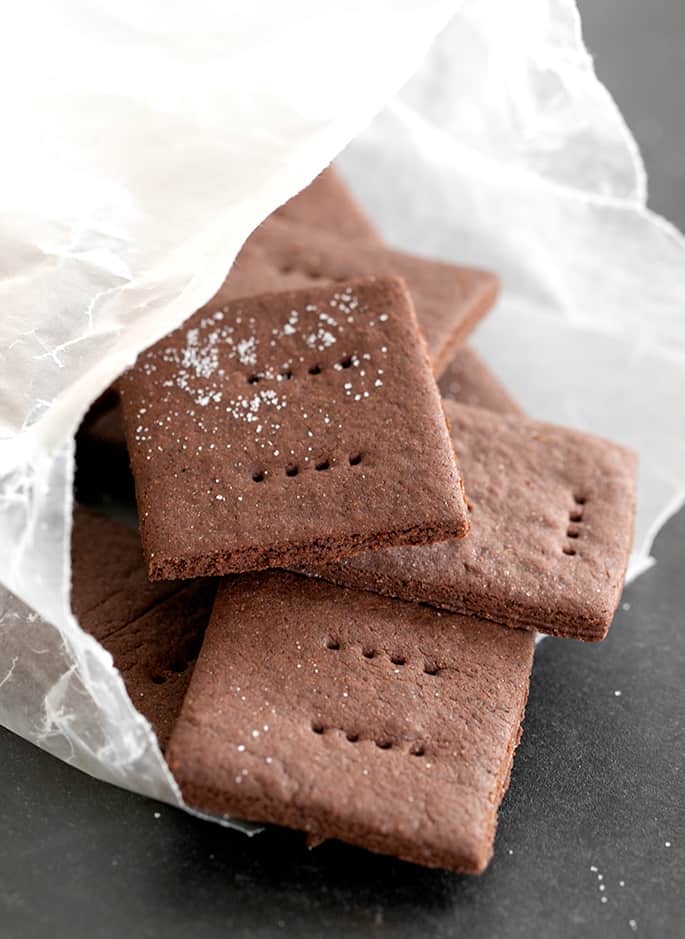 How to handle this graham cracker dough when raw
The dough rolls out really easily. Just be mindful not to roll it too thin (no less than 1/4-inch) or they will burn a bit in the oven, and then crumble. The dough should not be refrigerated at all, which is likely to dry it out.
If you want to bake some of it later, then by all means refrigerate the dough (there's an egg in it after all), and when you're getting ready to use it let it sit out until it comes to room temperature. It won't take long to soften up enough to be workable.
Docking the raw dough
What I refer to as "docking" the shaped, raw graham cracker dough has two steps. One is creating a seam in the center of each rectangle that goes about halfway through. The other is making holes that go all the way through the dough.
The seam in the center is mostly for authenticity, like "real" graham crackers have. It's clearly not necessary, but does make it easier to break the crackers in half neatly.
I use a pastry wheel, but you can use a knife or pizza wheel. Just don't cut all the way through or you'll have two smaller rectangles of dough.
The holes in the dough are different. They're helpful in allowing steam to escape during baking so the crackers don't puff up, but rather dry out and become crispy as they cool.
Ingredients and substitutions
Shortening
This recipe is naturally dairy free, since it calls for either virgin coconut oil or non-hydrogenated vegetable shortening. I like Spectrum brand shortening best.
If you don't have vegetable shortening or don't want to use it, use virgin coconut oil that is solid at room temperature. Since there is a strong chocolate flavor in this recipe, you won't be able to detect any faint coconut aroma the oil might have.
If you're particularly sensitive to coconut flavor, try using triple filtered coconut oil. I buy mine at my local Trader Joe's, and it has absolutely no coconut flavor or aroma at all.
Egg
Since there's only one egg in this recipe, you should be able to replace it with a "chia egg" (1 tablespoon ground white chia seeds + 1 to 2 tablespoons lukewarm water mixed and allowed to gel).
Cocoa powder
Dutch-processed cocoa powder is richer than natural unsweetened cocoa powder, so I really prefer it in this recipe. But you can use natural unsweetened cocoa powder instead without modifying the recipe any further.
Gluten free Chocolate Graham Crackers
Yield:
24 graham crackers
Ingredients
1 3/4 cup (245 g) all purpose gluten free flour (I used Better Batter)
1 teaspoon xanthan gum (omit if your blend already contains it)
1/2 cup (40 g) unsweetened cocoa powder (Dutch-processed, preferably)
1/3 cup (73 g) packed light brown sugar
1/4 cup (50 g) granulated sugar
1/4 teaspoon kosher salt
1/4 teaspoon baking soda
1/4 teaspoon baking powder
6 tablespoons (84 g) virgin coconut oil or vegetable shortening, melted and cooled
1 egg (50 g, weighed out of shell) at room temperature, beaten
1/2 teaspoon pure vanilla extract
4 tablespoons (84 g) honey
Instructions
Preheat your oven to 325°F. Line rimmed baking sheets with unbleached parchment paper and set them aside.

In a large bowl, place the flour, cocoa powder, brown sugar, granulated sugar, salt, baking soda and baking powder, and whisk to combine well. Work otu any lumps in the brown sugar. Set the bowl aside.

In a separate medium-sized bowl, place the coconut oil or shortening, egg, vanilla, and honey, and mix to combine well. Create a well in the center of the dry ingredients, and pour the wet ingredients into the well. Mix until the dough begins to come together. It will be thick and rather stiff. Knead the dough by hand until it is smooth and well-combined. Divide the dough into two pieces, wrap one in plastic wrap and set it aside.

Place the remaining piece of dough either on a lightly floured surface or between two sheets of unbleached parchment paper. Roll out the dough until it's about 1/4 inch thick. Using a pastry wheel, sharp unserrated knife, or rectangular cookie cutter, cut into 3-inch by 4-inch rectangles. Gather and reroll scraps. Carefully transfer the rectangles to the prepared baking sheets by gently peeling back the parchment paper. Place the rectangles less than 1 inch apart (they will not spread during baking). Dock the rectangles by slicing about halfway through the center of each rectangle and piercing each 4 to 6 times with the tines of a fork. Repeat with the second half of dough. One at a time, place the baking sheets in the center of the preheated oven and baking for 10 minutes or until dry to the touch. If your dough was rolled a bit on the thicker side, allow the cookies to bake a bit longer. Remove the baking sheet from the oven and allow the graham crackers to cool completely on the baking sheets before removing them or they will break.

Once the graham crackers are completely cool, store in a sealed glass container at room temperature to retain crispness. Use to make s'mores, for snacking, or for a chocolate gluten free graham cracker crust.