This classic gluten free birthday cake is a funfetti vanilla layer cake filled with chocolate sour cream frosting and topped with chocolate icing. It's your new go-to birthday cake.
This is my go-to birthday cake combination
My oldest child just turned 17 this week, and she's as indecisive as she was at 7. She loves any and all cakes, especially chocolate. But she's also mindful that not everyone loves a deep, rich chocolate cake.
So when we were planning her the sweetest low-key, home-based birthday party, she simply couldn't decide on what sort of birthday cake she wanted me to make. I went with my go-to combination which I finally decided to share it with you here: a Funfetti-style vanilla cake with sour cream chocolate frosting and a richer chocolate icing.
The yellow cake is adapted very slightly from my very best gluten free vanilla cake, which has long been one of the most popular recipes on this blog. It's incredibly moist and tender, and even though you do have to sift some flours, it is as easy as can be.
The edible confetti that makes the cake into "Funfetti" has no real taste (although I'm sure it's mostly sugar), but it make everything more fun. It's like dressing like normal on your birthday but wearing a party hat. You're instantly festive. ?
For what it's worth, when our 17-year-old party guests saw me cut into this birthday cake at my daughter's party, there was an audible gasp over my left shoulder. And an "ooooh Funfetti!" exclamation. See? Fun.
How to make a gluten free layer cake
I've made so many gluten free cakes with you on the blog. Generally, I figure that you'll find your basic buttercream frosting recipes elsewhere and don't come to me for my cake-decorating skillz. I'm no cake decorator.
But I've decorated enough cakes over the years that I can certainly do a passable job. I thought you might like to see how I make my layer cakes since I have no shortage of opinions.
Bigger isn't always better
I prefer to make 8-inch round cakes instead of 9-inch cakes or larger. I never make a square or rectangular cake for a birthday celebration.
Round is festive. Rectangles are, well, square (as in boring). This is, of course, my opinion, but I assume you came here for that? If not, just scroll down to the recipe. ☺️
Edible confetti is way better than rainbow sprinkles or nonpareils
In the past, I've bought edible confetti made by AmeriColor brand on Amazon. A small container lasts me quite a while. Rainbow is the best. ?
I've been having some trouble finding AmeriColor sprinkles lately, but I've found a few shops on Etsy that sell gluten free rainbow confetti. Rather than my posting links for those shops here, since Etsy links tend to expire often, I recommend searching for "edible gluten free confetti"; "edible gluten free quins"; or "edible gluten free sequins" on Etsy.
Sweetapolita's Sprinkle Shop is an online shop run by a food blogger that has carried edible rainbow sequins that are gluten free. I had linked to her edible gluten free confetti, and then the link expired. I say just visit her site (Sweetapolita.com) and see if she has any edible gluten free rainbow confetti (also called "quins").
Rainbow confetti colors tend to be super vibrant, and they don't bleed. Classic sprinkles ("jimmies, if you're from Philly!) or nonpareils will begin to bleed nearly the moment you mix them into the cake batter. You don't want your vanilla cake to look like a clown crime scene. ??
How to frost and decorate a beautiful birthday cake
I really like to use a sour cream chocolate frosting for a filler and a crumb coat (the thin layer of frosting all around a layer cake that seals in the crumbs so they don't speckle your frosting). It's sweet and chocolatey without being too rich, so it doesn't overwhelm your vanilla-cake-only people.
You can then, of course, finish the cake with a second layer of the same sour cream chocolate frosting. I prefer to finish the cake with a richer, chocolate icing.
It's easier to make a smooth finish on the cake with the chocolate icing, and the additional confetti sprinkled on top of the cake stands out a bit more on the icing than on the frosting. The icing also adds a bit of richness.
You do not have to be a professional to ice a birthday cake. The tricks to frosting and/or icing a cake smoothly are twofold.
First, your frostings must be super smooth and everything must be at the proper temperature. The sour cream chocolate frosting here must be at room temperature. If you've refrigerated it, you'll have to leave it out at room temperature for hours so that it comes to temperature evenly.
The chocolate icing must be scoopable, and you can err on the side of chilled. The cakes should be at room temperature, but can also be chilled.
Second, you need a flat edge for smoothing the frosting. I've used everything from a tool made specifically for cake decorating to a plastic bowl scraper and even a bench scraper. A spinning cake turntable is nice, but not essential.
And always remember that strategically-placed decorations can hide a multitude of mistakes!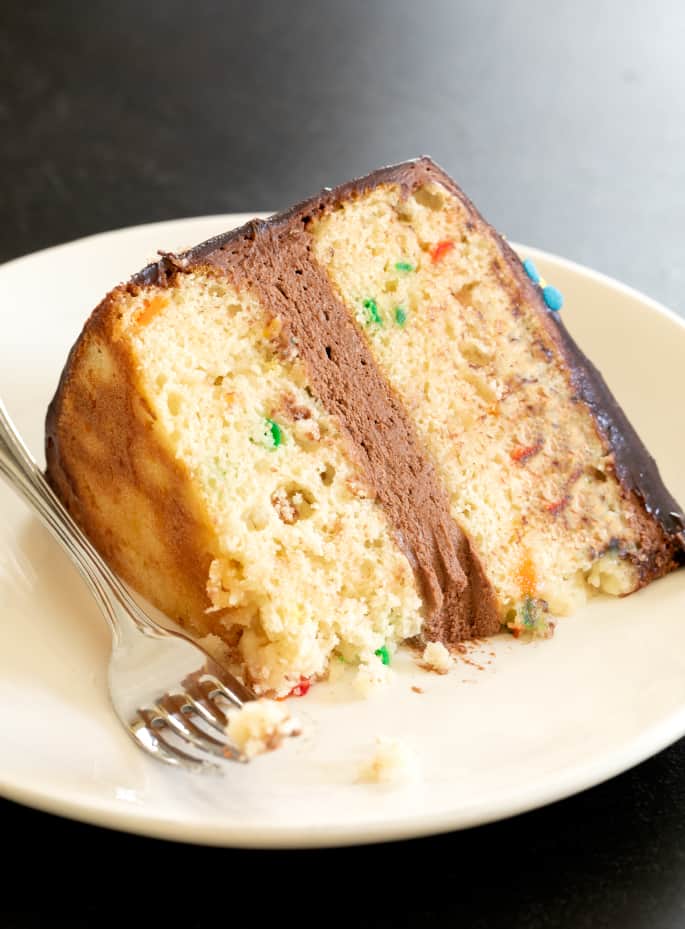 Ingredients and substitutions
Dairy-free: There is dairy in every aspect of this cake, I'm afraid. The cake itself calls for unsalted butter, which I think should be able to be replaced with a vegan butter like Miyoko's Kitchen brand or Melt brand vegan butter. I do not recommend Earth Balance buttery sticks because of the high salt and moisture content.
In place of buttermilk in the cake recipe, try using half unsweetened nondairy milk and half plain nondairy yogurt. I find that to be the closest approximation of buttermilk, dairy-containing or dairy-free when you can't use buttermilk or just don't have it on hand.
In the frosting and icing recipes, you can try replacing the butter with Spectrum nonhydrogenated vegetable shortening, butter flavor. The sour cream can probably be replaced in each case with nondairy sour cream, but the icing may not set up properly.
Egg-free: I'm afraid I don't think you can make this recipe dairy-free. I'm tempted to suggest aquafaba (the brine from a can of chickpeas) in place of the egg whites, but I understand from many of you that that hasn't been very successful in baking.
Cornstarch: If you are using a higher starch all purpose gluten free flour blend like Cup4Cup (or my mock Cup4Cup), replace the cornstarch in this recipe with an additional 54 grams of your flour blend. If you can't have corn, you can use arrowroot powder in its place.