Make these superfood muffins, packed with vegetables and gluten free oats, and get your family to eat right the easy way. They're endlessly customizable, too, so substitutions are welcome!
Think of these superfood muffins, made as written, as a heartier, healthier, more nutrient-dense version of our gluten free carrot cake cupcakes. They were given that high praise (minus the part about celebrating their health benefits) by my vegetable-hating oldest child.
These muffins still have honey, and yes, sugar is sugar. But honey at least has some nutrients, and there simply isn't that much in this recipe.
The most time-consuming task in this whole recipe is grating the carrots and the zucchini. Grate them one after the other, without cleaning the grater.
You can use pre-shredded carrots (I buy those for ramen soup because I can be lazy and I'm not sorry). They have a bit less moisture, but these muffins don't seem to mind one bit.
How to make superfood muffins when the cupboards are nearly bare
The "ingredients and substitutions" section below covers how to replace ingredients if you or someone you're baking for has additional food allergies and intolerances. It will help you replace eggs, dairy, oats, almond flour, and honey.
Please keep in mind that, with every substitution, you are moving farther away from the original recipe, and I simply cannot promise results. But especially with many of us hunkering down at home these days, I've tested this recipe with some pantry-style swaps and it's somehow extra adaptable.
I've replaced the shredded zucchini with (get this) peeled and shredded white potatoes (I used russet, but I doubt it matters that much). The result was a bit heavier, but still delicious.
I think you could replace the shredded zucchini with peeled, cored, and shredded apple. If you can, use an apple with a nice firm flesh, like a green apple.
I think you might even be able to replace the shredded carrots with peeled and shredded sweet potatoes. I would not replace both the zucchini and the carrots at the same time, though. At least not both with different forms of potato!
Instead of chocolate chips, use whatever combination of chopped nuts you love. Walnuts are a nice soft nut, but my family is categorically against nuts in muffins. And chocolate chips win people (children) over.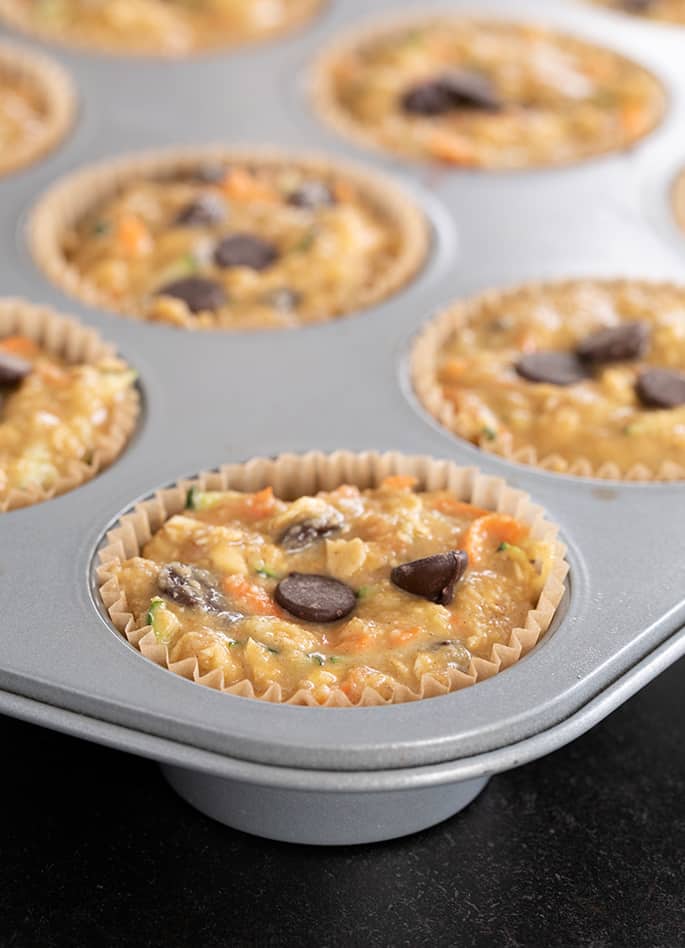 (More) Ingredients and substitutions
Dairy: The only dairy in this recipe is 6 tablespoons (84 g) of unsalted butter, melted and cooled. Since this recipe is so adaptable, I think Earth Balance buttery sticks would work as a butter substitute. Just eliminate the salt in the recipe, since Earth Balance is very salty.
I would not replace the butter with oil, since I really do not like to bake with oil in a recipe with almond flour. The results are almost always greasy and unpleasant.
Eggs: There are 3 whole eggs in this recipe, so it's quite difficult to replace them with an effective substitute. You can try using 3 "chia eggs" (each 1 tablespoon ground white chia seeds + 1 tablespoon lukewarm water, mixed and allowed to gel), but I'm not certain how well that would work. I'm afraid you'll have to experiment.
Oats: First, certified gluten free oats are appropriate on a gluten free diet. I've even seen a new brand for sale in Australia, which famously had none until now.
However, some people still can't have them or don't feel comfortable eating them. Since we discovered that oats can be replaced in gluten free baking, I feel confident that you can replace them in this and any other baking recipe.
If you think you need to replace the oat flour because you have oats but not oat flour, I never buy anything more processed than rolled oats. I just grind old fashioned oats in a blender until they're a fine powder. In this recipe, the oat flour can be replaced with quinoa flakes.
The old-fashioned rolled oats can be replaced with beaten rice. For a more complete discussion of how to replace oats in baking, please click here to learn how oats can be replaced in gluten free baking.
Honey: In place of honey, you can use pure maple syrup. I prefer honey, though, since it's thicker so it makes for a slighter tighter batter. Plus, it's way (way) cheaper than pure maple syrup.
Almond flour: You can almost certainly replace the almond flour in this recipe with cashew flour. A nut-free replacement is a bigger deal, for sure, and you might be better off using our recipe for gluten free morning glory muffins instead.
Chocolate chips: Please see the discussion above about using other mix-ins. But if you want buy-in from children, use the chips!
Superfood Muffins | Easy To Customize
Ingredients
1 cup (120 g) finely ground almond flour
1 cup (120 g) oat flour (certified gluten free if necessary)
1 cup (100 g) old-fashioned oats (certified gluten free if necessary)
2 teaspoons ground cinnamon
1 teaspoon baking powder
1/2 teaspoon baking soda
1/2 teaspoon kosher salt
1 1/4 cups (135 g) grated zucchini (from 1 small to medium zucchini)
1 cup (90 g) grated carrot (from 1 large, peeled carrot)
3 eggs (150 g, weighed out of shell) at room temperature, beaten
6 tablespoons (84 g) unsalted butter, melted 
and cooled
1/2 cup (168 g) honey
1 teaspoon vanilla
4 ounces semi-sweet chocolate chips
Instructions
Preheat your oven to 325°F. Grease or line a 12-cup standard muffin tin and set it aside.

In a large bowl, place the almond flour, oat flour, oats, ground cinnamon, baking powder, baking soda, and salt, and whisk to combine well. Add the grated carrots, and mix to combine, then the grated zucchini, and mix to combine. Separate any vegetables clumped together, then create a well in the center of the dry ingredients. Add the eggs, butter, honey, and vanilla, and mix to combine. The batter should be thick but soft. Add most of the chocolate chips (reserving a few for the muffin tops) and mix until the chips are evenly distributed throughout the batter.

Scoop the batter into the prepared wells of the muffin tin, filling each all the way to the top. Shake the tin back and forth to distribute the batter evenly in each well. Top the batter in each well with the remaining chocolate chips.

Place the muffin tin in the center of the preheated oven and bake for about 22 minutes, or until a muffin in the center springs back when pressed very gently in the center. Remove from the oven and allow the muffins to cool in the tin for 10 minutes before transferring to a wire rack to cool completely.

Adapted from a combination of our Morning Glory Muffins and Run Fast Eat Slow's Superhero Muffins.