These lightly sweet protein cookies are the perfect breakfast or on-the-go snack that keeps you full but doesn't weigh you down! They're even Weight-Watchers friendly.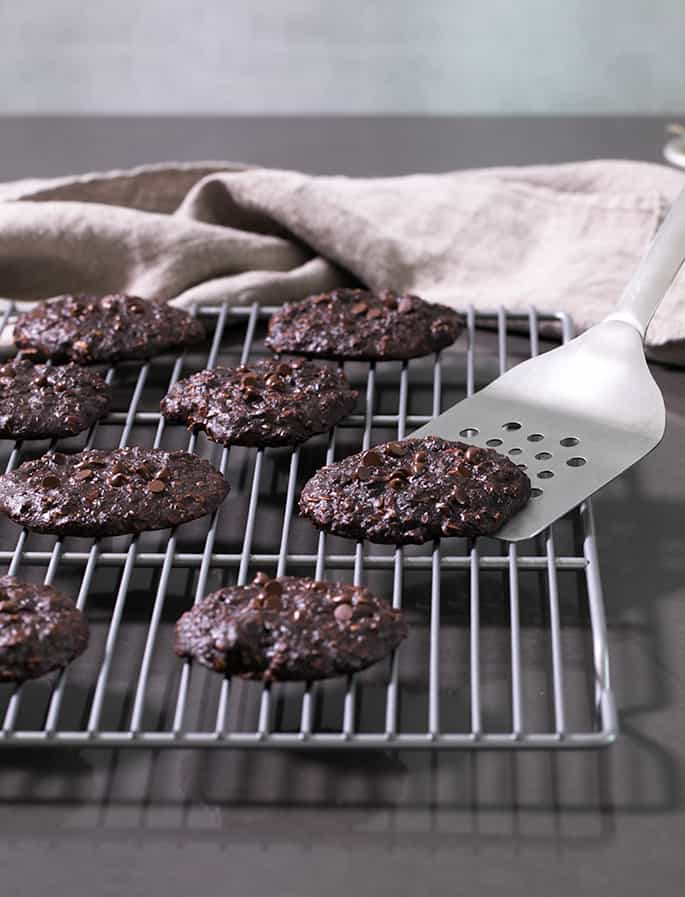 Why all the protein recipes?
Americans have more than enough protein in their diets, so why would I want to pack even more protein into my food? There are a few reasons.
Not only is all protein not created equal, and more protein is filling and tends to help with maintaining a healthy weight. I was always naturally thin, even teased for being too "skinny," but I'm not as young as I once was (I'm 45 now). And neither is my husband! Plus, I've had 3 children and my body simply hasn't been quite the same since the last one. (P.S. That all might explain the Weight Watchers recipes, too!)
And speaking of children, my gluten free son quite simply needs to put on weight. It's not that he's ill (he isn't), but his doctor did recommend that he eat more protein. And he's always been naturally quite thin.
My oldest is in high school now and is nearly fully grown, but on her own, she's become more conscious of what helps you grow strong and what helps you grow, well, the wrong way. I want to make it super easy for her to grab a protein cookie on her way out the door in the morning.
Powdered Peanut Butter
We've been eating powdered peanut butter, like from PB2 brand, for years now. Happily, it's become much more widely available and it's perfect for weight-conscious recipes as well as for protein-rich ones.
I know not everyone can have nuts, especially peanuts, though, and that making something with peanuts in any form often means that it can't be taken to school. Luckily, though, I often have success replacing it in recipes with unsweetened cocoa powder.
In our recipe for protein granola, the peanut butter variety doesn't really taste much different from the chocolate variety. Either ingredient is really used in a much smaller amount. Here, the flavor is more pronounced (although not overwhelming at all).
These aren't rich cookies, and with only 2 tablespoons of pure maple syrup in the whole batch and otherwise sweetened only with the natural sugars in applesauce and banana, they aren't very sweet either.
In some cookie recipes that call for the addition of chocolate chips or pieces of chopped nuts, the mix-in is essential for the cookie to hold its shape. Here, in these protein cookies, the chips are truly optional. You can also replace them with some dried fruit or chopped nuts.
I like using miniature chocolate chips since just a couple tablespoons of them go a long, long way. And frankly they are a visual signal to my kids that this is a "fun" cookie—even when it really is significantly less fun than, say, a regular cookie recipe.
Ingredients and substitutions
Oat-free: We've discussed before how, in the U.S. at least, certified gluten free oats are not a gluten-containing grain and are therefore appropriate for a gluten free diet. But if you can't have them or simply don't want to use them, I've managed to find a way to replace oats in baking, in every form.
Oats are a cornerstone part of my recipe for protein pancakes, but one reader confirmed that you can make that recipe with buckwheat flour in place of ground oats as long as you nearly double the nondairy milk.
Egg-free: Since there are only two eggs in this recipe, you can try replacing each with a "chia egg" (1 tablespoon ground chia seeds + 1 tablespoon lukewarm water, mixed and allowed to gel).
Bananas and applesauce: I've tried this recipe with all applesauce, all bananas, and more bananas than applesauce, as the recipe is written here. I don't find that the cookies taste much like bananas the way the recipe is written, so try varying the balance and see how you like them. If you do use all applesauce, the cookie dough will be a bit thinner, resulting in slightly thinner and less stable cookies.
Peanut powder/cocoa powder: As explained in the recipe, you can make these protein cookies as either peanut butter flavored or chocolate flavored. Neither one has a super strong taste, but you need one or the other. You can't make the recipe successfully with only protein powder. I tried, and it was a sticky, tasteless mess.
Protein powder: For my protein recipes (and even my morning coffee!), I've been adding collagen protein powder quite a lot lately as it's tasteless, dairy free and all around very healthy. I started out with Vital Proteins Collagen Peptides (affiliate link, but of course feel free to shop around), and then moved on to Perfect Hydrolyzed Collagen Peptides (affiliate link) as it's less expensive. I recommend either one for this recipe.
If you can have dairy, try using whey protein isolate like we use in my gluten free bread flour blend. That should work quite well. I haven't tried using a more traditional protein powder, like the Vega protein powder I use in my protein bars, but I think it would work just fine in the vanilla flavor as long as you measure by weight, not by volume. Collagen protein and whey protein isolate are suuuuper light, and Vega is much, much heavier by volume.
Weight-Watchers note: For the peanut butter variety if you divide the recipe into 10 cookies, each has 3 SmartPoints. If you divide it into 12 cookies, each has 2 SmartPoints. For the cocoa powder variety, either way, each cookie has 2 SmartPoints. The mysteries of Weight Watchers calculations!
How-To Make Protein Cookies Video (1-minute)
Click play ▶ and watch me make these chewy, hearty cookies. Then make your own!
Protein Cookies
Yield:
10 to 12 cookies, depending upon size
Ingredients
1/2 cup (60 g) oat flour (I grind my own from old-fashioned rolled oats), certified gluten free if necessary
1/2 cup (50 g) old-fashioned rolled oats, certified gluten free if necessary
3 scoops (30 g) collagen protein powder
1/2 cup (48 g) powdered peanut butter or 1/2 cup + 1 tablespoon (45 g) cocoa powder
1/2 cup (100 g) ripe banana, mashed (from about 1 medium-sized banana)
3 tablespoons (48 g) smooth unsweetened applesauce, at room temperature
2 tablespoons (42 g) pure maple syrup, at room temperature
2 eggs (100 g, weighed out of shell) at room temperature, beaten
2 tablespoons (30 g) miniature dairy-free semi-sweet chocolate chips (optional)
Instructions
Preheat your oven to 350°F. Line a large rimmed baking sheet with unbleached parchment paper and set it aside.

In a large bowl, place the oat flour, oats, protein powder, powdered peanut butter or cocoa powder and whisk to combine. Create a well in the center of the dry ingredients and add the mashed banana, applesauce, maple syrup, and eggs, and mix to combine. The mixture will be thick but soft. Add about 1 tablespoon of the miniature chocolate chips, and mix until evenly distributed throughout.

Scoop 2 to 3 tablespoon portions of the cookie dough onto the prepared baking sheet using a medium-size spring-loaded ice cream scoop, placing them about 1 1/2-inches apart from one another. The cookies will barely spread during baking. Smooth the portions of dough into 1/2-inch thick rounds, and scatter a few of the remaining miniature chocolate chips on top of each portion of cookie dough.

Place the baking sheet in the center of the preheated oven and bake for 13 to 15 minutes (depending on size), or until the cookies are lightly brown around edges and set in the center. If you've made the chocolate variety, browning won't be apparent so you'll have to go by whether or not the cookies are set all the way to the center. Allow to cool on the baking sheet until firm, at least 10 minutes, before transferring to a wire rack to cool completely.

Storage: Once they're cooled, I recommend storing these cookies in a sealed container in the refrigerator. They can be stored in the freezer for longer, but they'll need to be thawed for a few minutes at room temperature before serving. They thaw quite quickly, though.

Adapted heavily from this ifoodreal recipe.