This recipe for soft and tender gluten free Hawaiian rolls makes the perfect gluten free bread for any occasion—for everything from dinner rolls to burger buns!
The recipe for gluten free Hawaiian rolls from page 181 of Gluten-Free on a Shoestring Bakes Bread is just too good not to share. I've included everything you need to know about baking the best gluten free bread you've ever had.
This includes general shaping instructions for all of the gluten free bread in the Bakes Bread book. It also includes specific instructions for shaping small, round rolls like these.
Rolls like these are going to change the way you think about gluten free bread forever. For real.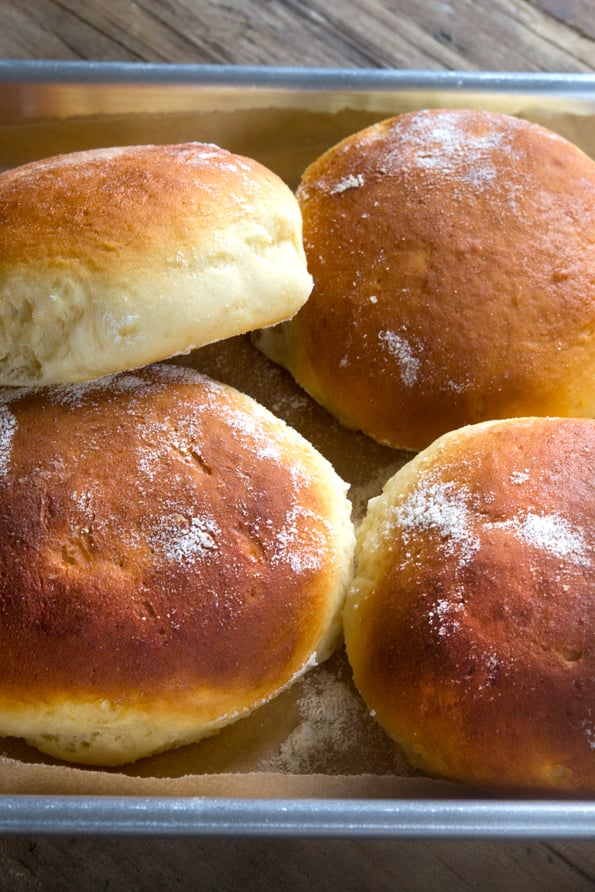 The instructions in the book for these Hawaiian Rolls are to make 12 dinner rolls, but these days I find myself making them into 8 full-size buns instead. They make the most delightful sandwiches!
I simply love the soft, tender crumb of the bread, and the way the outside browns just right. The dough can be handled more like "regular" bread dough. You might just think you'd reached for wheat flour!
Here they are, all shaped and ready for their second rise. The short video below shows the "scrape and fold" technique that I recommend using to shape my new style of gluten free bread dough.
I can describe it with words, and I do in the recipe below. But there's nothing like seeing it for yourself.
I also thought you might like to see what it looks like when I shape this dough into rounds. You want to work quickly, and use a light touch.
All of the written instructions for this are reprinted below from the book. I've included everything from general shaping instructions for all of my gluten free bread dough to specific instructions on how to shape rounds.
If you have previous experience shaping conventional yeast bread dough, all of that will come in quite handy here. Gone now are the day when working with gluten free yeast bread dough meant sad, weepy mounds of dough that looked more like cookie dough than bread dough.
And unlike gluten free yeast bread of the past, these rolls have two rises. That means that the dough is easier to handle still, and there is even some flavor development in the yeast.
Since this is an enriched dough, meaning it has butter and milk in it, you don't want too much yeast development, though.
If the dough begins to "dimple," it's beginning to overproof, or rise too much. Be sure you get it right into the oven, then. You want a nice, smooth rise.

These rolls you see here weren't topped with an egg wash before baking. They're simply perfect, just as they are. I know some of you are scared to bake yeast bread.
I know some of you wish the recipes were ready immediately, rather than having to wait for a few days' refrigerator rise. But good yeast bread takes time. This is not because it's gluten free. It's just the nature of yeast development.
If you're looking for something closer to instant gratification, try the gluten free English Muffin Bread from page 74 (reprinted on the blog, as well). No starter, no refrigerator rise. Make the dough and bake it in about 1 1/2 hours. It's a super soft, mild-tasting, high-rising loaf of gluten free bread.