This recipe for soft and tender gluten free Hawaiian rolls makes the perfect gluten free bread for any occasion—for everything from dinner rolls to burger buns!
The recipe for gluten free Hawaiian rolls from page 181 of Gluten-Free on a Shoestring Bakes Bread is just too good not to share. I've included everything you need to know about baking the best gluten free bread you've ever had, including how to make our gluten free bread flour.
This includes general shaping instructions for all of the gluten free bread in the Bakes Bread book. It also includes specific instructions for shaping small, round rolls like these. Rolls like these are going to change the way you think about gluten free bread forever.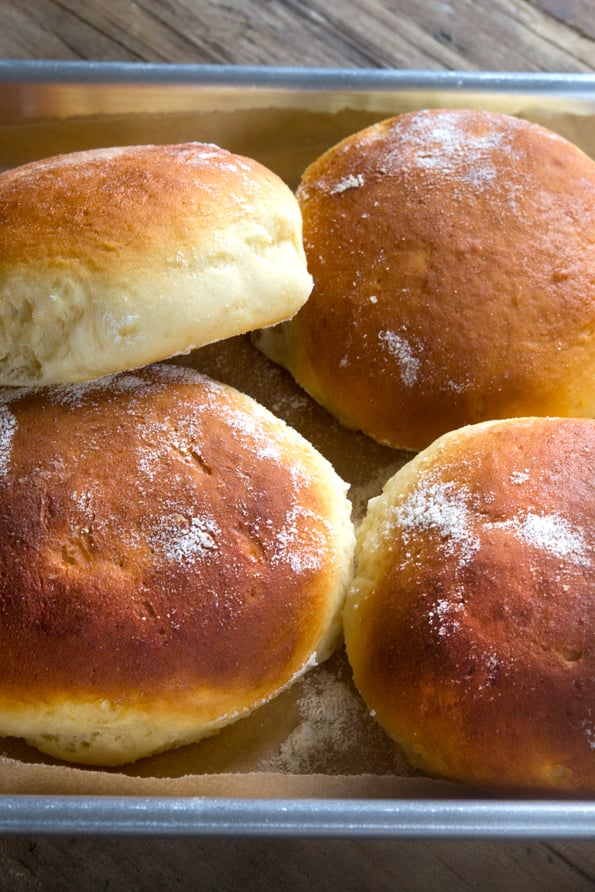 The instructions in the book for these Hawaiian Rolls are to make 12 dinner rolls, but these days I find myself making them into 8 full-size buns instead. They make the most delightful sandwiches!
I simply love the soft, tender crumb of the bread, and the way the outside browns just right. The dough can be handled more like "regular" bread dough. You might just think you'd reached for wheat flour!
How to shape round rolls made with gf bread flour
Here they are, all shaped and ready for their second rise. The short video below shows the "scrape and fold" technique that I recommend using to shape my new style of gluten free bread dough.
I can describe it with words, and I do in the recipe below. But there's nothing like seeing it for yourself.
I also thought you might like to see what it looks like when I shape this dough into rounds. You want to work quickly, and use a light touch.
All of the written instructions for this are reprinted below from the book. I've included everything from general shaping instructions for all of my gluten free bread dough to specific instructions on how to shape rounds.
If you have previous experience shaping conventional yeast bread dough, all of that will come in quite handy here. This dough is not at all like the batter-style gluten free yeast bread dough. That dough can be shaped into rounds, but you must work with wet mounds of dough that looked more like cookie dough than bread dough.
What this raw dough is like
Unlike batter-style gluten free yeast bread, these rolls have two rises. That means that the dough is easier to handle still, and there is even some flavor development in the yeast.
Since this is an enriched dough, meaning it has butter and milk in it, you don't want too much yeast development, though. An extended first cold rise will result in rolls that
If the dough begins to "dimple," it's beginning to overproof, or rise too much. Be sure you get it right into the oven, then. You want a nice, smooth rise.
These rolls you see above weren't topped with an egg wash before baking. The tops will still brown, but won't shine. If you prefer a shininess to the top, add the egg wash!
Remember that good yeast bread takes time. This is not because it's gluten free. It's just the nature of yeast development.
Ingredients and substitutions
Dairy
The butter in these rolls can easily be replaced with vegan butter. The real issue is the whey protein isolate in the gluten free bread flour. That absolutely requires dairy for the dough to behave as you see here.
In the bread book, I do recommend two dairy-free protein powders that can be used instead of whey protein isolate. But each requires that you to use 150% of the liquid in each recipe, and the results just aren't the same.
If you can't have dairy, I recommend using some of our other bread recipes that call for an all purpose gluten free flour instead. Try our gluten free hamburger buns with the dairy-free substitution instructions included right above the recipe card.
Eggs
These rolls contain only one egg in the dough, and one egg in an optional egg wash. If you can't have eggs, eliminate the egg wash entirely, or replace it with some cream.
In place of the egg in the bread dough, you can try using a "chia egg." Just place 1 tablespoon ground white chia seeds in a small bowl, add 1 tablespoon lukewarm water, mix and allow to gel.
Gluten Free Hawaiian Rolls | with bread shaping videos
Yield:
Makes 12 dinner rolls or 8 bun-size rolls
Ingredients
ROLLS
3 cups (420 g) Gluten-Free Bread Flour, plus more for sprinkling*
2 teaspoons (6 g) instant yeast
1/4 cup (50 g) granulated sugar
1 teaspoon (6 g) kosher salt
4 tablespoons (56 g) unsalted butter, at room temperature
1 egg (50 g, weighed out of shell), at room temperature, beaten
1 cup plus 1 tablespoon (8 1/2 fluid ounces) pineapple juice
1 teaspoon vanilla extract
Egg wash (1 large egg, at room temperature, beaten with 1 tablespoon water)
*GLUTEN FREE BREAD FLOUR
Makes 1 cup (140 g) flour
100 grams (about 11 1/2 tablespoons) all-purpose gluten-free flour (71%)**
25 grams (about 5 tablespoons) unflavored whey protein isolate (18%)
15 grams (about 5 teaspoons) Expandex modified tapioca starch (11%)
**For the all-purpose gluten-free flour in Gluten-Free Bread Flour, you can use either the High-Quality All-Purpose Gluten-Free Flour (below) or the Make-It-Simpler All-Purpose Gluten-Free Flour (below that). For this recipe, the High-Quality All-Purpose Gluten-Free Flour is best. It's a copycat recipe of Better Batter gluten free flour, so the commercially available Better Batter all-purpose gluten-free flour blend will also work well.
1 CUP (140 g) HIGH-QUALITY ALL-PURPOSE GLUTEN-FREE FLOUR
42 grams (about 1/4 cup) superfine brown rice flour (30%)
42 grams (about 1/4 cup) superfine white rice flour (30%)
21 grams (about 2 1/3 tablespoons) tapioca starch (15%)
21 grams (about 2 1/3 tablespoons) potato starch (15%)
7 grams (about 1 3/4 teaspoons) potato flour (5%)
4 grams (about 2 teaspoons) xanthan gum (3%)
3 grams (about 1 1/2 teaspoons) pure powdered pectin (2%)
1 CUP (140 g) MAKE-IT-SIMPLER ALL-PURPOSE GLUTEN-FREE FLOUR 
90 grams (about 9 tablespoons) superfine white rice flour (64%)
31 grams (about 3 1/2 tablespoons) potato starch (22%)
15 grams (about 5 teaspoons) tapioca starch (11%)
4 grams (about 2 teaspoons) xanthan gum (3%)
Instructions
Place the flour, yeast, and sugar in the bowl of your stand mixer, and use a handheld whisk to combine well. Add the salt, and whisk to combine. Add the butter, egg, pineapple juice, and vanilla, and mix on low speed with the dough hook until combined. Raise the mixer speed to medium and knead for about 5 minutes. The dough will be quite sticky, but should be smooth and stretchy. Spray a silicone spatula lightly with cooking oil spray, and scrape down the sides of the bowl. Transfer the dough to a lightly oiled bowl or proofing bucket large enough for the dough to rise to double its size, and cover with an oiled piece of plastic wrap (or the oiled top to your proofing bucket). Place the dough in the refrigerator for at least 12 hours and up to 5 days.

On baking day, grease an 8-inch round baking pan and set it aside. Remove the dough from the refrigerator and turn it out onto a lightly floured surface. Knead until smoother as described in the General Shaping Tips below. With a floured bench scraper, divide the dough into twelve pieces of equal size. Shape one piece into a round by following the Directions for Shaping Small, Round Rolls below. Place the first roll in the prepared baking pan. Repeat with the remaining pieces of dough, placing the rolls less than an inch apart from one another. Cover the baking pan with oiled plastic wrap and set it aside in a warm, draft-free location to rise for 30 minutes. Uncover the pan and brush the rolls generously with the egg wash. Allow the rolls to finish rising, uncovered, until fully doubled in size (about 20 minutes more).

About 20 minutes before the rolls have completed their final rise, preheat your oven to 350°F. Place the baking pan on the lower rack of the preheated oven and bake until lightly golden brown, and the inside of the rolls registers about 185°F on an instant-read thermometer (about 20 minutes). Allow to cool briefly in the pan before serving.

GENERAL SHAPING TIPS
Unless otherwise noted, always begin on a well-floured surface with floured hands.


With the help of an oiled bench scraper, keep moving the dough as you shape it, particularly if it begins to stick to the surface or your hands. The process of kneading the dough in this book will be done using the scrape-and-fold method: Scrape the dough off the floured surface with the bench scraper, then fold the dough over itself. Sprinkle the dough lightly with flour, scrape the dough up again, and fold it over itself again. Repeat scraping and folding in this manner until the dough has become smoother.
Keep the outside of the dough and the surface covered in a light coating of flour as you shape the dough. Handle the dough with a light touch to avoid kneading the flour into the dough, which might dry it out and result in a tight, unpleasant crumb.
It bears repeating: A light touch is the key. Repeat that to yourself as a mantra as you first learn to shape this bread dough. It's the most important rule in shaping. More technique, less muscle.
You'll notice that the recipes do not include instructions to allow dough that has been rising in the refrigerator to come to room temperature before shaping. Always begin with cold dough when shaping the dough in this book. It is much easier to shape.

SHAPING SMALL ROUND ROLLS

On a well-floured surface, flatten the dough into a disk, then pull the edges toward the center of the disk and secure the edges together by pressing them between your thumb and forefinger.
Turn the dough over so that the gathered edges are on the bottom and cup your whole hands around the dough, to coax it into a round shape.
Place the round of dough on a lightly floured surface and cup only one palm around the dough with the side of your hand resting on the counter (the side of your hand nearest your pinkie). Maintaining contact between the side of your hand and the surface, begin to move your hand in a circular motion while gently coaxing the edges of the dough upward (toward the top of the round) with the tips of your fingers.
Slash the dough with a sharp knife or lame held at a 45 degree angle to the dough.

From the book Gluten-Free on a Shoestring Bakes Bread: Biscuits, Bagels, Buns, and More by Nicole Hunn. Excerpted by arrangement with Da Capo Lifelong, a member of the Perseus Books Group.  Copyright © 2013.