This recipe for soft and tender gluten free Hawaiian rolls makes the perfect gluten free bread for any occasion—for everything from dinner rolls to burger buns!
The recipe for gluten free Hawaiian rolls from page 181 of Gluten-Free on a Shoestring Bakes Bread is just too good not to share. I've included everything you need to know about baking the best gluten free bread you've ever had, including how to make our gluten free bread flour.
This includes general shaping instructions for all of the gluten free bread in the Bakes Bread book. It also includes specific instructions for shaping small, round rolls like these. Rolls like these are going to change the way you think about gluten free bread forever.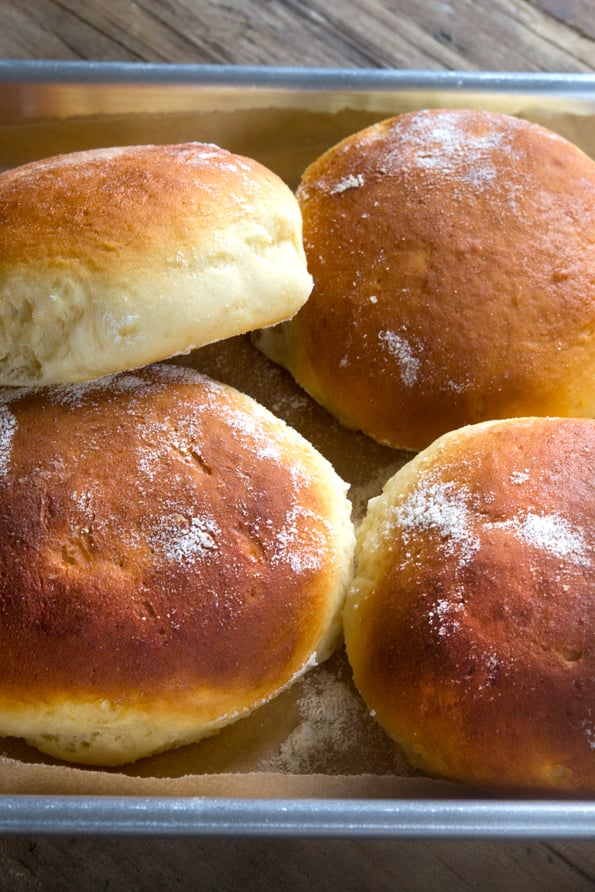 The instructions in the book for these Hawaiian Rolls are to make 12 dinner rolls, but these days I find myself making them into 8 full-size buns instead. They make the most delightful sandwiches!
I simply love the soft, tender crumb of the bread, and the way the outside browns just right. The dough can be handled more like "regular" bread dough. You might just think you'd reached for wheat flour!
How to shape round rolls made with gf bread flour
Here they are, all shaped and ready for their second rise. The short video below shows the "scrape and fold" technique that I recommend using to shape my new style of gluten free bread dough.
I can describe it with words, and I do in the recipe below. But there's nothing like seeing it for yourself.
I also thought you might like to see what it looks like when I shape this dough into rounds. You want to work quickly, and use a light touch.
All of the written instructions for this are reprinted below from the book. I've included everything from general shaping instructions for all of my gluten free bread dough to specific instructions on how to shape rounds.
If you have previous experience shaping conventional yeast bread dough, all of that will come in quite handy here. This dough is not at all like the batter-style gluten free yeast bread dough. That dough can be shaped into rounds, but you must work with wet mounds of dough that looked more like cookie dough than bread dough.
What this raw dough is like
Unlike batter-style gluten free yeast bread, these rolls have two rises. That means that the dough is easier to handle still, and there is even some flavor development in the yeast.
Since this is an enriched dough, meaning it has butter and milk in it, you don't want too much yeast development, though. An extended first cold rise will result in rolls that
If the dough begins to "dimple," it's beginning to overproof, or rise too much. Be sure you get it right into the oven, then. You want a nice, smooth rise.
These rolls you see above weren't topped with an egg wash before baking. The tops will still brown, but won't shine. If you prefer a shininess to the top, add the egg wash!
Remember that good yeast bread takes time. This is not because it's gluten free. It's just the nature of yeast development.
Ingredients and substitutions
Dairy
The butter in these rolls can easily be replaced with vegan butter. The real issue is the whey protein isolate in the gluten free bread flour. That absolutely requires dairy for the dough to behave as you see here.
In the bread book, I do recommend two dairy-free protein powders that can be used instead of whey protein isolate. But each requires that you to use 150% of the liquid in each recipe, and the results just aren't the same.
If you can't have dairy, I recommend using some of our other bread recipes that call for an all purpose gluten free flour instead. Try our gluten free hamburger buns with the dairy-free substitution instructions included right above the recipe card.
Eggs
These rolls contain only one egg in the dough, and one egg in an optional egg wash. If you can't have eggs, eliminate the egg wash entirely, or replace it with some cream.
In place of the egg in the bread dough, you can try using a "chia egg." Just place 1 tablespoon ground white chia seeds in a small bowl, add 1 tablespoon lukewarm water, mix and allow to gel.