These chocolate flourless peanut butter cookies are gluten free, grain free, dairy free, low in sugar, and packed with protein. Just 6 simple ingredients—and that's even including salt!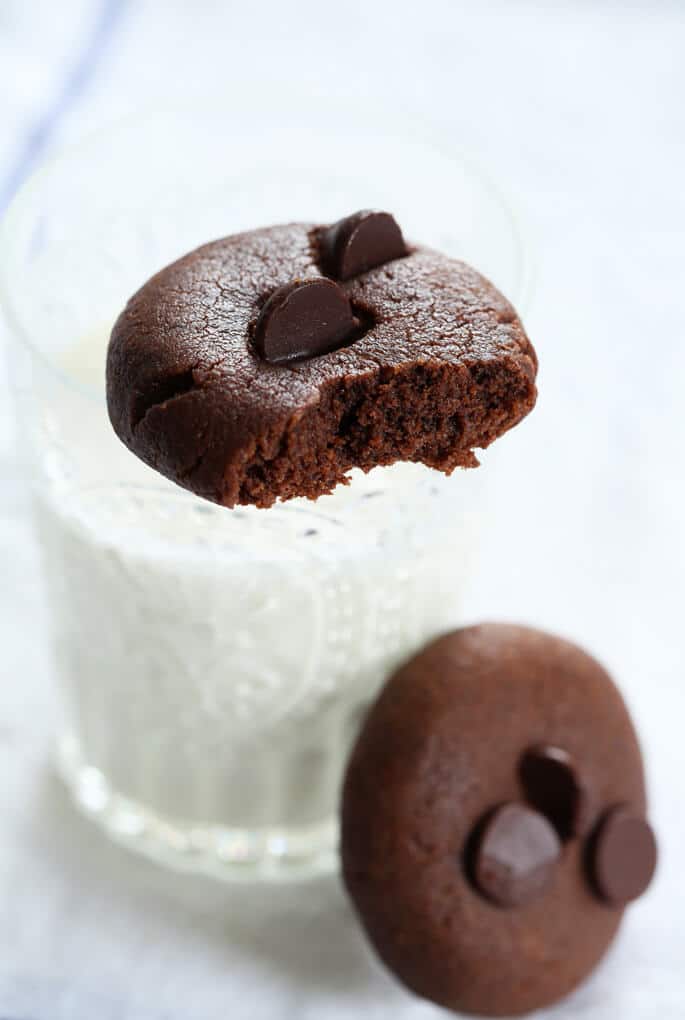 I love these cookies so much that I did the nearly unthinkable—at least to my children. I made a whole batch just for myself. I don't much like eating cereal for breakfast, and I don't always feel like making myself eggs.
So I've been having a couple of these amazing, flourless peanut butter cookies with a cup of coffee. Although I don't want to overstate things or brag or anything, I'm fairly certain I've been more productive and just a better all-around human being.
The mysteries of baking with peanut butter
Baking with peanut butter sometimes yields surprising results. I mean, you can usually expect something crispy and crunchy.
But when you don't add any grains at all (I don't call something "flourless" if it has, say, almond flour or oat flour in it), and add little more than an egg, some cocoa powder and some baking soda, you get something truly unexpected: rich-tasting, soft and tender peanut butter chocolate cookies.
The chocolate chips are just about gilding the lily. Feel free to leave them off if they make you feel too indulgent. Just keep in mind that it's only, like, 3 chips per cookie. Or 2. How about 2 chips per cookie? ?
Now since this is such a simple recipe, each ingredient really really matters—if you want that soft, tender result and a cookie dough that is super easy to handle.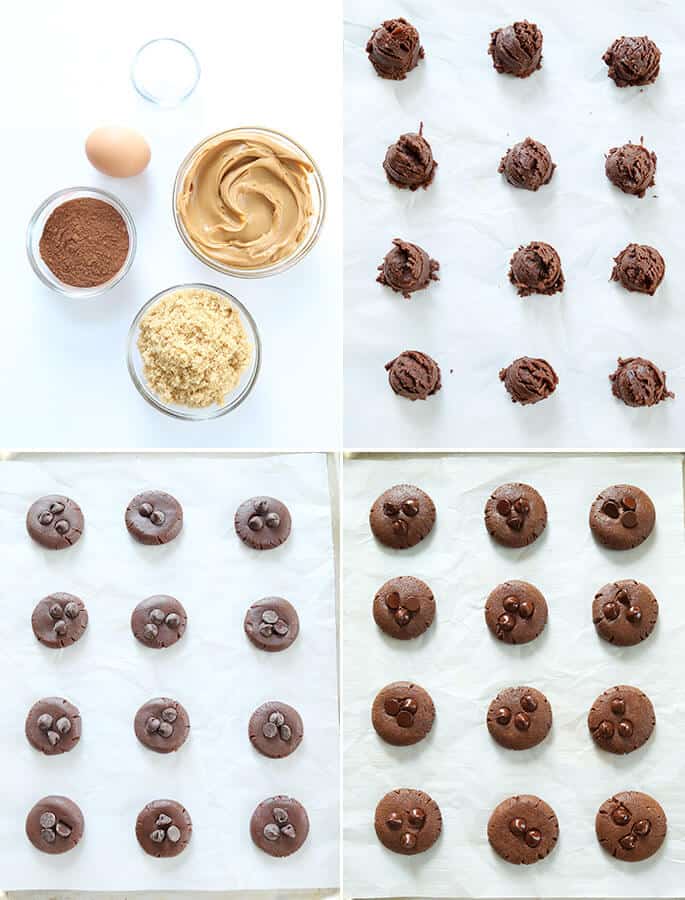 The secrets to recipe success
You really must use a no-stir peanut butter (or almond butter). All that means is to use the kind of peanut butter that is smooth and silky as soon as you open the jar. If there's some sort of caveat that says "some separation is natural," for example, you'll need something less, well, natural.
In this recipe, in particular, measuring the ingredients by weight is essential. When I was developing the recipe, I made a batch with just 1 more tablespoon (only 5 grams more) cocoa powder. The dough was much, much harder to handle and the cookies baked up with lots of cracks.
If you do choose to bake with coconut palm sugar instead of refined light brown sugar, you'll notice that the coconut sugar is drier and more coarse than refined sugar. I've started grinding it in a blender to a finer consistency before including it in the recipe, and I find that it yields a near-perfect result.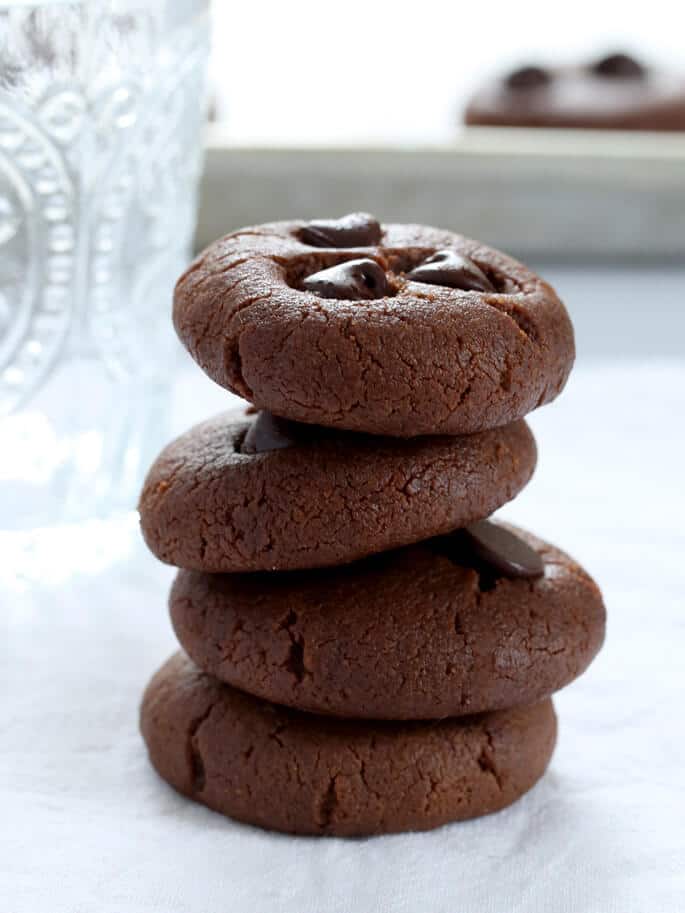 But when you make the recipe just as it's written, it's so easy to bake up a batch of these amazing flourless peanut butter cookies. Right now, I have my freezer stocked with at least 3 dozen and I've been serving them to my children before school for breakfast. They're also a great mid-afternoon pick-me-up snack.
Sometimes, it's 2 of these cookies + a Banana Oatmeal Muffin. Sometimes, it's 3 or 4 of these flourless cookies. No guilt, no worries that they'll make it through to lunch all bright-eyed and bushy-tailed (j/k but still).
And if you're looking for a flourless recipe without any peanut butter at all, my classic flourless chocolate cake recipe is just the thing. Smooth, rich, creamy and delicious, it's a flourless delight!
Ingredients and substitutions
These flourless peanut butter cookies are already dairy-free (provided you use dairy-free chocolate chips, or just don't use them altogether). Here are my best guesses about how to replace other ingredients to eliminate remaining allergens or preferences:
Nut-free: The only way to make these cookies nut-free would be to replace the peanut butter with a nut-free butter, like sunflower seed butter. But because of the presence of baking soda in the recipe, your cookies might turn green. They'll still taste fine, though.
If you'd just like to make them peanut-free, you can use no-stir almond butter or cashew butter in place of smooth peanut butter.
Egg-free: As always when a recipe only contains 1 egg, I recommend that you try to replace it with one "chia egg" (1 tablespoon ground chia seeds + 1 tablespoon lukewarm water, mixed and allowed to gel).
Cocoa powder: If you'd like to replace the cocoa powder to make these simply peanut-flavored and not chocolate peanut-flavored, try using powdered peanut butter (PB2) in its place, gram for gram. You could also try my recipe for plain flourless peanut butter cookies, without any cocoa powder or chocolate at all.
Chocolate Flourless Peanut Butter Cookies
Ingredients
1 cup (256 g) smooth no-stir peanut butter (or almond butter)
6 tablespoons (82 g) packed light brown sugar (can substitute with an equal amount, by weight, of coconut palm sugar—for best results, grind the coconut sugar to a finer consistency first)
1 egg (50 g, weighed out of shell) at room temperature
1 teaspoon baking soda
1/4 teaspoon kosher salt
1/4 cup (20 g) unsweetened cocoa powder (Dutch-processed or natural)
2 ounces semi-sweet chocolate chips (dairy free chips, if you like)
Instructions
Preheat your oven to 350°F. Line a large rimmed baking sheet with parchment and set it aside.

In a large, microwave-safe bowl, place the peanut butter. If the peanut butter seems very thick and difficult to stir, heat it in the microwave for 20 to 30 seconds to loosen it. Add the brown sugar, egg, baking soda, and salt, mixing to combine after each addition. Add the cocoa powder, mix to combine and, with clean hands, knead in the cocoa powder until the cookie dough is a uniform, brown color with no streaks of peanut butter remaining.

Divide the dough into 12 equal portions of 1 1/4 tablespoons each (a #50 cookie scoop is ideal for this purpose), and place about 1 1/2-inches apart from one another on the prepared baking sheet. Roll each piece of dough tightly into a ball between your palms, and press into a disk about 1/4-inch thick. Place 2 to 3 chocolate chips on top of each disk, and press gently to help the chips adhere.

Place the baking sheet in the center of the preheated oven and bake for 12 minutes, or until the cookies are puffed and set toward the center. The cookies will become more pale in color, and are set when the dough no longer glistens. Remove from the oven and allow to cool for 10 minutes on the baking sheet or until firm. Serve immediately or wrap tightly and store in the freezer.

Originally published on the blog in 2016. Recipe and photos unchanged, video new. My love ❤ for this recipe has only grown.