These chewy ginger molasses cookies, made with plenty of warm spices plus melted chocolate and cocoa powder, are really something special. They might just be your next "signature" cookie!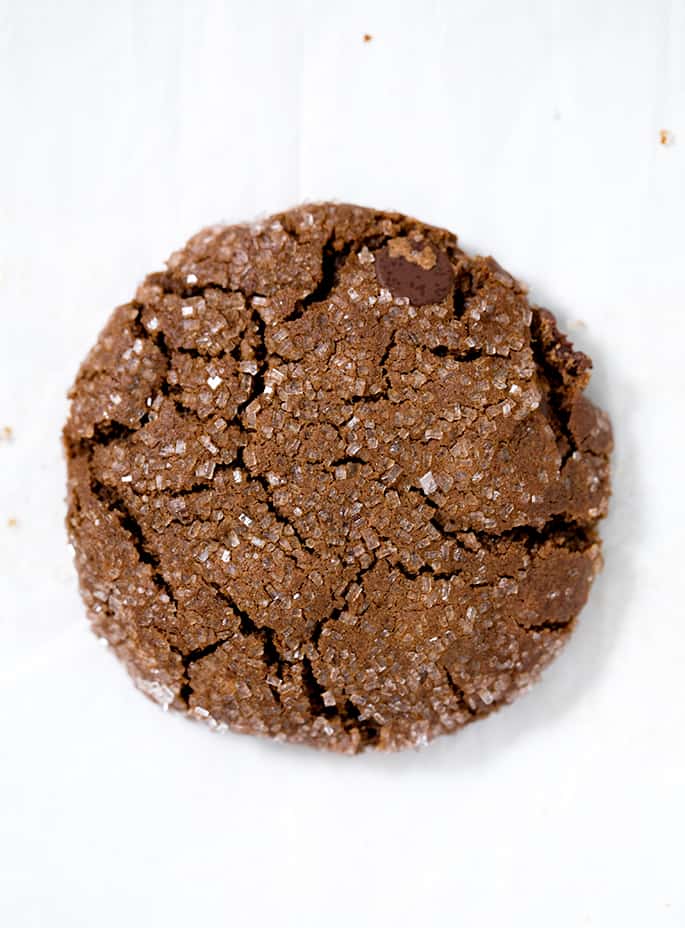 What cookies can do is nothing short of amazing. The main cast of characters (butter, sugars, eggs, flour) can be tweaked here and there and go from thin and crispy to thick and chewy just like that.
These chewy chocolate ginger molasses cookies add melted chocolate to the butter, and amp up the sugar situation with granulated and dark brown sugars, along with plenty of molasses. They need just one egg yolk (for texture), and they really (really) pack in the spices: cinnamon, nutmeg, ground ginger, cloves and even freshly grated ginger. Pow!
If you're looking for a chewy molasses cookie that's a little more low key, try these thin and chewy gluten free molasses cookies. For a cutout holiday gingerbread cookie, try these soft gluten free gingerbread men, or these thin and crispy gluten free gingerbread men. The point is this: whatever your cookie needs, we've got you covered!
The result? Rich chocolate, warm spices (and some serious bite from all that ground and fresh ginger), a slightly crispy outside and the chewiest of cookies. Rolling them in sanding sugar before baking adds to that crispy shell, and also keeps the cookies from baking up too dark as well.
You don't want the dough to be super cold during baking, or the cookies won't spread enough in the oven. Chill it to allow the flavors to marry, and then shape it with your hands but don't chill it again. If the cookie dough becomes hard during chilling, just break it up with a fork before pulling off portions and shaping them.
Click play ▶️ to watch this 1 minute video of ginger molasses cookies

Ingredients and Substitutions
As always, unless I specifically state otherwise, I haven't tried this recipe with any of the following substitutions. They're just my educated guesses!
Dairy-Free: I'd try Spectrum butter-flavored nonhydrogenated shortening in place of butter in this recipe.  Just make sure the semisweet chopped chocolate and chocolate chips you use are dairy-free, too.
Egg-Free: Replacing an egg yolk is always tough, since a "chia egg" won't do. Maybe try just leaving it out and replacing it with another ounce of chopped chocolate?
Fresh Ginger: These cookies are pretty spicy. If you'd like a bit less of a ginger bite, leave out the grated fresh ginger. By the way, did you know you don't have to peel fresh ginger before grating it? Just grate on a Microplane, peel and all.
Sanding Sugar: It's oddly rather difficult to find reliably gluten free sanding sugar. Wilton and India Tree products are not reliably gluten free, and they seem to be the most available. I was able to find Chef's Select brand on Amazon.com (affiliate link, but shop around!). Of course, you can simply skip this step or just use regular granulated sugar. The sanding sugar is just, well, festive. ?