If you love the taste of cannoli, this one's for you! This smooth and creamy gluten free cannoli pie can be made with a pastry crust, a cookie crust—or no crust at all.
I've always had a deep and abiding love for cannoli cream. There's just something about the lightly sweet mixture of creamy ricotta cheese and smooth, slightly tangy mascarpone cheese. It sends me.
I believe that cannoli cream should have either miniature chocolate chips—or no mix-ins at all. Little bits of candied fruit may be traditional. I'm afraid I simply find them to be an unwelcome surprise.
This gluten free cannoli pie is so super easy—way easier than traditional gluten free cannoli—especially since you can make it in a flaky pie crust, a cookie crust, or even no crust at all.
I've even baked just the filling in a 9-inch round cake pan, greased and lined with a round of parchment paper, and I was able simply to invert the pan onto a serving platter with ease. Basically, you must try this tonight.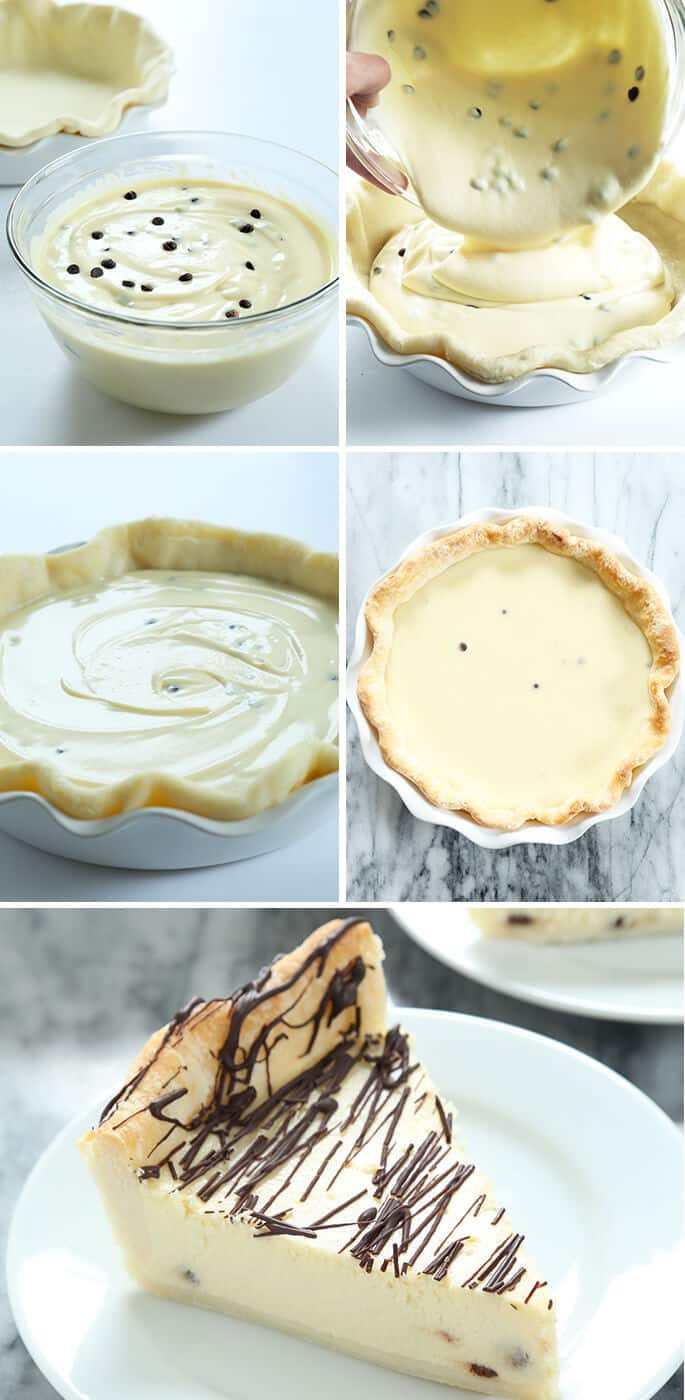 This cannoli pie is not really a cheesecake, since cheesecake is cream cheese + egg + sugar. But since cannoli cream is mascarpone (a close cousin of cream cheese) + ricotta cheese (also similar in texture to cream cheese when blended), when you add egg + a bit of sugar and bake, you have a smooth, clean-slicing pie.
The taste is everything you remember from cannoli (how does one even begin to describe that taste?), and the texture is smooth, fresh and creamy, light and almost fluffy.
The crust is whatever you decide it is. This is your next baking project. Make it for your next holiday gathering, and it's sure to become your signature dessert. You take all the credit. I'm at your service. :)
P.S. For that cookie crust, just combine 6 tablespoons of melted, unsalted butter with 1 1/2 cups of gluten free cookie crumbs. Press into the bottom and halfway up the sides of the pie pan. Freeze while you prepare the pie filling. Pour the filling into the unbaked crust, and follow the baking instructions in the recipe.
Super Easy Gluten Free Cannoli Pie
Yield:
1 9-inch deep dish pie
Ingredients
For the crust
1 recipe Extra Flaky Gluten Free Sour Cream Pie Crust*
For the filling
1 pound (16 ounces) low-moisture whole milk ricotta cheese (I really like Sorrento brand)
8 ounces mascarpone cheese (can be replaced with cream cheese)
3 eggs (150 g, weighed out of shell)
1 teaspoon pure vanilla extract
1/2 cup (100 g) granulated sugar
1/4 teaspoon kosher salt
2 ounces miniature semi-sweet chocolate chips
Melted chocolate, for drizzling (optional)
*In place of the pastry crust, make a cookie crust. In a large bowl, mix 1 1/2 cups (225 g) gluten free crunchy cookie crumbs and 6 tablespoons (84 g) unsalted butter, melted until well-combined. Press the mixture into the bottom and up the sides of a 9-inch springform pan or greased deep-dish pie plate. Place the pie plate in the freezer for about 5 minutes or until firm before proceeding with the rest of the recipe.
Instructions
Preheat your oven to 375°F. Grease a 9-inch deep-dish pie plate or springform pan (or even a simple round 9-inch cake pan with high sides), and set it aside.

Prepare and parbake the crust according to the recipe instructions (or prepare the cookie crust according to the instructions in the ingredients list). Allow the crust to cool briefly while you prepare the filling.

In a food processor or blender, place the ricotta cheese, mascarpone cheese, eggs, vanilla, sugar and salt, and pulse or blend until very smooth. Add the miniature chocolate chips, and mix until evenly distributed throughout.

Pour the filling into the prepared pie crust, and smooth into an even layer.

Place the pie plate or pan in a larger, heat safe pan like a roasting pan. Pull out the bottom rack of the preheated oven and place the pan on the rack.

Pour lukewarm water into the roasting pan until reaches about 1/2-way up the sides of the pie plate/pan. Push the rack carefully back into place, and close the oven.

Allow the pie to bake for about 50 minutes, or until the filling is mostly set. The center of the filling should shake in a controlled (not loose) way when shaken gently.

Remove the pie from the water bath and return just the pie to the oven. Turn off the oven and leave the oven door open about 2 inches.

Allow the pie to sit in the oven for 10 minutes, then remove and allow to cool to room temperature. Cover and place in the refrigerator to chill until firm (at least an hour, and up to 3 days). Drizzle with melted chocolate before slicing and serving, chilled.

Concept from How Sweet Eats.