Cheesecake bites are nothing more than little chocolate-covered morsels of creamy cheesecake. No special equipment and no water bath needed, since chocolate covers any cracks. SO good!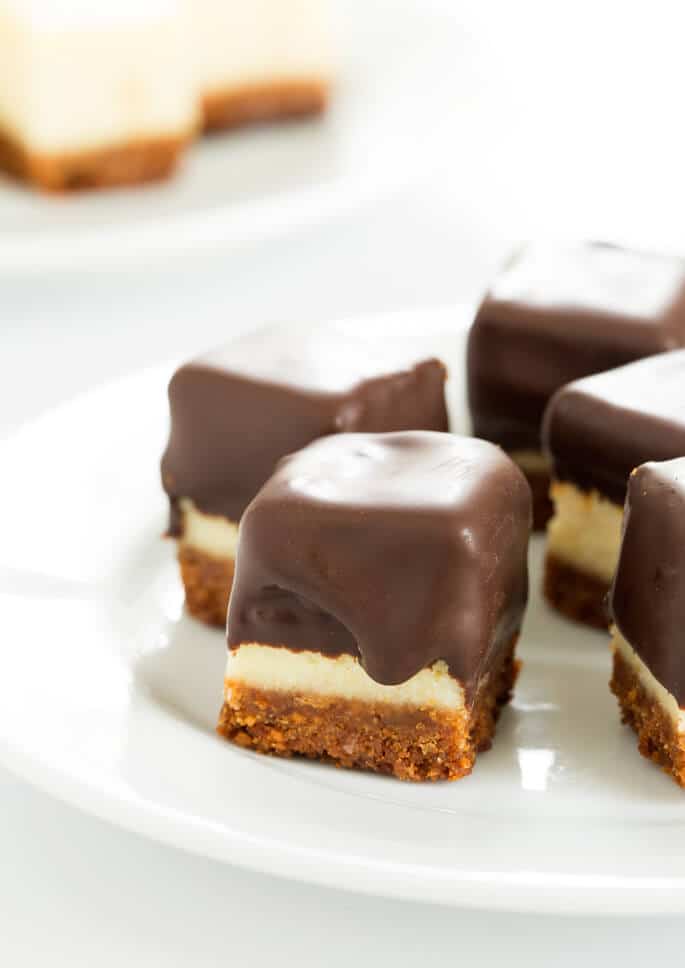 I love these little morsels of cheesecake so much that I made a video showing you how easy they really are. Instead of a graham cracker crust, I used chocolate sandwich cookies (gluten free Joe Joe's, to be exact). All I did was pile the package of cookies, cream and all, into my mini food processor and pulse away.
The combination of chocolate cookie and cheesecake is lovely, but you can always go old school with a graham cracker crust. Or even no crust at all. Just bake the cake a wee bit longer to ensure that the cheesecake is stable enough to slice into bites.
If you ever want to impress with a lovely edible hostess gift, try something in miniature. There's just something about taking an otherwise ordinary, classic cheesecake, slicing it into 1-inch squares, and dipping them in chocolate. I promise you these will be the first treat to go at a party!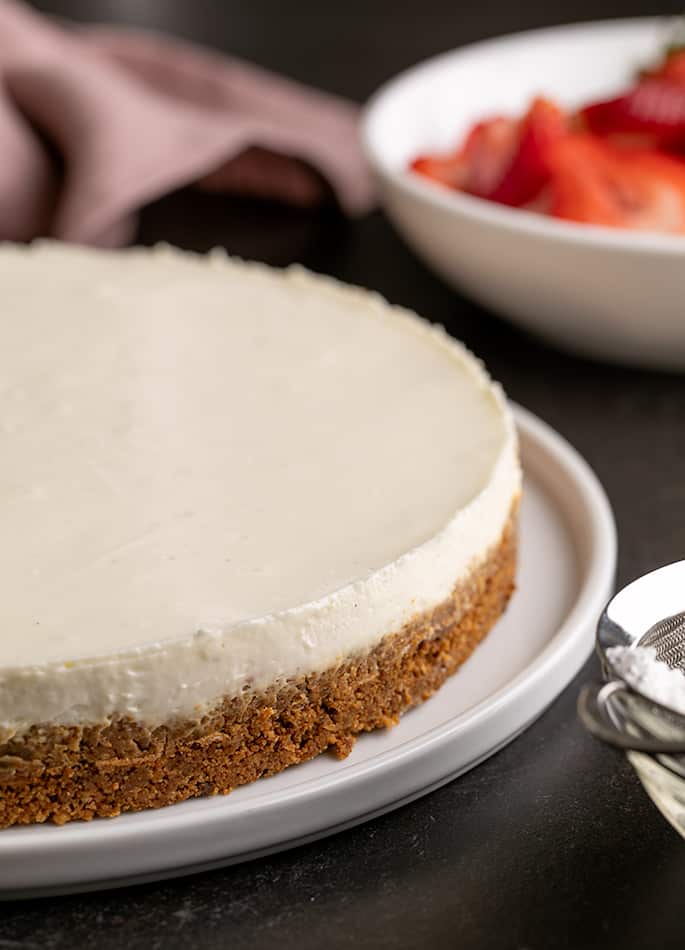 Make no bake cheesecake bites
Of course, if you're really in a spot, you could make cheesecake bites with a base recipe of no bake cheesecake with gelatin. That cheesecake sets in the refrigerator in 2 hours or less, and slices so clean. You could even make it crustless, and then cover the bites completely in chocolate.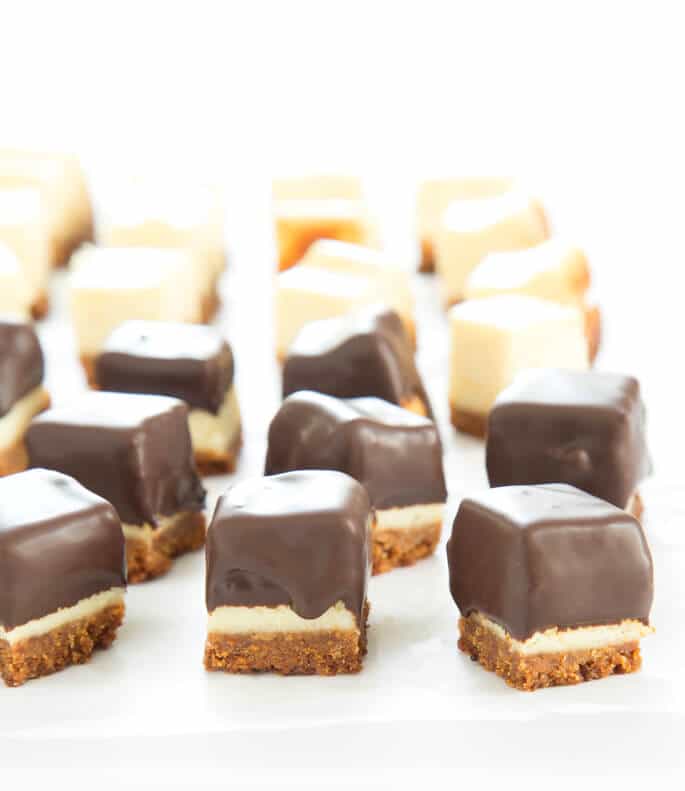 Basic formula for every cheesecake
I have a basic formula for making a classic, never-fail, classic cheesecake, and it's always served me well. Are you ready for the simplicity? Here it is:
8 ounces cream cheese, at room temperature
1 egg, at room temperature
1/2 cup (100 g) granulated sugar
I don't necessarily add any sour cream, which is sometimes added for some depth of flavor and moisture. I find that making the cheesecake without sour cream allows the cheesecake to bake a little quicker.
Baking the cheesecake faster means that there is less chance for it to crack. And also, simplicity for the win!
In this recipe, since the cake is sliced into 1-inch square bites, it must be quite firm without being overbaked. So I depart a bit from my usual formula and add 2 tablespoons of cornstarch to help stabilize the cake. It doesn't affect the flavor at all, just the texture a wee bit.
Since these cheesecake bites are covered in chocolate, there is absolutely no need to stress about cracks in the cheesecake (see what I did there? stress? cracks?). The chocolate coating will cover a multitude of ills.
And anyway, I can't remember the last time I had a cheesecake crack in the oven. The secret is to bake the cake at no more than 325°F. Baking low and slow ensures an even, and stable, rise.
If you're really worried (no stress!), once the filling is set, turn off the oven and prop open the door. Let the cake sit in there for about 10 minutes, or until the oven temperature reaches about 200°F on your oven thermometer.*
*You do have an oven thermometer (aff link), right? They're so inexpensive, and most ovens run quite hot. Ensuring the proper oven temperature is a cornerstone of good baking!
Cheesecake Bites
Ingredients
For the crust
1 1/2 cups (225 g) gluten free cookie crumbs (I used my "Nabisco" GF Honey-Maid Grahams, from Classic Snacks)
5 tablespoons (70 g) unsalted butter, melted and cooled
For the filling
2 8-ounce packages (total: 16 ounces) cream cheese, at room temperature
3/4 cup (150 g) granulated sugar (can reduce to 1/2 cup (100 g) for a less-sweet version)
1/8 teaspoon kosher salt
2 tablespoons (18 g) cornstarch (or try arrowroot)
2 eggs (100 g, weighed out of shell) at room temperature
1 teaspoon pure vanilla extract
For the chocolate coating
8 ounces bittersweet chocolate, chopped
2 tablespoons (28 g) virgin coconut oil (or vegetable shortening)
Instructions
Preheat your oven to 325°F. Line an 8-inch square baking pan with overhung, crisscrossed pieces of unbleached parchment paper and set it aside.

Prepare the crust. In a medium-size bowl, place the cookie crumbs and the melted butter, and mix until all of the crumbs are moistened. Place the cookie crumb mixture in the prepared pan and press firmly into an even layer on the bottom of the pan and very slightly up the sides. Set the pan aside.

Prepare the filling. In a medium-sized bowl, place the cream cheese and beat with a hand mixer (or the paddle attachment in a stand mixer) until light and fluffy. Add the sugar, salt, cornstarch, eggs and vanilla, beating to combine well after each addition. The mixture should be smooth and pourable. Pour the filling on top of the prepared crust. Place the pan in the center of the oven and bake until just set (about 30 minutes). The filling is set when it does not jiggle more than a tiny bit in the center when the pan is shaken gently back and forth. Remove from the oven and allow to cool in the pan for about 20 minutes before covering the pan with plastic wrap and placing in the freezer until very firm (about 2 hours).

Slice into bites. Remove the cheesecake from the freezer, uncover and remove from the pan using the overhung parchment paper. Using a sharp knife, slice into 64 1-inch squares, cleaning the knife frequently to ensure clean edges.

Make the coating and dip the bites. Place the chopped chocolate and coconut oil in a large, deep bowl with high sides. Melt over a double boiler or in the microwave, stirring occasionally, in 30-second increments at 60% power. Allow the chocolate to sit at room temperature until it begins to thicken a bit. Holding each bite by the crust with your fingertips, dip it into the chocolate coating at least halfway up the sides. Place, crust side down, on a piece of parchment paper. Allow the bites to sit until the chocolate is set. Store any leftovers in a sealed container in the refrigerator.

Recipe originally published in 2016. Video added, recipe unchanged.