Cheesecake bites are nothing more than little chocolate-covered morsels of creamy cheesecake. No special equipment and no water bath needed, since chocolate covers any cracks. SO good!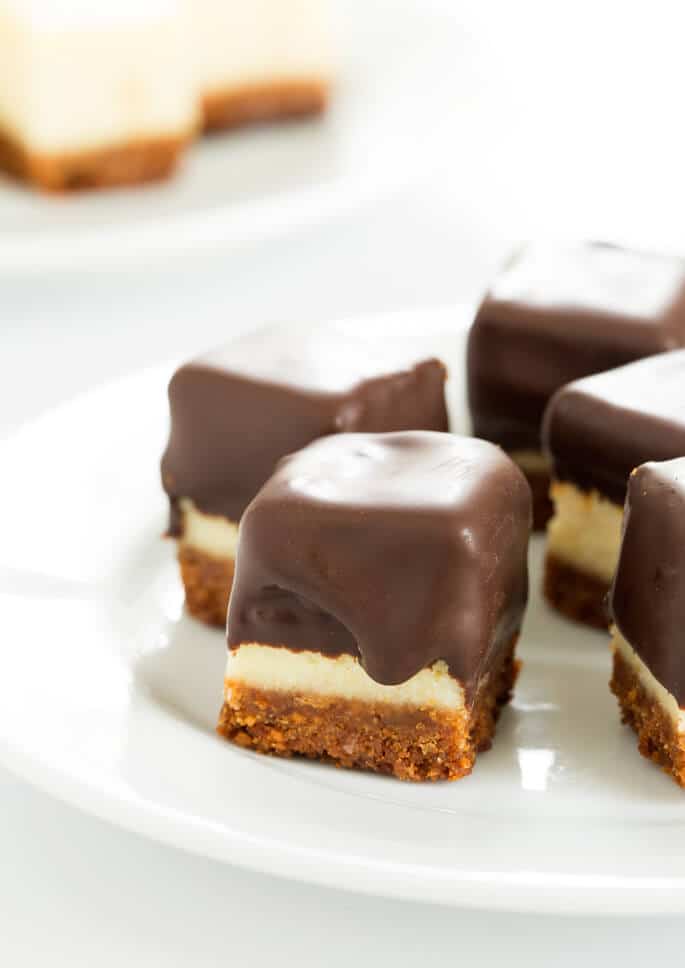 I love these little morsels of cheesecake so much that I made a video showing you how easy they really are. Instead of a graham cracker crust, I used chocolate sandwich cookies (gluten free Joe Joe's, to be exact). All I did was pile the package of cookies, cream and all, into my mini food processor and pulse away.
The combination of chocolate cookie and cheesecake is lovely, but you can always go old school with a graham cracker crust. Or even no crust at all. Just bake the cake a wee bit longer to ensure that the cheesecake is stable enough to slice into bites.
If you ever want to impress with a lovely edible hostess gift, try something in miniature. There's just something about taking an otherwise ordinary, classic cheesecake, slicing it into 1-inch squares, and dipping them in chocolate. I promise you these will be the first treat to go at a party!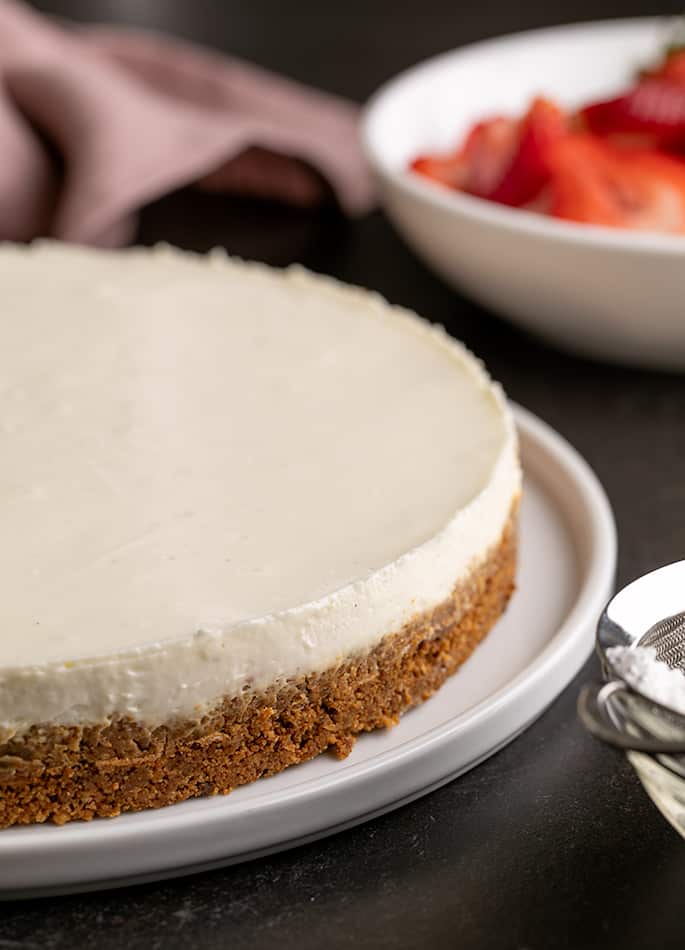 Make no bake cheesecake bites
Of course, if you're really in a spot, you could make cheesecake bites with a base recipe of no bake cheesecake with gelatin. That cheesecake sets in the refrigerator in 2 hours or less, and slices so clean. You could even make it crustless, and then cover the bites completely in chocolate.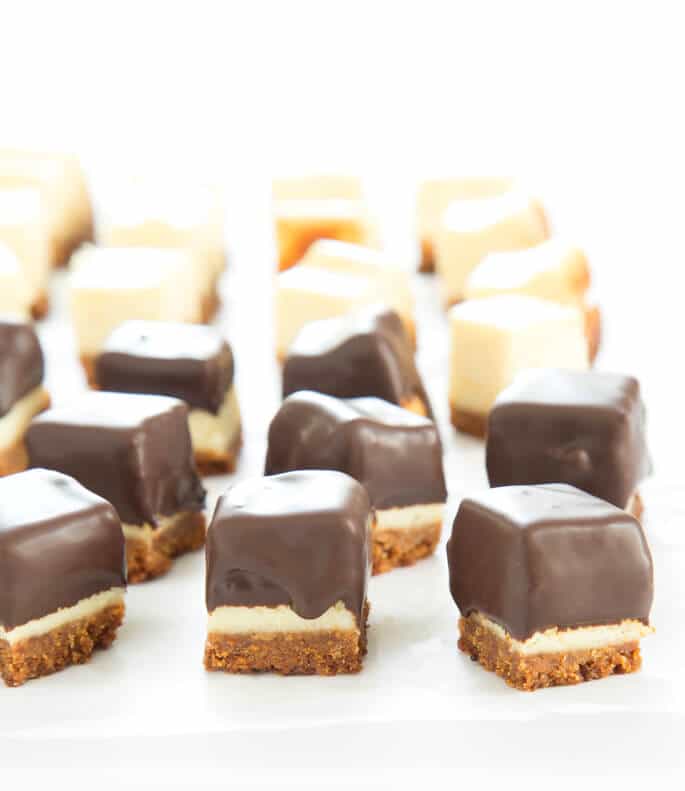 Basic formula for every cheesecake
I have a basic formula for making a classic, never-fail, classic cheesecake, and it's always served me well. Are you ready for the simplicity? Here it is:
8 ounces cream cheese, at room temperature
1 egg, at room temperature
1/2 cup (100 g) granulated sugar
I don't necessarily add any sour cream, which is sometimes added for some depth of flavor and moisture. I find that making the cheesecake without sour cream allows the cheesecake to bake a little quicker.
Baking the cheesecake faster means that there is less chance for it to crack. And also, simplicity for the win!
In this recipe, since the cake is sliced into 1-inch square bites, it must be quite firm without being overbaked. So I depart a bit from my usual formula and add 2 tablespoons of cornstarch to help stabilize the cake. It doesn't affect the flavor at all, just the texture a wee bit.
Since these cheesecake bites are covered in chocolate, there is absolutely no need to stress about cracks in the cheesecake (see what I did there? stress? cracks?). The chocolate coating will cover a multitude of ills.
And anyway, I can't remember the last time I had a cheesecake crack in the oven. The secret is to bake the cake at no more than 325°F. Baking low and slow ensures an even, and stable, rise.
If you're really worried (no stress!), once the filling is set, turn off the oven and prop open the door. Let the cake sit in there for about 10 minutes, or until the oven temperature reaches about 200°F on your oven thermometer.*
*You do have an oven thermometer (aff link), right? They're so inexpensive, and most ovens run quite hot. Ensuring the proper oven temperature is a cornerstone of good baking!