These healthy pumpkin breakfast muffins, with just a few chocolate chips, are freezer-friendly, lightly sweet, and naturally gluten free. Make a double batch!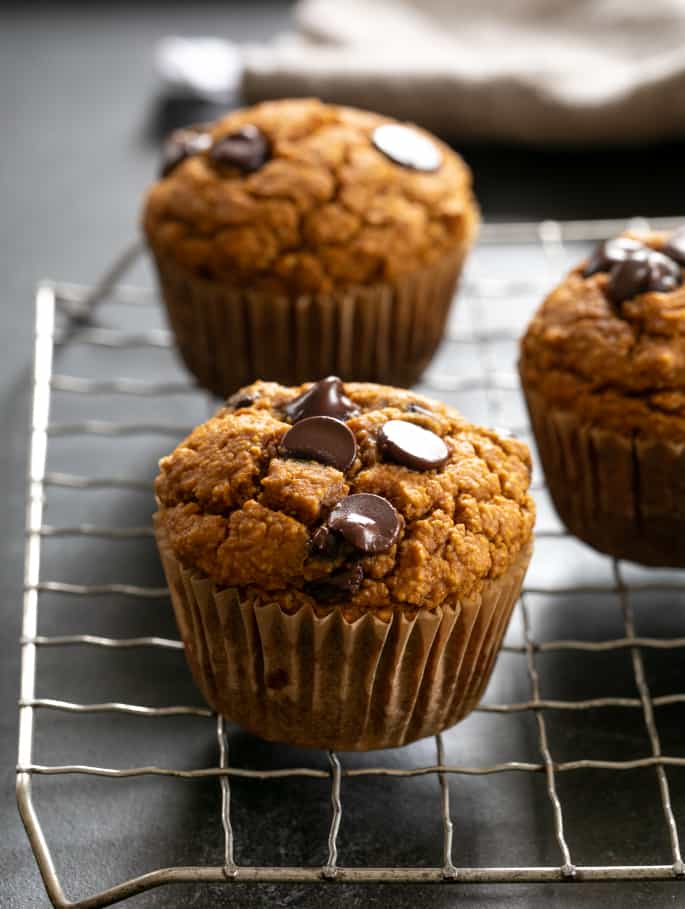 Why a homemade (make-ahead) breakfast is the best thing ever
Whether or not breakfast is the most important meal of the day (I think that's been debunked!), I believe in the power of a homemade breakfast. I always have a freezer stocked with portable-if-necessary homemade gluten free breakfasts, and even have a cookbook filled with some of my favorite recipes.
The power of these breakfasts is in the comfort and kindness that it shows my children, whether they realize it or not. Not only do they have something they love to eat every morning that they want it, but they know that I've made it for them.
I think of it like a subtle, gentle reminder that I'm here, and I'm supporting them as they go through what is often a rigorous day. Each year of my children's school lives has been trying for each of them in its own way.
My kids may not always be comforted by talking about how they feel (although they all 3, thankfully, do talk to me). And they may not even always be hungry for breakfast. On a very basic level, though, I believe that the knowledge that I've gone out of my way is a comfort.
I rarely eat these breakfasts, since I'm lucky enough to work from home so I can squeeze in a meal for myself whenever I have the time. But maybe every once in a while I should have one since I'm a mother, not a martyr. ?
A super versatile recipe
This recipe for pumpkin breakfast muffins is based on our beloved recipe for banana oatmeal muffins, first published in 2015. Those muffins are packed with whole grains, don't have much sugar, no added butter or oil, but still tons of satisfying flavor.
That recipe also spawned our recipe for healthy blueberry muffins, another family favorite. The original banana recipe has mashed ripe bananas for flavor and structure. The blueberry muffin recipe replaces the bananas with smooth applesauce, which has a neutral flavor in baking.
Now, we're using canned pumpkin puree, one of the best ingredients of the fall, in place of the mashed bananas or applesauce. We've also scaled the recipe up a bit for more generous muffins, and added pumpkin pie spice for more seasonal flavor. These muffins are still made without any butter or oil, and little sugar.
How to make these pumpkin breakfast muffins
In the original recipe for banana oatmeal muffins, all of the ingredients except for the chocolate chips are combined in a blender, and processed until smooth. This recipe could be made in a similar fashion as well.
This time, though, we blend the old-fashioned rolled oats into a flour in a blender first and whisk in the baking powder, baking soda, salt, and pumpkin pie spice, with some chocolate chips mixed in. The wet ingredients (the pumpkin puree, sour cream, eggs, vanilla, and sugar) are blended until smooth, added to the dry ingredients, and mixed to combine. The batter is thick but very soft.
Baking with oats, which are appropriate in the U.S. for those on a gluten free diet, is a great way to get more whole grains. You do have to be careful, though, not to overprocess batter that contains oat flour, or your baked goods may turn out gummy and somewhat tough.
Grinding the oats into flour first, and blending the wet ingredients until very smooth afterward, ensures that the oats aren't overprocessed. You can, of course, also use pre-ground oat flour, but I never buy that since it's so much cheaper to grind my own. Plus, oat flour never needs to be superfinely ground.
Ingredients and substitutions
Oats/oat flour: Certified gluten free oats are safe on a gluten free diet. But if you're avoiding oats, you should be able to use quinoa flakes in place of the oat flour. Please see my full discussion of how to replace oats in baking.
Dairy-free: Since there's no butter in these muffins, the only dairy is the sour cream. It can be replaced with nondairy plain yogurt, strained of liquid until it reaches the consistency of Greek-style yogurt. You can also use plain Greek-style dairy yogurt in place of the sour cream.
Egg-free: Since there are 3 full eggs in this recipe, I'm afraid I don't believe that any egg replacement would work. So sorry!
Pumpkin pie spice: To make 1 teaspoon of pumpkin pie spice, combine 1/2 teaspoon ground cinnamon + 1/4 teaspoon ground ginger + pinch (1/8 teaspoon allspice), pinch (1/8 teaspoon) ground cloves + dash freshly ground nutmeg.
Chocolate chips: You can either leave out the chocolate chips entirely or replace them with another mix-in like dried cranberries or cinnamon chips.
Sugars: I like to use granulated coconut palm sugar in this recipe. If you don't have that specific sugar, you can replace it with the same amount, by weight, light brown sugar.
You might also be able to make these muffins with Truvia brown sugar replacement blend. Keep in mind that Truvia and similar sugar alternatives tend to be drying, so you might need to add a bit more moisture. Try adding more pumpkin puree by the teaspoonful until you reach the proper batter consistency (watch the how-to video for guidance).
Healthy Pumpkin Breakfast Muffins
Ingredients
3 cups (300 g) certified gluten free old fashioned rolled oats (if you need to be GF)
2 teaspoons baking powder
1/2 teaspoon baking soda
1/4 teaspoon kosher salt
1 teaspoon pumpkin pie spice
5 ounces semi-sweet chocolate chips
12 ounces canned pure pumpkin puree
2/3 cup (150 g) sour cream, at room temperature
3 eggs (150 g, weighed out of shell) at room temperature
1 teaspoon pure vanilla extract
3/4 cup (120 g) coconut palm sugar
Instructions
Preheat your oven to 350°F. Grease or line the wells of a standard 12-cup muffin tin and set it aside.

In a blender or food processor, place the oats and process until ground into a powder. Transfer the oat flour to a large mixing bowl, add the baking powder, baking soda, salt, and pumpkin pie spice, and whisk to combine well. Add about 4 of the 5 ounces of the chocolate chips, and whisk to distribute the chips throughout the dry ingredients. Set the bowl aside.

Into the same blender or food processor, add the pumpkin puree, sour cream, eggs, vanilla, and coconut palm sugar, and blend until very smooth. Transfer the wet mixture to the bowl of dry ingredients, and mix by hand until combined. Divide the batter evenly among the prepared wells of the muffin tin. The wells should be completely full. Shake the muffin tin back and forth to distribute the batter in an even layer in each well. Sprinkle the tops evenly with the remaining chips.

Place the muffin tin in the center of the preheated oven and bake for 20 minutes, or until the tops of the muffins spring back when pressed gently in the center. Remove from the oven and allow to cool in the tin for 10 minutes before transferring to a wire rack to cool completely. Serve immediately or wrap tightly in freezer-safe wrap and freeze. Defrost at room temperature before serving.