15 of the very best gluten free apple recipes you'll ever find, just in time for the heart of fall baking season. There's a holiday showstopper and an everyday dessert here for everyone!
This recipe collection is for when you begin thinking about Thanksgiving, and wonder if gluten free apple pie and apple crisp (how about apple pie with crumb topping?) are in your future this year. For when you come home with way more apples than you think you could ever use before they begin to turn themselves into cider.
Some of the recipes in this collection are ridiculously easy, like the homemade apple butter you'll want to spread on absolutely everything and the easy baked apple dumplings and apple "crack" cake that's easier (!) than a dump cake. Others take a few steps, like the carefully baked apple cheesecake and the apple butter layer cake. But there are no unfamiliar ingredients in the bunch, and every single recipe here is one I've made multiple times over the years—and will make again and again in the future. The only trouble is finding a true favorite. But when it's apple season, there's enough fruit for all 15!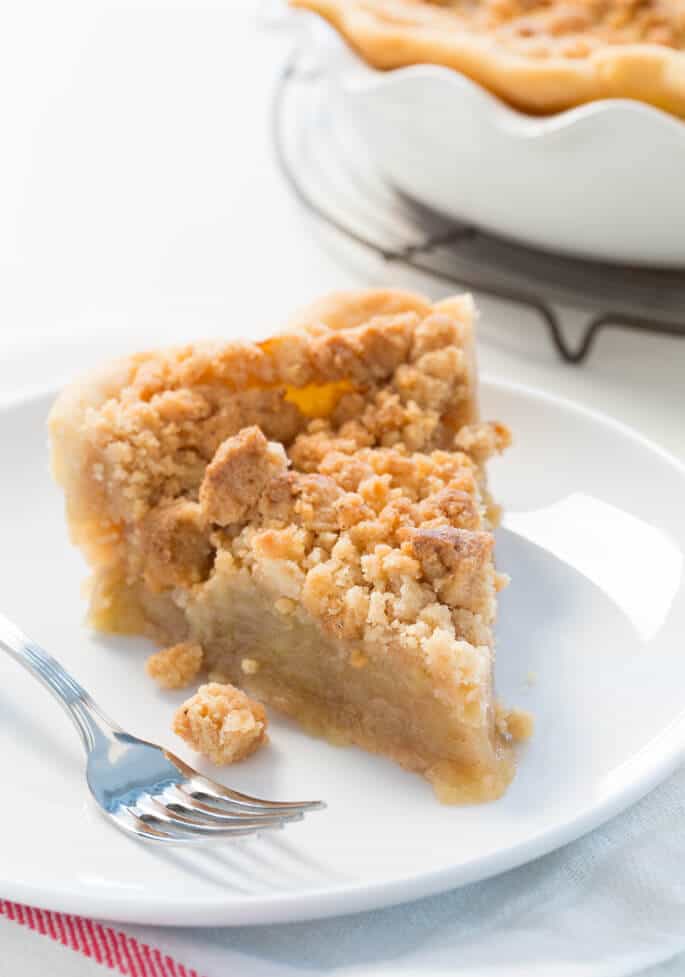 Gluten free Dutch apple pie, made with a simple pie crust on the bottom, filled with over 2 pounds of thinly-sliced, tart apples and topped with a warm crumble topping. Think of it like a cross between an apple pie—and a coffee cake, or at least the best part of one.
The ridiculously easy, delightfully delicious gluten free apple dump cake does have a terribly unfortunate name. So-called because all you do is "dump" the ingredients into a pan and pop it in the oven, it's the very essence of quick & easy—whether you use my make-your-own gluten free vanilla cake mix recipe or an actual off-the-shelf boxed gluten free vanilla cake mix. Go on. I won't tell…
Incredibly easy and addictive gluten free apple custard cake, made with homemade or store bought cake mix (gluten free or not), applesauce and the perfect spices. I used to call it "apple crack cake," but then I got in big trouble. I kept making it, though. I couldn't stop myself. ?
These gluten free apple pie cookies are a simple drop cookie with all the taste of apple pie, plus a little extra sweetness from white chocolate chips. Thick and chewy, they're made with tons of grated apple right there in the cookie dough. Try not to sample the raw dough. I dare you.
The easiest recipe for perfectly spiced gluten free apple muffins you'll ever find, with plenty of diced apples inside, made extra tender with sour cream in the batter. My son has been calling these "stud muffins." He has no idea what that means, so I'm just enjoying the last moments of his naiveté.
Sweet, dense and satisfying gluten free pound cake, studded with tart and sweet apples. Just like the apple pound cakes they used to serve at Starbucks. Make your own coffee, though. You know it'll be better than their stuff. And cheaper!
Save money by making your own homemade apple butter by peeling and grating as many apples as you have, then cooking them down with just the right spices and a touch of maple syrup. Puree, and enjoy!
Delightfully thick and chewy gluten free apple peanut butter cookies with tiny, fork-tender chunks of diced apple throughout and rich peanut butter flavor. What could be better?
This lightly spiced, tender gluten free apple gingerbread snack cake is perfect for enjoying with a cup of tea after a good meal, or with your morning coffee (preferably after the children have already left for school, if you're me).
These gluten free apple fritters are crispy outside, tender inside, and just sweet enough—with a spicy cinnamon sugar glaze. They use only the simplest ingredients (no yeast!) and are ready in minutes.
Apple pie filling is a wonderful thing to have on hand for a last-minute apple crisp, like you see here, or even for using in an actual apple pie. Since the apples have already been blanched, they cook to the proper consistency much more quickly so you can bake your pie crust to perfection without worrying about overbaking it.
Puree the apple pie filling and you've got pretty much the very best apple butter you can imagine. Warm the filling and pour it over a scoop of vanilla ice cream. Need I say more?
This recipe for gluten free apple bread is an easy quick bread made from scratch with that rich apple butter and all the right warm spices. It's a quick bread, so it's like a cross between a muffin and a cake. The crumble topping is technically "optional," but … come on.
Baking your gluten free apple pie in a bag ensures perfect fork-tender apples and a light and flaky, perfectly browned crust every time. Try this old-fashioned technique during pie season—or any time. I promise you won't burn the house down. Just don't pop it in and leave the house. ?
Easy gluten free apple dumplings, baked in a simple pie crust, have all the taste and aroma of apple pie without all the fuss. Just peel, core and quarter an apple, wrap it in pie crust with some sugar and spice, and bake. That's it!
Finally, this apple cinnamon gluten free cheesecake is the creamy, dreamy packed-with-flavor dessert that they'll be going on and on about, begging you for the recipe and for you to make it next year. Seriously the whole thing tastes like apples. I'm not even exaggerating. I would never exaggerate.