These gluten free apple pie cookies are a simple drop cookie with all the taste of apple pie, plus a little extra sweetness from white chocolate chips.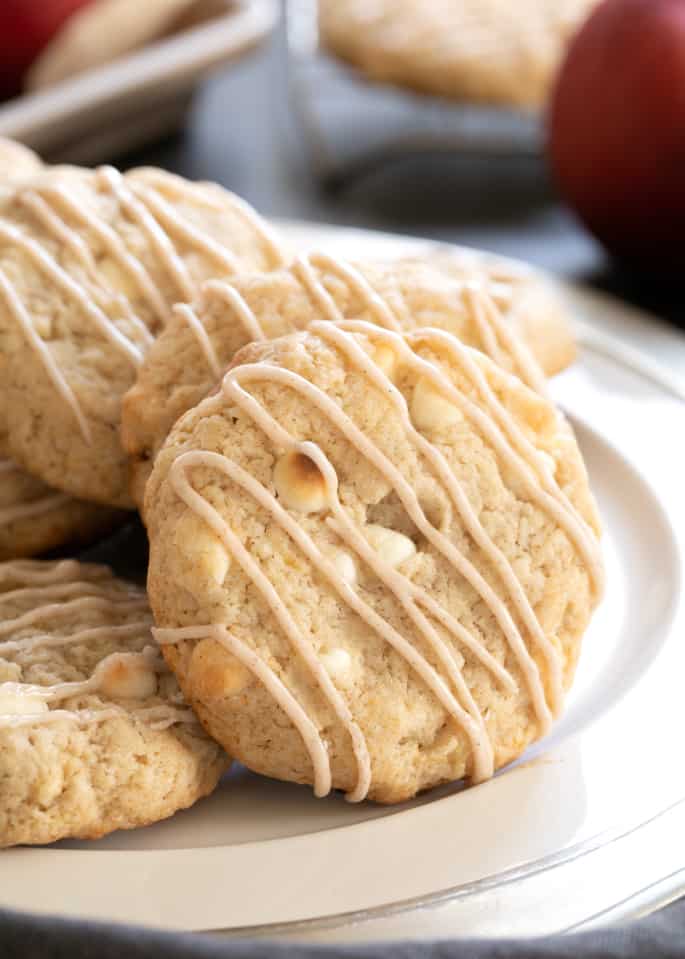 I love a true apple pie (I think our gluten free Dutch apple pie might be the biggest hit of the season), and we've even made handheld gluten free apple pies. But I wanted an easy drop cookie that still had all the taste of apple pie, without any of the fuss. And here we are…
Like baking with pumpkin, baking with apples means loads of extra moisture. Extra moisture in cookies usually means something shaped like a cookie that actually tastes like a piece of cake.
Instead of adding applesauce to cookie dough, which tends to add moisture and a bit of structure, but no flavor, I used a peeled and grated apple. The result is these truly thick and chewy cookies that brown gently on the bottom and the edges.
The cookies themselves aren't loaded with tons and tons of sugar, and the whole batch only has 4 ounces of white chocolate chips. That may be why the simple glaze really adds a nice touch of extra sweetness.
These cookies also freeze incredibly well, and really do have all the aroma and flavor of apple pie. If there's a person who doesn't love fall, I've never met him!
How to make these cookies that taste like apple pie (for real)
These gluten free apple pie cookies are a simple drop cookie, which means that they're simple to make in every way. They're buttery, like an apple pie, and have that perfectly tart-and-sweet flavor.
It's a simple one-bowl recipe. Begin by whisking together the dry ingredients (gluten free flour, cornstarch, baking soda, salt, ground cinnamon) and granulated sugar. Add the grated apple and white chocolate chips, and toss to distribute them evenly throughout.
Finally, add the wet ingredients (melted butter, vanilla, egg) and mix to combine. The dough will be very thick, but soft. If your grated apple is very wet, consider gently squeezing some of the liquid out of it before weighing out 80 grams. That way, your dough will be easier to handle.
I chose to use ground cinnamon in place of a more complex, multi-ingredient apple pie spice, since my son seems to have developed an aversion to ground nutmeg. Nutmeg is an important part of apple pie spice. If you like all of the components of apple pie spice, by all means use that instead!
Which apples ? are best ?
As we discussed in our recipe for gluten free apple slab pie, I really don't care for many of the newer hybrid apple varieties. Apples have become really big business, which I think is a great thing, but the hybrids are generally just too sweet for my taste.
I heard a whole discussion on the radio ? the other day about apple varieties and it finally all started to make sense to me! There are supermarket varieties where the creator goes all in and starts to ship their apples all over the country (and presumably the world ?).
Those grocery store varieties are really common types like Macintosh, Granny Smith, Golden Delicious, Cortland, and Red Delicious (oh my gosh please no). There are also newer-to-me widespread varieties like Gala, Honey Crisp, Empire, and Jonagold.
Then, there are super hybrids that are sold at farmer's markets, and they won't be familiar to anyone who doesn't live in your area. Farmer's markets, by definition, typically are required by local and state laws to sell only those foods that are grown within a couple hundred mile radius of the market.
Many of the newer grocery store varieties are there because a more local grower decided to really invest in their distribution, which is a costly and risky venture. I'm glad they do it, though! I adore apples (in case you couldn't tell) for eating, and for baking.
The best apples for baking
For baking, you want an apple that will hold its shape when heat is applied to it. I actually find that most apples will do that, with the exception of a mealy apple like Red Delicious. They were created to look great from the outside, and travel well.
Granny Smith are the apples that are typically recommended for baking, since they're quite tart, hold up very well in baking, and are widely available for purchase. I love them for everything.
For depth of flavor and texture in your baked goods, it's great to use a variety. A surprising variety that is better for baking, at least if you're using a mixture, is Golden Delicious. When they have a lot of blush color, they tend to be more ripe and softer, which means they'll break down a bit faster, so keep that in mind.
My favorite apples are Empire, Macintosh, and Cortland. I love them for eating, for baking, and for cooking down into applesauce. The skin is just thick enough that a fresh apple will kind of *pop* when you bite into it, but not so thick that you feel like you're fighting to get access to the flesh.
Ingredients and substitutions
Dairy-free: There's dairy in these cookies in the forms of butter, white chocolate chips, and milk for the glaze. If you need to be dairy-free, try replacing the butter with Melt brand vegan butter. It's my favorite butter replacement for baking.
If you can't find Melt brand, try using half (70 grams) Spectrum non hydrogenated vegetable shortening and half (70 grams) Earth Balance buttery sticks. That combination should come close to mimicking the moisture balance of butter.
I'm afraid I don't know of any brand of white chocolate chips that's dairy free. White chocolate is typically made with dairy milk as a base. In its place, try your favorite type of dairy-free chips, or maybe some chopped nuts.
The milk in the glaze can be replaced with any nondairy milk, or even with water. That one's easy!
Egg-free: Since there's only one egg in this recipe, you should be able to use an egg replacement. I recommend trying a "chia egg" (1 tablespoon ground white chia seeds + 1 tablespoon lukewarm water, mixed and allowed to gel).
Corn-free: If you can't have corn, just replace the cornstarch with arrowroot. If that's not possible, try potato starch or even tapioca starch/flour.
Apple variety: I prefer a Macintosh, Cortland, Empire, or Granny Smith apple for this recipe. Please see the complete discussion of apple varieties best for baking above.
Gluten Free Apple Pie Cookies | Thick & Chewy
Ingredients
For the cookies
1 1/2 cups (210 g) all purpose gluten free flour (I used Better Batter) 
3/4 teaspoon xanthan gum (omit if your blend already contains it) 
1/4 cup (36 g) cornstarch
1/2 teaspoon baking soda
1/2 teaspoon kosher salt
1 teaspoon ground cinnamon
3/4 cup (150 g) granulated sugar
1 medium-size firm, semi-tart apple, peeled and grated (80 g)
4 ounces white chocolate chips
10 tablespoons (140 g) unsalted butter, melted and cooled
1 egg (50 g, weighed out of shell) at room temperature, beaten
1 teaspoon pure vanilla extract
For the glaze
3/4 cup (86 g) confectioners' sugar 
1/2 teaspoon ground cinnamon 
1 tablespoon milk (any kind), plus more by the 1/4 teaspoonful if necessary
Instructions
Preheat your oven to 325°F. Line a rimmed baking sheet with unbleached parchment paper and set aside.

In a large bowl, place the flour, xanthan gum, cornstarch, baking soda, salt, cinnamon, and granulated sugar and whisk to combine well.  Add the grated apple, and mix to combine, working to separate the apple pieces from one another. Add the chocolate chips, and mix again to distribute the chips evenly throughout the mixture. Create a well in the center of the dry ingredients and add the butter, egg, and vanilla, and mix to combine completely. The dough will be thick but soft.

Divide the dough into 14 equal parts, each about 1 1/2 tablespoonsful. With wet hands and a light touch, roll each piece of dough into a ball then press into a disk about 1/2-inch thick, and place on the prepared baking sheet about 2-inches apart from one another. For slightly thicker cookies that spread less, place the baking sheet in the refrigerator for about 10 minutes to chill the cookie dough. Place the baking sheet in the center of the preheated oven and bake until the cookies are very lightly golden brown on the edges (about 12 minutes). Remove from the oven and allow to cool completely on the baking sheet.

When the cookies are nearly cool, make the glaze. In a small bowl, place the confectioners' sugar, ground cinnamon, and 1 tablespoon of milk. Mix well, until a thick paste forms. Add more milk by the 1/4-teaspoon, mixing to combine well, until the glaze falls off the spoon slowly, in a thick but pourable glaze. Add milk very slowly, as it is much easier to thin, than to thicken, the glaze. If you do thin the glaze too much, add more confectioners' sugar a teaspoon at a time to thicken it. Drizzle the glaze over the cooled cookies and allow to set at room temperature.

Originally published on the blog in 2014. Photos mostly new, video new, recipe method updated slightly, some text new.