Incredibly easy apple custard cake, made with homemade or store bought cake mix (gluten free or not), applesauce and the perfect spices. Fall perfection!
It's time for gluten free apple recipes that will knock your gluten free apple baking socks off. I give you … this addictive gluten free apple custard cake. You're welcome, and I'm terribly sorry. But mostly, you're welcome.
If you live within an hour's drive of apple trees this time of year, you're going to be coming in to some apples. Even if you don't go apple-picking. Since I assume you have at least some neighbors, you'll have apples. If nothing else, apples will soon be the least expensive, best-looking fruit at the grocery store. So we'd better get to work putting them to good use!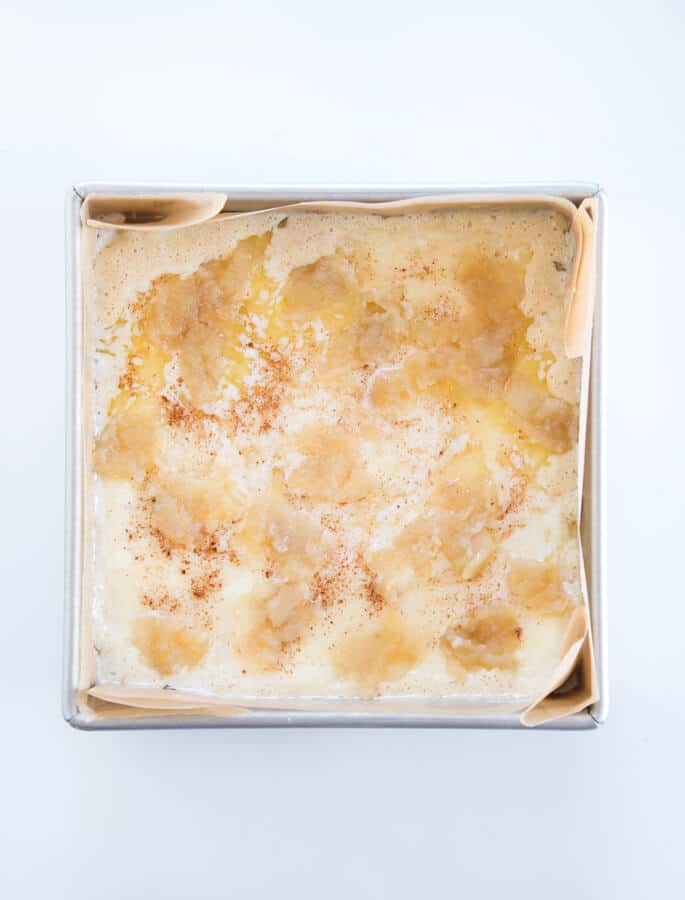 This apple custard cake is crazy easy to throw together, even if you make your own applesauce (which I do regularly, since I've got to more apples and my neighbors see me coming a mile away). I don't even add any sugar to my applesauce when the apples are really fresh. I do add ground cinnamon or apple pie spice (which is mostly cinnamon – see the DIY apple pie spice below).
I don't know why this cake works. I do know that it does. And that it is almost pudding-like inside. I don't know much, but I know that. If you don't want to make it, maybe I just don't know you like I thought I did.
This is the sort of recipe that's just so easy that, when you're ready to put it in the oven after less than 5 minutes of prep, you double and triple check the recipe—just to be sure you didn't miss a step.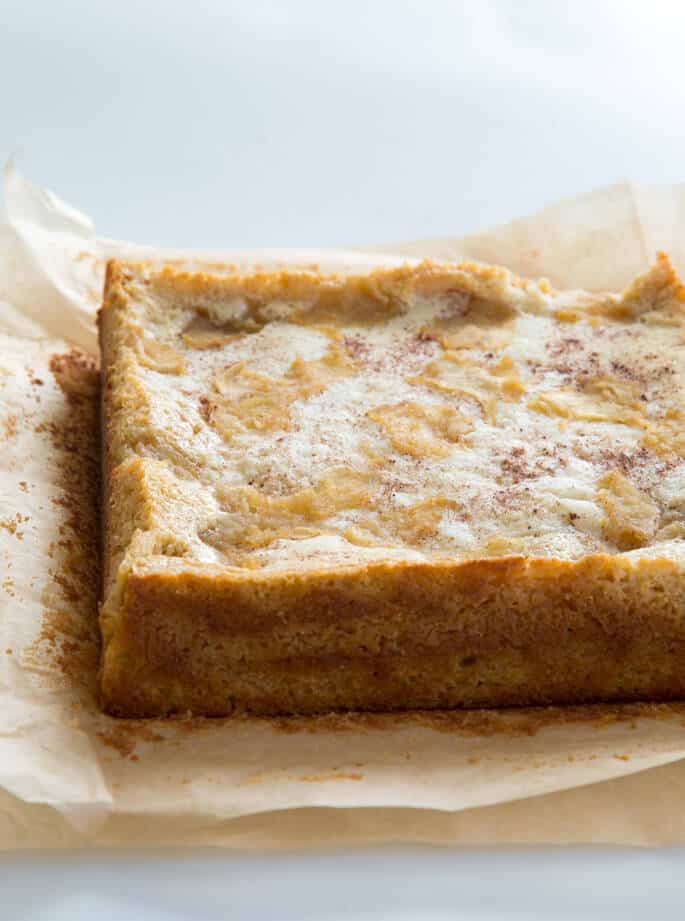 All you do to make this amazing cake is mix applesauce (store-bought or homemade) with sweetened condensed milk (again, store-bought or homemade), eggs, a bit of sugar, plenty of apple pie spice. Add about 1/3 of a box (store-bought or homemade with my recipe) of vanilla cake mix, mix to combine and pour into a square baking dish. Sprinkle the rest of the dry cake mix in an even layer on top, followed by the melted butter. Pop it in the oven. That's it.
The result is a moist and impossibly tender, custard-like bottom apple cake layer topped with a shortbread style top. And, naturally, a house that smells like heaven and a cheering family!