Save money by making your own homemade apple butter by peeling and grating as many apples as you have, then cooking them down with just the right spices and a touch of maple syrup. Puree, and enjoy!
Have you ever purchased apple butter? It's nothing more than cooked apples that have been sweetened, spiced and reduced, but a small 1-pound jar can easily run you $8 to $10.
When I'm making applesauce, I peel, core and slice apples thinly. They cook down really quickly that way, and the sauce is still pretty chunky if you handle it gently. But when I'm making apple butter, a quick and easy medium-grate is the way to go. There's no need to core the apples when you grate them, either, which saves some active cooking time.
Just grate down to the core and move on to the next apple. Once the mixture is cooked and reduced, process it in a blender or food processor for a silky smooth butter (or leave it as is—it will still taste nearly the same and perform just as well in recipes).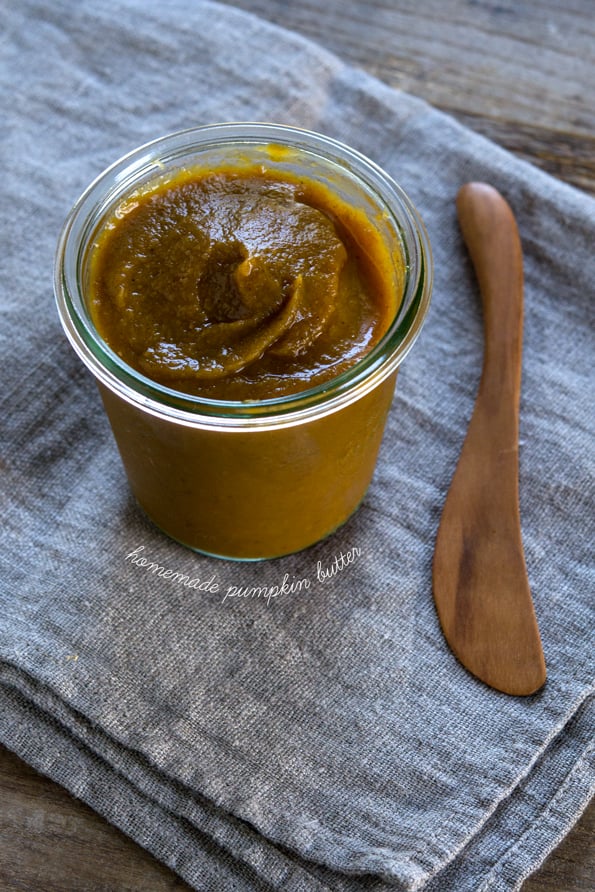 Why make apple butter at all, you ask? Well, allow me to refresh your recollection of (or introduce you to) all of the recipes that we made last year and the year before with the homemade pumpkin butter you see above: everything from pumpkin chocolate chip squares and pumpkin donuts to crispy pumpkin animal crackers and fudgy pumpkin brownies.
Why pumpkin butter instead of pureed pumpkin? Same reason for preferring apple butter to applesauce in baking: applesauce and pureed pumpkin just have too much moisture to make anything other than a cake (or a cookie that looks like a cookie but tastes like a cake).
Try to balance the moisture by tweaking the other ingredients in the recipe and you just end up changing the taste and texture for the worse. But apple butter and pumpkin butter are thick enough to add taste, texture and flavor—without making cake where you meant to make cookies. Or even crunchy pumpkin biscotti.
In the coming weeks, we'll be baking with apple butter so why not make some this weekend? In the meantime, it's delicious on toast, and I have a sneaking suspicion that you could make any of my pumpkin butter recipes into apple butter recipes by swapping out the pumpkin pie spice for an equal amount of apple pie spice, and switching the pumpkin butter for apple butter. Happy D.I.Y. Friday!