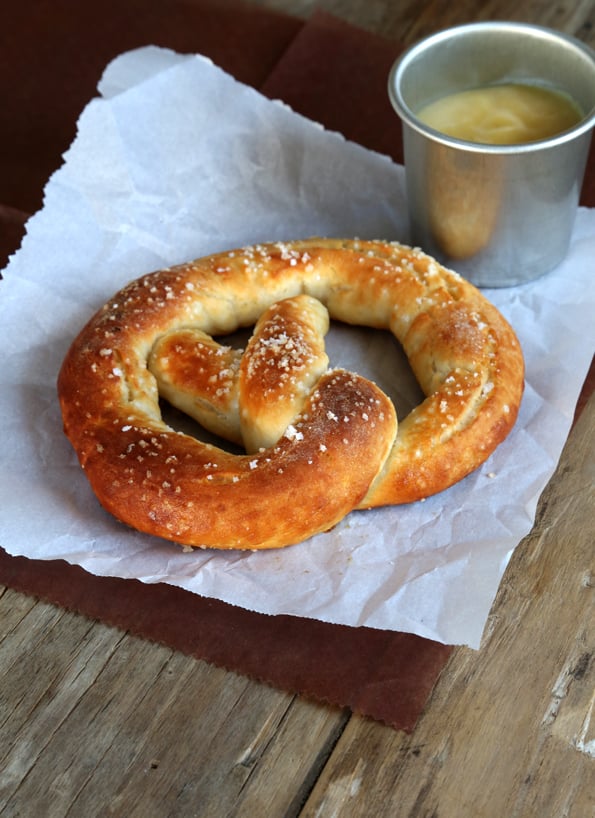 This recipe, for Auntie Anne's-Style Gluten Free Soft Pretzels (with sweet mustard dipping sauce!), is for those of us who are tempted to "cheat" and stand in that line at the mall and have one gluteny soft pretzel I mean come on how bad can it be. Don't do it!
I used the recipe for Pretzel Rolls from page 153 of GFOAS Bakes Bread with a few modifications, all in the name of science—and indulgence (more butter! more brown sugar! milk instead of water!).
But you could still use the blog recipe for soft pretzels. As with all my old bread recipes, they don't know that we've had a revolution. They still work. :)
I haven't had an Auntie Anne's pretzel in the mall in, like, 100 years. But Auntie Anne's pretzels are like Cinnabon. You can't help but get something of a contact high if you set foot in a mall that sells them.
That buttery, salty goodness just … lives there permanently. Just ask the tired parents waiting in line at that pretzel counter on any given Saturday in America. You can't escape it. Well, when you're gluten free, clearly you must escape it.
Boiling the pretzels in a baking soda bath, like boiling bagels, is what gives them that chewy exterior. They wrinkle up, but don't worry! They plump right up when you bake them.
Auntie Anne's pretzels are thinner than I made mine, but I found that when I rolled them super super thin, they had a bit of a hard time keeping their shape when I boiled them. Who knows what kind of black magic those Auntie Anne's people do with their super skinny pretzels.
Oh, and be sure to read the note in the recipe ingredients about sprinkling with salt. Sprinkling soft pretzels with salt before baking draws water out of the pretzels as they cool.
So if you don't plan to eat all the pretzels right away, consider holding the salt sprinkle until later. I explain it all below. And don't skimp on that dipping sauce. It's half the fun!