These Auntie Anne's-style gluten free soft pretzels with sweet mustard dipping sauce will keep you from having "just one" gluteny pretzel at the mall!
I haven't had an Auntie Anne's pretzel in the mall in, like, 100 years. But Auntie Anne's pretzels are like Cinnabon. You can't help but get something of a contact high if you set foot in a mall that sells them.
That buttery, salty goodness just lives there permanently. Just ask the tired parents waiting in line at that pretzel counter on any given Saturday in America. You can't escape it. Well, when you're gluten free, clearly you must escape it.
Boiling the pretzels in a baking soda bath, like boiling bagels, is what gives them that chewy exterior. They wrinkle up, but don't worry! They plump right up when you bake them.
Auntie Anne's pretzels are thinner than I made mine, but I found that when I rolled them super super thin, they didn't hold their shape very well during boiling. Who knows what kind of black magic those Auntie Anne's people do with their super skinny pretzels.
How to save them for later
If you don't plan to serve all of these gluten free soft pretzels right after baking, try salting only the ones you intend to serve. Then, moisten and salt the other ones right before serving.
They freeze quite well after baking and cooling. Just wrap them tightly in a freezer-safe wrap and freeze. Defrost at 50% power in the microwave and then warm in a toaster oven, then serve!
And by the way I'd be remiss if I didn't tell you that I've got 8 brands of packaged gluten free pretzels for you to try. None are soft pretzels, they're the crunchy kind, but thankfully there are lots to choose from on the market today.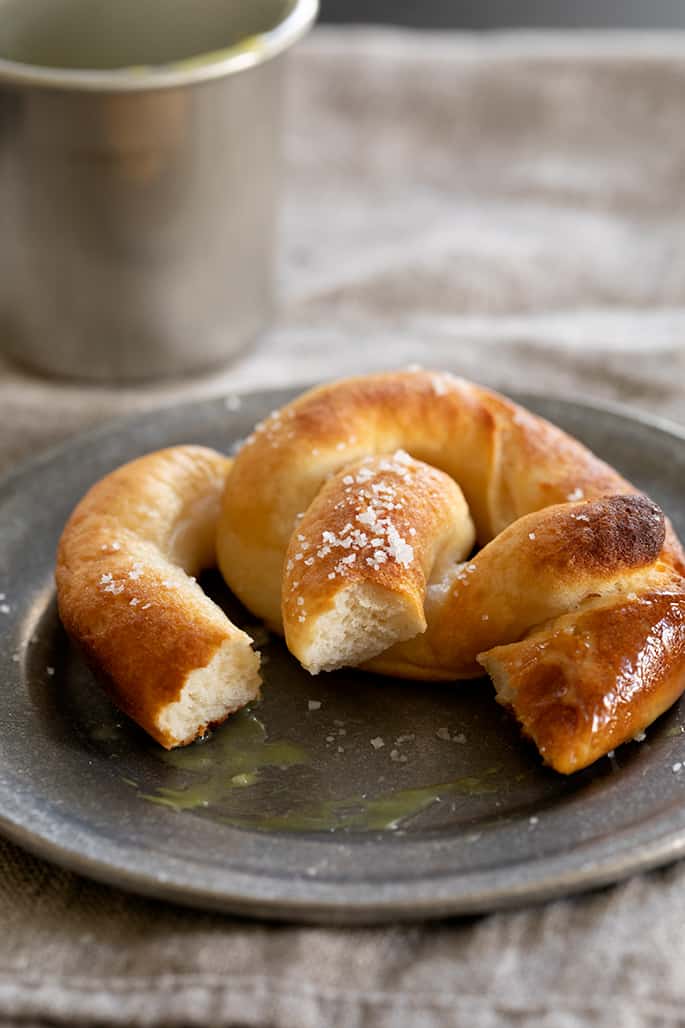 How (and why) to boil soft pretzels
The most common difficulty in making any yeasted boiled bread like bagels or pretzels is making sure that the shaped, risen dough doesn't fall apart during boiling. Bagels and pretzels are boiled for similar reasons but in different water-based solutions.
Boiling bagels and soft pretzels (or pretzel rolls) is what gives them that hard, chewy exterior. Bagels are traditionally boiled in a bath of water and barley malt syrup. Our gluten free substitute is a molasses bath, which does a good job of mimicking the color and flavor of the barley malt bath.
Pretzels are traditionally boiled in a highly diluted solution of lye (or sodium hydroxide, which is also used to make soap), which requires extreme caution and rubber gloves. I'm all for DIY, clearly, but let's not be ridiculous. A baking soda bath does a reasonable approximation of ensuring a nice deep color on the outside of your pretzels after baking.
How to make sure your pretzels don't fall apart during boiling
There are three ways to ensure that your soft pretzels don't fall apart during boiling. The first is to ensure your baking soda bath is at a full, rolling boil before you add the shaped, risen pretzels. A slow boil will do little to seal the outside of the pretzel, and will just sort of cause it to wilt.
Second, do not overproof the dough. This is a rare case of yeast bread baking in which you should only allow the shaped, raw pretzels to rise until they seem merely swelled, and not even necessarily risen to 150% of their original size.
Overproofing is not a function of just time but is rather determined by amount of rising. If the environment in your kitchen is cold and dry, yeast dough will rise more slowly. If it's warm and humid, more quickly.
Finally, if you boil the pretzels for too long, you risk their beginning to dissolve in the water. Err on the side of less boiling, rather than more. The dough is enriched enough and wet enough that the pretzels will still be tender inside.
Ingredients, substitutions, and equipment
Buttermilk powder: If you can't find buttermilk powder, you can use nonfat dry milk powder in its place. It doesn't add as much richness, but the recipe will still work. If you need to be dairy-free, you can try replacing the buttermilk powder with powdered coconut milk.
Dairy-free: If you need to make this recipe dairy-free, in addition to the buttermilk powder, you'll have to replace the butter. In place of the butter in the dough and for brushing on the pretzels before baking, try using Earth Balance buttery sticks or virgin coconut oil.
Egg-free: There are two egg whites in the bread dough recipe. I haven't tried replacing them, and I'm afraid I'm really not sure what, if anything, would work in their place.
Tapioca starch/flour: The addition of tapioca starch/flour to the bread dough helps make it stretchy and tender. In its place, you can try using arrowroot.
Coarse salt, for sprinkling: If you don't plan to serve all of the pretzels immediately after baking, consider baking without the coarse salt entirely, or with a very light sprinkling of it. Salt on the top of bread draws moisture out of the bread and causes it to go stale more quickly.
The salt in the bread dough itself is essential for controlling the yeast production and, more importantly, for taste. Bread without any salt is bread for the trash bin. If you do eliminate the salt sprinkled on top of the pretzels during baking, simply brush them with more melted butter and sprinkle with coarse salt before serving.
Cream of tartar: The cream of tartar can be replaced with 1/2 teaspoon of lemon juice or white wine vinegar.
Stand mixer: If you don't have a stand mixer, you may be able to use a food processor to make the dough, especially if you have a plastic attachment, rather than the metal blade. All you do, essentially, is dump the ingredients, in the order listed in the recipe, into the bowl, and let the mixer process it fully.
If you have access to a stand mixer, though, it's really the best way to make a smooth, integrated dough that is relatively easy to shape, boil, and bake.