These Auntie Anne's-style gluten free soft pretzels with sweet mustard dipping sauce will keep you from having "just one" gluteny pretzel at the mall!
I haven't had an Auntie Anne's pretzel in the mall in, like, 100 years. But Auntie Anne's pretzels are like Cinnabon. You can't help but get something of a contact high if you set foot in a mall that sells them.
That buttery, salty goodness just lives there permanently. Just ask the tired parents waiting in line at that pretzel counter on any given Saturday in America. You can't escape it. Well, when you're gluten free, clearly you must escape it.
Boiling the pretzels in a baking soda bath, like boiling bagels, is what gives them that chewy exterior. They wrinkle up, but don't worry! They plump right up when you bake them.
Auntie Anne's pretzels are thinner than I made mine, but I found that when I rolled them super super thin, they didn't hold their shape very well during boiling. Who knows what kind of black magic those Auntie Anne's people do with their super skinny pretzels.
How to save them for later
If you don't plan to serve all of these gluten free soft pretzels right after baking, try salting only the ones you intend to serve. Then, moisten and salt the other ones right before serving.
They freeze quite well after baking and cooling. Just wrap them tightly in a freezer-safe wrap and freeze. Defrost at 50% power in the microwave and then warm in a toaster oven, then serve!
And by the way I'd be remiss if I didn't tell you that I've got 8 brands of packaged gluten free pretzels for you to try. None are soft pretzels, they're the crunchy kind, but thankfully there are lots to choose from on the market today.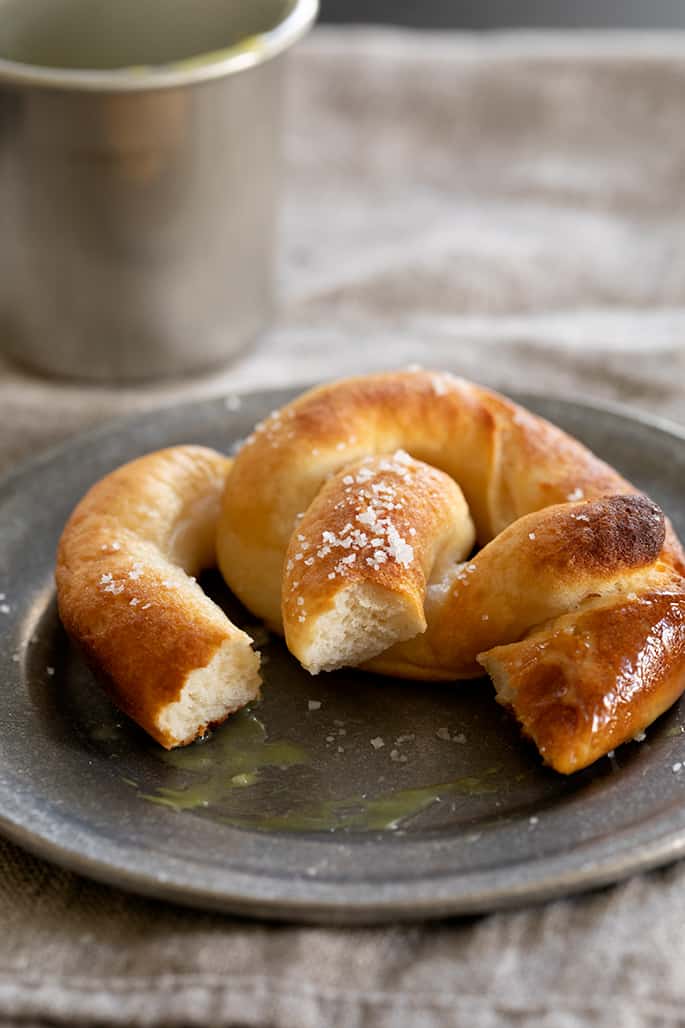 How (and why) to boil soft pretzels
The most common difficulty in making any yeasted boiled bread like bagels or pretzels is making sure that the shaped, risen dough doesn't fall apart during boiling. Bagels and pretzels are boiled for similar reasons but in different water-based solutions.
Boiling bagels and soft pretzels (or pretzel rolls) is what gives them that hard, chewy exterior. Bagels are traditionally boiled in a bath of water and barley malt syrup. Our gluten free substitute is a molasses bath, which does a good job of mimicking the color and flavor of the barley malt bath.
Pretzels are traditionally boiled in a highly diluted solution of lye (or sodium hydroxide, which is also used to make soap), which requires extreme caution and rubber gloves. I'm all for DIY, clearly, but let's not be ridiculous. A baking soda bath does a reasonable approximation of ensuring a nice deep color on the outside of your pretzels after baking.
How to make sure your pretzels don't fall apart during boiling
There are three ways to ensure that your soft pretzels don't fall apart during boiling. The first is to ensure your baking soda bath is at a full, rolling boil before you add the shaped, risen pretzels. A slow boil will do little to seal the outside of the pretzel, and will just sort of cause it to wilt.
Second, do not overproof the dough. This is a rare case of yeast bread baking in which you should only allow the shaped, raw pretzels to rise until they seem merely swelled, and not even necessarily risen to 150% of their original size.
Overproofing is not a function of just time but is rather determined by amount of rising. If the environment in your kitchen is cold and dry, yeast dough will rise more slowly. If it's warm and humid, more quickly.
Finally, if you boil the pretzels for too long, you risk their beginning to dissolve in the water. Err on the side of less boiling, rather than more. The dough is enriched enough and wet enough that the pretzels will still be tender inside.
Ingredients, substitutions, and equipment
Buttermilk powder: If you can't find buttermilk powder, you can use nonfat dry milk powder in its place. It doesn't add as much richness, but the recipe will still work. If you need to be dairy-free, you can try replacing the buttermilk powder with powdered coconut milk.
Dairy-free: If you need to make this recipe dairy-free, in addition to the buttermilk powder, you'll have to replace the butter. In place of the butter in the dough and for brushing on the pretzels before baking, try using Earth Balance buttery sticks or virgin coconut oil.
Egg-free: There are two egg whites in the bread dough recipe. I haven't tried replacing them, and I'm afraid I'm really not sure what, if anything, would work in their place.
Tapioca starch/flour: The addition of tapioca starch/flour to the bread dough helps make it stretchy and tender. In its place, you can try using arrowroot.
Coarse salt, for sprinkling: If you don't plan to serve all of the pretzels immediately after baking, consider baking without the coarse salt entirely, or with a very light sprinkling of it. Salt on the top of bread draws moisture out of the bread and causes it to go stale more quickly.
The salt in the bread dough itself is essential for controlling the yeast production and, more importantly, for taste. Bread without any salt is bread for the trash bin. If you do eliminate the salt sprinkled on top of the pretzels during baking, simply brush them with more melted butter and sprinkle with coarse salt before serving.
Cream of tartar: The cream of tartar can be replaced with 1/2 teaspoon of lemon juice or white wine vinegar.
Stand mixer: If you don't have a stand mixer, you may be able to use a food processor to make the dough, especially if you have a plastic attachment, rather than the metal blade. All you do, essentially, is dump the ingredients, in the order listed in the recipe, into the bowl, and let the mixer process it fully.
If you have access to a stand mixer, though, it's really the best way to make a smooth, integrated dough that is relatively easy to shape, boil, and bake.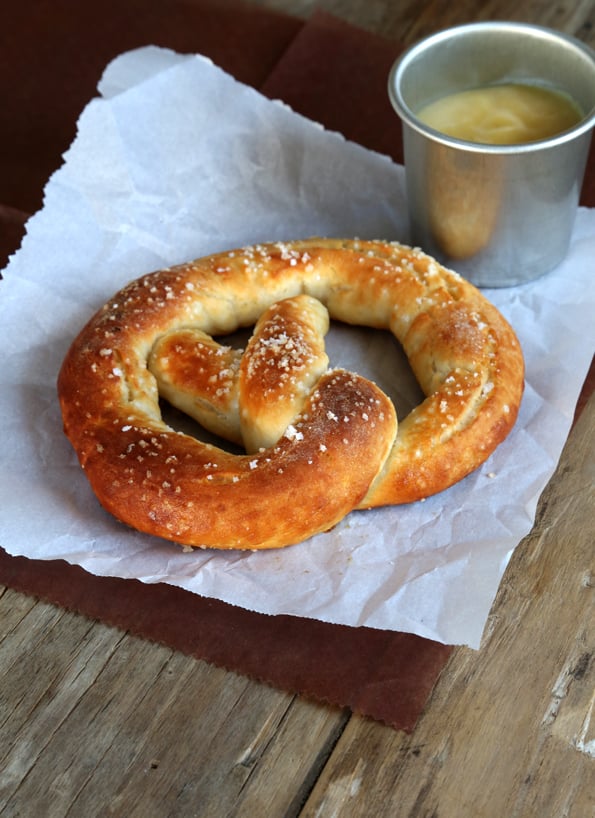 Gluten Free Soft Pretzels | Auntie Anne's Mall Style
Ingredients
For the soft pretzels
3 cups (420 g) all purpose gluten free flour (I used Better Batter), plus more for sprinkling
1 1/2 teaspoons xanthan gum (omit if your blend already contains it)
1/4 cup (36 g) tapioca starch/flour
1/2 cup (43 g) Saco cultured buttermilk blend powder
1 tablespoon (9 g) instant yeast
1/4 teaspoon cream of tartar
1/4 teaspoon baking soda
1/4 cup (55 g) packed light brown sugar
1 teaspoon (6 g) kosher salt
1 teaspoon apple cider vinegar
4 tablespoons (56 g) unsalted butter, at room temperature
2 egg whites (50 g), at room temperature
1 1/2 cups + 2 tablespoons (13 fluid ounces) warm milk (about 95°F)
Baking soda bath for boiling (6 cups water + 1 tablespoon baking soda + 1 teaspoon salt)
Coarse salt for sprinkling
Melted unsalted butter, for brushing
Coarse salt, for sprinkling*
For the sweet mustard dipping sauce
1/4 cup + 2 tablespoons mayonnaise
1 tablespoon Dijon mustard
3 tablespoons honey
1/4 teaspoon kosher salt
1/2 teaspoon dry mustard powder (optional)
Instructions
First, make the bread dough. In the bowl of a stand mixer fitted with the paddle attachment, place the flour, xanthan gum, tapioca starch, buttermilk powder, yeast, cream of tartar, baking soda, and brown sugar, and whisk to combine well, breaking up any lumps in the brown sugar. Add the salt, and whisk again to combine. Add the apple cider vinegar, butter, egg whites, and milk, and mix to combine well. Turn the mixer speed up to medium-high and then high speed and beat until the dough almost seems whipped. The dough should pull away easily from the sides of the bowl when you use a silicone spatula to scrape it down.

Transfer the dough to a lightly oiled bowl or proofing bucket large enough for the dough to rise to nearly double its size. Spray the top of the dough very lightly with cooking oil spray. Cover the bowl very tightly with an oiled piece of plastic wrap or the oiled top of your proofing bucket. Place the dough in the refrigerator for at least an hour and up to 24 hours.

When the dough is ready, line rimmed baking sheets with unbleached parchment paper and set them aside. Turn the dough out onto a lightly floured surface, sprinkle it lightly with a bit more flour, and turn it over on itself a few times until it's smoother. Using a bench scraper or large knife, divide the dough into 8 equal portions, each just under 4 ounces, and roll each into a ball. Working with one piece of dough at a time, roll into a thin rope about 12 inches long, pressing down and out with your palms and sprinkling lightly with flour to prevent sticking. Create an upside-down U shape with the dough, and cross the two ends over one another into an X shape about 3 inches away from each end. Grab each crossed end with the opposite hand, criss-cross them once, then turn them over onto the round end of the original U shape. Press the ends onto the round end to adhere. You can moisten the ends a bit to help them stick as they rise. Transfer the shaped pretzels to the prepared baking sheets, placing them about 2 inches apart from one another. Cover with lightly oiled plastic wrap and set in a warm, draft-free location to rise until just beginning to swell (about 30 minutes). Do not overproof.

To make the dipping sauce, combine all of the ingredients in a medium-sized bowl, and whisk to combine well. The dry mustard powder really gives the sauce a nice depth of flavor, but it is entirely optional. Set the sauce aside.

As the dough nears the end of its rise, preheat your oven to 400°F. In a large pot, make the baking soda bath by dissolving the baking soda and salt in approximately 6 cups of water, and bringing it to a rolling boil over medium-high heat. Once the dough has finished rising, place the pretzels a few at a time in the boiling baking soda bath for less than one minute total. Rather than flipping the pretzels to boil on both sides, press gently on the top of each pretzel to immerse the top in the water. Remove the pretzels with a strainer and return them to the baking sheet. Brush generously with the melted butter, sprinkle with coarse salt, and place the baking sheet in the center of the preheated oven. Bake until golden brown all over (about 15 minutes). Remove from the oven serve warm with the dipping sauce.

Originally published on the blog in 2014. Recipe simplified, method largely unchanged, photos mostly new, video new.