These super soft yeast free gluten free dinner rolls are ready for baking in the oven in 10 minutes. Never buy rolls again!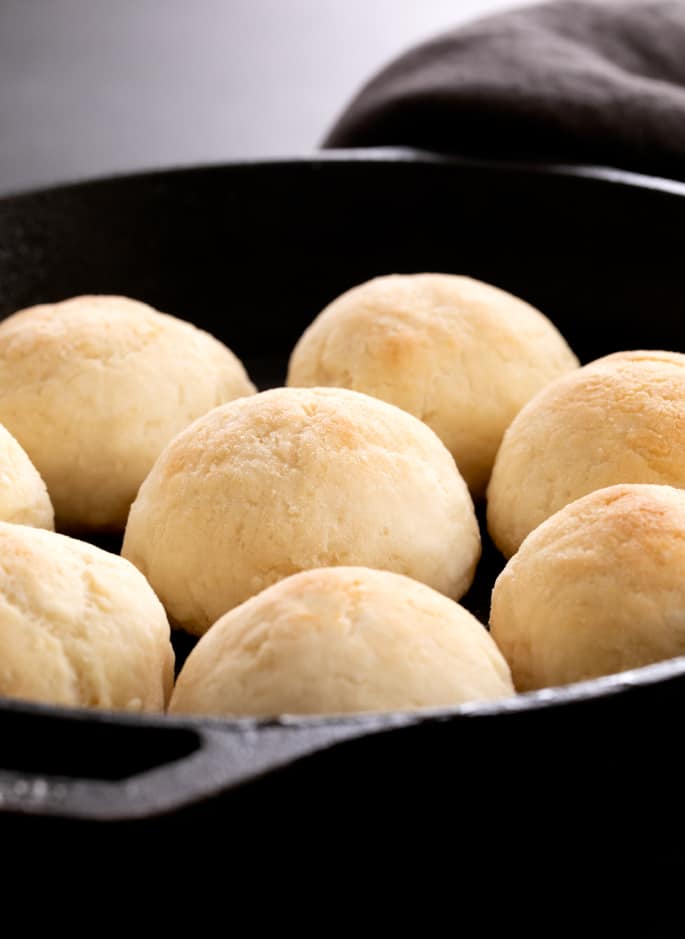 This bread dough can be made nonfat if you like, but be sure to bake the rolls in a well-greased skillet and brush the tops with more butter. It helps the underside brown into a thick, buttery crust, and the top form a thin, slightly crispy layer.
If you're like me and you're tired of the nightly rotation of either rice or pasta as your dinnertime carb, these incredibly simple rolls are sure to quickly become a family favorite.
Why bake yeast-free?
My interest in developing yeast-free gluten free recipes began kicking into high gear around 2011, when I was writing my second cookbook, Gluten Free on a Shoestring Quick and Easy. Simply put, it takes time for yeast bread to rise!
I should say that, if you do have a bit more time, you can try our recipe for soft and squishy, yeasted gluten free dinner rolls. They're worth the time if you have it.
Baking bread without yeast, though, turns out to be a pretty significant time saver. That made it perfect for a book of recipes that were quick (and easy). And no matter how much you enjoy cooking and baking, we all need a quick win in the kitchen from time to time.
What's missing from yeast-free bread baking?
Yeast development does provide a certain flavor to bread, though. And I found that I really missed that in yeast-free bread recipes.
Then came the recent popularity of so-called "2-ingredient" Weight Watchers-style bread recipes (you know, the recipes that call for self-rising flour + plain nonfat Greek yogurt). The tang of plain yogurt in those recipes really helps to add depth of flavor to yeast-free bread.
How else can you save time baking bread?
Of course, if you can't bake with yeast due to an allergy in your household, yeast-free bread recipes like these yeast free gluten free dinner rolls and our yeast free gluten free pizza are your best option. But if you're just in it for the time savings because you're in a rush, don't like to cook or bake, or just haven't planned ahead like you wish you had (?‍♀️), you might like to have a look at our no-rise gluten free yeast rolls.
No-rise yeast bread recipes don't require you to give the bread dough time to rise before placing it in the oven as soon as it's been shaped. The rise happens entirely in the oven, the moment the yeast in the dough comes into contact with the heat of the oven.
How to make these yeast free gluten free dinner rolls
You can make the bread dough for these rolls with nothing more than one bowl, a whisk, a spoon, and just a few basic ingredients, and (ideally a cast iron) skillet. The dry ingredients are just a version of our homemade gluten free pancake mix.
However, here we're using a traditional all purpose gluten free flour blend rather than our 3-ingredient gum-free blend. The higher xanthan gum content of a more traditional all purpose gluten free flour is what gives these rolls their bready texture and chew.
To those simple dry ingredients, we add plain Greek-style yogurt and plain seltzer water. Using Greek-style yogurt, which has much less moisture than traditional yogurt, allows us to use more plain seltzer water, which helps give these rolls their fluffiness and lift.
The dough comes together very quickly, and you should shape and bake it immediately since the dough will not maintain its texture if it's allowed to stand. Try to handle the dough with a light touch, and don't add too much extra flour during shaping as that will make for tougher rolls.
Ingredients and substitutions
Dairy
There are two types of dairy in this recipe. One is easy to replace, and the other is more challenging.
The butter in this recipe is used to coat the skillet, and then to brush on top of the raw, shaped rolls right before baking. You can replace the butter with a combination of melted Earth Balance buttery sticks and olive oil.
The bread dough itself calls for plain Greek yogurt, which is only slightly more difficult to replace with a dairy-free alternative. Like in our Weight Watchers-style gluten free bagels recipe, you can try using plain nondairy yogurt, strained until the texture resembles that of Greek yogurt.
My favorite type of nondairy yogurt is coconut-based, as it seems to have the best texture and most neutral flavor.
Sugar
This recipe calls for 1 to 2 tablespoons of granulated sugar. The sugar adds a bit of tenderness to the rolls, which is more important if you're using nonfat Greek yogurt as both fat and sugar are tenderizers in baking.
You can use just one tablespoon of sugar, or omit it altogether. Using 2 tablespoons of sugar does add a slight hint of sweetness to the rolls. You cannot replace the granulated sugar with liquid sugar or coconut palm sugar.
Yeast Free Gluten Free Dinner Rolls
Ingredients
3 tablespoons (42 g) unsalted butter, at very soft room temperature
2 cups (280 g) all purpose gluten free flour (I used Better Batter), plus more for sprinkling
1 teaspoon xanthan gum (omit if your blend already contains it)
2 teaspoons baking powder
1/4 teaspoon baking soda
1 1/2 teaspoons kosher salt
1 to 2 tablespoons (12 to 24 g) granulated sugar
1/2 cup (120 g) plain Greek yogurt (0%, 2%, or 4% fat)
3/4 to 1 cup (6 to 8 fluid ounces) plain seltzer water
Instructions
Preheat your oven to 400°F. Using about 2 tablespoons of the butter, grease very well a 12-inch cast iron or another heavy-bottom skillet, and set it aside.

In a large bowl, place the flour, xanthan gum, baking powder, baking soda, salt, and sugar, and whisk to combine well. Add the yogurt and mix a bit to break it up, then add 3/4 of a cup of the seltzer. Mix until the dough comes together, adding more seltzer as necessary to bring the dough together without making it too soft. The dough should be moist to the touch, but not be weepy. Press the dough together with clean hands, then turn it out onto a lightly floured flat surface. Sprinkle the dough lightly with more flour, then knead lightly a few times to help smooth out the dough and press it into a disk. Using a knife or bench scraper, divide the dough into 8 roughly equal portions.

Working with one piece of dough at a time, sprinkle it very lightly with more flour. Form it into a ball by press it together in the palm of your hand, then pinching the ends underneath and rolling it with the side of your palm pressed against the surface and guiding it with your fingertips into a round about 1 1/4-inches in diameter. Place the rounds close to one another in the prepared skillet. Brush the tops and sides with the remaining butter. Place the skillet in the center of the preheated oven and bake, rotating once, for about 25 minutes or until the rolls are dark golden brown on the underside, very lightly golden brown on top and spring back when pressed lightly in the center. Remove from the oven and serve warm.