Gluten free bagels made in the Starbucks style, with Asiago and Parmesan cheeses. They're soft and fluffy inside, chewy outside.
These are not chewy on the inside, crispy on the outside New York bagels. It's not like I really take that much pride in being from New York. It's just that … it's what I know. You know? And even though contrary to popular belief we don't really have a ton of great pizza in New York (well, we do in my house, but youknowwhatImean), we do have great bagels.
Even just a couple hours away in other cities in the northeast, like Philly, they just don't know how to make a bagel. Mostly, they make rolls with holes. but a roll with a hole does not a bagel make. The first rule of bagel-making (gluten free bagels or not) is that you gotta boil the bagel. If it isn't boiled first, it's just not a bagel. Full stop.
Boiling bagels before baking them is what makes for a thick and chewy crust during baking. It creates something of a moisture-barrier, and keeps the bagels from rising too much in the oven.
That's part of how they are slightly dense on the inside. But the shorter the boiling time, the thinner the crust and the more they will rise in the oven (so-called "oven spring," discussed more fully in Gluten Free on a Shoestring Bakes Bread).
The bagel recipes in Bakes Bread are for making true New York Bagels. They're chewy and slightly dense, with a nice thick crust. Bagels. Slice them, toast them, smear them, *sigh* eat them.

But it has come to my attention … that not everyone wants a Real New York Bagel. Some of you would really prefer what you get in, say, Starbucks: a light and fluffy bagel, with a crust, sure, but a thin one.
And the inside? Fluffy as could be. And since I'm at your service, and this is not AllAboutMe, I present to you Super Fluffy Asiago Gluten Free Bagels, just like at Starbucks.
These bagels have more moisture, and the dough is even slightly enriched (true bagels are lean lean lean) with a bit of butter and cheese. Plus, they're boiled more quickly. Look at how fluffy they are inside!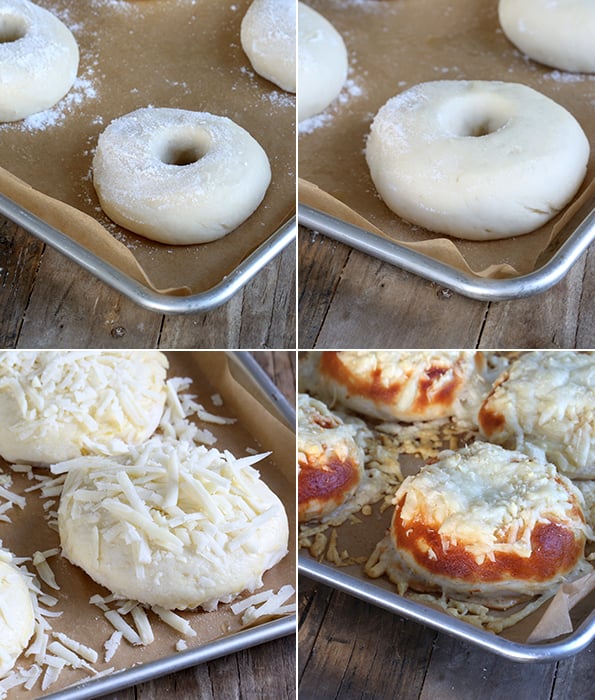 You don't even allow the dough to proof overnight in the refrigerator. How's that for speedy?! For me, even though I work from home, it's still much, much easier to make gluten free bread dough ahead of time and allow it to proof slowly in the refrigerator for a couple days before baking it.
That way, I get that nice, tangy yeast development (remember Bread FAQ#12!), and I don't have to wait around for that first rise. It happens while I'm living the rest of my life. But many of you want more bread doughs that you can make and bake in the very same day.
Can you make the bagels without the cheese? You sure can!
Just leave it out of the dough, and don't sprinkle it on top. ;) One way or another, though, you neeeeeeed to have a REAL gluten free bagel. Those ones they sell in packages in the grocery store? C'mon. They're rolls with holes.
Super Fluffy Gluten Free Bagels
Ingredients
For the starter
1 1/4 cups (175 g) gluten free bread flour

1 teaspoon (3 g) instant yeast
2 1/2 tablespoons (30 g) granulated sugar
9 1/2 ounces (1 cup + 3 tablespoons) warm water (about 95°F)—for best results (by a mile!) measure the water by weight, not volume
DOUGH
2 cups (280 g) gluten free bread flour, plus more for sprinkling
2/3 teaspoon (2 g) instant yeast
1 teaspoon (6 g) kosher salt
Starter
2 tablespoons (28 g) unsalted butter, at room temperature
1 ounce finely grated Parmigiano-Reggiano cheese
Molasses bath, for boiling (6 cups water plus 1 tablespoon molasses plus 1 teaspoon kosher salt)
Egg wash (1 large egg, at room temperature, beaten with1 tablespoon water)
6 ounces Asiago cheese (or another semi-hard cheese), grated
Instructions
To make the starter, place all the starter ingredients in a medium-size bowl, and whisk until well combined. The mixture will be thick and shapeless. Cover and set the bowl aside in a warm, draft-free location to rise until doubled (about 40 minutes).

Once the starter has finished rising, make the dough. Place the flour and yeast in the bowl of your stand mixer, and use a handheld whisk to combine well. add the salt, and whisk to combine. Add the risen starter, butter, and Parmigiano-Reggiano cheese to the bowl, and mix on low speed with the dough hook until combined. Raise the mixer speed to medium and knead for about 5 minutes. It will be sticky dough, but will become stretchier and appear thinner as the mixer kneads it. Spray a silicone spatula lightly with cooking oil spray, and scrape down the sides of the bowl. Transfer the dough to a lightly oiled bowl or proofing bucket large enough for the dough to rise to double its size, and cover with an oiled piece of plastic wrap (or the oiled top to your proofing bucket). Place the dough in a warm, draft free location to rise until nearly doubled in size (about 1 1/2 hours). To make the dough easier to handle, after it has finished rising, place the sealed dough in the refrigerator to chill for 30 minutes before handling.

Once the dough has finished its first rise, line a large, rimmed baking sheet with unbleached parchment paper, grease it lightly with cooking oil and set it aside.  Turn the dough onto a lightly floured surface. Knead until smooth as described in These General Shaping Tips. If you have never shaped this new gluten free bread dough before, please read those instructions carefully in the recipe instructions and watch the shaping videos in the link provided. Divide the dough into six parts. To shape each piece of dough, follow the directions for Shaping Small Round Rolls in this recipe, and then poke a hole with a well-floured finger vertically into the center of the round dough. Move your finger in a circular motion to widen the hole so that it does not close during proofing. For more directions and step-by-step photos on shaping bagels in the more traditional way, see pages 38-39 of Bakes Bread. Place each piece of bagel-shaped dough on the prepared baking sheet about 2 inches apart, cover with oiled plastic wrap, and set in a warm, draft-free location to rise until nearly doubled in size (about 45 minutes to 1 hour, depending upon the environment). About 25 minutes before the dough has finished rising, preheat your oven to 375°F.

As the dough nears the end of its rise, make the  molasses bath by dissolving 1 tablespoon of molasses and 1 teaspoon of kosher salt in 6 cups of water (approximate measurements are fine here). Bring the mixture to a boil over medium-high to high heat. Once the dough has finished rising, place the shaped bagels a few at a time into the boiling bath for only 30 seconds per side. Remove the bagels with a strainer and return them to the baking sheet. Brush the boiled bagels with the egg wash, and sprinkle generously with about 3/4 of the grated Asiago cheese. Repeat with the remaining bagel dough. Place the baking sheet in the center of the preheated oven and bake for 15 minutes. Remove the bagels from the oven and quickly sprinkle the remaining Asiago cheese over the nearly-baked bagels. Rotate the baking sheet, return the bagels to the oven and continue to bake until they are golden brown all over and the cheese is melted (about 5 minutes more). To brown the cheese a bit, place it under your oven's broiler for about 1 minute. Allow to cool on the pan briefly before serving.

Adapted from the Plain (or Seeded) Bagels on page 123 of Gluten-Free on a Shoestring Bakes Bread: Biscuits, Bagels, Buns, and More by Nicole Hunn. Excerpted by arrangement with Da Capo Lifelong, a member of the Perseus Books Group.  Copyright © 2013.