Crisp on the outside, soft and fluffy on the inside, these are the fluffy gluten free bagels that everyone who's not from New York loves. :)
These are not chewy on the inside, crispy on the outside New York bagels. It's not like I really take that much pride in being from New York. It's just that … it's what I know. You know? And even though contrary to popular belief we don't really have a ton of great pizza in New York (well, we do in my house, but youknowwhatImean), we do have great bagels.
Even just a couple hours away in other cities in the northeast, like Philly, they just don't know how to make a bagel. Mostly, they make rolls with holes. but a roll with a hole does not a bagel make. The first rule of bagel-making (gluten free bagels or not) is that you gotta boil the bagel. If it isn't boiled first, it's just not a bagel. Full stop.
Boiling bagels before baking them is what makes for a thick and chewy crust during baking. It creates something of a moisture-barrier, and keeps the bagels from rising too much in the oven.
That's part of how they are slightly dense on the inside. But the shorter the boiling time, the thinner the crust and the more they will rise in the oven (so-called "oven spring," discussed more fully in Gluten Free on a Shoestring Bakes Bread).
The bagel recipes in Bakes Bread are for making true New York Bagels. They're chewy and slightly dense, with a nice thick crust. Bagels. Slice them, toast them, smear them, *sigh* eat them. 

But it has come to my attention … that not everyone wants a Real New York Bagel. Some of you would really prefer what you get in, say, Starbucks: a light and fluffy bagel, with a crust, sure, but a thin one.
And the inside? Fluffy as could be. And since I'm at your service, and this is not AllAboutMe, I present to you Super Fluffy Asiago Gluten Free Bagels, just like at Starbucks.
These bagels have more moisture, and the dough is even slightly enriched (true bagels are lean lean lean) with a bit of butter and cheese. Plus, they're boiled more quickly. Look at how fluffy they are inside!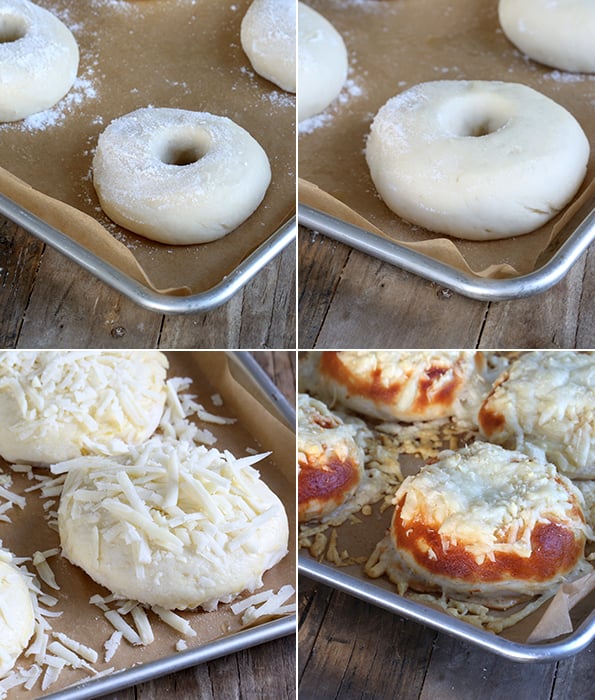 You don't even allow the dough to proof overnight in the refrigerator. How's that for speedy?! For me, even though I work from home, it's still much, much easier to make gluten free bread dough ahead of time and allow it to proof slowly in the refrigerator for a couple days before baking it.
That way, I get that nice, tangy yeast development (remember Bread FAQ#12!), and I don't have to wait around for that first rise. It happens while I'm living the rest of my life. But many of you want more bread doughs that you can make and bake in the very same day.
Can you make the bagels without the cheese? You sure can!
Just leave it out of the dough, and don't sprinkle it on top. ;) One way or another, though, you neeeeeeed to have a REAL gluten free bagel. Those ones they sell in packages in the grocery store? C'mon. They're rolls with holes.