If you've ever wondered whether you can find gluten free won tons or what the ingredients are in won tons, you've come to the right place! Although you can't buy gluten free won ton wrappers, you can definitely make them yourself with this simple recipe that calls for just a few flours, eggs and water. That's it!

Making gluten free won tons is a labor of love. But you can do it in stages (I'll tell you how!), and then when it's time to fill them to make the best gluten free won ton soup anyone has ever had (Chinese take in!), you can press the small fingers of the children in your life into service (servitude?) and they'll think it's super fun!
And then when they get to eat it, they'll beg you put them back to work the very next day. I think my children would sell me into servitude for just one more bowl of my homemade gluten free won ton soup (see my soup recipe below!).
You are going to be amazed at all the uses for these won tons.
Even though any time you roll out dough and slice it into 3-inch squares it takes a bit of time, the key here is that the dough is a true pleasure to work with–and it's even kind of meditative. Plus, the wonton wrappers freeze exceptionally well.
Plus, if you're usually afraid to roll out dough like this, read the instructions and you'll find that there are tricks to the trade that really make it really easy. Scout's honor!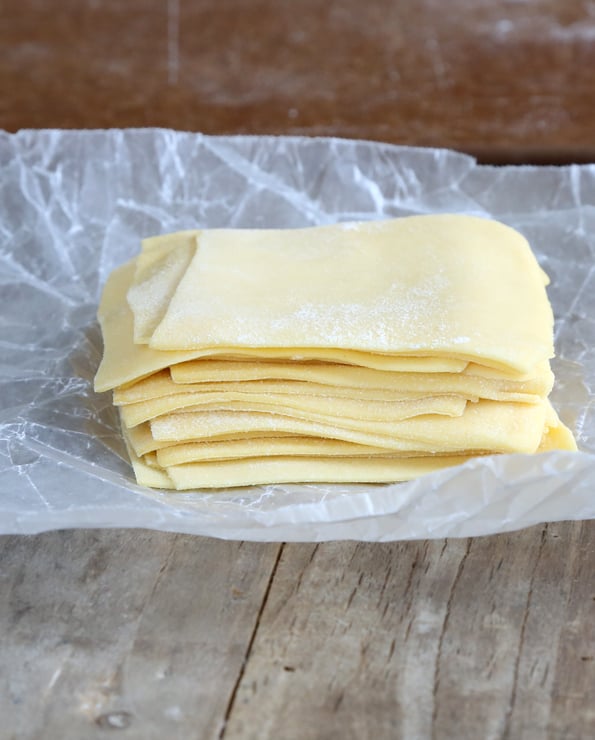 They stack really well, and will keep in the freezer for months if you wrap them well (only you can prevent freezer burn!). Then, when you know you'll want to use them, just defrost them in the refrigerator and they'll be ready to go.
Make My Favorite Won Ton Soup: I made a dead simple filling for my wontons in this soup (1 pound ground pork or beef + 3 tablespoons gluten free soy sauce + 3 tablespoons rice vinegar + 1 tablespoon honey + 1 scallion, chopped).
Then, place about 1 teaspoon of filling in the center of each skin, moisten all 4 edges of each wonton skin with an egg wash (1 egg beaten with 1 tablespoon water), and close by joining two opposite corners of the skin, pressing out any air and sealing tightly. Brush the top with more egg wash, and bring together both tips on the long side of the resulting triangle, overlapping them slightly and brushing with more egg wash to seal.
To make the soup, boil the wontons about 10 at a time in 4 cups boiling chicken stock, seasoned with soy sauce and chopped scallions, for about 4 minutes per batch (or until the meat is cooked and the noodles are tender). Remove the wontons with a strainer, divide among bowls, and wilt baby bok choy in the stock. Divide the soup among the bowls, and serve piping hot.
You can also use these wonton wrappers to make my fried wontons in the Air Fryer! If you don't have an Air Fryer and aren't interested in one, never fear! I've included instructions on how to bake them in the oven or deep fry them in oil.