This decadent quinoa gluten free chocolate cake super moist and fudgy, flourless, and not too rich. Plus, it's naturally dairy free and gluten free!
Flourless is fine. But quinoa?
Everyone loves a flourless chocolate cake for that dense fudginess that can't be beat. But this cake is different.
It's not only because its texture is more like a more traditional chocolate cake. Or because it's naturally dairy free, made with oil instead of butter.
I've made this cake so many times over the last week or so, and I broke the cardinal rule of making someone else's recipe. The first time I made it, I did the very thing I always say you should never, ever do. I made it with my own special changes.
But to be fair, since the first time I saw this recipe for a naturally gluten free chocolate cake on Mel's Kitchen Cafe (hi, friend!), I was super curious to see if you could substitute the cooked quinoa for a cooked grain or alternative porridge-like food. And I'm happy to report that… you can!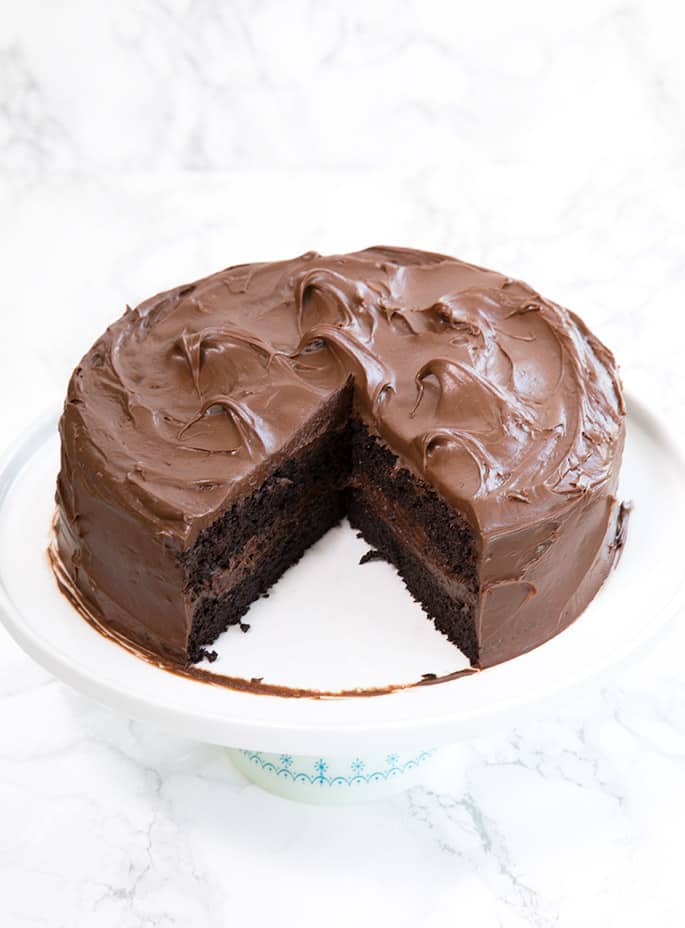 Cooked quinoa or cooked teff
I've made this cake with cooked quinoa (white, red, rainbow, you name it) and cooked teff. The original recipe has a tendency to sink as it cools sort of like a soufflé, so I removed some moisture and changed a few other ingredient proportions.
Making this quinoa gluten free chocolate cake as I've specified below (no milk, more cocoa powder, oil instead of butter) not only made a similarly moist and tender cake.
It also made a chocolate cake that rises without sinking very much at all. And it doesn't matter whether you make it with cooked quinoa or cooked whole grain teff, made on the stovetop according to the basic package directions with water.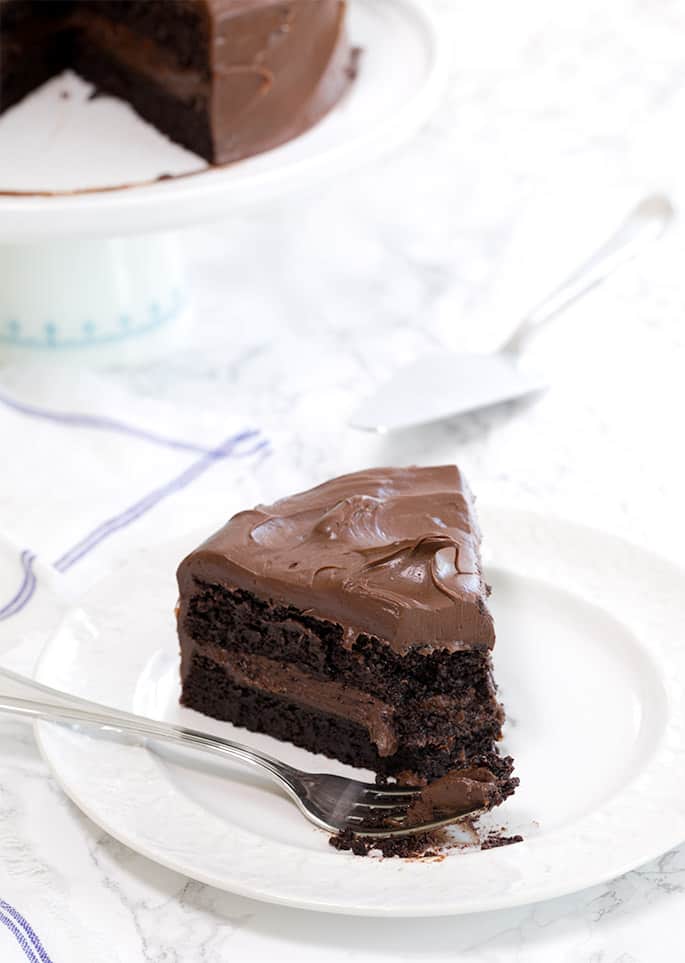 If you're using teff
If you do decide to use cooked teff instead of cooked quinoa, you should know a few things about whole teff. The individual grains of this ancient nutritional powerhouse are super tiny, but you'll need the whole grains and not teff flour for this recipe.
When you cook the teff in water, you'll a ratio of 4 parts water to 1 part whole grain teff. For example, if you'd like to cook 1/2 cup of whole grain teff (raw), you'll need 2 cups of boiling water. You'll find that it cooks like porridge, and becomes firm as it cools like polenta.
You can crumble the cooked and cooled teff or you can let it take the shape of the bowl that it's in, and throw that right into your blender to make the cake batter.
I've also recently discovered that you don't even need to cook the quinoa. You can just soak it in water for about 12 hours and blend away. Amazing!
Ingredients and Substitutions
This cake is already dairy-free by nature. Let's take a look at the other potential allergens you may need to avoid.

Eggs
That is a tough one. There are two eggs in this cake, and you can try a "chia egg" (1 tablespoon ground chia seeds + 1 tablespoon lukewarm water, mixed and allowed to gel), but the eggs are very important in this cake.
Quinoa/Teff
I haven't tried this recipe with any other cooked seed or grain, but I suspect that it would work with anything that cooks in water like a porridge. Feel free to experiment!
Try to steer clear of anything that has a very strong flavor and that doesn't pair well with chocolate. Teff and chocolate are very compatible. Or just make one of our other gluten free chocolate cakes, if you can't have teff or quinoa.