Tender and moist gluten free banana cake that's made easily in one bowl with a rice flour blend, and a sweet cream cheese frosting. There's even a lighter option if you're counting calories!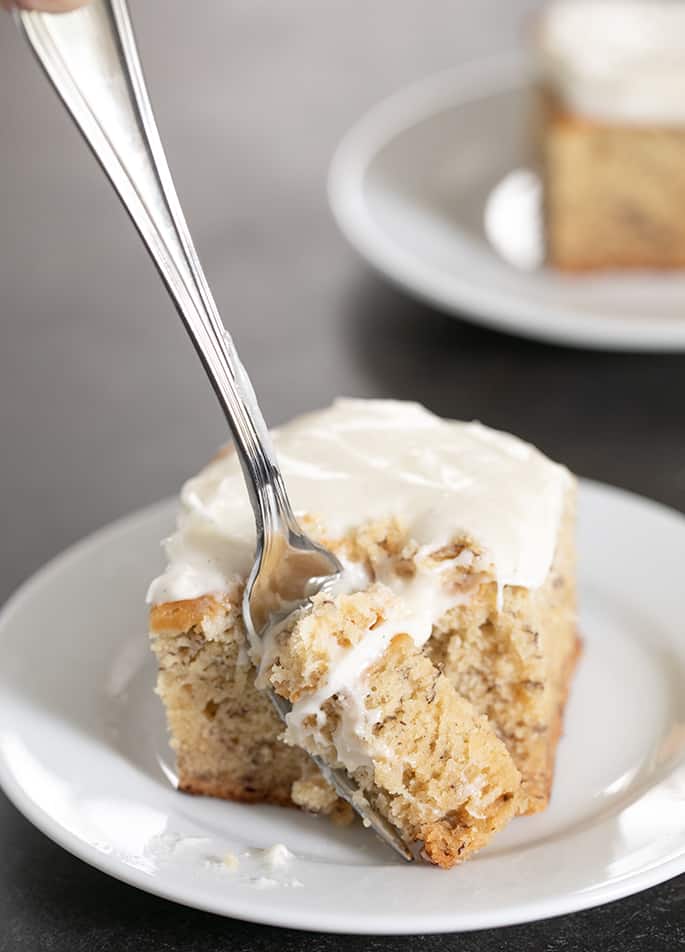 This banana cake is softer and more tender than my recipe for the perfect one bowl gluten free banana bread (a recipe I've been making in one form or another for over 10 years). And since bananas know no season (as far as availability goes, at least), it's important to have as many ways to use them as possible.
It's packed with banana flavor, especially since it calls for the ripest bananas you can possibly find as it's relatively low in sugar otherwise. I'm talking about bananas that are so brown, you can barely see their spots.
We're talking about the kind of banana that makes you wonder if you've missed that window of opportunity. Those bananas.
Speaking of Bananas…
Whenever I go to the grocery store, I always pick up a bunch of bananas. I prefer to buy them at Trader Joe's, where I pay for them by the banana, rather than by the pound. That way, I get more banana for my money.
When they're good and ripe, I either make this moist and tender gluten free banana cake (I usually make the "lighter" version, but not always), my favorite banana bread, or just peel and freeze them in a single layer on a lined baking sheet. Into a sealed bag they go, where they await smoothies, n'ice cream, or perhaps my 100% whole grain, healthy banana oatmeal muffins.
A note about so-called light recipes
This is not a tiny cake, but it's not absolutely enormous either. I only provide nutrition information for lighter recipes. But when I started looking around at other websites that provide nutrition information, it turns out that they often mess with the portion sizes quite a lot!
They might stretch a muffin recipe to make 16 instead of the 12 standard-size muffins it should make. Or they'll slice a cake into slivers to keep the calorie count low. I think you can guess where I come out on this…
This cake makes 12 normal-sized pieces. Sure, you can slice it into 16 pieces and lower the calorie-count per piece from nearly 200 calories (unfrosted) to closer to 150 calories (unfrosted). But that would be ridiculous. You know you'd just end up having 2 pieces. ;)
I did provide separate nutrition information for the frosting because if you're really concerned with calories, don't have the frosting. But it has real vanilla seeds in it. And it's still delicious even when you use light cream cheese.
Both the "lighter" version of this cake and the regular version are packed with banana flavor and are moist and tender. The lighter version has a bit less fat, but neither version has a ton of sugar.
Both fat and sugar are tenderizers in baking, but I'd almost always rather have more fat than sugar. Fat in baking is more satisfying, so you're less likely to overeat. Plus, when we're talking about gluten free banana cake, the bananas are already quite sweet.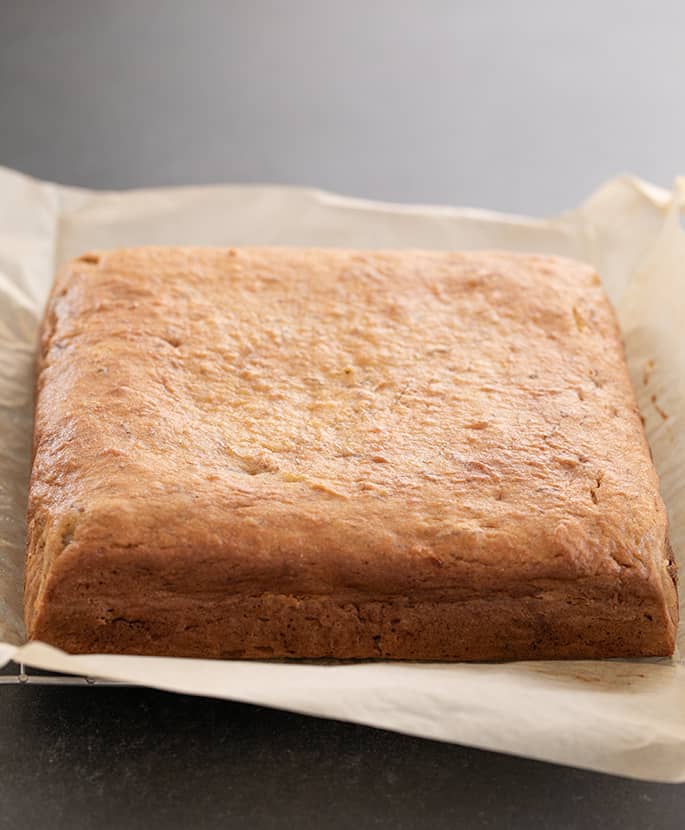 Ingredients and substitutions
Bananas: Resist the urge to add more mashed ripe bananas. And please do measure by weight, not by banana. They vary so much. Seriously, if you load this up with bananas, your cake will be dense, will take forever to bake, and even when it does it will still have parts that seem raw.
I made this cake 3 times and had to trash it all 3 times before I got the balance just right. And it killed me to waste ingredients just like it does you. For me, though, it's an occupational hazard!
Dairy: To make this cake dairy free, use the regular (not lighter) version of the recipe, and use nondairy milk. The butter can be easily replaced with Earth Balance buttery sticks by weight. For the frosting, either use a nondairy cream cheese, or just omit. :)
Eggs: You can try using one "chia egg" (1 tablespoon ground chia seeds mixed with 1 tablespoon lukewarm water until it gels) per whole egg, and 25 grams of aquafaba per egg white. Proceed at your own risk, though, as I haven't tried those substitutions in this recipe!
Sugars: The balance of granulated and brown sugars in this recipe really gives it a depth of flavor and just the right moisture balance. If you'd like to replace the sugars with a sugar alternative, I recommend using Swerve sweetener, which has brown sugar and granulated sugar varieties.