These easy flourless peanut butter muffins are tender and flavorful, are made with absolutely no flour, no dairy, and no banana. A true pantry recipe, made with just what you have on hand!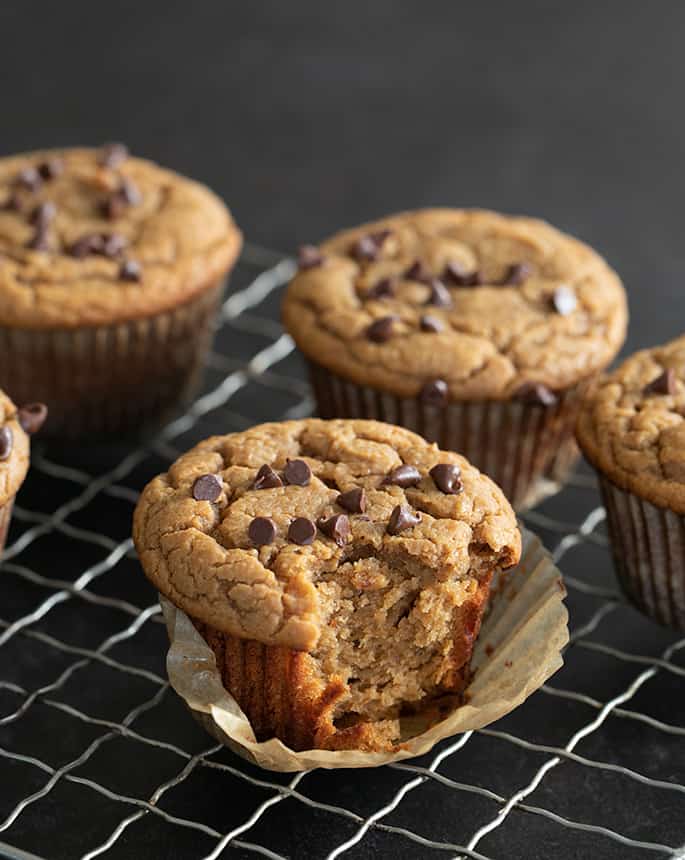 The importance of baking without flour
I've been publishing truly flourless baking recipes for a long time. If you're new to baking gluten free, you often don't have any of the gluten free flour blends that I recommend using in recipes that call for an all purpose gluten free flour.
The gluten free flour blends that I recommend aren't available in most grocery stores (Better Batter), or tend to be relatively expensive (Cup4Cup). I so badly want you to have success in baking as quickly as possible, so you feel empowered. That's the reason I started this website in the first place.
What is a flourless baking recipe?
To qualify as truly flourless, a recipe has to allow for baking with no flour at all. If it has almond flour or gluten free oats ground into flour, it's not flourless.
When you're new to baking gluten free, you probably don't have gluten free oats or finely ground blanched almond flour in your pantry. But you do probably have nut butter for a recipe like these flourless peanut butter muffins. Or a can of black beans for our flourless black bean brownies.
These are also the recipes that you can share with friends and family who don't need to eat gluten free, but are just out of flour. The recipes also tend to be healthier, although that isn't my focus when creating them. I find that if I try to be everything to everyone, no one eats well. ?
Ingredients and substitutions
These muffins are simple and kind of magical ?? in their success. They do contain a few additional allergens, like peanuts in two forms, and eggs, though. If you need to work around some of those ingredients, I'm happy to try to help.
Peanut butter: This recipe calls for smooth, no-stir peanut butter, by which I mean that it doesn't have the oil on top of the jar that needs to be stirred. If you'd like to make these muffins peanut-free, the biggest problem is, of course, replacing the powdered peanut butter.
If you're not familiar with powdered peanut butter, it's just a partially defatted version of peanut butter and is made by lots of brands, like PB2 and PBFit. Even when peanut butter is relatively picked over on the store shelves, I still often find a few jars of powdered peanut butter.
I've made this recipe with smooth, no-stir almond butter and it works great, but I don't know of any powdered almond butter to use in place of powdered peanut butter. If you're just having trouble getting your hands on powdered peanut butter but you have cocoa powder, I'd recommend using our recipe for flourless chocolate peanut butter muffins instead. That recipe has a slightly different balance of ingredients, and it's best to follow that recipe and its ingredient substitution suggestions.
If you would like to try something tree nut-free, I'd again direct you to our recipe for chocolate peanut butter muffins. But I'm afraid I just don't have enough experience with SunButter or Wowbutter to confidently offer guidance in using them in that recipe.
Eggs: There are 3 eggs in this recipe, which is really at least one too many eggs to recommend replacing each with a "chia egg" (1 tablespoon ground white chia seeds + 1 tablespoon lukewarm water, mixed and allowed to gel). However, if you'd like to try, please first scale the recipe back down to call for only 2 eggs.
You could either bake 9 large muffins with these ingredients or 12 smaller ones (just reduce the baking time by a few minutes). The ingredients for the scaled-down recipe would be as follows:
1 cup (256 g) smooth, no-stir peanut butter
3/4 cup (190 g) smooth applesauce
2 eggs (100 g, weighed out of shell)
5 tablespoons (105 g) honey
1/3 cup (35 g) powdered peanut butter
1/2 teaspoon baking soda
1/8 teaspoon baking powder
1/4 teaspoon kosher salt
1 ounce miniature dark chocolate chips (optional)
Applesauce: The original recipe from which I adapted this one calls for bananas. For this recipe, which doesn't contain the strong flavor and aroma of cocoa powder, I didn't want the competing flavor of bananas.
But if you don't have applesauce, or just would like a peanut butter banana flavor in these muffins you can try using 300 grams of ripe bananas (about 3 large bananas, peeled and mashed) instead of the applesauce. Reduce the honey by 1 tablespoon to 6, as well.
Honey: Instead of honey, you can try using Lyle's Golden Syrup, light corn syrup, or agave nectar. I don't recommend using maple syrup, which is much thinner than honey.
Flourless Peanut Butter Muffins | Grain Free
Ingredients
1 1/2 cups (384 g) smooth, no-stir smooth peanut butter
1 cup + 2 tablespoons (280 g) smooth applesauce
3 eggs (150 g, weighed out of shell) at room temperature, beaten
1/4 cup + 3 tablespoons (147 g) honey
1/2 cup (52 g) powdered peanut butter
1/2 teaspoon baking soda
1/2 teaspoon baking powder
1/4 teaspoon kosher salt
1 1/2 ounces miniature dark chocolate chips (optional)
Instructions
Preheat your oven to 325°F. Line the wells of a standard 12-cup muffin tin and set it aside.

In a large bowl, place the peanut butter, applesauce, eggs, and honey, and beat with a handheld mixer until very well-combined. Add the powdered peanut butter, baking soda, baking powder, and salt, and mix with a spatula until just combined. Beat the mixture again with a handheld mixer until very well-combined. The batter should be thick but soft and as smooth as possible.

Divide the batter evenly among the prepared wells of the muffin tin, and shake the tin back and forth or spread the top of the batter to distribute it in an even layer in each well. Sprinkle the optional miniature chocolate chips evenly on top of the batter in each well.

Place the tin in the center of the preheated oven and bake until the tops of the muffins are puffed and spring back and feel relatively firm when pressed gently in the center (about 25 minutes). The edges and very bottom of the muffins may darken a bit too much, but it doesn't affect the taste. Remove the tin from the oven and allow the muffins cool in the tin for 10 minutes before transferring them to a wire rack to cool completely. They freeze exceptionally well when placed in a well-sealed freezer-safe container. Defrost at room temperature or in the microwave.