These naturally gluten free flourless brownies are rich and fudgy, with a Paleo option, too. Made simply, with melted chocolate and cocoa powder, for maximum chocolate flavor.
These amazingly simple, naturally gluten free flourless brownies are everything a chocolate-lover could hope for. They're rich and not too sweet, plus they're perfectly dense and fudgy.
Why bake without flour?
Let's first define baking without flour. If you're going to call something flourless it shouldn't have even a speck of an alternative flour (like almond flour or oat flour) or powdered starch (like cornstarch or tapioca).
I began developing flourless baking recipes years ago because, when you're new to baking gluten free, you don't have my favorite all purpose gluten free flour blends in the pantry. Since I want you to be successful early and often, I've developed many recipes that are truly flourless, even by the strictest definition.
Maybe you aren't gluten free but a beloved friend or family member is, and you want to be able to bake something for them without learning a whole new vocabulary of ingredients. Baking without flour will get you there immediately.
Maybe you're simply unable to run out to the store or the cupboards are suddenly and unexpectedly bare. You should be able to do some serious baking even with limits.
How this brownie recipe works, even without flour
Every flourless recipe has something that holds it together, whether it's a nut butter, cooked quinoa, black beans, or even mostly egg whites. In recipes like these flourless brownies, as in a flourless chocolate cake or flourless white chocolate cake, the heavy-lifting ingredient is the melted chocolate.
I had been longing for a rich, flourless brownie with a fudgy, chewy texture, and didn't have a competing flavor like a nut butter brings. And I was determined to use only the simplest, most basic baking ingredients.
Five main ingredients
This recipe had to have nothing more than melted chocolate, butter, sugar, eggs, and cocoa powder. Beating the butter first with the sugar and then the eggs helps give the brownies some lift, and helps create that beautiful crinkly meringue-like top. Don't be afraid to whip air into the batter.
A dash of salt helps balance the sweetness and bring out the other flavors. You won't call out the flavor of the vanilla in these brownies, but it provides depth of flavor. Both could be omitted without affecting the success of the recipe.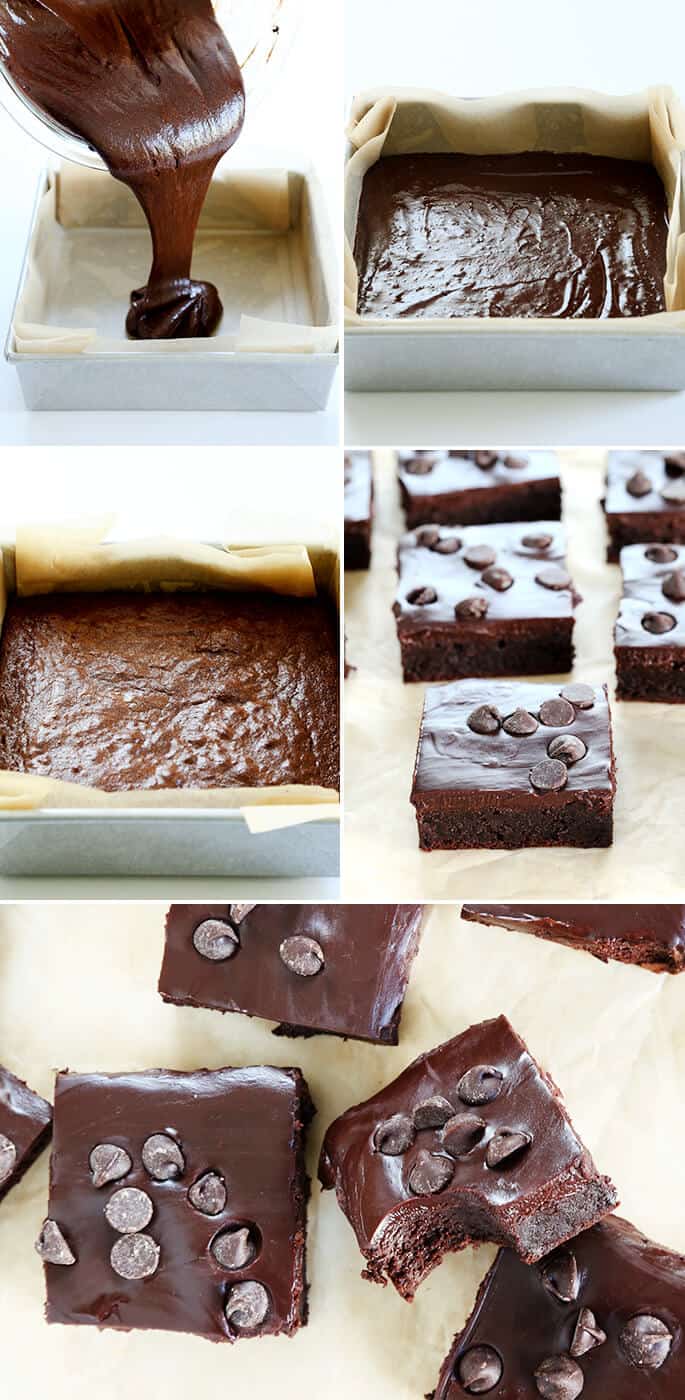 Be sure to melt your chocolate very gently so it doesn't seize and clump in the batter. And your other ingredients must be at room temperature so they combine fully and don't shock the melted chocolate when it's added.
These brownies are not be as solid as more cake-like chewy gluten free brownies. But they're as close to fudge as you can get and still be a brownie!
Ingredients and substitutions
Whenever a recipe is as simple as this, making substitutions is risky. Each ingredient has a very specific function, and the more ingredients you replace, the farther away from the intended result you may find yourself. With that in mind, here are some suggestions.
Dairy: Making these flourless brownies dairy free is the substitution that I feel most optimistic about. In place of the butter in the brownies, use virgin coconut oil. Be sure you're using dairy-free dark chocolate in the brownies and the topping.
In the topping, try canned full-fat coconut milk in place of the whipping cream. To help the ganache set up, though, try using 3 fluid ounces instead of 4 fluid ounces.
Eggs: I'm afraid I'm not really optimistic about making this recipe with an egg substitute. There are 3 whole eggs, which is beyond my limit for egg-replacing optimism.
If you try replacing them with a "chia egg" each (1 tablespoon ground white chia seeds + 1 tablespoon lukewarm water, mixed and allowed to gel) you may find that the brownies simply won't cook through without burning.
Sugars: To make these brownies sugar-free, make sure your dark chocolate is sugar-free, and try replacing the granulated sugar with Lankato brand monkfruit granulated sugar replacement. It tends to be drying, but that may not matter so much in this recipe and may just result in a firmer brownie.
To make the sugar Paleo without making it sugar-free, replace the granulated sugar 1 for 1 by weight with coconut palm sugar that's been ground into a somewhat finer consistency. Otherwise, it might not all dissolve in the brownies during baking and leave them a bit gritty.
Cocoa powder: Since there isn't any baking powder or baking soda in these brownies, I recommend using Dutch-processed cocoa powder, which has been processed to neutralize its acidity. It has a richer, deeper flavor, too, than natural cocoa powder.
If you don't have Dutch-processed (my favorite brand is Rodelle), just use natural cocoa powder and add a heaping 1/8 teaspoon baking soda to the recipe. That will neutralize the acid in your cocoa powder.
Fudgy Flourless Brownies
Ingredients
For the brownies
10 ounces dark chocolate, chopped
4 tablespoons (56 g) unsalted butter, chopped (Paleo option: replace with virgin coconut oil)
3/4 cup (150 g) granulated sugar (Paleo option: replace with coconut palm sugar)
3 eggs (150 g, weighed out of shell), at room temperature
2 teaspoons pure vanilla extract
1/4 teaspoon kosher salt
1/4 cup (20 g) unsweetened cocoa powder (preferably Dutch-processed)
2 to 3 ounces dark chocolate chips, for scattering (optional)
For the (optional) chocolate ganache
6 ounces dark chocolate, chopped
1/2 cup (4 fluid ounces) heavy whipping cream (Paleo option: replace with coconut cream)
Instructions
First, make the brownies. Preheat your oven to 350°F. Grease and line an 8-inch square baking pan with unbleached parchment paper or nonstick aluminum foil that overhangs the sides of the pan or , and set it aside.

In a double boiler or a medium-sized microwave safe bowl, melt the chocolate and until melted and smooth. To melt the chocolate in the microwave, heat in 30-second increments at 70% power, stirring in between intervals, taking care not to burn the chocolate. Set the melted chocolate aside to cool briefly. In a separate, large bowl, place the butter and beat on medium-high speed until light and fluffy. Add the sugar, and beat on high speed until fluffy. Add the eggs one at a time, beating very well in between additions. After the final egg, add the vanilla and salt, and beat on high speed until light and pillowy (about 1 minute). Add the cocoa powder and beat on low speed until the cocoa powder is absorbed (about 30 seconds to a minute). Add the melted chocolate and beat on medium-high speed until the mixture is smooth and glossy (2 to 3 minutes).

Pour the mixture into the prepared baking pan, spread it into an even layer and tap the pan on a flat surface to break any large air bubbles. Sprinkle the top evenly with the (optional) chocolate chips and press the chips into the batter to help them adhere. Place the pan in the center of the preheated oven and bake until the brownies are puffed in the center and the center doesn't jiggle when shaken gently from side to side (22 to 25 minutes). Do not overbake. Remove the pan from the oven, place it on a wire rack to cool completely in the pan. Once the brownies are nearly cool, if you're not adding the ganache, place the pan in the refrigerator to chill until firm to the touch. This will make slicing much easier, but it's not essential.

If you're adding the ganache, place the chopped chocolate in a medium-size, heat-safe bowl. Heat the heavy cream or coconut cream in a small, heavy-bottom saucepan just until it begins to simmer. Pour the hot cream over the chopped chocolate and allow the mixture to sit for about 30 seconds, or until the chocolate beings to melt. Stir until the chocolate is melted and the mixture is smooth. Pour the ganache over the top of the cooled brownies, still in the pan. Scatter with the (optional) chocolate chips, pressing them down gently to adhere. Refrigerate the brownies in the pan until the ganache is set (about an hour).

Slice the chilled brownies into 9 or 12 equal pieces and serve. Without the ganache, they freeze amazingly well.

Originally published on the blog in 2016. Some photos and text new; method modified to make more stable brownies with a crinkly top.