These special flourless chocolate cupcakes are naturally gluten free and dairy free, and rich and incredibly moist. They're made with soaked quinoa instead of any sort of flour, but you'd never know it!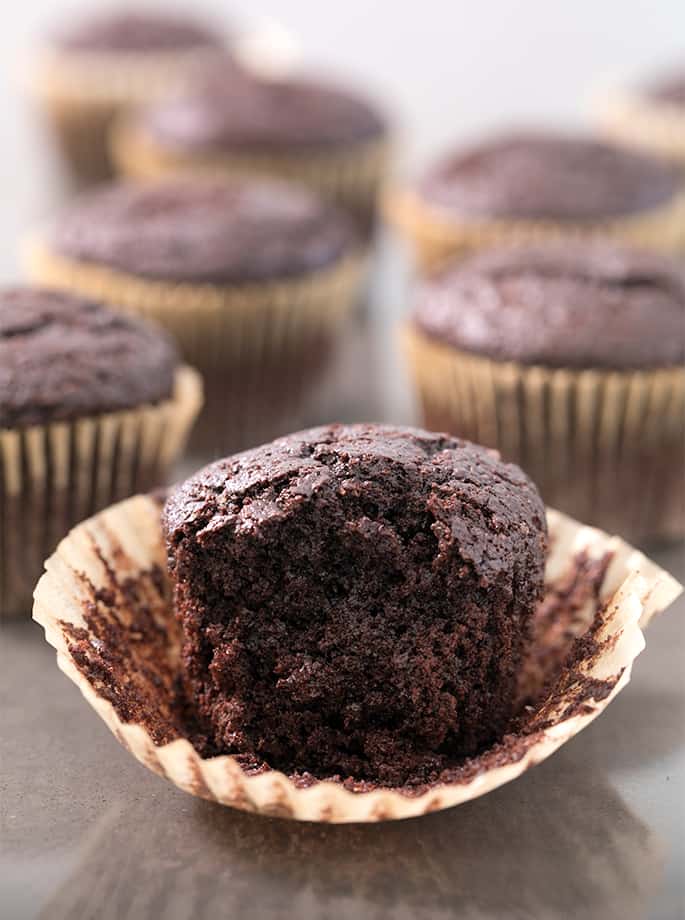 You don't even cook the quinoa
These cupcakes are so incredibly tender and rich, but not at all too sweet. Seriously. Personally, I don't care for the taste of quinoa. To me, it always seems bitter. I've baked with quinoa flour, too, and the results have usually gone right in the circular file ?.
Here on the blog, we've made gluten free chocolate cake with cooked quinoa before (with remarkable success), but we've cooked the quinoa. I know it's meant to be made with "leftover" quinoa, but I rarely make the stuff so I don't ever have that on hand.
When you want to bake flourless, you do need something to form the base of the baked good. In the past, we've used nut butters like in these Flourless Chocolate Peanut Butter Muffins. To make a Flourless Vanilla Muffin, we used cashews as a base since they have a much more neutral flavor than peanut butter.
This time, we're soaking raw white quinoa in water overnight (for about 12 hours, but up to 24) before blending it with oil, eggs, and vanilla. Once the quinoa is soaked and drained, it can be used in this recipe or the chocolate cake recipe and will keep in a sealed container in the refrigerator for at least 4 days.
Naturally dairy free
I got the idea for baking with soaked quinoa from my friend Alisa Fleming's new book, coming out in January 2018, called Eat Dairy Free, and her recipe for Gluten Free Quinoa Pizzetta Crust (on page 263). I'm planning to share her recipe from the book for Dairy-Free Chicken Alfredo in January. It's just so good, whether you need to be dairy-free or not.
The moment I got my advance copy of Alisa's book, I started cooking. Right now, my oldest child is dairy free due to some mysterious health issues that only disappear when she, well, doesn't eat dairy.
That doesn't mean that I don't cook and bake with dairy, but I also try to have a comparable treat for my daughter. I can't wait to talk to you more about that book next month, but for now, we'll begin with these naturally dairy free chocolate cupcakes.
These flourless chocolate cupcakes have absolutely no trace of the taste of quinoa. I have a powerful sense of smell and a pretty well-trained sense of taste (nearly 10 years of blogging and cookbook writing will do that to you!), and I can't tell at all. Two of my three children also don't care for quinoa, and they love these cupcakes.
Since I'm always looking for grab-and-go breakfasts and snacks that I consider actually healthy (to me that means low in refined sugar, high in healthy fat, and high in protein), I made these with Swerve granulated sugar substitute.
I gave the ones that were made with refined sugar to my children as a treat, and the ones made with Swerve to them for breakfast—and insisted they were muffins. They were thrilled with both.
It's actually super strange to me that these cupcakes are truly so tender and rich. And even though there is a ton of cocoa powder in the recipe, which certainly covers the smell and taste of quinoa, that doesn't seem to explain the complete lack of quinoa-ness. Mysteries abound!
I can tell you this, though. I plan to continue working with soaked quinoa. I dream of making a vanilla cake with it, but there's just no way you wouldn't taste the quinoa-ness then. I know that you can toast quinoa flour to rid it of its bitterness, but then it's all becoming more complicated than I care for. Stay tuned!
Watch this short (< 1 minute) how to video
Push play ▶️ and see for yourself how easy it is to make these flourless chocolate cupcakes:
Ingredients and Substitutions
As always, unless specifically noted otherwise, I haven't tried these particular substitutions. These are just my best-educated guesses.
Dairy-Free: It's already dairy-free!
Egg-Free: There are two eggs in this cake, and you can try a "chia egg" (1 tablespoon ground chia seeds + 1 tablespoon lukewarm water, mixed and allowed to gel), but the eggs are very important in this cake.
Quinoa: I haven't tried this recipe with any other soaked seed or grain, but I suspect that it would work with anything that cooks in water like a porridge, like teff as I did in my flourless quinoa gluten free chocolate cake. Feel free to experiment! Try to steer clear of anything that has a very strong flavor and that doesn't pair well with chocolate. Teff and chocolate are very compatible.
Sugar-Free: In preparation for the New Year and feeling virtuous, I've made this recipe using Swerve granulated sugar substitute in a gram for gram replacement. The recipe definitely still works, but the color of the baked good is a little different (no biggie) and the batter is thicker. I recommend adding 1 tablespoon of lukewarm unsweetened nondairy milk to the batter to make it easier to scoop.
Flourless Chocolate Cupcakes—made with quinoa!
Ingredients
2 eggs (100 g, weighed out of shell), at room temperature
6 tablespoons (84 g) neutral oil (like sunflower, grapeseed, canola or vegetable oil)
1 1/3 cups (220 g) soaked and drained raw white quinoa*
1 teaspoon pure vanilla extract
2/3 cup (133 g) granulated sugar (or granulated sugar replacement like Swerve)
3/4 cup + 1 tablespoon (65 g) unsweetened cocoa powder (natural or Dutch-processed)
3/4 teaspoon baking powder
1/4 teaspoon baking soda
1/4 teaspoon kosher salt
*This recipe must be planned for, but it takes quite literally 1 minute of active planning. Rather than listing dry, raw quinoa as an ingredient and then instructing you to soak it for 12 hours, I've included the soaked and drained quinoa as an ingredient. Simply place about 1 1/2 cups (by volume, if you like) raw quinoa in a bowl or jar, and add enough tap water to cover by about in inch. Cover and allow to soak in the refrigerator overnight, or for up to 24 hours. Then, drain in a fine mesh sieve or nut milk bag, and measure the soaked and drained quinoa by weight for use in the recipe.
Instructions
Preheat your oven to 350°F. Grease or line a standard 12-cup muffin tin and set it aside.

In a blender or food processor, place the eggs, oil, soaked and drained quinoa and vanilla, and blend or process until smooth. The mixture should become lighter in color. You will still see flecks of the quinoa, but process until it's as smooth as possible. In a large bowl, whisk together the sugar, cocoa, baking powder, baking soda, and salt. Add the eggs and oil mixture, and mix until well-combined. The mixture will be thick. If you've used Swerve in place of sugar, add 1 tablespoon of nondairy milk to the batter and mix to combine, so the batter is easier to scoop.

Divide the batter among the prepared wells of the muffin tin and spread into an even layer in each well using wet fingers. Place in the center of the preheated oven and bake until the cupcakes are set in the center and spring back when pressed very gently in the center (about 19 minutes).

Remove the tin from the oven and allow the cupcakes to cool in the pan for about 10 minutes before turning out onto a wire rack to cool completely. The finished and cooled cupcakes can be stored in a sealed container at room temperature for up to 3 days, or wrapped tightly in plastic wrap and frozen for storage of up to 2 months. Allow to thaw at room temperature before serving.