This flavorful loaf of gluten free sourdough bread is made with the simplest wild yeast sourdough starter. Your basic loaf of sandwich bread, no commercial yeast needed.
Why make pure wild yeast gluten free sourdough bread?
This recipe for a standard loaf of gluten free sourdough bread and our simplified recipe for gluten free wild yeast sourdough starter are not designed to be a deep dive into all things sourdough. Our goal here is much simpler.
Indeed, this is a loaf of authentic gluten free sourdough bread, made without any commercial yeast at all. But these recipes are designed to scratch the itch for a fuller-bodied yeasty tasting bread, and to help you enjoy fresh homemade bread if you don't have any commercial yeast.
Think of it more like a workhorse kind of white sandwich bread that's great for lunches. In my bread book, GFOAS Bakes Bread, I have a whole chapter on wild yeast sourdough recipes and we go deep.
Here, we go simple. The rules are a little relaxed, but the process takes less work. And frankly I believe that the deep dive in Bakes Bread really illustrates why I still love traditional cookbooks that can really explore a whole subject.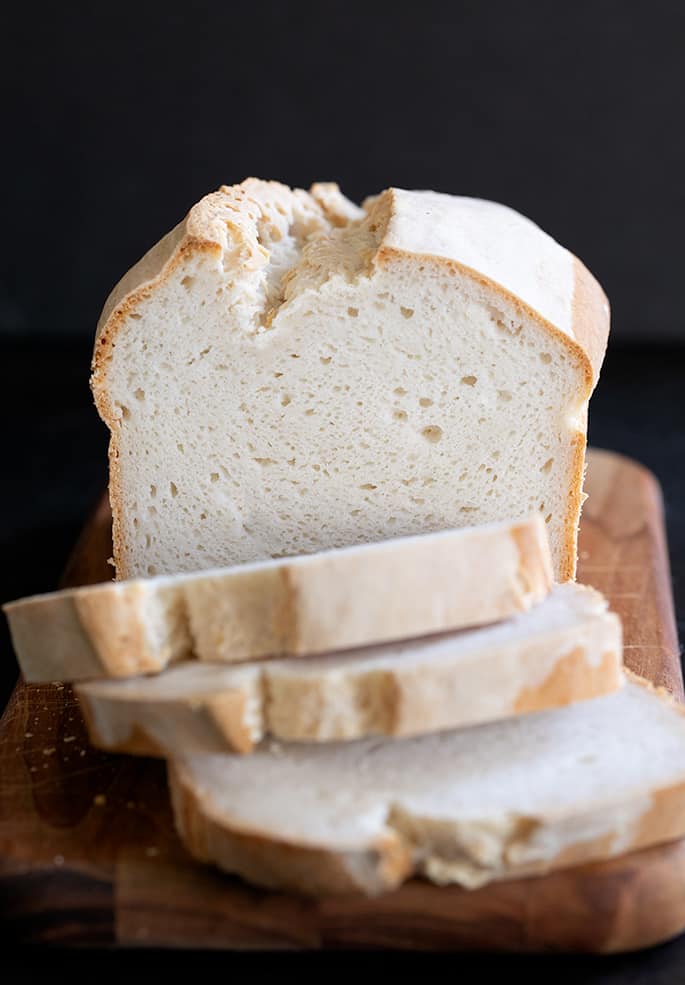 Grab your active, fed wild yeast gluten free sourdough starter
Before we begin discussing how to make bread with your active, fed wild yeast sourdough starter, let's first make sure you have one! If you don't, no worries at all you've come to the right place.
Keep in mind that a wild yeast sourdough starter (one made without any commercial yeast, which is a single strain of yeast) takes at least 5 days to become active. And it will perform best after about 10 days.
You can speed things up by adding a bit of commercial yeast to your starter. If you have commercial yeast on hand and you need a loaf of bread today, I recommend our simplest gluten free white sandwich bread recipe.
But if you've been confused by sourdough starters in the past, try to stick with us. We've simplified the process significantly. Please see our recipe for how to create a gluten free sourdough starter.
It includes an instructional video to bring it to life, and frequently asked questions to help soothe your worried sourdough soul. ?
First, feed your starter
Understand that your starter must have been "fed" according to the recipe instructions within the previous 12 hours for it to work in this recipe.
If your starter hasn't been fed, please resist the urge to proceed with an active starter that hasn't been fed recently. The yeast will have consumed its available food and simply won't be active enough to give a proper rise to a whole loaf of bread.
What kind of rise can you expect?
Since this bread is made with a very simple, liquid sourdough starter, it will not rise like the breads in Bakes Bread. If you have that book, turn to the opening section of the sourdough chapter. You'll find a photo of sourdough bread dough that literally popped like a can of biscuits when I opened it after its refrigerator rise.
This recipe is for a batter-style bread, not our bread recipes that call for the more complex gluten free bread flour so it has only one rise. And produces a more ordinary loaf. But when you're baking with limits, like we always are, "ordinary" can be amazing, especially when it comes to fresh homemade bread.
How long will the rise take?
This rise takes quite a bit of time. In all of my recipe testing, I'm yet to see a rise that took less than 3 hours.
But this bread dough is much less likely to overproof and take on that pock-marked appearance than bread made with conventional yeast. If you're unsure about whether or not the bread has proofed enough, allow it to keep rising.
I've even allowed the dough to rise for 8 hours. It still hadn't overproofed. Overproofed dough like this tends to have little dimples on the surface. That takes a lot longer to happen here.
That means that you can feed your active starter tonight, and leave it out on the counter, loosely covered. Then, when you wake up tomorrow morning, make the bread dough and set it to rise during the day. When you're about an hour away from dinnertime, bake the loaf and enjoy.
Ingredients and substitutions
Dairy: You should be able to replace the dairy in this bread recipe successfully. The milk can be replaced with unsweetened nondairy milk (my favorite is almond milk), or even with water. If you replace the milk with water, your loaf will simply be a bit less tender but it should still rise.
I haven't tried replacing the butter with a nondairy replacement, but you should be able to use your favorite vegan butter alternative. I only recommend using a butter alternative like Melt or Miyoko's Kitchen brand vegan butter or Earth Balance, and not oil.
Tapioca starch/flour: When I was first testing this recipe, I made it with 3 1/2 cups of all purpose gluten free flour, and the dough didn't rise as readily and the crumb was tighter. I much prefer the recipe made with 1/2 cup of tapioca starch/flour.
If you don't have tapioca starch, you can try using arrowroot in its place, or even another 1/2 cup of all purpose gluten free flour. I'm afraid I can't predict exactly what results you'll get, though.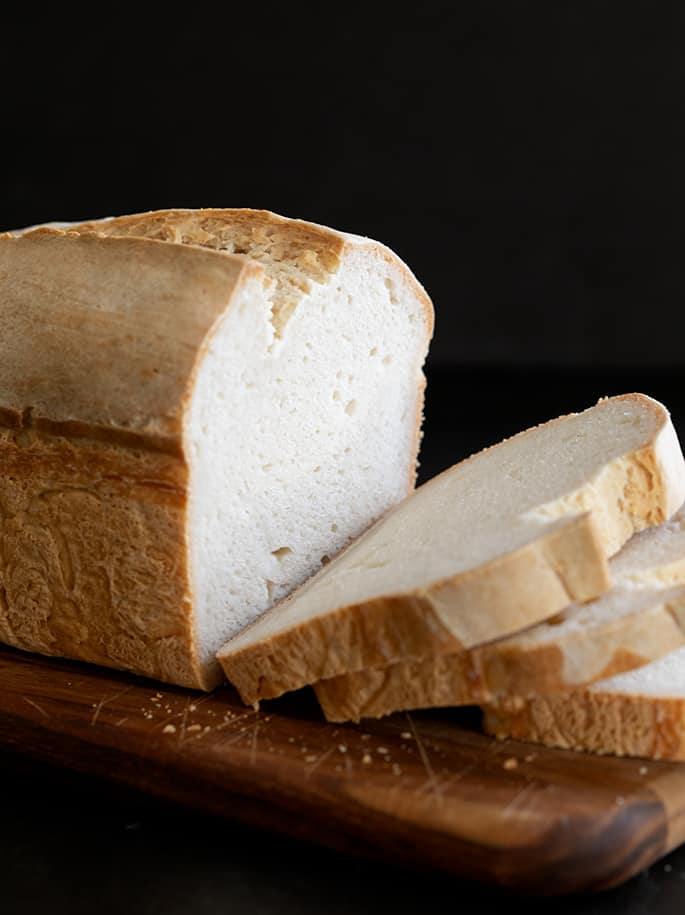 Gluten Free Sourdough Bread Recipe
Ingredients
3 cups (420 g) all purpose gluten free flour (I used Better Batter)
1 1/2 teaspoons xanthan gum (omit if your blend already contains it)
1/2 cup (70 g) tapioca starch/flour
2 tablespoons (25 g) granulated sugar
1 1/2 teaspoons (9 g) kosher salt
3/4 cup (165 g) active, fed gluten free wild yeast sourdough starter (fed within previous 12 hours according to starter recipe instructions)
1 1/2 cups (12 ounces) warm milk (about 95°F), plus more by the tablespoon
4 tablespoons (56 g) unsalted butter, at room temperature
Instructions
Grease a standard 9-inch x 5-inch loaf pan and line with parchment paper. Set the pan aside.

In the bowl of a stand mixer fitted with the paddle attachment or a large bowl with a hand mixer fitted with dough hooks, place the all purpose flour, xanthan gum, tapioca starch/flour, granulated sugar, and salt, and mix or whisk to combine well. Add the starter, 1 1/2 cups of milk, and the butter, and beat on medium speed to combine. This is a batter-style bread dough, so it won't resemble traditional bread dough, but rather a soft cookie dough. Turn the mixer up to medium-high speed and beat until the dough has taken on a whipped appearance (about 5 minutes). The dough should be tacky to the touch, but should hold its shape when scooped. If your dough feels at all dry to the touch, add more milk by the tablespoon, beating it in until well-combined, until the dough reaches the proper consistency.

Transfer the bread dough to the prepared loaf pan. Using a moistened spatula, press the dough into every corner of the loaf pan and spread the top into an even layer. For a more traditional loaf shape, pile the dough a bit more toward the center in a dome. Cover the loaf pan with lightly oiled plastic wrap and allow it to rise in a warm, draft-free place until it's reached about 150% of its original size, at least 4 hours. It will not fully double in volume, and will rise more in the oven than it does raw. Even traditional yeast bread dough will take longer to rise properly in colder, drier weather and less time in warmer, more humid weather. This wild yeast sourdough bread will take longer to rise than any other, and will depend in part upon the age of your starter.

Rising Tip: This bread dough is much less likely to overproof and take on that pock-marked appearance than bread made with conventional yeast. If you're unsure about whether or not the bread has proofed enough, allow it to keep rising.

When the bread is nearing the end of its rise, preheat your oven to 400°F. Remove the plastic wrap and, using a sharp knife or lame, slash the top of the loaf from one short end to the other about 1/4-inch deep. Place the pan in the center of the preheated oven and allow to bake for 30 minutes. Reduce the oven temp to 350°F, rotate the pan 180° around, and continue to bake until center of the loaf reads 200°F on an instant read thermometer (about 30 minutes more). The crust won't darken very much, but the loaf should sound hollow when thumped quickly with a finger. Remove the pan from the oven and allow the bread to cool for about 10 minutes in the pan before transferring to a wire rack to cool completely before slicing and serving.

To freeze the bread, cool the loaf completely, then slice, wrap tightly and freeze the slices. Defrost as many slices at a time as you need in the toaster.