These 15 gluten free chocolate recipes have something for absolutely everyone, from dark chocolate lovers to white-chocolate-only people. They're desserts made with "normal" ingredients, and they're sure to win over your toughest critic!
If you tell me that you don't like chocolate, I'm going to do everything within my power to prove you wrong. But it's not just chocolate. If you tell me you don't like pretty much anything, that's my cue to get to work.
Now, I've watched my own son develop right before my eyes into a young man who truly doesn't love chocolate. He'll take a few bites of a rich brownie, and push it away. A flourless chocolate cake is just not his jam after bite one.
But there is a chocolate recipe in this list of 15 of the very best gluten free chocolate recipes for everyone. Including my son.
For the true deep-as-you-dare chocolate lovers, go for the flourless chocolate cake, chocolate lava cakes, chocolate cakes for one, or the chocolate mousse cake (personal fave).
For the other end of the spectrum, you and my son will love the red velvet cake, chocolate mug cake (a great last minute for your Valentine!), or the devil's food cake.
And really and truly for everyone, the crazy cake (seriously everyone's favorite, including the cook!). Also, the one bowl chocolate cake, chocolate pound cake, black bean or avocado brownies (for the healthiest!).
The vegan white chocolate is just in a class by itself. That is the recipe for people who swear they don't like white chocolate.
This crazy cake is a gluten free chocolate cake made with no eggs, no butter and no chopped chocolate—but it's still super moist and tender. It's so simple, and it's consistently one of the most popular recipes on this blog. For good reason!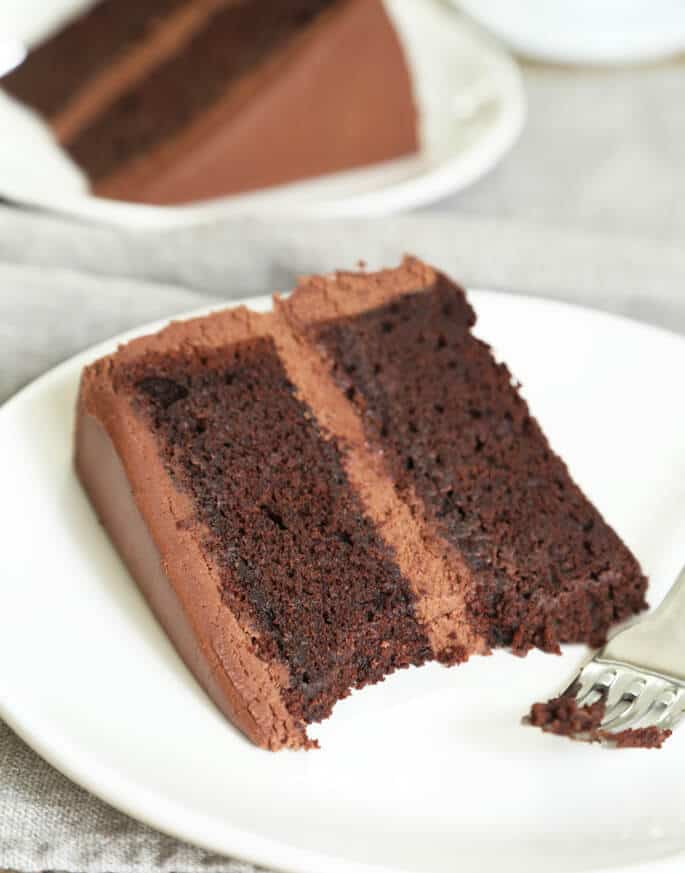 This easy gluten free chocolate cake is rich, dense and fudgy, and it's all made in just one bowl. Make a double layer or single, with the simplest chocolate ganache frosting. A perennial favorite.
Gluten free chocolate mug cake is made in 1 minute in the microwave. Learn the secrets to making it moist and tender every time. This is what you make when you just want a little something, or you promised something chocolatey—and plum forgot until the last minute.
This moist and fudgy double chocolate gluten free zucchini bread will have you wondering how it's possible that there are 2 cups of grated vegetables hidden inside.
It's worth buying zucchini in the middle of the winter for this gem, and you'll making it all summer long when you can't get rid of that pushy veg fast enough!
Learn to make homemade vegan white chocolate with this easy recipe. Just 6 simple ingredients. Prove, once and for all, that real white chocolate is, indeed, real chocolate.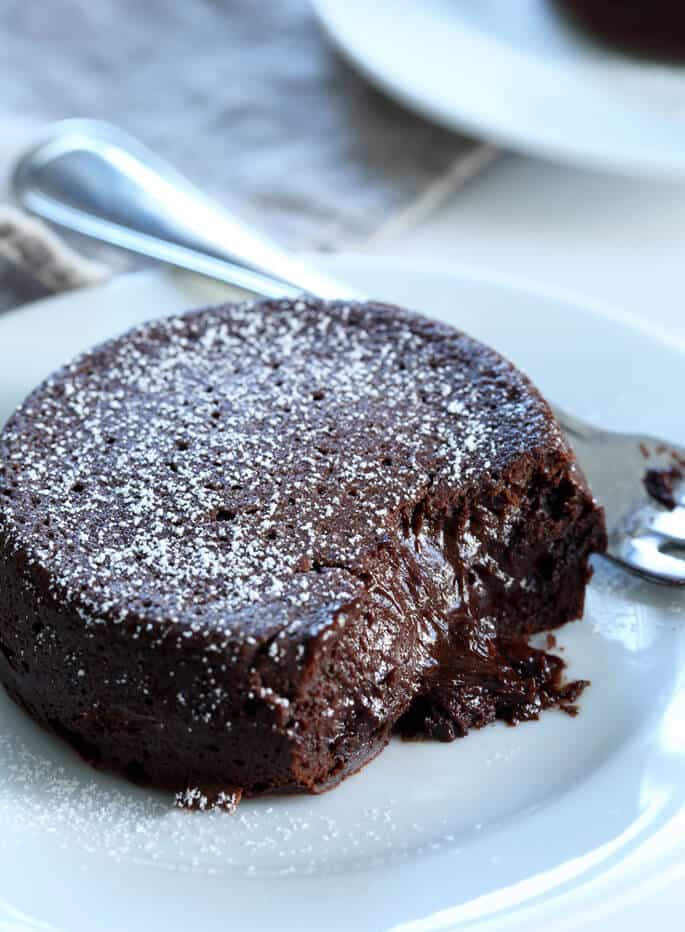 Gluten free chocolate lava cake is for maximum impact with minimum effort! Restaurant-style gluten cakes with a warm, gooey center. I won't tell how easy it is if you don't.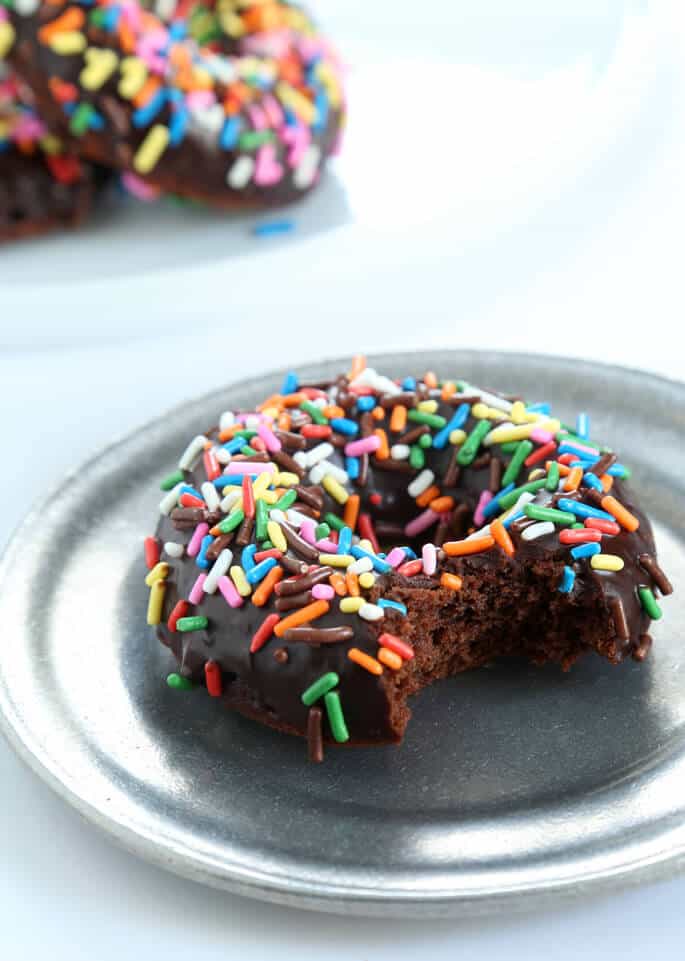 Rich chocolate gluten free chocolate cake donuts with a thick chocolate glaze. Enough said!
Flourless gluten free chocolate cake for one. 3 ingredients. 1 cake. 20 minutes max. This little cake is for you, when you want something with chocolate. If you really want to impress guests, make everyone their own in minutes, right before serving. Mmmmm….
This gluten free chocolate mousse cake is the perfect moist, rich chocolate cake topped with light, eggless chocolate mousse. A showstopper!
Black bean brownies are a special kind of flourless gluten free brownie, and this amazing recipe doesn't taste at ALL like beans. Really! Tasting is believing.
These fudgy avocado brownies are actually good for you. So easy to make, they're gluten free, and guilt-free! Give your Valentine some love from the heart—that's good for their heart! (see what I did there?)
Rich, but not too rich; sweet but not too sweet. This moist and tender gluten free devil's food cake can easily be made into cupcakes or a layer cake. Look at those moist crumbs! This cake will make a chocolate lover out of a.n.y.o.n.e.
Moist and dense with a deep, rich chocolate flavor, this gluten free chocolate pound cake is a chocolate-lover's dream. Eggs are the only thing that gives it lift, so it's nice and dense, but never dry. 
This classic gluten free red velvet cake is everything you remember red velvet to be—with or without eeeevvvvviiiillll food coloring. 
Moist and tender, lightly chocolate cake that is my go-to recipe whenever I want to please chocolate and non-chocolate lovers alike. My son loves this cake—and so do my chocolate-loving girls and husband. 
Finally, last but not least, a classic flourless chocolate cake. This is one of those restaurant-style desserts that it's tempting to think is too fussy to make at home. It's naturally gluten free, you know. But let's be real: only true chocolate lovers need apply.