This classic gluten free red velvet cake is everything you remember red velvet to be. Moist and tender, lightly chocolate cake that is my go-to recipe whenever I want to please chocolate and non-chocolate lovers alike!
Is it age that gives us an appreciation for chocolate? I never would have thought so, until I started serving cake to small children. But it seems, given the choice, little kids will always pick vanilla cake over chocolate.
I have 3 children. Two of them love chocolate. The third, my gluten free son, simply isn't a chocolate lover. With every birthday he celebrates, I expect the chocolate-lover in him to awake.
So far, no go. So when I make his birthday cake, and I want it be something everyone loves, I go with red velvet.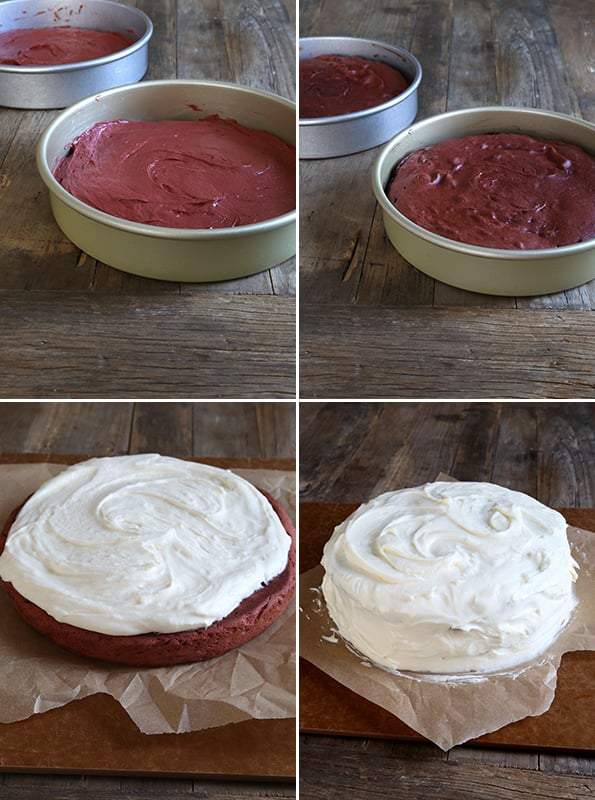 We've talked about red velvet here on the blog before, but even though I know I might upset some by using red food coloring,* I don't really tire of it. Neither does my family.
My kids love red velvet cake, and even though it's really just moist chocolate cake with red food coloring, its real charm lies in its flavor. It's not a deep chocolate cake.
There's no melted chocolate in the batter, and there isn't even an overwhelming amount of cocoa powder. It's just right, and tends to please chocolate cake lovers and vanilla cake lovers alike.
*If you're not comfortable using red food coloring, by all means just leave it out! I know that there are other recipes on the Internet that make red velvet cake with beet powder, but that changes the entire recipe and I honestly don't think it's worth the bother.
It's also not an overly sweet cake, which means that the cream cheese frosting is all the more important. Remember that cream cheese frosting is not a stiff buttercream, so it will stay softer and more spreadable even when you slice into the cake.