These fudgy avocado brownies are actually good for you. So easy to make, they're gluten free, and guilt-free!
Ever since I made black bean brownies that actually taste good, I've been terribly curious about the possibility of avocado brownies about which I could say the same. Good news! I've hit avocado paydirt.
Whether you love avocados, or just love brownies and think avocados taste terrible, these are a must-try. They taste nothing like avocados (thank you, cocoa powder!), but boast all the health benefits of them.
As it turns out, baking with avocados in place of butter cut back on saturated fat—and adds 20 vitamins, minerals and nutrients (source). Look, it's not like I'm advocating ditching butter altogether. I love the stuff.
But if we can save ourselves some bad stuff, pick up some good stuff, and have our brownies still taste heavenly, then why not give it a shot?
When I was developing this recipe, I began with my recipe for flourless brownies. Naturally, then, I tried making them flourless at first.
I ended up with something that looked like a brownie from overhead, but from the side resembled, well, Jello. You simply need some flour (just 1/4 cup!) in these avo brownies. I haven't tried using one of my gum-containing all purpose gluten free flours, but it's worth a shot if you're so-inclined.
You can certainly use refined granulated sugar in place of lower-glycemic, nutrient-containing coconut palm sugar. But since I was removing saturated fat, I didn't want to use refined sugar.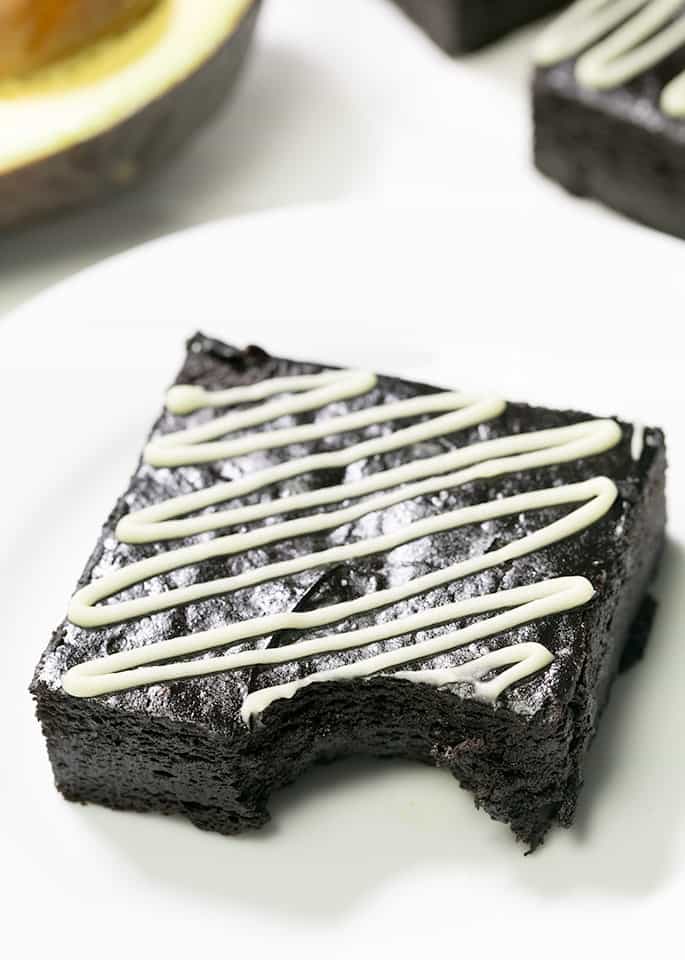 The resulting brownies are truly fudgy, delightfully rich but not at all heavy. I don't provide nutritional facts for my recipes, but if you were to plug these into an online nutrition calculator and compare them to a traditional sort of gf brownie, I think you'd be pleased.
I love avocados, but my oldest child does not. I'm happy to report that she gave these avocado brownies an enthusiastic thumbs up, with no trace of avo taste. Baking with chocolate has its benefits!
Oh, and if you're interested in the drizzle on top of the brownies, it's just about a tablespoon of mashed avocado, plus a bit of milk, mixed with confectioners' sugar. Definitely not healthy!