These simple Weight Watchers gluten free bagels are made with just 5 simple ingredients and have only 3 SmartPoints each. Even if you're not on (or even interested in) WW, you're going to love how easy this dough is—and how it tastes!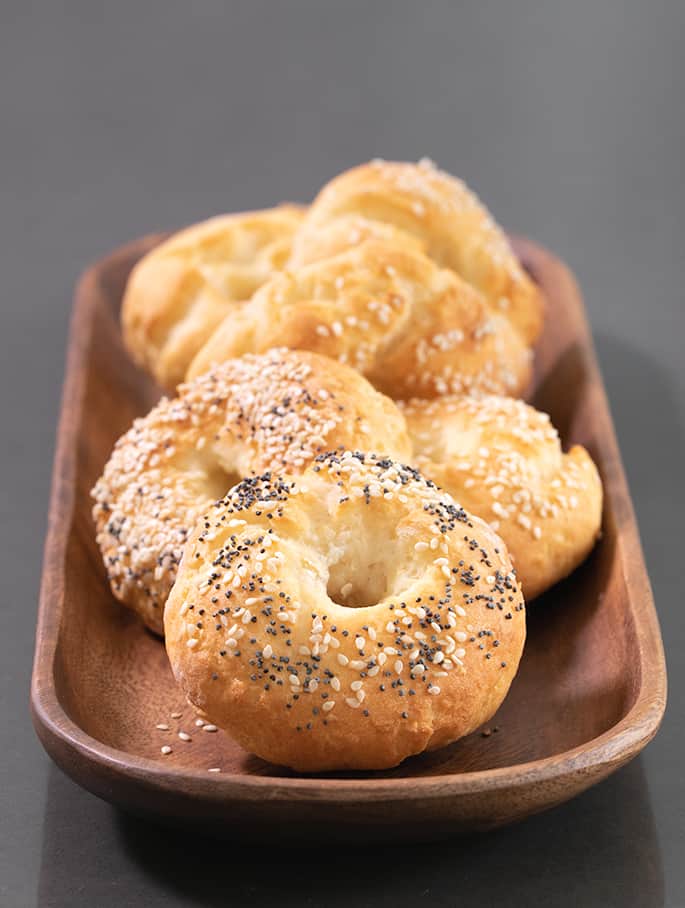 These bagels have become Internet famous because they're diet friendly, for sure. But the real reasons you'll fall in love with them are the ease and the taste!
The perfect tang of Greek-style plain yogurt takes the place of an aged yeast bread dough and makes them super tender inside. They may not be classic New York-style dense and chewy bagels, but they're in a class by themselves!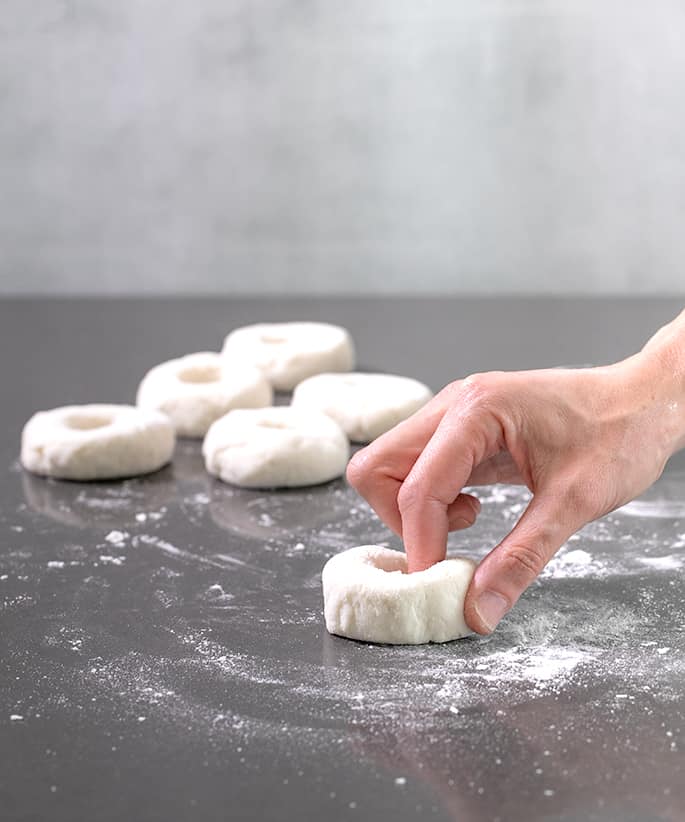 These Weight Watchers-style gluten free bagels are based upon the "2-ingredient Weight Watchers bagels" and pizza recipes that apparently took over Instagram at some point. Since I'm not active on Instagram at all (and mostly enjoy the photos of puppies and kittens and the occasional lifestyle bloggers whose life I simply cannot relate to but am fascinated by), I didn't hear about these right away.
When they're referred to as 2-ingredient bagels, it's based on the ingredients' being self-rising flour + fat-free Greek-style yogurt. If you're in the U.K. (hello! ??), you most likely do have a self-rising gluten free flour blend in your arsenal, like Dove's brand. If you do have that, try using it in place of the flour blend, baking powder, and salt below.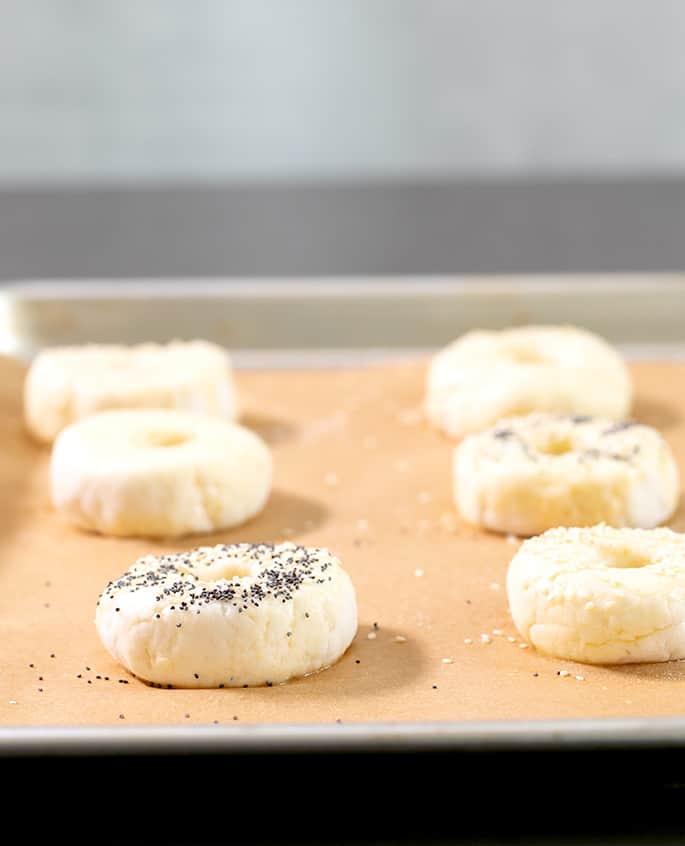 Each of these miniature bagels has about 2 1/2 SmartPoints (without the toppings), which I figure you have to round up to 3 SmartPoints but you can have 2 of them for 5. It's like they're on a two-fer sale! I care about things like that now a bit, and I thought you might, too. Here's why…
When I first wrote my cookbook, Gluten Free Classic Snacks, I was intrigued by copycatting some Weight Watchers-style foods like their brownies. They were so good, but they weren't available as gluten free, so I made them gluten free.
I have 3 children and although I've always been disgustingly naturally thin, I was never really quite the same after the third child—12 years ago. I've always hated it, but sort of chalked it up to early middle age and went on my way.
I also have 2 daughters, who are both rather naturally thin themselves, but I wasn't raised with a healthy attitude toward food or weight or anything else really for that matter. I was terrified of my girls inheriting my somewhat distorted way of thinking, so I never complain about my body or my weight in front of them.
When a dear friend mentioned that she was on Weight Watchers for similar reasons to me (early middle aged, struggling to feel as good in her body as she always had), I thought I'd give it a try for a month. I literally haven't mentioned a word of it my daughters, though. They never read the blog (too boring, I'm sure), so I figure I'm good.
Anyway, it turns out that I really really like it. I feel like I had half-heartedly tried every other "diet" (Paleo! keto! low carb!) over the last 12 years and nothing made a dent. Weight Watchers is not perfect, but I like the loose rules. They do most of the thinking for me. I like that. And it worked. I like that too!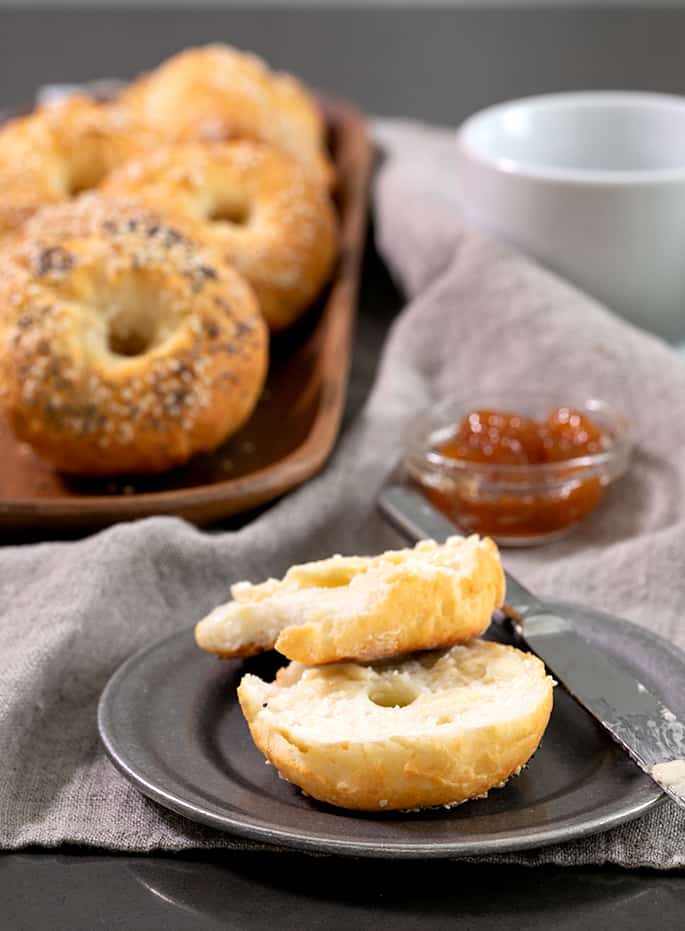 Ingredients and substitutions
There are so few ingredients in this recipe that substitutions mostly come down to the flour blend used and the yogurt. The egg white and egg wash are really optional. Here are my tips:
Gluten free flour blend: I have only tried this recipe using Better Batter (the same as my mock Better Batter) and my Better Than Cup4Cup all purpose gluten free flour recipes. I'm planning to try variations on this dough made with Paleo flours, but I'm not there quite yet! I will be sure to keep you posted.
As always, I recommend you only use one of my recommended all purpose gluten free flour blends, either commercially available or homemade according to my DIY recipes. If you use a gritty rice flour blend or an unbalanced blend, the recipe just won't likely turn out. All gluten free flour blends are not created equal.
Yogurt (dairy-free): I am happy to report that I have made this recipe successfully with dairy-free plain coconut milk yogurt. So Delicious makes a really great one and I find it at my local natural foods store.
Since the dairy-free variety was not a Greek-style yogurt, I found that I had to use 1 1/4 cups (175 g) of the all purpose gluten free flour blend, and did not add the egg white. The bagels browned a bit less (a function of the dairy-free yogurt, I believe), and the dough was a bit harder to handle (a function of the extra moisture).
But the taste and overall texture were great. In addition, since the dairy-free plain yogurt was not fat-free, you'd have to recalculate the SmartPoints value.
If you can only use a plain yogurt of any kind that isn't Greek-style, you can either add 1/4 cup (35 g) more all purpose gluten free flour or strain the yogurt until it's thick enough to be Greek-style. Then, measure out 1 cup (245 grams) of the thicker yogurt and 1 cup (140 grams) of the flour blend.
Weight Watchers Gluten Free Bagels
Ingredients
1 cup (140 g) all purpose gluten free flour (I recommend Better Batter (or my mock blend) or Better Than Cup4Cup—both recipes in the link), plus about 1 tablespoon more (9 g) for sprinkling
1/2 teaspoon xanthan gum (omit if your blend already contains it)
2 teaspoons baking powder
1/2 teaspoon kosher salt
1 cup (245 g) nonfat Greek-style plain yogurt, straight from the refrigerator
1 egg white (25 g), chilled
Egg wash (1 egg + 1 tablespoon lukewarm water, beaten) (optional)
Toppings (optional) like sesame seeds, poppy seeds or Everything But the Bagel seasoning from Trader Joe's
Instructions
Preheat your oven to 400°F. Line a large rimmed baking sheet with unbleached parchment paper and set it aside.

In a large bowl, place the flour blend, xanthan gum, baking powder, and salt, and whisk to combine. Add the yogurt, and mix until combined. Depending upon the moisture content in your yogurt, the dough may still not hold together fully. If necessary to bring the dough together, add the egg white (or a bit more yogurt) by the teaspoonful. Mix to combine until the dough holds together well.

Turn the dough out onto a very lightly floured surface and knead it with clean hands until it's a bit smoother. Divide the dough into 6 equal portions (each a bit more than 2 ounces in weight) and roll each into a ball between your cupped palms and/or by rolling on the lightly floured surface. Add a bit more flour as necessary to keep the dough from sticking. Even when shaped, the dough will seem somewhat uneven. Press each round of dough into a disk about 1/2-inch tall and, with a floured forefinger, create a hole in the center and rotate the dough to increase the size to about 1-inch. Reshape the dough around the hole if necessary. Place the shaped pieces of dough about 2 inches apart on the prepared baking sheet. Brush generously with the optional egg wash and top with the optional toppings.

Place the baking sheet in the center of the preheated oven and bake, rotating once during baking, until the bagels are puffed and golden brown all over, about 22 minutes. Allow to cool briefly on the baking sheet before slicing and serving. Leftovers can be sliced and stored in a sealed container at room temperature for up to 2 days (to maintain moisture, add a moistened paper towel to the bag) or sealed in a freezer-safe container for longer storage.

Adapted from allllll over the Internet. Like Mess For Less.