Light, buttery and salty, these gluten free crackers taste just like Nabisco Ritz—but they're gluten free!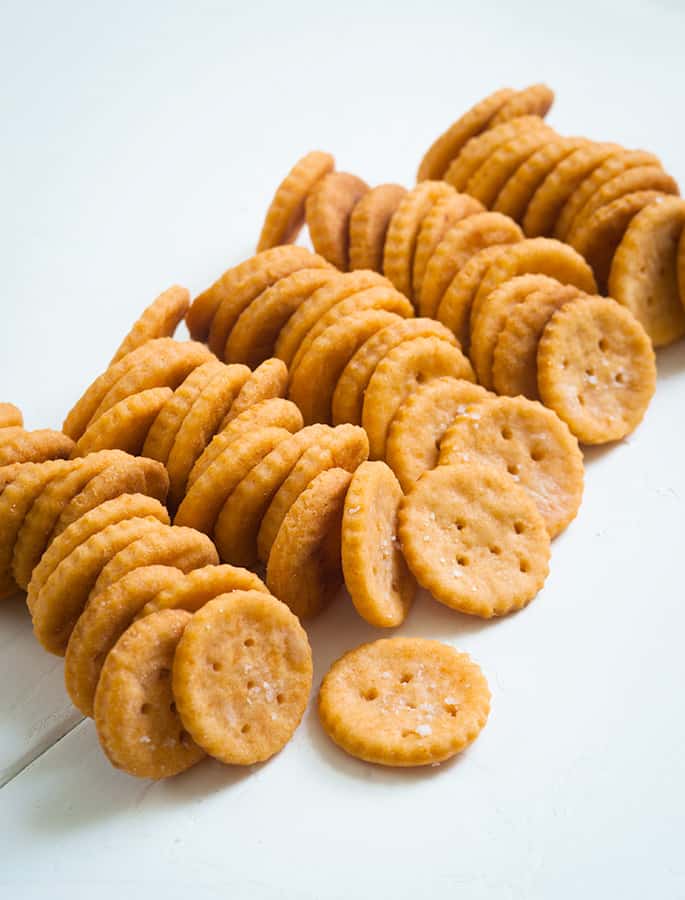 When it comes to being gluten free, we're nostalgic for what we used to have, and no longer can. We're tired of eating our Fourth of July burger with a fork, while everyone else has a burger on a bun.
We might know that the bun is carbs, and carbs are not good for us. But choosing not to have something because you know it's bad for you is just not the same as not being able to have it because it'll make you sick.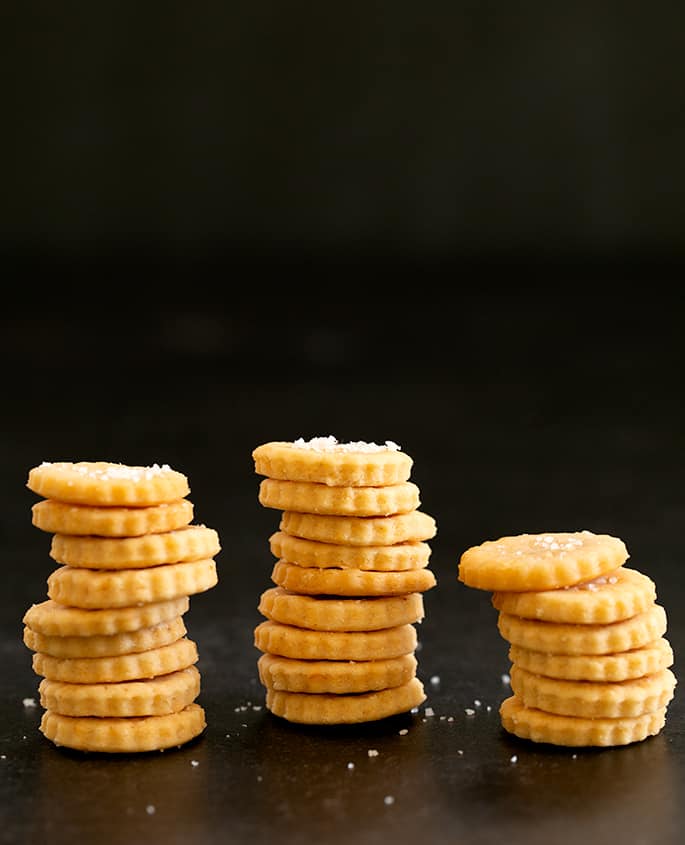 Sometimes, we just want a Ritz Cracker, since they're buttery and crispy and taste like nothing else. But since we can't have one from a package, we'll just have to make our own homemade Ritz style gluten free crackers.
These crackers taste just like Ritz, but they're gluten free. If cheese could choose a cracker for its plate, it would choose Ritz every time. You feel me?
I first published this recipe (with that photo above) on the blog in 2011. Depending upon when you're reading this, that was at least 4 1/2 years ago.
I remember being sick and tired of everyone saying that we shouldn't be trying to recreate old favorite baked goods as gluten free. It's not like we want to eat ourselves into a carb coma every single day. But we want to be able to make choices.
All these years later, I still feel the same way. I don't want to be lectured, whether it's January or December, about how I or my gluten free son should eat.
I just want us to have choices. Sometimes, it helps even just to know that you can make your own Ritz style gluten free crackers. Even if you never do it.
Except just once, do it. There's a short video that shows you how easy it is to make the dough and roll it out, then bake it quickly to perfection. Be sure to keep the dough chilled, and bake it in a hot hot oven. The crackers will crisp as they cool.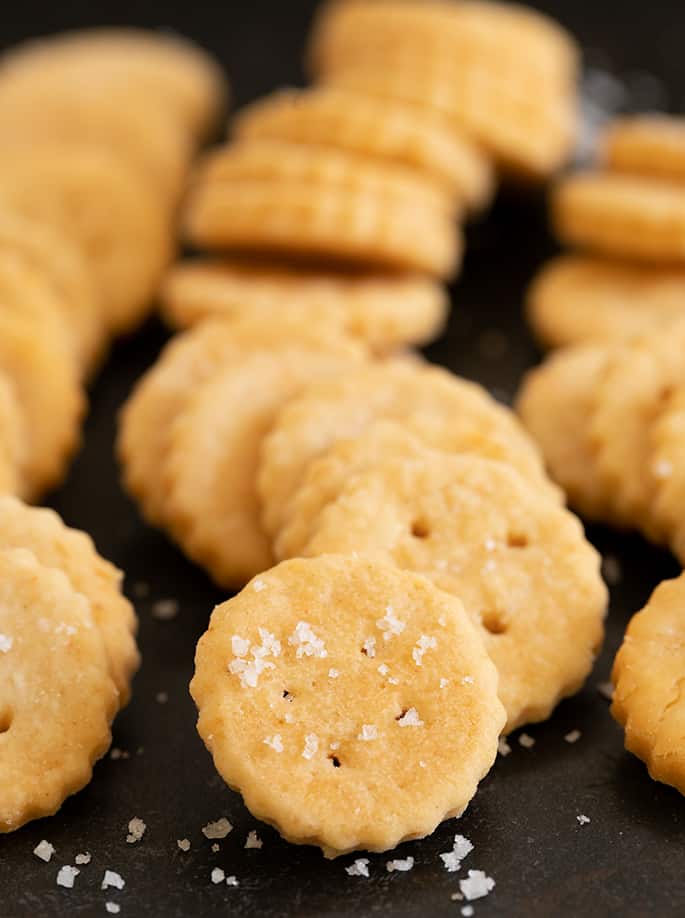 Ritz-Style Gluten Free Crackers
Ingredients
1 cup (140 g) all purpose gluten-free flour (I like Better Batter here), plus more for sprinkling
1/2 teaspoon xanthan gum (omit if your blend already contains it)
1 1/2 teaspoons baking powder
1/2 teaspoon sugar
1/2 teaspoon smoked Spanish paprika
1/4 teaspoon kosher salt, plus more for sprinkling
4 tablespoons (56 g) unsalted butter, chilled
1 tablespoon (14 g) vegetable oil
1/4 to 1/2 cup (2 to 4 fluid ounces) cold water, with ice (ice does not count in the volume measurement)
2 tablespoons (28 g) unsalted butter, melted
Instructions
Preheat your oven to 375°F. Line rimmed baking sheets with parchment paper and set them aside.

In a large bowl, place the flour, xanthan gum, baking powder, sugar, paprika and salt, and whisk to combine well. Using a standard size grater, grate the cold butter into the large bowl of dry ingredients, stopping occasionally to flour the butter to keep it separated. Toss to coat the butter in the dry ingredients. Add the vegetable oil, and stir to combine. Add about 1/4 cup of the ice water, and stir to combine. Add more water by the half-teaspoonful as necessary to bring the dough together. Press it into a disk, wrap it tightly in plastic wrap and place in the refrigerator to chill for about 10 minutes or until firm.

Remove the chilled dough from the refrigerator and place on a lightly floured surface. Sprinkle lightly with more flour on both sides of the dough and roll out until a bit more than 1/8-inch thick, moving and turning the dough, and sprinkling with extra flour as necessary to keep it from sticking. Using a scalloped-edge 1 3/4-inch round cookie cutter, cut out shapes. Place the shapes about 1-inch apart from one another on the prepared baking sheets. With a toothpick, poke four to six holes toward the center of each cracker to help them rise. Gather and reroll the scraps to cut out crackers until you've used up the dough.

Place the baking sheets, one at a time, in the center of the preheated oven and bake until the crackers are just beginning to brown, about 7 minutes. Remove from the oven, brush the crackers with the melted butter and sprinkle with extra salt. Allow to cool on the baking sheet. They will crisp as they cool. The crackers can be stored in a sealed glass container at room temperature and should maintain their texture that way.

Recipe originally posted, in a slightly different form, on the blog in 2011. Adapted from Gluten Free Nabisco Ritz Crackers, Original recipe on page 188 of Gluten Free Classic Snacks. Lead photo by Jennifer May from Classic Snacks. All photos and video new.