This recipe for gluten free meatloaf without breadcrumbs is made with just the right seasoning mix for a savory homestyle meal that everyone will love.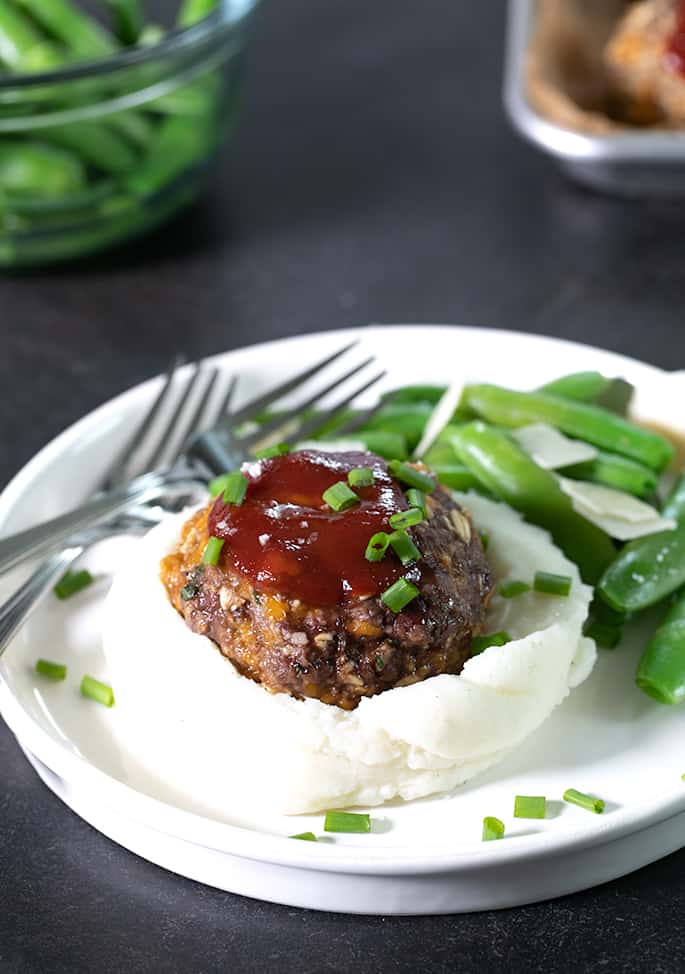 A family favorite meal
There's a recipe for Meatlove in the flagship Gluten Free on a Shoestring cookbook (now on page 168 of the second edition). It's such a family favorite, and I've made it so, so many times that I had often thought of reprinting it here for you on the blog.
In the book, it's called "meatlove" since that's what my son thought meatloaf was called when he was small. The name just stuck. And, of course, we love it.
The recipe in the cookbook has different spices, different types of cheese, bread crumbs in place of oats and a tomato sauce instead of the glaze. It's a more savory recipe in some ways. Don't make me choose, please? I love them both equally.
Over the many years that I've been making the recipe, it has evolved back and forth a little here and a little there. With all dried herbs, with some dried and some fresh herbs. I've changed up the types of cheese a little here and there—nothing too exciting.
These miniature gluten free meatloaves with a sweet ketchup glaze are our current favorite way to enjoy meatlove. Mostly, they're a good excuse to share this classic comfort food recipe with you.
Gluten free meatloaf without breadcrumbs
Meatloaf needs a few basic elements to work: beef (the "meat" part!), spices (for depth of flavor), a binder (here, I used gluten free oats), grated cheese (for texture and flavor), milk (moisture and flavor) and eggs (for structure, binding).
The binder that is most common is similar to the binder used in most meatball recipes: bread crumbs. Those bread crumbs are not going to be gluten free … unless someone used the gluten free kind on purpose.
I really really like the idea of making miniature meatloaves instead of one large meatloaf in a loaf pan for a few reasons: they cook faster this way and let's be honest they kind of look more appetizing. There's a good reason why, when you order meatloaf in a restaurant, it's usually a miniature meatloaf and not in slices.
Of course, you don't need the glaze but it sure adds a special something. Warm, flavorful, and fragrant, meatloaf is the ultimate comfort food. Make it for your family tonight!
Ingredients and substitutions
Beef
I'm not planning to show you how to make gluten free meatloaf—without meat. I'm not saying it can't be done, but that is a much bigger job.
I just want to point out that you can use a mixture of ground meats in this recipe, rather than just lean ground beef. I rarely use pork as my youngest won't eat it, and none of us will eat veal, but a "meatloaf" mixture of ground pork, beef, and veal would work great here.
Dairy
There is dairy in this recipe in the milk, and in the grated cheddar cheese. The milk is easy to replace with any unsweetened nondairy milk. The cheese is another matter entirely.
When my oldest daughter was dairy free for about a year, I made this recipe using Daiya cheddar-style shreds in place of the cheddar cheese. I thought it tasted great. Not all of my children agreed, but they're, well, wrong.
Eggs
I haven't tried making this recipe without eggs. If you're avoiding eggs, I'd recommend experimenting with a "chia egg" (1 tablespoon ground white chia seeds mixed with 1 tablespoon lukewarm water, mixed and allowed to gel) replacement for each of the two eggs. I prefer chia to flax seeds since they have a much more neutral flavor.
Oats
In the U.S., there are certified gluten free oats that are grown on dedicated gluten-free fields and stored in dedicated silos. I never buy oats that are more processed than old-fashioned rolled oats.
For the equivalent of quick-cooking oats, I simply pulse certified gluten free old-fashioned rolled oats in a food processor 2 to 3 times. Any further processing will give you oat flour.
To substitute the oats entirely, I have also made this recipe with ground gluten free corn flake cereal or coarse gluten free breadcrumbs. I prefer quick-cooking oats in this recipe, though, as I like the slightly chewy texture.
If you decide to use a corn flake cereal, be sure to use a very simple corn flake cereal like Erewhon gluten free corn flakes, which have only two ingredients—corn and salt. Sweetened cereals like Chex really change the flavor balance of the meatloaf mixture.
Worcestershire sauce
In the U.S., Lea & Perrins brand Worcestershire sauce is gluten free. Be careful what brand you use, as some contain barley malt in place of molasses.
It really adds nice depth of flavor (I'm not going to say "umami" because it just sounds pretentious) to the recipe. You can leave it out, though, or replace it with some gluten free fish sauce or a mixture of molasses and anchovy paste, even.
Tomato ketchup
Again in the U.S., Heinz tomato ketchup is gluten free, but it does have quite a bit of added sugar. I really like Organicville ketchup as it has no added sugar, especially since we're adding brown sugar to it for the glaze.
Miniature Gluten Free Meatloaf
Yield:
10 miniature meatloaves
Ingredients
For the meatloaf mixture
2 eggs (100 g, weighed out of shell), lightly beaten
3/4 cup (6 fluid ounces) milk
1 1/2 teaspoons Worcestershire sauce
1 cup (110 g) quick-cooking certified gluten free oats
1/4 cup fresh or 2 tablespoons dried parsley
3/4 teaspoon kosher salt
1 teaspoon ground cumin
1/2 teaspoon mustard powder
2 teaspoons dried onion flakes
1/2 teaspoon garlic powder
4 ounces (about 1 cup) grated sharp cheddar cheese
2 pounds (at least 90% lean) ground beef
For the glaze
2/3 cup (180 g) gluten free tomato ketchup
1/4 cup (55 g) packed light brown sugar
1 1/2 teaspoons Dijon mustard
Instructions
Preheat your oven to 350°F. Line a large baking sheet with parchment paper and set it aside.

In a large bowl, place the eggs, milk, and Worcestershire sauce, and whisk to combine. Add the oats, parsley, salt, cumin, mustard powder, onion flakes, and garlic powder, and mix to combine well. Add the grated cheddar and ground beef, and mix gently to combine. Do not overwork the beef, or the meatloaves will be tough. Divide the mixture into 10 equal pieces. With clean, moistened hands, shape each piece into an oval and place about 2 inches apart from one another on the prepared baking sheet. Place the baking sheet in the preheated oven and bake for 20 minutes.

While the meatloaves are baking, place all of the glaze ingredients in a small bowl, and mix to combine well. After 20 minutes of baking, remove the baking sheet from the oven and brush the tops of the meatloaves generously with the ketchup glaze using a pastry brush or spoon. Return the baking sheet to the oven and continue to bake until the meatloaves are browned on the outside and cooked to an internal temperature of 160°F (about another 20 minutes). Remove from the oven and serve immediately.

Originally published on the blog in 2015. Recipe mostly unchanged, video and most photos new.