If you need to make gluten free chocolate cupcakes and you only want the best, easy recipe, the search is over! These perfectly moist and tender cakes are even naturally dairy free.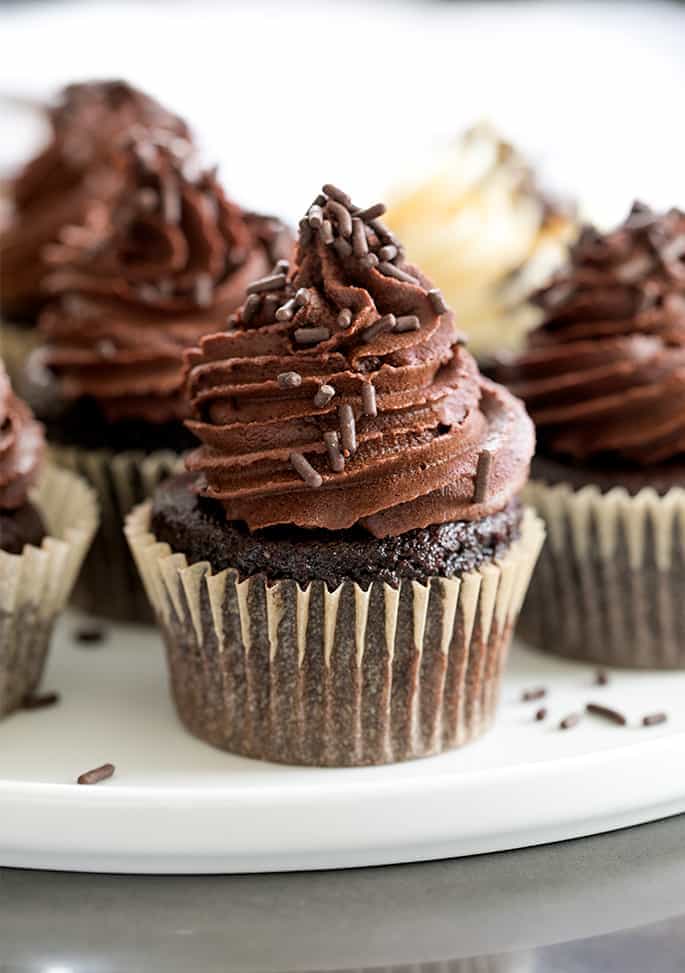 Whenever one of my 3 children has a birthday coming up, the most important question is always the same: What sort of birthday cake this year? You can't very well celebrate ? without cake (can you?).
The lucky ducks, they know of all manner of cakes and can never seem to choose easily. An embarrassment of riches! To help narrow things down, I begin by asking them to pick a lane: chocolate or vanilla. Within each lane, there are endless varieties, but it does help to create a fork ? in the road.
Above all, though, I try to talk them into cupcakes instead of a cake. Cupcakes are so easy to make, store, transport and even eat! A perfect gluten free chocolate cake is, of course, a favorite year after year. But you can't beat a cupcake for ease of storage—both before serving and if there are leftovers.
Of course, I have a simple and reliable recipe for gluten free vanilla cupcakes, if you've got a vanilla sort of birthday boy or girl. In fact, I'm usually a vanilla cake sort of girl. But these chocolate cupcakes are deep and chocolatey without ever being too rich. In other words, they're truly perfect.
What makes this recipe so easy
Since the only ingredient that has to be brought to room temperature is the eggs, this is the sort of recipe that is so easy to make at the last minute. If you've forgotten to leave eggs out on the counter in advance, just float two eggs in very warm (but not hot) water for about 10 minutes before proceeding with the recipe.
This recipe is made in one single bowl. The dry ingredients, plus the sugar, are whisked together, then the wet ingredients are added all at once. Finally, the smooth batter is whisked together. That's it.
Leftovers can be cooled completely, then frozen in a single layer on a baking sheet before being piled into a freezer-safe zip-top bag and stored in the freezer. Just defrost them at room temperature before frosting and serving.
A word about frosting
A classic buttercream frosting is a wonder of simplicity, made with little more than butter (or a mix of butter and shortening) and confectioners' sugar. It can even be made into chocolate buttercream by adding melted chocolate and/or unsweetened cocoa powder. But I rarely make buttercream frosting. ?
I find that it's just too sweet, no matter how I make it. The confectioners' sugar not only provides sweetness, but it also provides structure to the frosting. So skimping on sugar just really isn't an option.
Buttercream does look beautiful in photos, so I will make it for that purpose. But when I'm making frosting for taste, rather than for looks, I prefer a whipped chocolate ganache (recipe below) for chocolate and my cooked flour vanilla frosting for vanilla. Both have much less sugar than buttercream, and lovely flavor.
These cupcakes rise to a relatively flat top, as they should when they are meant as a vehicle for frosting. They're not muffins, after all. They're cupcakes, and they should behave accordingly!
If it's particularly important to you that the cupcakes don't rise above the liners, just be sure to fill each well a scant 2/3 of the way full. I simply divide the batter evenly among the 12 muffin wells since I don't want to have any leftover batter.
Ingredients and Substitutions
This is a very, very simple recipe. I recommend making it as written if at all possible. But if you have additional dietary preferences and requirements, here are my educated guesses about making substitutions.
Dairy-free: The cupcake portion of this recipe is naturally dairy free, as it calls for a neutral oil instead of butter. If you choose to use 1/2 cup of milk in place of the 1/2 cup of water in the recipe, just use a nondairy milk (provided it is not nonfat and is unsweetened).
To make the whipped ganache frosting dairy free, just use dairy-free chopped chocolate and full fat canned coconut milk in place of heavy whipping cream. The ganache will be slightly less smooth and easy to pipe, but it will still work!
Egg-free: These cupcakes call for 2 eggs in 12 cupcakes, which is at the upper limit of my recommendations for using a "chia egg" as an egg replacement. A "chia egg" is simply 1 tablespoon ground chia seeds mixed with 1 tablespoon lukewarm water, and allowed to gel. I haven't tried the recipe with this replacement, though, so you'll have to experiment!
Click play ▶️ and watch  me make and frost these cupcakes!
Then it's your turn!
Perfect Gluten Free Chocolate Cupcakes
Ingredients
Whipped Ganache Frosting
3/4 cup (6 fluid ounces) heavy whipping cream, plus more as necessary
10 ounces dark chocolate, chopped
Chocolate Cupcakes
3/4 cup (105 g) all purpose gluten free flour (I used Better Batter)
1/2 teaspoon xanthan gum (omit if your blend already contains it)
1/2 cup + 1 tablespoon (45 g) unsweetened natural cocoa powder
3/4 teaspoon baking powder
1/4 teaspoon baking soda
1/4 teaspoon kosher salt
3/4 cup (150 g) granulated sugar
4 tablespoons (56 g) vegetable or other neutral oil
2 eggs (100 g, weighed out of shell) at room temperature, beaten
1 teaspoon pure vanilla extract
1/2 cup (4 fluid ounces) lukewarm water or milk, at room temperature
Instructions
Make the ganache first so it can cool. In a small, heavy-bottom saucepan, heat the heavy whipping cream until it just begins to simmer. Place the chopped chocolate in a medium-size bowl, and pour the hot cream over the chocolate. Allow the cream to sit on the chocolate for about a minute, until the chocolate begins to melt, and mix until the chocolate is melted and the mixture is smooth and glossy. Allow the ganache to cool at room temperature until firm enough to scoop with a spoon.

Make the cupcakes. Preheat your oven to 350°F. Line the wells of a standard 12-cup muffin tin and set it aside.

In a large bowl, place the flour, xanthan gum, cocoa powder, baking powder, baking soda, salt, and sugar, and whisk to combine well. Create a well in the center, and add the oil, eggs, and water (or milk), and whisk to combine well. The batter should be smooth and relatively thin. 

Fill the prepared wells of the cupcake tin about 2/3 of the way full and shake back and forth to distribute the batter evenly in each well. Place the tin in the center of the preheated oven, and bake for about 19 minutes, or until the cupcakes spring back when pressed lightly in the center. Remove from the oven and allow to sit in the pan for at least 10 minutes before transferring to a wire rack to cool completely.

Right before you're ready to frost the cupcakes, transfer the cooled chocolate ganache to a large bowl and beat with a handheld mixer or stand mixer fitted with the whisk attachment until thickened and fluffy. The ganache will also lighten in color. If it seems to be at all crumbly or not smooth, add more heavy whipping cream by the teaspoonful and beat to combine. Frost immediately and serve.

Freeze any leftover cupcakes, unfrosted, in a sealed freezer-safe container. Defrost at room temperature, then frost and serve.