First, there came Gluten Free on a Shoestring Bakes Bread, which brought us gluten free bread flour. Then, there came lots of the bread recipes that we thought we'd never, ever have again. We have real soft hamburger buns! We even have no-rye rye bread—and everything in between! So why not the famous New York Times chocolate chip cookies? Don't mind if we do… Well, if we can have those cookies, then why can't we have these cookies—gluten free oatmeal cookies that are crispy on the outside, soft on the inside and as big as big can be? We can!
I know it's summer (at least if you're reading this around when I'm writing it!). I know you don't really want to turn on that ol' oven of yours. But know what I also know? You'll do it if you have the proper motivation. I present to you just that motivation.
If you've tried the more classic chocolate chip version of these cookies, a few words about the differences: they still need bread flour, but they don't spread exactly the same way. I've tried these a million different ways (just ask my children and their friends, who ate every version without complaint!), and this is how they work best. Promise!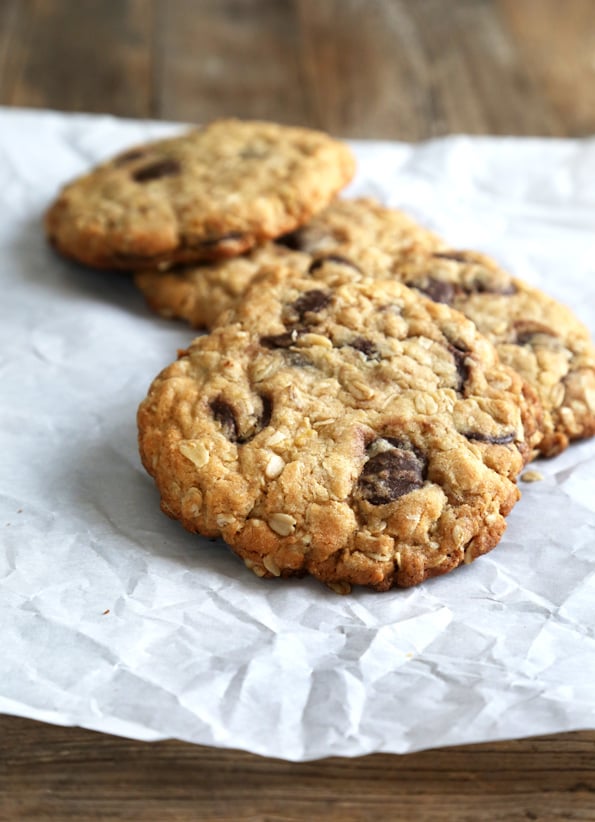 Just 15 minutes in the oven, and you're rewarded with (apologies to my other favorite gluten free oatmeal cookie recipe) the very best gluten free oatmeal cookie you've ever had. And since you make the cookie dough ahead of time and allow it to chill in the refrigerator before baking, it's downright convenient to make them at 6:00 am, before the heat of the day sets in. AmIright?!