First, there came Gluten Free on a Shoestring Bakes Bread, which brought us gluten free bread flour. Then, there came lots of the bread recipes that we thought we'd never, ever have again. We have real soft hamburger buns! We even have no-rye rye bread—and everything in between! So why not the famous New York Times chocolate chip cookies? Don't mind if we do… Well, if we can have those cookies, then why can't we have these cookies—gluten free oatmeal cookies that are crispy on the outside, soft on the inside and as big as big can be? We can!
I know it's summer (at least if you're reading this around when I'm writing it!). I know you don't really want to turn on that ol' oven of yours. But know what I also know? You'll do it if you have the proper motivation. I present to you just that motivation.
If you've tried the more classic chocolate chip version of these cookies, a few words about the differences: they still need bread flour, but they don't spread exactly the same way. I've tried these a million different ways (just ask my children and their friends, who ate every version without complaint!), and this is how they work best. Promise!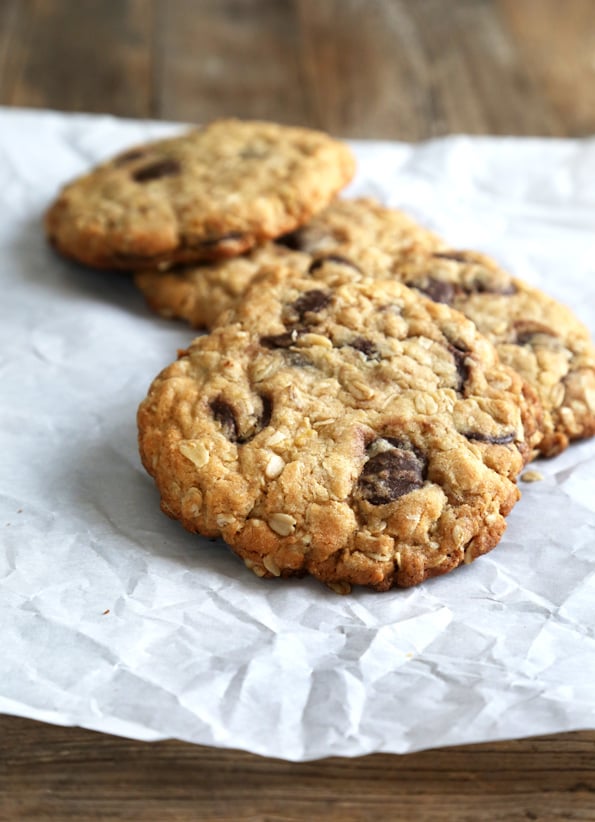 Just 15 minutes in the oven, and you're rewarded with (apologies to my other favorite gluten free oatmeal cookie recipe) the very best gluten free oatmeal cookie you've ever had. And since you make the cookie dough ahead of time and allow it to chill in the refrigerator before baking, it's downright convenient to make them at 6:00 am, before the heat of the day sets in. AmIright?!
New York Times-Style Gluten Free Oatmeal Chocolate Chip Cookies
Ingredients
1 cup (140 g) all purpose gluten free flour (I used my mock Better Batter)
1/2 teaspoon xanthan gum (omit if your blend already contains it)
1 1/4 cup (175 g) Gluten Free Bread Flour*
1 1/2 tablespoons (14 g) cornstarch
1/2 teaspoon baking soda
3/4 teaspoon baking powder
3/4 teaspoon kosher salt
2 cups (200 g) certified gluten free old-fashioned rolled oats
3/4 cup (150 g) granulated sugar
3/4 cup (164 g) packed light brown sugar
16 tablespoons (224 g) unsalted butter, at room temperature
1 egg (60 g) plus 1 egg yolk (30 g) at room temperature, beaten
1 teaspoon pure vanilla extract
10 ounces bittersweet chocolate disks
*BREAD FLOUR NOTES
1 cup (140 g) Gluten Free Bread Flour, as discussed more fully on pages 8 to 10 of GFOAS Bakes Bread, contains 100 grams Mock Better Batter all purpose gluten free flour (or Better Batter itself) + 25 grams whey protein isolate (I use NOW Foods brand) + 15 grams Expandex modified tapioca starch.
For a calculator that helps you build the flour without math, please see my Gluten Free Flour page.
If you would like to use Ultratex 3 in place of Expandex, please see #6 on my Resources page for instructions.
Instructions
In a large bowl, place the all purpose flour, xanthan gum, bread flour, cornstarch, baking soda, baking powder, salt and whisk to combine well. Add the oats, granulated sugar and light brown sugar, and whisk again to combine, working to break up any lumps in the brown sugar. Create a well in the center of the dry ingredients and add the butter, egg, egg yolk, and vanilla, mixing to combine after each addition. The dough will be thick. Add the chocolate disks, and mix until they are evenly distributed throughout. Wrap the cookie dough tightly in plastic wrap and refrigerate, ideally for 24 to 72 hours.

On baking day, preheat your oven to 350°F. Line two large rimmed baking sheets with unbleached parchment paper. Divide the dough into 9 balls, each about 3 1/2 ounces (the size of generous golf balls), press them down into disks about 3/4-inch tall and place about 2 inches apart from one another on the prepared baking sheets. Place in the preheated oven and bake until golden brown all over but still soft toward the center (about 15 minutes). Allow to cool on the baking sheet for at least 10 minutes, or until set, before transferring to a wire rack to cool completely.

Adapted from my recipe for Gluten Free New York Times Chocolate Chip Cookies, which was adapted from the famous New York Times Chocolate Chip Cookie recipe.