These gluten free Texas Roadhouse-style rolls are tender, light and fluffy, but they're safely gluten free. Let that bread basket pass you by and try these instead!
Up front true confession: I've never been to a Texas Roadhouse Restaurant. I looked them up and it turns out that they opened a location right near me. I'd totally be in it for the rolls, though, and since they don't make them gluten free … well you know how that goes.
The bread dough, like the others in the style of those in this new Gluten Free on a Shoestring Bakes Bread style, does better with a slow first rise in the refrigerator. I prefer at least 12 hours for that cold rise.
I have also made it in one day, by allowing the dough to rise and then just chilling it a bit in the refrigerator for easier handling. Although the dough is a bit harder to handle and the rise is not exactly as uniform, it still works quite well.
The secret to that thin, crackly, buttery crust is to brush the rolls with honey butter both right before and right after baking. And they bake just until the tops are lightly golden brown.
The blunt edges on the four sides of these square rolls coax the shaped rolls to rise up instead of out. So they're just these puffy, sweet little pillows of gluten free bread, like you never thought you'd taste bread again.
This style of gluten free bread requires dairy
I wrote a book about gluten free bread called Gluten Free on a Shoestring Bakes Bread in 2013. It was the book that I demanded to write, and the one that I refused to write unless I felt confident that I had developed a method that was more familiar and truly limitless.
To make the "new style" of gluten free bread recipes possible, I developed a DIY gluten free bread flour blend that made possible a gluten free dough that could be shaped and handled without much extra liquid, like the batter-style gluten free bread recipes do.
But it absolutely requires dairy in the form of whey protein isolate, a nearly pure form of casein (milk protein) that behaves remarkably like gluten in the oven. I like Opportuniteas brand grass red whey protein isolate, and I have everything linked in my online shop.
The gluten free bread flour blend also requires Expandex, a chemically modified tapioca starch that you can find rather easily today on Amazon. The name of the company that packages and sells it there seems to change names every now and again, but I have a link in my online shop for that also.
Note for readers outside the U.S.
In the U.K. and many other places under the name "Ultratex 3," which requires just a different proportion of ingredients. Please see the full discussion here on the Resources page.
To be clear, the batter-style bread recipes, like our lovely gluten free white sandwich bread, absolutely still work and many (many) readers consider them family staples. I am among them!
But sometimes, like with these gluten free Texas Roadhouse-style rolls, I want more. And this is how we do it.
In the bread book, I do recommend two dairy-free protein powders that can be used instead of whey protein isolate, but they require you to use 150% of the liquid in each recipe and the results just aren't the same.
If you can't have dairy, I recommend using some of our other bread recipes, like this one for yeast-free gluten free dinner rolls. There are also ways for you to make yeasted gluten free dinner rolls with all purpose gluten free flour, instead of the gluten free bread flour in this recipe, and make substitutions for the dairy-containing milk and butter.
Is it worth trying this new type of gf bread dough?
You can imagine that my answer is yes, because I know what this type of gluten free bread dough. makes possible. And that feeling can be really inspiring, even if you don't use it very often.
If this is your first introduction to my GFOAS Bakes Bread-style bread, you may be overwhelmed. And I get it.
The whole thing sounds kind of wonky and overly complicated, even though it's designed to simplify as much as possible. It's unfamiliar, and the bread flour calls two ingredients (whey protein isolate and Expandex) that might not sound, well, delicious.
But they make things possible that weren't possible in gluten free baking before. And everything new can sound overwhelming—and is likely to be demonized.
When I published the first edition of my very first cookbook in 2011, my reliance on an all purpose gluten free flour was criticized by nearly everyone in the gluten free community.
That includes such standard-bearing publications as Gluten Free Living—even though they eventually came around and use the same type of blends in all their baking. Have a look at the earliest reviews on Amazon of the first edition of that book. Some are rough.
But all these years later, we're still here, baking better gluten free food. I'm not going to stop pushing that rock up the hill.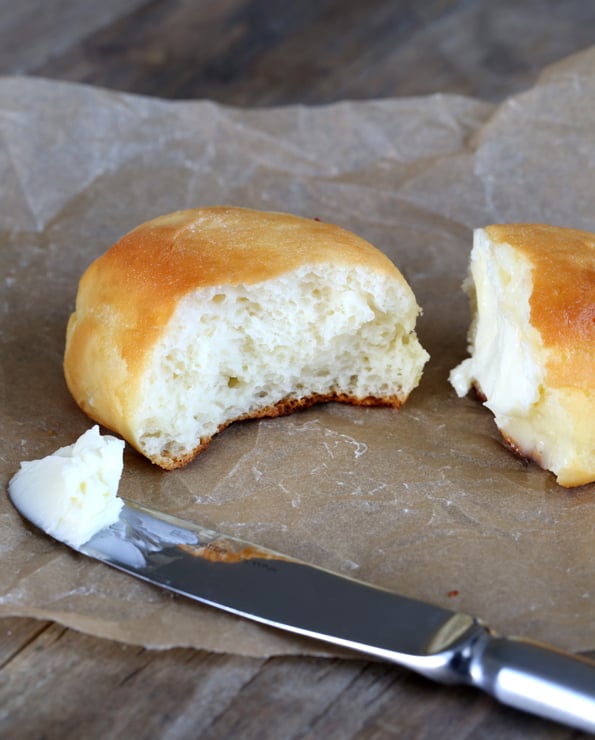 Ingredients and substitutions
Dairy: I'm afraid that dairy really is an essential part of this newer style of gluten free bread recipes. Please see the complete discussion above.
Egg: There is only one egg in this recipe, so I think you should be able to replace it with one "chia egg" (1 tablespoon ground white chia seeds + 1 tablespoon lukewarm water, mixed and allowed to gel).
Honey: The honey butter that we use for brushing the rolls before baking is what creates that beautiful thin crust on the outside of the rolls—and helps them brown so beautifully. If you can't have honey, you can either leave it out or replace it with Lyle's golden syrup or corn syrup.