These gluten free Texas Roadhouse-style rolls are as tender, light and fluffy as you remember. But they're safely gluten free!
Up front true confession: I've never been to a Texas Roadhouse Restaurant. I looked them up and it turns out that they opened a location right near me. I'd totally be in it for the rolls, though, and since they don't make them gluten free … well you know how that goes.
We've got to make our own Gluten Free Texas Roadhouse-Style Rolls. Before figuring out which recipe in GFOAS Bakes Bread to begin with as a base for these rolls, I nosed around the Internets for a while to see what others had to say about 'em.
The more I looked, the more I decided to do what I had been thinking about doing for months and months: swapping out the pineapple juice in my book recipe for Gluten Free Hawaiian Rolls for milk. With that swap, and a few other tweaks, we have a winner!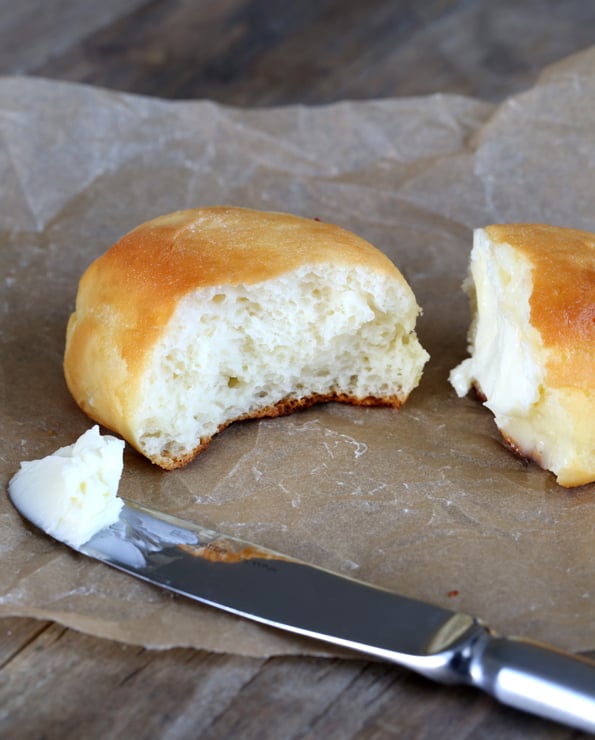 Now with all the bread I have baked in the last few years, I'm kind of a hard sell on a new roll. I mean, come on. I have so many favorite recipes that shouldn't it be time to move on to bigger and better recipes? *perhaps* But not until you've tried these most tender, light and fluffy rolls.
Promise you'll try these before moving on? These might just be the dinner rolls to end 'em all.
The bread dough, like the others in the style of those in this new style, does better with a slow first rise in the refrigerator. I prefer at least 12 hours for that cold rise.
I have also made it in one day, by allowing the dough to rise and then just chilling it a bit in the refrigerator for easier handling. Although the dough is a bit harder to handle and the rise is not exactly as uniform, it still works quite well.
The secret to that thin, crackly, buttery crust is to brush the rolls with honey butter both right before and right after baking. And they bake just until the tops are lightly golden brown.
The blunt edges on the four sides of these square rolls coax the shaped rolls to rise up instead of out. So they're just these puffy, sweet little pillows of gluten free bread, like you never thought you'd taste bread again.