These are pretty special rolls, these super soft gluten free sweet potato brown butter rolls. And judging from your reaction to them on my Must Make Gluten Free Pinterest Board (the place where I think out loud about some of the things I'm thinking about making for the blog, and you "vote" with your clicks), you kind of agree. Let's review them, okay? First, they're made with browned butter, which takes butter from one of my favorite things (what can I say?) straight to my favorite. Second, they're made with sweet potatoes. I truly love sweet potatoes, but I always know that if I talk about them at all, I run the risk of getting one of those eye-rolling lectures from someone about the difference between sweet potatoes and yams and how grocery stores the world over name them all wrong. I don't know the difference, and if you try to tell it to me, I'm gonna class it up and stick my fingers in my ears (or in my eyes, if you write it out here on the Internet).
Oh, and guess what? The bread dough is so dreamy and easy to work with that there is absolutely no need for any sort of long, slow refrigerator rise. You will want to chill the dough a bit, though, after it rises since it's just much easier to work with cold dough and that's a fact.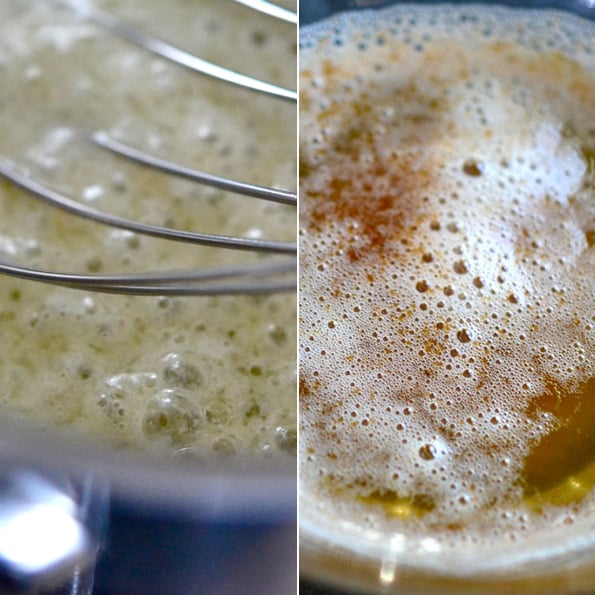 If you're afraid of browning butter, I pulled this side by side photo from my recipe for gluten free browned butter snickerdoodles (and yes, I'm sure you've noticed that I can't decide if I should call it "brown butter" or "browned butter" but it's all gonna be okay I promise!). It's super easy—just take it slow.
I most like these super flavorful rolls made full-size, because they make amazing hamburger buns and I just don't see the point of making "sliders" at home since, well, double the work for exactly the same enjoyment. But if you'd prefer sliders, go ahead and divide the rolls into as many pieces as you like before baking (say, 12?).