How to make a gluten free sourdough starter from scratch, step by step. Make it for love of the taste or for lack of commercial yeast. Get started today!
What is a wild yeast sourdough starter?
A wild yeast sourdough starter, gluten free or otherwise, is a combination of flour and non-chlorinated water that is combined to creative an environment conducive to the growth of the naturally occurring yeast that is all around us and in gluten free flours.
It's essentially a controlled rot, like kombucha, but if you think of it like that, you may not ever want to make it so let's move on. When yours is good and active, as described in the recipe card below, you'll be ready to bake fresh gluten free sourdough bread with it!
Are all sourdough starters gluten free?
No! They're not. If a sourdough starter was made with gluten-containing flours, it contains gluten and should be avoided if you are on a gluten free diet. Period.
The wild yeast does not remove the gluten from gluten-containing flours. Please consider the source if anyone tells you otherwise.
Why bake with wild yeast?
Commercial yeast, like the instant yeast granules that we use in our gluten free white sandwich bread and many other gluten free bread recipes, is a single, isolated strain of yeast.
A pure "wild yeast" starter contains no commercial yeast at all. A wild yeast sourdough starter is great when you can't get your hands on commercial yeast because the cupboards are bare.
Once it's "active," a sourdough starter can be used to create sourdough breads of all kinds. I have a whole chapter of pure sourdough breads in my bread book, GFOAS Bakes Bread.
Those recipes are more complex, and use my gluten free bread flour blend which contains some harder-to-source ingredients. This recipe is for a simple, liquid wild yeast gluten free sourdough starter, and the recipes are not interchangeable.
It does take time to cultivate, though, so it's not a quick fix. It also must be maintained by being refreshed at least once a week. Otherwise, it may become inactive or over-active and spoiled.
Tools and ingredients + general rules
Flours
I have always found it easiest to create a sourdough starter using a combination of sweet white sorghum flour and teff flour, and following it up with our gum-free gluten free flour blend. I have also successfully made a starter using brown rice flour, and I have read good things about using buckwheat flour.
Water
You will need to use bottled or at least distilled water. Regular tap water contains chlorine which will kill yeast. Make sure that all of your tools that were washed with tap water are dried completely.
Container and spoon
You will also need a nonreactive container and spoon. Stainless steel is nonreactive, and it's really fine. In an abundance of caution, I tend to avoid all metal, especially before the starter is fully active. But don't make yourself crazy.
Troubleshooting
My starter hasn't become active at all

Yeast bread baking is an art as well as a science, and has a (sometimes very frustrating) learning curve. Creating a pure wild yeast sourdough starter is doubly so. The most important ingredient is patience.
If you do have a bit of commercial yeast on hand, you can add a few grams to the mixture to give your starter a boost. Over time, the commercial yeast will be replaced by wild yeast.
If you're tempted to try to increase the ambient temperature surrounding your starter in an effort to help it grow, you can try lining a heating pad with multiple layers of towels and keeping it on low. Be careful, though, because all yeast will die at very high temperatures.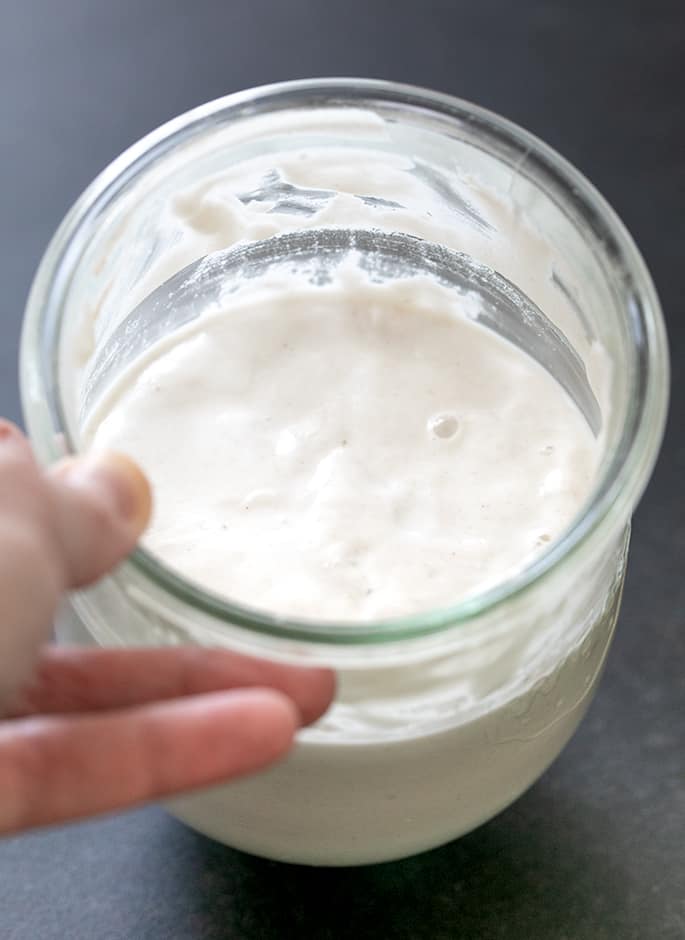 My starter hasn't doubled

The doubling sometimes happens so quickly and can be so fragile with this type of simple wild yeast gluten free starter that I couldn't even manage to get a photo of it as doubled.
If you assume it must have doubled because it's so active, try noticing whether there is any residue on the jar above the top of mixture that looks like it could have been left from a risen starter level. You can see in the photo above that there's a "rise line" that is above a cleaner section of the jar.
It also might be worth proceeding with a small-yield recipe. It depends upon whether or not you're willing to risk wasting some ingredients. You can also make crackers if the mixture doesn't rise!
I think my starter has gone bad
Remember, this is essentially a controlled rot of ingredients using available wild yeast. Don't take chances with your health.
If you see something in your starter at any point that has a color you don't recognize, or the odor is at all disturbing and different, please discard it and begin again.
I forgot to feed or refresh my starter
Honestly, it's probably just fine. Don't listen to anyone who tells you that you have to feed your starter every single day, or that you have to start over again if you miss a step.
If you suspect that something has gone wrong, start again if you can. You don't want to throw good money after bad.
There's a strange liquid on top of my starter
It's called "hooch" and you can stir it back in, then discard and feed or just feed, depending upon which step of the process you're completing. I prefer to drain off the liquid because it makes for a more sour starter, and my family doesn't love that.
Where's are the recipes for using the gluten free sourdough starter?
I'm happy to report that I've published the first recipe using this wild yeast sourdough starter. Here is a link to our first blog recipe for pure gluten free sourdough bread. I'll continue to update this post with links to recipes as soon as they are ready for prime time.
Creating a wild yeast sourdough starter takes days, so I published this post right away to get you started quickly. Patience, grasshopper. ? I promise more is coming!